We encourage all alumnae and alumni to stay involved, give back and keep in touch.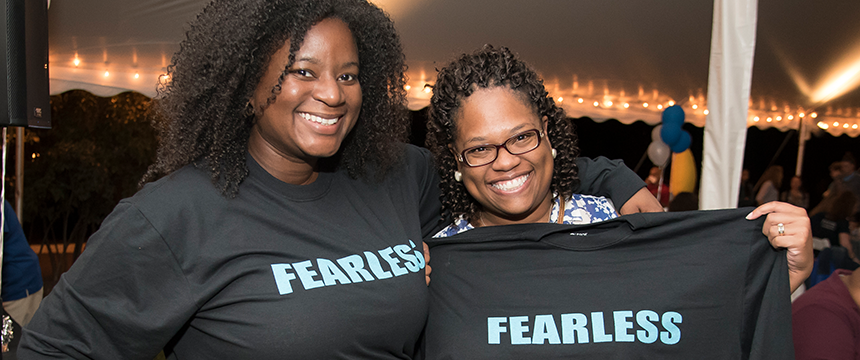 More than 20,000 women and men are lifetime members of the dues-free Alumnae and Alumni Association, residing in all 50 states and 34 countries. Here, you can connect with graduates around the world or just around the corner.
We invite you to realize the power of your membership while learning about the successes and experiences of fellow graduates. Check out upcoming events, share your news through Class Notes, or take advantage of the many benefits and opportunities available.
Executive Board & Committees
Executive Board
The Executive Board is the governing body of the Alumnae and Alumni Association.
The Board consists of no more than 25 members including a representative to the Board of Trustees, a student position, and the past president. Each position has a three-year term; all members attend Executive Board meetings three times a year, Alumnae and Alumni Leadership Orientation and Reunion Weekend.
The purpose of the Alumnae and Alumni Association is to promote, support and advance the welfare of the University through ways and means approved by the president of the University, and in stimulating a spirit of cooperation and loyalty among its members. The Association is a strong network of graduates who assist the University in broadening and sustaining memberships among the alumna and alumni.
Officers
President
Lisa McMurtrie W'93
Vice President

Kristi Halford '01
Secretary/Treasurer

Amanda Idstein '97
Past President
Missy Evans-Moreland '84
Board Representatives
Women's College

Sallie Mullen '68
Continuing Education

Sandy Despeaux C'78
College of Adult Undergraduate Studies
Roxine Phillips W'96
Graduate & Professional Studies
Elizabeth Brescia M'12
SSND
Mary Roy Weiss, SSND
At Large

Tess Meyer '13
Victoria Meadows '15
Heather Stapf '09
Pamela Walters '01
Maureen Lalley '74
Diane Webbert '04
Student Representatives
Vice President, SGA
Professional Network
Kristi Halford '01
, Board Representative for Professional Networking
We've heard you! In response to alumnae feedback indicating the need for employment assistance, career counseling, mentoring and networking opportunities, the Alumnae Association and its Board have made the establishment of the Professional Network a priority. The strategic objectives of the Professional Network are:
to establish and foster an effective career network among alumnae and students through programs and individual assistance;
to leverage the knowledge, experience and network of alumnae to assist others in exploring career opportunities and challenges; and
to provide linkage between the Alumnae Association and other effective programs.
We need you! An effective Professional Network needs involved people. You can help us in many ways. We are currently forming the Professional Network working committee. If you are interested in taking an active role in moving the programs forward, please contact us. We also need individuals who will help us establish linkage with your organizations and people who are willing to mentor others. We want your input on our Professional Network plans and programs. After all, if the programs don't meet your needs, we're not accomplishing the objectives!
To play a role in the Professional Network or to provide feedback, please contact Kristi Halford '01 at ndmalum@ndm.edu.
First Impressions
A collaboration of the School of Arts, Sciences, and Business, the Office of Alumnae and Alumni Relations and the Career Center.
First Impressions provides Women's College students in the School of Arts, Sciences, and Business with the knowledge and mentoring needed to make an outstanding first impression. Our goal is to help our students make the transition from the classroom to the workforce by giving them the professional skills necessary to stand out among the competition.
The program consists of a year-long series of fun and engaging evening workshops where students learn to develop and showcase their professional identity through body language, written and spoken communication, dress, grooming and dining etiquette. In addition, First Impressions provides numerous opportunities to enhance networking and interview skills.
How can you help?
Volunteer to assist current students in preparing for their entrance into the working world by reviewing resumes, conducting a mock interview, or help prepare and serve food for an etiquette dinner.
If you would like to volunteer, please contact the office of alumnae and alumni relations at ndmalum@ndm.edu or 410-532-5201.
Publications & Communications
We are looking for alumns to write articles for alumnae and alumni print publications. Contact Alumnae and Alumni Relations at ndmalum@ndm.edu if you are interested.
Tower Talk is being sent monthly to all alumnae and alumni, so make sure the Office of Alumnae and Alumni Relations has your current email address. Send your new email address to ndmalum@ndm.edu.
Class Notes can be found on the Web giving you the opportunity to stay connected with classmates. Inform your classmates of your latest news.
Young Alum Committee
Newly formed in 2015, the Young Alum committee is open to any alum who has graduated within the last 15 years. If you're interested in networking with fellow alums and supporting Notre Dame, contact Lauren Rohrs at 410-532-3166 or lrohrs1@ndm.edu and be sure to check out our Facebook page.
Meetings will be held the second Monday of every other month.
Reunion
The Reunion committee meets several times a year to plan activities for Reunion weekend. If you are interested in helping with the planning or for more information, contact us at ndmalum@ndm.edu.
Past Presidents
Missy Evans Moreland '84, Past President
Every year, the Alumnae and Alumni Association Past Presidents attend a tea to discuss and choose this years award winners.
 Notre Dame graduates are extraordinary men and women, and we want to celebrate your accomplishments.
Please consider nominating a classmate for one of the awards sponsored by the Alumnae and Alumni Association. These awards are presented at reunion every year and recognize graduates whose achievements confirm the value of a Notre Dame education.