We inspire elementary and middle school children to discover how exciting science can be!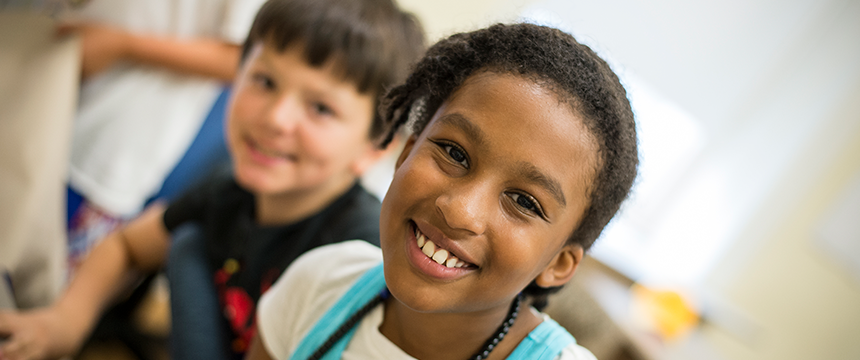 Studies show that students begin to lose interest in the sciences during the middle to late years of elementary school. Notre Dame's STEM summer camp is designed to help children entering grades K-8 expand their budding interests in science, technology, engineering and math.
Each day, campers will be introduced to a new STEM concept and will participate in hands-on learning. But it's not all science—there is also time for swimming, team building, crafts and lunch!
Hours
STEM camp is open from 8:30 a.m. to 5:30 p.m. Camp activities end at 3 p.m. to allow time for swimming, crafts and other activities.
Our Counselors
Campers are placed in small groups across grade levels with a lead counselor who works with the group throughout the week. Counselors are pre-service or in-service teachers enrolled in a School of Education degree program at Notre Dame of Maryland University.​
How to Register
2018 Session Dates
More details about session activities coming soon!
July 16–20: Into the Woods
Daily Schedule
A typical day in the life of our campers might look like this:
| Time | Activity |
| --- | --- |
| 8:30-9:30 | Team Building |
| 9:30-10:30 | Engineering Activity |
| 10:30-10:45 | Snack |
| 10:45-11:45 | Engineering Activity |
| 12:00-1:00 | Lunch |
| 1:00-3:00 | Conclusion of Engineering Activity |
| 3:00-3:30 | Outreach with National Aquarium |
| 3:30-4:00 | Arts and Crafts/Outdoor Activity with Afternoon Snack |
| 4:00-5:00 | Swimming |
Camper Information
Food
Snacks and lunch will be provided for campers throughout the week. Please send a reusable water bottle with your camper each day.
Clothing
Campers should wear comfortable clothing and footwear suitable for walking, running and playing games. A bathing suit and towel are necessary if campers wish to participate in water activities. Certified lifeguards and staff will be present at the pool.
Medical
Parent(s)/Guardian(s) are responsible for all medical expenses. Notre Dame of Maryland does not provide medical insurance.
Forms & Authorizations
Instructors
Dr. Juliann Dupuis is an Assistant Professor of Science Education at NDMU's School of Education. She has over 15 years of experience working with and teaching at the elementary, secondary and university levels and over 10 years in content development and teacher enhancement programs in science education. Currently, she works as a facilitator for the Maryland Department of Natural Resources to teach environmental education curricula and as a facilitator of the Engineering is Elementary curriculum from the Boston Museum of Science. Previously Juliann has been an instructor for the Museum of Science in Boston, Massachusetts as well as a formal science educator in the middle school classroom, educating hundreds of children. Dr. Dupuis will be overseeing the camp and organizing the curriculum and instructors.
Lisa Pallett is an Assistant Professor at NDMU who specializes in elementary mathematics instruction. She will be present each day and will help to ensure that the camp runs smoothly by helping to coordinate various activities and supervisor the daily camp counselors.
Ann Czapski is a middle school math teacher at St. John Regional Catholic School in Frederick, MD. She has a Bachelor of Science in Mathematics from Mount St. Mary's University and a Master of Arts in Leadership in Teaching STEM from Notre Dame of Maryland University. She has experience as a counselor and educator for the NDMU STEM Camp last summer.
Ed Svec is a Physical Education teacher at Edgewood Middle School. He is currently pursuing a Master's in STEM Education at Notre Dame of Maryland University, and specializes in incorporating STEM into the Physical Education curriculum. He coaches his school's Science Olympiad team, which competed in the State Tournament at Johns Hopkins University two years in a row. He also has three years' experience as a camp leader in Baltimore County for ages 6-15.
Robert Shank teaches at Abingdon Elementary School in Harford County MD. He teaches elementary physical education K-5. He has a Bachelor of Science degree in Physical Education from Towson University and will graduate with a Masters of Arts in Leadership in Teaching STEM from Notre Dame University. He has experience working with students in large groups and is very excited for the team building and engineering activities.
Nicole Oakley is a 4th grade teacher at Ring Factory Elementary in Harford County. She has been teaching for four years. She has a Bachelors degree in Elementary and Special Education from Towson University. She is currently pursuing her Master's degree in STEM at Notre Dame University and will graduate in August 2016. She has experience working with STEM enrichment groups during an after-school program at her school.
Ashley Demski is a Baltimore City Schools teacher and has taught PreK for 7 years. She is certified in elementary education, early childhood education and STEM. Ashley has helped develop science and STEM curriculum for Baltimore City Schools and teaches an Early Childhood STEM practicum at Notre Dame of Maryland University.
Carolyn Razon-Fernandez is a special educator at Northwood Elementary in Baltimore City. She has been teaching 9 years for Baltimore City Public Schools and is certified in both elementary education and special education. She is currently a doctoral candidate in Instructional Leadership at Notre Dame of Maryland University.
Emily Langton is the Activities Director at STEM camp. She is a 5th and 6th grade math and science teacher at St. Mark School in Catonsville. She has a Bachelor of Arts in Elementary Education and a Master of Arts in Leadership in Teaching STEM from Notre Dame of Maryland University. She has experience running a STEM club after school for middle school and incorporating 3D printing design into the school curriculum.
Contact Us
Juliann Dupuis
Notre Dame of Maryland University
4701 North Charles Street
Baltimore, MD 21210-2404
Phone: 410-532-5148
Email: jdupuis@ndm.edu