Please enjoy reading and hearing about our students' experiences in the ELI.
Sister Mirian - Brazil
Minha Experiência no Instituto de Lingua Inglesa – ELI
Estudar no Instituto de Língua Inglesa tem sido uma maravilhosa oportunidade em minha vida! Estou aprendendo uma segunda lingua e interagindo com pessoas de diferentes culturas. Essa tem sido uma imersão cultural a qual considero um presente de Deus!
Quero agradecer especialmente à Congregacão das Irmãs Escolares de Nossa Senhora e a todos os professores e funcionários deste Instituto. Agradeco por sua paciência, compreensão e sabedoria, os quais tem enriquecido minha vida.
No futuro, se você estiver interessado em aprender português, terei o maior prazer em ensiná-lo. A única coisa que você precisa fazer é viajar para o Brasil!
To study in the English Language Institute is a wonderful opportunity in my life! I am learning a second language and interacting with many people from different cultures. It is a real cultural immersion which I consider a gift of God in my life. I just want to say "thank you" to the Congregation of School Sisters of Notre Dame and to all teachers and staff at ELI. I am grateful for your patience your understanding and your wisdom which has enriched my life.
In the future, you may be interested in learning Portuguese I will be delighted to teach you at some late date. All you have to do is come to Brazil!
Milene - Cameroon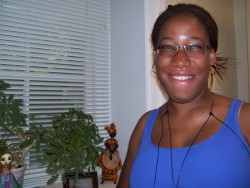 First of all, it is my first time to live far away from my parents. The experience I had at ELI helped me to learn many new things, to become independent. For example, I met some new classmates who come from different countries. Also, I learned what happens in other cultures and in the United States. For me, ELI is a big family because we share our knowledge, our cultures, our feelings. The six months I spent here helped me to improve my English, to learn many others things that I didn't know before.
I had an excellent experience at ELI with the support of my teachers, my classmates and all the community.
Thank you for your assistance and your help.
Tout d'abord, c'est ma premiere fois de vivre tres loin de mes parents. L'experience que j'ai eu a l'ELI m'a permi d'apprendre beaucoup de nouvelles choses et de devenir independante. Par exemple, j'ai rencontre de nouveaux camarades qui viennent de differentes pays. Aussi, j'ai appris ce qui se passe dans les autres cultures et aux Etats-Unis. Pour moi, ELI est une grande famille parce que nous partageons nos connaissances, nos cultures et nos sentiments. Les six mois que j'ai passe ici m'ont aide a ameliorer mon anglais, a apprendre beaucoup d'otres choses que je ne savais pas avant.
J'ai eu une excellente experience a l'ELI avec le support de mes enseignants, mes camarades et toute la communaute.
Merci pour votre assistance et votre aide.
Carlos - Colombia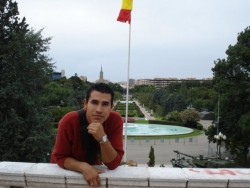 Life is always marked by processes that in every instance help man to grow and mature. In this process of growth, we are conscious that each of us has his own cycle; that is, everyone arrives at his destiny. This same process implies a mixture of sentiments, some pleasant, others sad, some happy, yet others melancholy; but all make us feel something in our heart.
I am a man of faith, a man who tries to discern and follow a transcendental voice, a voice that Christians call "the call of Christ." Following this voice, I came to the USA; it was a tremendous challenge, accompanied by fear and the insecurity that comes with beginning a new life. Arriving at a different culture where I didn't know anyone and where the language was different was a very strong emotional shock. My first month in Baltimore was extremely difficult. The principal challenge was to communicate; this seemed an almost insurmountable task.
Now, after almost one year, I can say that my growth has been enormous. Neither my grammar nor my pronunciation is perfect, but at least I have lost the fear that earlier had kept me from the person I really was.
How can I repay the Lord for what he has given to me? Here at ELI, I met incredible friends, friends that now are the reason that at times I feel sad and melancholy. Here I met excellent professors, men and women who have left an indelible impression on my life because of the love and dedication they showed to me.
My cycle here is coming to an end, and I am not afraid to admit that I feel sad. Why? It is because I leave here a part of my heart with the people that helped me in this year-long journey. You are part of my history here, and today I pause to give you thanks for all that you have done for me. I take with me your affection, your friendship, your instruction, and your jokes – all of which helped to lighten the yoke that I carried here. I will remember the face of each of you, those present and those absent, those young and old. I can only say, a million thanks.
Danielle - Cameroon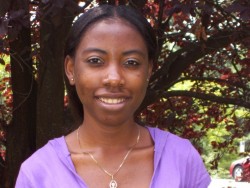 Depuis que je suis au collège of Notre-Dame of Maryland en tant qu'étudiant d'ELI, j'ai acquis de nombreuses expériences sur les différentes manières d'apprendre l'Anglais. Tout d'abord, j'ai reçu des cours comme la grammaire, l'écriture et l'expression qui m'ont permis apprendre plusieurs stratégies pour réussir à mon examen de TOEFL; et je pense que mes professeurs ont fait de leur mieux pour transmettre leurs connaissances. Maintenant que je suis à la fin de ce programme, je réalise que mes compétences linguistiques sont meilleures qu'avant parce que j'ai acquis la capacité de former des phrases pour m'exprimer au lieu d'utiliser des mots et des gestes. Je me suis aussi fait dans ce collège de nouveaux amis venant de différents pays comme le Brésil, la Corée, la Chine, le Portugal, l'Espagne, l'Arabie Saoudite et le Cameroun. Toutefois, étudier avec eux et les avoir comme amis m'a emmené à m'exprimer en Anglais tout le temps. Plus encore, j'ai beaucoup aimé les excursions organisées par mes professeurs et le personnel d'Eli. J'ai surtout apprécié celles organisées par mon professeur de culture américaine, car j'ai eu la possibilité en même temps de pratiquer la langue anglaise en public et de découvrir de nouveaux endroits. Ainsi, je recommande fortement à toute personne qui a besoin d'améliorer son niveau en Anglais de s'inscrire à ELI du College of Notre Dame of Maryland.
Hong Joo - South Korea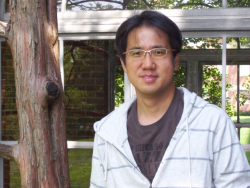 한국에서 직장생활로 영어 공부 시간이 매우 적었습니다. 노틀담 어학 코스의 학습 강도가 높아 짧은 기간에 영어 실력을 향상 시킬 수 있었습니다.
노틀담 ELI는 제 영어 실력을 향상 시키는데 도움이 되는 가장 효과적인 프로그램을 제공하였습니다. 미국 동부에서 가장 다닐 만한 어학 코스로 추천합니다.
합리적인 수업료, 미국 문화 체험을 위한 필드 트립, 학생 전체가 알고 지낼 정도의 친밀함, 선생님들이 집으로 초대 등이 이 학교의 좋은 점이었습니다.
When I worked in Korea, I had little time to study English. I learned very quickly at the English Language Institute at Notre Dame because the program is very strong.
This ELI has the most effective course available to help improve my English. I recommend this school as the best English language institute in the east.
This ELI has a reasonable tuition and many activities such as field trips for American culture experience, close relationships between foreign students, invitations to the teacher's houses and so on.
Yaoping - China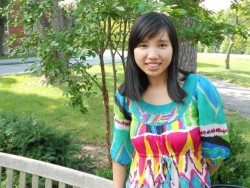 在ELI学习后,我的英语在听说读写各方面都取得了很大的进步.托福成绩也从最初的490提高到567。这里的老师很友好,他们组织的各类活动使我真正了解了美国文化。如果你想讲一口流利的英语,写一篇严谨的论文,这里是一个不错的选择。
After learning English at ELI, I have made big progress in English listening, speaking, reading and writing. My TOEFL score progressed from 490 to 567.The teachers here are very nice. They organize lots of activities which help us to understand American culture. if you want to speak fluent English and write a good essay, ELI is a good option.
Xin - China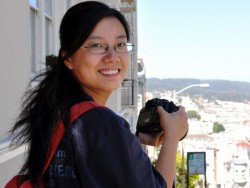 我在马里兰圣母大学语言学院的学习了一个学期。这儿的老师非常敬业和认真,让我很快适应了美国大学的生活,很快接受了美国的学习方式和美国文化,通过了托福考试。这段经历对我的帮助很大。我现在在马里兰Loyola大学完成我的教育硕士学习,依然很想念在马里兰圣母大学语言学院跟老师们和各国学生们在一起的日子。
I spent one session in Notre Dame of Maryland University English Language Institute. The teachers here are very professional and diligent. They helped me adapt to American college life, accept the American study methods and American culture, and they also helped me pass the TOEFL test. This experience helped me a lot. I'm now getting my Montessori Education master degree in Loyola University Maryland. I still miss the time with the teachers and my classmates from all over the world in Notre Dame ELI very much.
Netiya - Thailand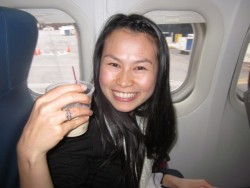 I came from Thailand to America speaking English not very well. I couldn't have learned to speak English correctly if I hadn't studied at ELI, Notre Dame Maryland University. I remembered how everybody treated me. They were amazing and generous. I came to a new place not feeling lonely because I always have Theresa, Anne, all teachers and classmates as my family. All of them have good influence on me. This university gave me an opportunity in life. They not only taught me the knowledge of English, but they encouraged me how to be good mannered and learned about american culture. Classes and activities were very interesting which I was always happy to join.
I will never forget this lovely place.
ฉันเป็นคนไทยที่ย้ายมาอยู่อเมริกาซึ่งพูดภาษาอังกฤษได้นิดหน่อย
ฉันคงพูดภาษาอังกฤษไม่รู้เรื่องถ้าไม่ได้มาเรียนที่มหาลัยนอร์เทอดอม ฉันจำได้ดีว่าทุกคนที่นี่น่ารักและเอื้อยเฟื้อยต่อฉันมาก แม้ว่าฉันจะมาจากต่างแดนแต่ฉันก็ไม่รู้สึกว่าเหงาเลยเพราะว่าฉันมี คุณแอน คุณเทอรีซ่า คุณครูทุกๆคน และเพื่อนร่วมห้องทุกๆคนด้วย ทุกคนเปรียบเหมือนครอบครัวของฉัน ที่แห่งนี้มอบโอกาสดีๆให้แก่ฉัน นอกจากจะสอนความรู้ภาษาอังกฦษแล้วยังสอนฉันให้เป็นคนดีและเรียนรู้วัฒธรรมอเมริกาอีกด้วย ที่สำคัญในห้องเรียนรวมไปถึงทุกกิจกรรมที่นี้มีความสนุกสนานและแปลกใหม่ซึ่งทำให้ฉันมีความสุขมากที่ได้มาเรียนที่นี่ ฉันจะไม่ลืมมหาลัยนี้เลย