Show your pride while you ride!
In addition to showing your support, every purchase of a Notre Dame of Maryland University license plate enhances the University's academic excellence since tag proceeds benefit the NDMU annual fund. Plus, tag sales count as donations, which boost the university's academic rankings.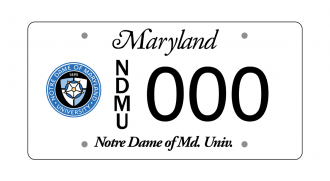 How to Apply
Complete the Application/Certification for Organizational License Plates (PDF) – name, address, and vehicle information.
Mail your Application Form and a check for $40 payable to Notre Dame of Maryland University to:
Notre Dame of Maryland University
Attn: Alumnae and Alumni Relations
4701 North Charles Street
Baltimore, MD 21210
We will complete the authorization portion of the application, and forward your completed application and payment to the MVA's Specialty Tag Unit for processing.
Please save a copy of your completed form for your records.
Questions?
Contact the Alumnae and Alumni Relations Office at ndmalum@ndm.edu.