In times of crisis, we need to keep in touch more than ever. The Office of Alumnae and Alumni Relations is excited to help you stay connected to each other and share resources of support.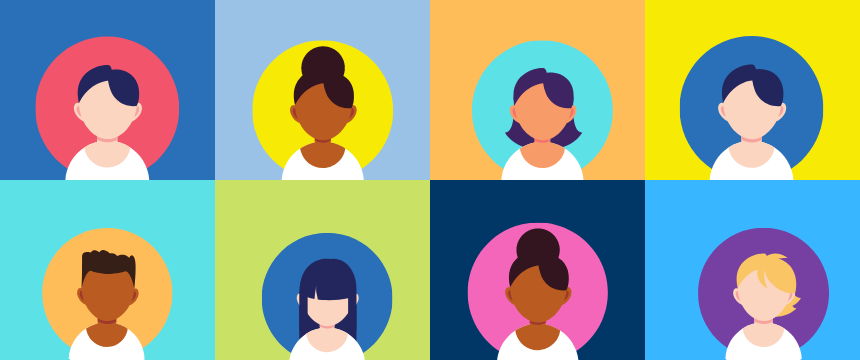 Through this suite, which will continue to expand and change, we hope you will find enjoyable opportunities to connect, ways to support NDMU students, and resources to attend to some of your myriad needs at this critical time.
Login information for the How Do You Fix Your Coffee? series may be found in "Connect with Fellow Alums".
Follow our Facebook page for even more connectivity. Videos are available on our Facebook page and YouTube channel under "Alumnae and Alumni Community."
I want to…
Connect with Fellow Alums
How Do You Fix Your Coffee?: A 30-minute, Informal Chat Series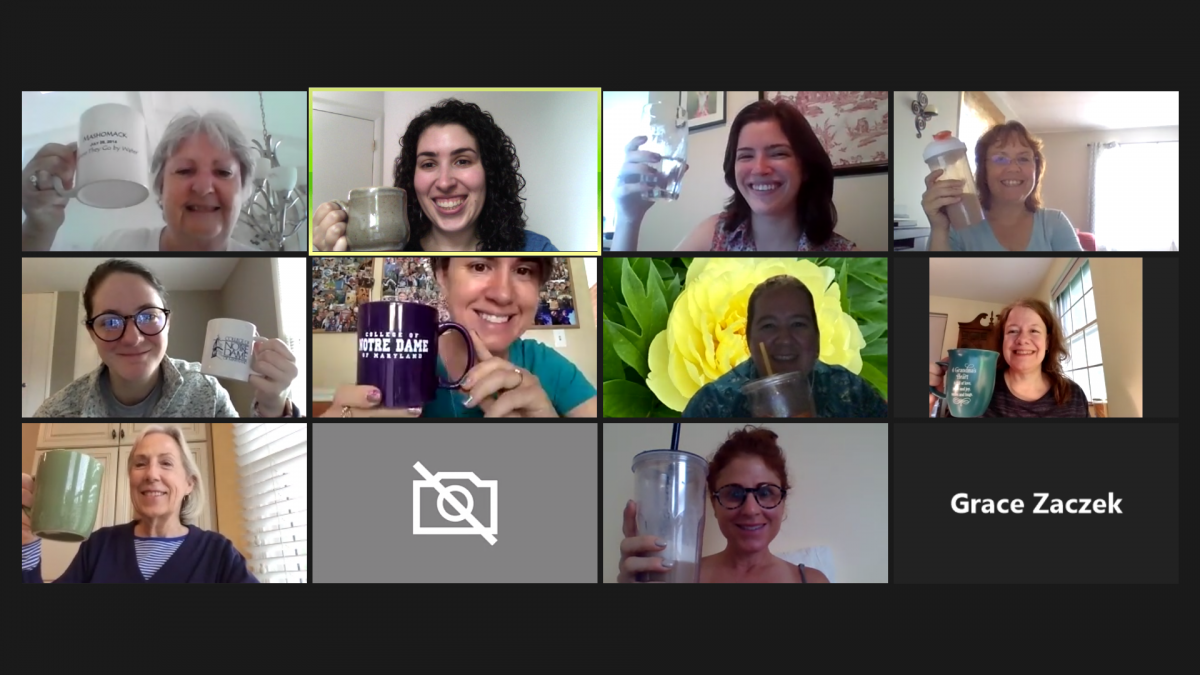 Join us for 30-minute Zoom chats to discuss the "normal" and mundane. Our topics will change from week to week. Email ndmalum@ndm.edu to retrieve the login information for any of the upcoming events.
Upcoming Chats
Chats are currently in development. Stay tuned!

Participant Instructions
When joining the chat, please put your first and last name as well as your class year in the chat box - this allows everyone to see who has joined us (Ex., Iman Alumna '85).
Show us your beverage of choice.
​​​​We ask that everyone have their video turned on during the conversation in order to participate.
Gab with Gators pairs you with another alum at random (well, not quite randomly; staff will pair you with someone based on three criteria). The idea is to have a phone call or video chat with someone in the NDMU community that mimics a conversation you'd have at an in-person event.
Share a Class Notes Update
Would you like to share a happy update? Did you get married this year? Welcome a new family member? Do you share a Christmas letter? Any and all of these updates are invited for the next issue of Tower Talk! High-resolution photos are emphatically encouraged, too. Send your update to ndmalum@ndm.edu.
Give Support to Current Students
Share a Message of Encouragement: #NDMUtogether
Most students are now off campus and have resumed learning online. Some remain on campus and are housed in dorms with appropriate distance. They, too, are learning online. We would love to share a positive message from you with the students.
Video messages: Record a video message and post it to your social media page of choice. Tag Notre Dame of Maryland University, use #NDMUtogether, too, and include your name and class year in the description.
Written messages: Write your notes on social media, tag Notre Dame of Maryland University and use #NDMUtogether. Include your name and class year at the end of your note. Likewise, you can send your note to ndmalum@ndm.edu and the staff will share it with students in a message that will feature a compilation of notes.
Share Financial Support
As Notre Dame of Maryland continues to respond to the impact of COVID-19, you may want to help current students, faculty, and staff. The support we give to one another and all those in our Notre Dame community is becoming more important every day. Our mission to provide our students with the resources they need to stay safe and reach their academic goals is stronger than ever. Contributing to the Notre Dame Fund allows the university to use your gift for the area of greatest need, and gives us the flexibility to respond to the evolving situation. We thank you for your prayers, thoughtfulness and generosity during these challenging times.
Explore Other NDMU Programming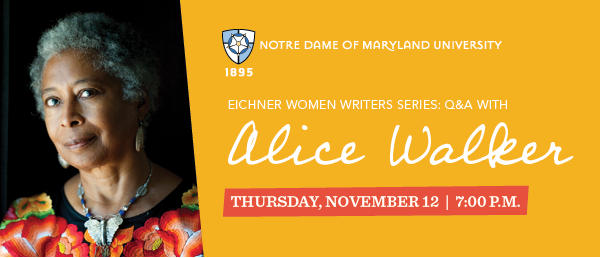 Join us for a Q&A with Alice Walker
November 12 at 7:00 p.m. EST
Zoom Link
Alice Walker is an internationally celebrated writer, poet and activist whose books include seven novels, four collections of short stories, four children's books, and volumes of essays and poetry. She won the Pulitzer Prize in Fiction in 1983 and the National Book Award.
Her work has been translated into more than two dozen languages, and her books have sold more than fifteen million copies. Along with the Pulitzer Prize and the National Book Award, Walker, in 2006, was honored as one of the inaugural inductees into the California Hall of Fame. Her novel The Color Purple was made into a film and a Broadway musical.
Her upcoming nonfiction work, Gathering Blossoms Under Fire: The Journals of Alice Walker, will be a book of lasting significance—tracing her development as an artist, human rights activist and intellectual.
Sponsored by the Sister Maura Eichner Endowed Professorship of English. Free and open to the public. No tickets necessary.
Support an Alum-Affiliated Business
Talk with Someone about My Career Path
Alan Jones, of NDMU's Career Center, is available to meet with alums virtually—and for free—to discuss how to transition into new careers and how to succeed with the new recruiting methods and predictive analytics used by employers. Learn to avoid the most common mistakes on video interviews. Revise your resume to successfully get through an Applicant Tracking System to be reviewed by a human. Alan may be contacted directly at ajones17@ndm.edu.
Grow in Faith
Our Mission and Ministry Department recommends a few resources:
Download the app myParish to connect with online services and other resources.
Utilize resources from the Archdiocese of Baltimore: At Home with Your Faith, a daily compilation of resources for the faithful during this time.
Help My Children Succeed at Home
School of Education faculty member, Patty Silver, is an accomplished teacher and parent who has homeschooled her five children. Thanks to her help, she has shared her family's tips (DOC) with all of us.
Ryan Schaaf, Associate Professor ofEducation Technology in the School of Education has provided a free PDF guide for children in K-12. A few words about this resource from Ryan:
For years, games have provided learning opportunities to the digital generation. Educators and parents have seen the popularity of games such as Fortnite, Pokemon Go, and Minecraft gain the attention of today's children. Globally, over 2 billion people play digital games because they are highly interactive, engaging, and fun. There is also a growing body of research that supports that players can learn through gameplay.

The purpose of this guide is to provide some relief for the educators and parents of K-12 learners trying to provide learning resources for the digital generation. This resource is not a comprehensive solution -- just a free guide created by passionate educators working to help quarantined learners. This guide is free to you -- please use it, or share it with an educator or parent you feel might find it useful. If you share the resource on Twitter, please include us in a mention (@RyanLSchaaf & @keriaengel).
Additional resources may be found on Ryan's website.
Art Therapy is an easily accessed tool to help calm, engage, motivate, and transform. Cathy Goucher '94, Director of Art Therapy at NDMU, hosts a daily virtual art challenge on Facebook and Instagram.