Accelerated 2nd Degree Bachelor of Science in Nursing (BSN)
Major
The Accelerated Second Degree BSN program is designed for career changers who already have a bachelor's degree in a non-nursing field, but wish to become a registered nurse. After completion of pre-entrance requirements, the accelerated program will take 15 months to complete.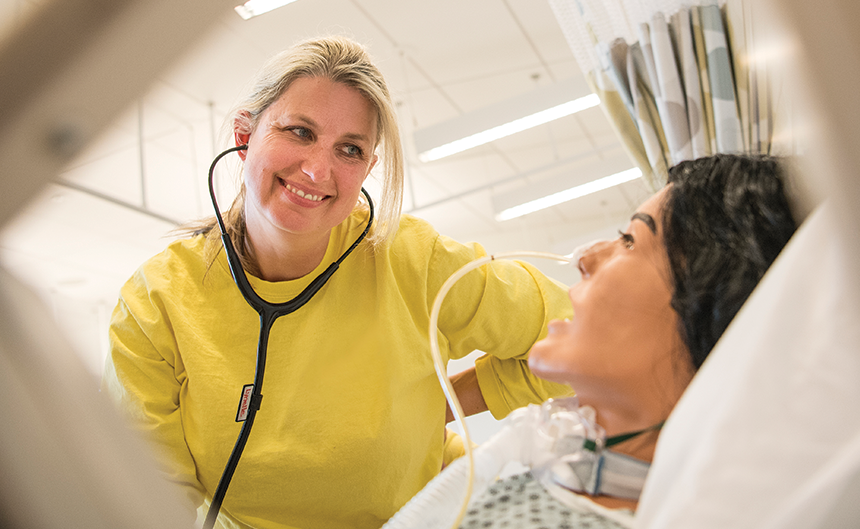 Program Locations
The Bachelor of Science in Nursing (BSN) at NDMU
Notre Dame offers three ways to secure a BSN:
Accelerated Program
The deadline for application is November 15, 2019. Applications will not be reviewed until after the deadline.
Successful graduates are eligible to apply for licensure as a registered nurse and must pass the National Council Licensure Examination (NCLEX-RN) to practice.
Pre-Entrance Requirements
MAT 215 - Basic Statistics (3)
CHM 108 - Survey of General, Organic & Biochemistry (4)
BIO 253 - Microbiology (4)
BIO 201 - Anatomy & Physiology I (4)
BIO 202 - Anatomy & Physiology II (4)
BIO 260 - Genetics and Genomics (3)
PHL 339 - Medical Ethics (3)
Note: Pre-entrance courses may require prerequisite courses.
Science course work must be completed within the last 5 years or the applicant must have relevant employment experience.
Admission Requirements:
Note: Applications will not be reviewed until all application materials are submitted.
Completed Application
Completion of a Bachelor's Degree
Cumulative Undergraduate GPA of 3.0 or higher (4 point scale)
Official College Transcript(s) from all previous institutions
Successful completion of required pre-entrance courses
A current resume
a personal statement addressing why you chose nursing as a career path, your education and professional goals within nursing, the personal and academic qualifications that make you a strong candidate, and why you chose Notre Dame of Maryland University. Limit 800-1000 words.
Curriculum
This program requires nursing courses totaling 58 credits:
NUR-301 Holistic Health Assessment (4)
NUR-303 Nursing Informatics (2)
NUR-304 Healthy Aging (3)
NUR-305 Foundations of a Caring Profession (5)
NUR-307 Nursing Research (3)
NUR-308 Professional Nursing Care: Psychiatric/Mental Health (4)
NUR-310 Pathopharmacology (4)
NUR-311 Professional Nursing Care of the Adult I (4)
NUR-406 Contemporary Trends & Theory in Nursing (3)
NUR-408 Professional Nursing Care: Maternal & Newborn Nursing (4)
NUR-409 Professional Nursing Care of the Adult II (4)
NUR-417 Professional Nursing Care: Children & Families (4)
NUR-431 Community Health Nursing (5)
NUR-432 Caring Nursing Leadership (3)
NUR-461 Clinical Practicum (6)
Credits
Bachelor Degree Credits: 90
Total Pre-Entrance Credits: 25 Maximum
Total Nursing Credits: 58
Total: 148-173 Credits
What to Expect Studying at Notre Dame of Maryland University
Small class sizes, faculty mentoring, and hands-on experiences offer an environment of individualized learning while clinical, service-learning, and study abroad provide opportunities to transform the world.
Research & Internship Opportunities
As a nursing student, you will have research opportunities both in the classroom and in clinical practice.
In nursing, we teach the value of advocacy; advocacy for patients and their families. Research assignments are often built on this outcome and the School of Nursing's mission overall.
Clinical Experiences
You will have an opportunity to gain experience in a clinical setting by working with patients and their families under the supervision of a clinical instructor.
Clinical Sites Include
University of Maryland Medical Center
Johns Hopkins Hospital
University of Maryland St. Joseph's Medical Center
Mercy Medical Center
Greater Baltimore Medical Center
Good Samaritan Hospital
Simulation Labs
In addition to clinical sites, you will also spend time in our state of the art simulation labs which allow you to practice your response to realistic medical situations in a safe environment.