The Academy of Catholic Educators (ACES) supports academic excellence for all students through quality, research-based professional development for teachers and administrators.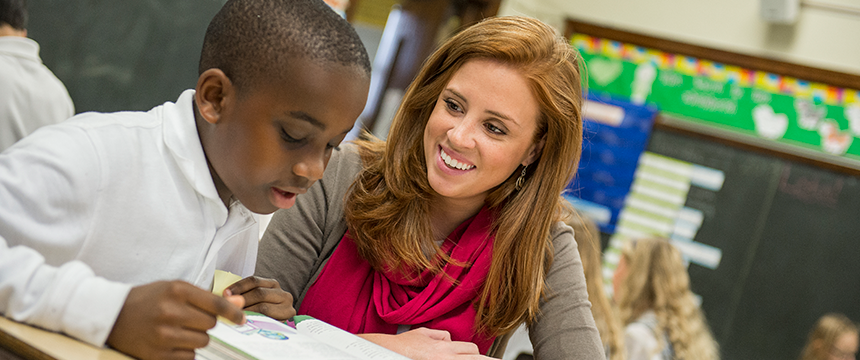 Professional development for teachers is essential for improving student learning. The more teachers know, the better their students learn, achieve, and succeed.
Our Services
Train school leaders
Certify teachers
Deliver quality professional development
Design effective instruction
Provide specific feedback for improvement
Services can be provided on-site at the partner school or on the Notre Dame campus.
Professional Development
We design grade- and multi-grade level half or full day workshops, classroom observations, and other professional development programs to meet the needs of partner schools.
Topics
Reading
Math
Differentiated Instruction
STEM
Research-Based Instructional Strategies
Integration of Technology
Using Data to Make Instructional Decisions
Instructional Coaching
Special Education
Testimonials from Partner Schools
"Teacher development is vital to the success of our students. Education is undergoing major changes and teachers feel overwhelmed. Our school's partnership with Notre Dame gives me the help that I need to grow as an effective teacher."

Kelly Lessis, 8th grade teacher
Our Lady of Hope/St. Luke School

---

"The challenges of today's classroom can be daunting. ACES provides our teachers with instruction, ideas and the confidence to be successful in this age of digital literacy, instructional shifts and increased rigor. Our teachers, thanks to ACES, are now delivering instruction that is targeted to standards and engaging for the students."

Deborah Thomas, Principal
Immaculate Heart of Mary School

---

"Our partnership with Notre Dame of Maryland University has provided our teachers with the opportunity to engage in professional development once a month focusing on strategies to engage the 21st century learner."

Christine Blake, Principal
St. John the Evangelist School
ACES Program Leaders: Exceptional Educators
Sharon Slear, SSND, Ph.D.
Sr. Sharon is the founding Dean of Notre Dame's School of Education and is an acknowledged expert in teacher education. She was the recipient of the National Catholic Education Association award for promoting educational diversity and has been inducted into The Daily Record's Circle of Excellence as one of Maryland's Top 100 Women.
Gail Donahue, Ph.D.
Dr. Donahue is the Director of the Academy of Catholic Educators. She is a former classroom teacher, reading specialist, assistant principal, principal, and college instructor. Dedicated to Catholic school education, Gail's special focus has been on designing high performing schools using effective instruction and technology while maintaining Catholic identity and the charism of founding orders.
Michelle Jones, M. Ed.
Michelle Jones is the Assistant Director of the Academy of Catholic Educators. She has been devoted to the mission of Catholic education for her entire career, working as an elementary school teacher, assistant principal, principal and principal coach for the Archdiocese of Washington, and as principal and the Director of Program Planning and Evaluation for the Catholic Schools Office in the Archdiocese of Baltimore. Michelle's special focus is using assessments to design, differentiate and implement instruction.
Education Initiatives & Events
Summer STEM Institute for Teachers
Learn to engage your students with real-time data while earning three graduate credits through a week of hands-on projects guided by the Department of Natural Resources.
This one-week day camp expands budding interests in STEM fields for students entering grades 3-8.
Speaker Series
This annual event brings high-profile educators and researchers to campus to share their expertise and discuss the latest educational trends and pedagogies. Past speakers have included Ian Jukes, H. Samy Alim, and Richard Louv.
NDMU School of Education: A Leader in Teacher Training
Notre Dame has a long and proud history of mutually beneficial partnerships with Catholic private and public schools, providing outstanding professional development that offers teachers relevant and practical applications in and outside the classroom.
Contact Us
Gail Donahue
Director of ACES
gdonahue@ndm.edu