​Operation TEACH is an innovative two-year post-graduate service program that seeks to develop a corps of highly committed educators to meet the needs of children in Baltimore area Catholic elementary and secondary schools.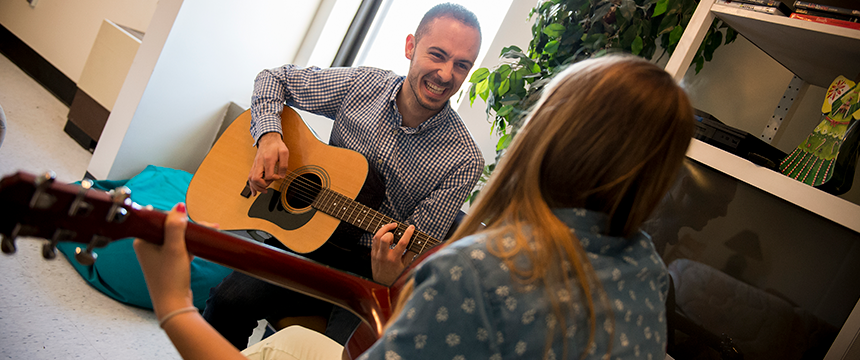 About the Program
Operation TEACH participants commit to the two-year service program while they are enrolled in a graduate program at Notre Dame of Maryland University and complete a Master of Arts in education.
Operation TEACH Pillars
Professional Life
Community Life
Spiritual Life
Program participants are comprised of recent college graduates who live together in a community, share their experiences as new teachers and provide support and encouragement for one another. Through community living, Operation TEACH teachers help one another explore, strengthen, and share their spirituality. Operation TEACH participants represent a variety of undergraduate academic majors and come from a broad range of backgrounds and experiences. Individuals with or without an education background or initial certification are welcome to apply.​
Degree Options
Operation TEACH participants earn a graduate degree from Notre Dame of Maryland University. A plan of study is individually developed depending on individual Operation TEACH participant's academic background and his or her professional goals.
Courses are completed in summer, fall, winter and spring semesters and degrees are conferred upon completion of the Plan of Study.
Students with an Initial Certification
Operation TEACH participants who have secured initial certification in undergraduate programs earn a Master of Arts in Leadership in Teaching (with concentration options in STEM, Special Education, Exceptionalities, Reading Specialist, Administration and Supervision, and Content Areas) or a Master of Arts in TESOL (Teaching English to Speakers of Other Languages).
Students without an Initial Certification
Those without initial certification earn a Master of Arts in Teaching in a content area.
Program Cost
All costs associated with graduate education are covered by the Operation TEACH program.
How It Works
Operation TEACH candidates must submit all application materials and interview with Operation TEACH administration via Skype or in person
Operation TEACH candidates are interviewed by principals who have openings in their schools for the upcoming school year. After the interviews, Operation TEACH program administrators work with the principals to secure placements.
Operation TEACH participants earn a stipend of $14,000 per year paid through their school placement and heath insurance options.
All Operation TEACH participants live together in furnished community houses in the Baltimore area. Each participants has a private bedroom and shares common living areas.
Operation TEACH participants are responsible for paying rent, community expenses (covering food, internet, recreation, etc.), and certification testing fees. Tuition, books, registration and graduation fees are paid by the program.
Application Process
Application Timeline
Fall—Applicants receive Operation TEACH information through university service fair recruiting, brochures, the Operation TEACH web page, or the Operation TEACH office.
January-February—Initial interviews with Operation TEACH administrators via Skype or at Notre Dame of Maryland University
February 1—Application submission deadline (including online application, essays, test score reports, official transcripts, and recommendation forms and letters)
March—Candidate interviews with interested Baltimore area principals
April—Positions offered to candidates and letters of intent to participate in Operation TEACH are signed
July—New Operation TEACH participants report for orientation and live on campus for the month
August—New Operation TEACH participants move into communities and prepare for the school year
Application Materials
University Consortium for Catholic Education
Operation TEACH is part of the University Consortium for Catholic Education. The UCCE is a partnership of university programs joined by the common mission of recruiting and training faith-filled, energetic teachers to strengthen, sustain, and serve in Catholic schools. These programs, based in colleges and universities across the country, are unique in their details, but all share the same basic components of professional development, community and spirituality.
Contact Us
Angela Simmons, Operation TEACH Director
asimmons@ndm.edu
410-532-5326

Kristin Pinkowski, Operation TEACH Assistant Director
kpinkowski1@ndm.edu
410-532-5394