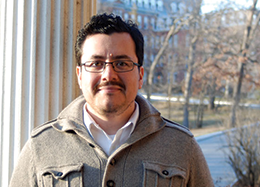 Ken Sossa
Associate Professor
Biology Department
Knott Science Center (KNO) 337
ksossa@ndm.edu
410-532-5719
Programs I teach...
School of Arts, Sciences & Business
Education
Albert Einstein College of Medicine, M.S. & Ph.D. in Neuroscience, 2007
Hampton University, B.S. in Molecular Biology, 1999
Professional Affiliations & Memberships
Association of Biology Laboratory Educators (ABLE)
Association of College and University Biology Educators (ACUBE)
Society for Neuroscience
Research Interests
To understand how experience shapes the invertebrate nervous system.
To explain the molecular and physiological events that underlie neuronal plasticity.
Publications
Typical Courses
Animal Physiology (BIO 431)
Special Topics in Biology: Neurobiology (BIO 411)
Unity & Diversity of Life (BIO 230)
Human Anatomy & Physiology II (BIO 202)
Explore all faculty