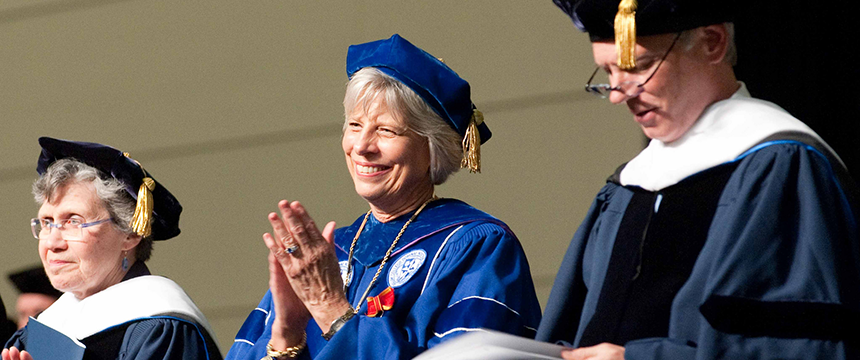 The Seurkamp Fund for Academic Excellence will continue President Seurkamp's indelible legacy at Notre Dame, through support for scholarships, academic programs and facilities.
Since her inauguration in 1997, President Seurkamp has led the University through an unprecedented era of progress and growth, including:
Expanding academic programs to meet the needs of nontraditional students through the College of Adult Undergraduate Studies;
Establishing Notre Dame as a leader in health care education, with the launch of the School of Pharmacy and expansion of nursing programs at the undergraduate and graduate levels;
Realigning of academic programs into the School of Arts, Sciences, and Business; School of Education; and School of Nursing;
Founding the Ph.D. in education, the first doctoral program to be offered at the University;
Overseeing $120 million in much-needed capital projects involving the construction, expansion and renovation of residential and academic facilities; and
Leading Notre Dame through the historic decision to become Notre Dame of Maryland University on September 9, 2011.
The proceeds from the Blue and White Ball in March 2012 will be used to establish the first endowed scholarship fund of the University era at Notre Dame. In addition, as part of the University's master plan, a campus facility will be named in honor of President Seurkamp as a permanent tribute to her leadership and the educational innovation and academic excellence she inspired during her presidency.
Blue and White Ball
The Blue and White Ball was held in March 2012 in honor of Dr. Mary Pat Seurkamp and her 15 years of service to Notre Dame. The Ball raised an astounding $1 million in support of the new Seurkamp Fund for Academic Excellence. Denise Koch, WJZ-TV news anchor, emceed the March 31 gala along with Board of Trustees chair Patricia J. Mitchell. Nearly 500 leaders from the Maryland higher education, business and philanthropic communities came together in tribute to President Seurkamp's 15-year legacy of leadership. Cardinal Edwin O'Brien joined the celebration to extend appreciation to President Seurkamp from the Archdiocese of Baltimore.
Charles and Catherine Counselman '41 presented a $300,000 gift to the Seurkamp Fund, adding to generous contributions of $100,000 from leadership sponsor Edward, Judith, Steven and Diana Civera; and $100,000 from sponsor Willard Hackerman and The Whiting-Turner Contracting Company. Sponsorships of the Seurkamp Fund at the $25,000 level were received from Veronica Walker Hackett '67 and the John L. Stasiak Private Foundation. A total of 23 sponsors contributed to the fund, along with 250 individual donors.
Board Chair Patricia J. Mitchell and trustees Helen Passano and Barbara Wolf, alumnae of Notre Dame's Class of 1969, made a surprise announcement at the event that their combined commitments will bring total support to the Seurkamp Fund to $1 million.
Sponsors & Donors
Presenting Presidential Sponsors
With gratitude for their extraordinary gifts of $100,000
The Civera Family
Whiting-Turner Contracting Company
University Summa Cum Laude Donors
With gratitude for their generous gifts of $25,000
Veronica Walker Hackett '67
The John L. Stasiak Private Foundation
University Magna Cum Laude Sponsors and Donors
With gratitude for their generous gifts of $10,000
The Peters Family: Mary Lou Peters '60 and Joe Peters and Suzi Coy '60
The Dorothy L. and Henry A. Rosenberg, Jr. Foundation
The Archdiocese of Baltimore
Johns Hopkins Medicine
Mary C. Mangione
Margaret Bagli Otenasek C'85
SunTrust Bank
Waverly Management, LLC
University Honors Sponsors and Donors
With gratitude for their generous gifts of $5,000
Patricia K. Batza and Michael J. Batza, Jr.
Leonor and Marc Blum
Mary Catherine Bunting
Constellation Energy
Francis and Betty Contino WEC'89
CCS Fundraising
Celia Read Gilmore '54 and Bill Gilmore*
Charles E. Herget, Jr.
Susan G. Larkin '65 and James T. Larkin
LifeBridge Health
Loyola/Notre Dame Library
Patricia J. Mitchell '69
Mount Saint Mary's University
M&T Bank*
T. Rowe Price
S/L/A/M Collaborative, Inc.
Wright, Constable & Skeen, LLP
Dr. Ellen H. Yankellow – Correct Rx Pharmacy Services
The Seurkamp Fund for Academic Excellence
With gratitude to donors making generous gifts to $4,999
Sue Nevin Abromaitis '60 and Michael J. Abromaitis
Anonymous
Carole Artigiani '62 and Robert Scott
Jeffrey and Carol Baker
Barnes & Noble College Booksellers, LLC
Mary Claire Appleby Bavis '47
Polly Behrens WEC'98 and Bruce Behrens
Carole M. Beyer, Ed.D. '63
Patricia A. Bosse '81 and Frank Gunther
Patricia M.C. Brown and Joseph Gill
Deborah C. Calhoun
Rosalie Jones Connor '51
Loretta O'Keeffe Curley C'91 and John F. Curley, Jr.
Joyce and Joseph Di Rienzi
Edith McParland Donohue '60
Noreen Dowling-Moini '53
Marilyn Falvey '55 and Paul Falvey
Grace Finn '52 and Peter Finn
Debra M. Franklin '76
Claire Flavin Funkhouser '71
Bob and Debi Gerbus
Patrica Wohrna Gibbons '52 and Edwin C. Gibbons, Jr.
Stephany Smith Lynch Harper C'89
Rosemary Garrett Hartley '48 and James P. Hartley
Richard A. Hartman
Eleanor Nolan Holcomb '50
Margaret Delaney Holland '47 and Captain John P. Holland
Karen Stakem Hornig '80
Jeanne Morris Jones '50 and Harvey C. Jones
Mary Ellen and Leon Kaplan
Kathleen Schimunek Karpers '61 and Bernard S. Karpers, Jr.
Julia Kennedy Kaster '74
KCI Technologies, Inc.
Irene Keeley '65 and John P. Keeley III
Rev. Robert T. Kennedy
Nancy Kiehne
Marion I. Knott
The Marion I. and Henry J. Knott Scholarship Fund, Inc.
Carole Peppin Kramer '58
Sally A. Lawrence '71
Mildred Lindbloom
Eunice M. Lynch '62
Claire MacDonald
Nancy Byrnes Martel '58 and Tom Martel
Barbara Martin '79 and Madeline Martin Seaver '11
Sean and Tracy McManus
Vivian Moresco Merz '59 and Arthur Merz
Anne French Michaels '59
Roxanne Gladden Miller '99
Barton Mitchell
Susan M. Mitchell '80 and Daniel Lashinsky
Julia Bailey Monastero '67 and Robert Monastero
John and Susan Nehra
Bishop William C. Newman
Joan Dobbins Nolan '48
Mary J. Oates, CSJ
Mary Anne O'Donnell
Ruth Joyner O'Neill '60
Mary Louise Preis and Frederick Preis
Ronald Proud
RCM&D, Inc.
Heidi Fletcher
Mary Scally Rose '62 and C. Bowie Rose
Marianna Russell C'94 and John Russell
Robert and Melanie Sabelhaus
SAGE Dining Services
Debra Salmon and Eric Huppert
Donna M. Salmon
Suzanne Shipley and Randall J. Wadsworth
Lois and Howard Shofer
Stephen and Sarah Spengler
Tom Spengler*
Patricia Spitzig and Aaron Edmondson
Jeanette Spratley WEC'00
Robert A.M. Stern Architects, LLP
Francia Faust Stevens W'82, M'91 and John A. Stevens
Jeanne H. Stevenson
Barbara Tipton '66
Ruth Toro '60 and Rodrigo Toro
Diana M. Trout C'97 and Kenneth H. Trout
Josephine Trueschler
Chuck and Betty Visconage
Alice Knott Voelkel '54*
David Wilson
Paul and Karen Winicki
Steve and Theresa Wiseman
David and Carol Wormuth
Rosemary E. Zuna '68
*added after program went to print
Photos & Videos
In the following video, President Mary Pat Seurkamp addresses the guests at the Blue and White Ball.
This video was part of the Blue and White Ball program honoring Mary Pat and her service to Notre Dame.