Psychologist CE Seminar: Managing Risk in Everyday Practice: The Ethics of Being a Mental Health Clinician in the Real World
Friday, February 9, 2018
NDMU, Knott Auditorium
4701 North Charles Street, Baltimore, MD 21210
$89.00
The APA approved continuing education seminars are relevant for all mental health disciplines including psychology, professional counseling, social work, and psychiatry.
Sure, all mental health clinicians licensed in Maryland are required to take continuing education on the topic of ethics. But don't you want to go beyond just reviewing basic concepts you learned back in graduate school and when you were studying for your licensing exams?
In this seminar we will take those somewhat sterile academic concepts and apply them to your practice. We will discuss a multi-factorial model of ethical reasoning and concrete steps to improve risk management that you can implement the day you return to your office. The seminar will be structured as an interactive exercise rather than using an "ask the ethicist" format, so be prepared to be actively engaged and ready to think and discuss some tough, real life situations with your colleagues.
APA Approved
Notre Dame of Maryland University is approved by the American Psychological Association to sponsor continuing education for psychologists. Notre Dame of Maryland University maintains responsibility for this program and its content.
Contact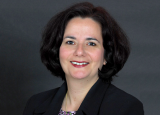 Maria Mouratidis
Professor/Chair