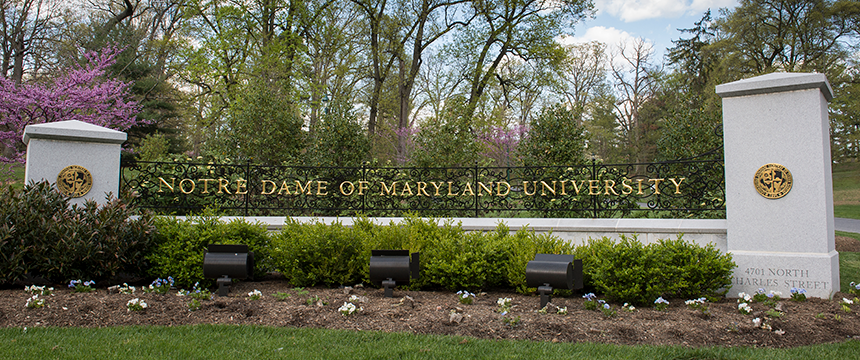 2021 Theme: Building Compassionate Leaders
On February 23, 2021 we honored and recognized all of our wonderful award winners.
---
Notre Dame Day History
The first record of Notre Dame Day is in the handwriting of Mary Meletia Foley, SSND, and is dated March 25, 1901. It tells of a celebration highlighting the double dedication inherent in our name, which honors Notre Dame, Our Lady, and Maryland, our state. Happily, the two converge on one date: March 25, the Feast of the Annunciation of the Angel to Mary, and Maryland Day, the day colonists came to St. Mary's.
Thereafter, the day was observed intermittently, but a general pattern remained. In 1953, it became a structured experience in liberal arts education. Faculty and students participated in across-the-curriculum classes that placed Mary in the historical and theological context of her time and timelessness.
In 1968, the name changed from Annunciation Day to Notre Dame Day, and the focus of the classes broadened to include any choice of subject. This ended in 1971.
In 1989, the University revived the old custom. Today, Notre Dame Day is a time to celebrate our common purpose, to remember our rich heritage, and to recognize the achievements of the University community.
---
2021 Award Recipients
Distinguished Staff Award: Marci Leadbeter and Kathy Sipes
SSND Mission and Ministry Award: Cleo Margetas
Service-Learning Faculty Advocate Award: Dr. Kelly Bull
Mary Anne O'Donnell Team Academic Achievement Award: Cross Country
Department Awards:
Art – Calenna Cauley
Art Therapy – Grace Cross
Biology – Kristina Pickering, Sarah Sweet & Fidelia Asomani
Business/Economics – Michaila Sheedy
Chemistry – Aissata Timbine
Communication Arts – Mylaika Stephenson
Criminology – Molly Havens
English – Lindsey Pytrykow
History/Political Science – Samantha Miguez Tolliver
Mathematics – Hannah Campbell
Modern Foreign Language – Bria Foster, Angelie Singh, Christiana Young
Music – Christina McConnell
Physics – Vanessa Dunn
Philosophy – Kylie Simonson
Psychology – Kiara Haughton
School of Education – Claudia Tinoco
School of Nursing – Sara Erin Schapiro
2020 Award Recipients
Distinguished Staff Award: Michael Hardy and Donna Jenkins
SSND Mission and Ministry Award: Dawn Bradshaw
Service-Learning Faculty Advocate Award: Dr. Patrice Silver
Student Service Award: Amirah Arafat
Mary Anne O'Donnell Team Academic Achievement Award: Cross Country and Volleyball Teams
Departmental Awards:
Art- Calenna Cauley
Art Therapy- Maria Blaszkiw
Biology- Keira Mull
Business & Economics- Jessie Willinghan
Chemistry- Hannah Campbell
Communication Arts- Don'she Cloude
Computer Studies- Amanda Ashton
Criminology- Cathryanna Dorsey
Education- Taylor Bynion
English- Katie Cardinal
History/Political Science- Andrea Faulknor
Mathematics- Bintou Timbine
Modern Foreign Language- Katherine Martinez
Music- Isabella Carunungan
Nursing- Andrea Zuluaga
Philosophy- Tavia Williams
Physics- Chavonne Bowen
Psychology- Alexis Morgan
Religious Studies- Catherine Sergon
2019 Award Recipients
Distinguished Staff Award: Dawn Bradshaw
SSND Mission and Ministry Award: Mary Alice Adams
Service-Learning Faculty Advocate Award: Juliann Dupuis
Student Service Award: Nia Willis
Mary Anne O'Donnell Team Academic Achievement Award: 2017-18 Lacrosse Team with a cumulative team GPA of 3.391
Departmental Awards:
Art- Caroline O'Donnell
Biology- Keira Mull
Business & Economics- Megan Morales
Chemistry- Lilly Gordon
Communication Arts- Darian Barton
Criminology- Alexandra Guerrero
Education- Sierra Vancek
English- Katie Cardinal
History/Political Science- Tavia Williams
Mathematics- Marion Smedberg
Modern Foreign Language- Christine Roa
Nursing- Heather Barry
Philosophy- Tavia Williams
Physics- Sarah Hasnain
Psychology- Chinwendu Nwokeabia
2018 Award Recipients
Distinguished Community Service Award: Bishop Denis J. Madden
Distinguished Staff Award: Michelle Evans, Director of Student Engagement and Community Programs
SSND Mission and Ministry Award: Marylou Yam, President
Service-Learning Faculty Advocate Award: Stephanie Savick, Professor, School of Education
Mary Anne O'Donnell Team Academic Achievement Award: 2016-17 Soccer Team with a cumulative team GPA of 3.547
Departmental Awards:
Art- Sabine Hern-Nagle
Biology- Bhavya Bhardwaj & Renee Hajnik
Business & Economics- Serena Soutar
Chemistry- Victoria Oji
Communication Arts- Molly Wolanski
Criminology- Victoria Cox
Education- Madison Mildenberger
English- Courtney Strength
History/Political Science- Shannon Edwards
Mathematics- Chinwendu Nwokeabia
Modern Foreign Language- Gerriza Balmes
Nursing- Brenda Diazdelvalle
Philosophy- Robyn Githui
Physics- Sarah Hasnain
Psychology- Abigail Gaver
2017 Award Recipients
Distinguished Staff Award: Mary Burch Harmon
SSND Mission and Ministry Award: Brian Berry
Service-Learning Faculty Advocate Award: Maria Mouratidis
Mary Anne O'Donnell Team Academic Achievement Award: 2015-16 Swim Team with a cumulative team GPA of 3.408