Future Gator Day + Overnight
Saturday, April 18, 2020
4701 N Charles St, Baltimore, MD 21210
Have you been accepted to NDMU's Women's College and are thinking about attending in the fall?
Future Gator Day + Overnight is an Accepted Student Day with an optional overnight! You will come to campus and meet NDMU faculty, staff, and students to get to know our campus community a little better.
This will be a fun celebration where you can chat and mingle informally with many different departments and students. If you choose to spend the night on campus, you will be paired up with a current student and get to sleep in our residence hall Saturday night!
Log onto your Personal URL page to RSVP!
Can't remember your Personal URL? Find it at discover.ndm.edu/FirstnameLastname
Contact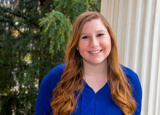 Anna Gibney
Admissions Visit & Event Coordinator