Healing Racial Trauma
Friday, October 16, 2020
Zoom Seminar
89
Notre Dame of Maryland University Psychology Department, as an APA approved sponsor, is pleased to offer a series of continuing education seminars for psychologists and other mental health professionals.
In cities across our nation racism is being declared a public health crisis; yet many mental health providers are not prepared to adequately assessment, treat or acknowledge Black and Indigenous People of Color (BIPOC) experiences with racial trauma. By avoiding a "colorblind" narrative, clinicians need to be able to directly address the underlying racial discrimination BIPOC experience individually and collectively. Through a virtual platform, participants will be invited to actively participate in activities to define racial bias and identify the subsequent mental health implications. This workshop will provide participants with the skills necessary to expand their practice, assess for racial trauma and identify the hidden symptoms BIPOC may not readily share. Participants will leave better prepared to recognize and treat the impact of racial trauma and increase their ability to have productive conversations with white and BIPOC clients.
Learning Objectives
At the conclusion of this workshop, participants will be able to:
Describe the role of bias and list two ways clinicians can treat racial trauma.
List 3 presenting symptoms associated with direct and indirect exposure to racism.
Apply a race-based traumatic stress frame to assess a client's treatment needs.
Speaker Biography
Dietra D. Hawkins, Psy.D. is a licensed Clinical Psychologist who works nationally and internationally with state and local government organizations, public and private schools and behavioral health agencies as the owner and lead consultant with Both And Partners, Inc. She is a published author and frequent speaker for workshops addressing Appreciative approaches toward system change; Diversity, Equity and Inclusion, Recovery Oriented Systems of Care, Asset Based Community Development and Inclusion, and the Healing of Racism. Dr. Hawkins holds a faculty appointment as an Assistant Clinical Professor at Yale University, Program for Recovery and Community health. Her primary research interests address racial and ethnic health care disparities; cultural competence, organizational systems change and transformation; and qualitative and community based participatory research. She is highly regarded for her positive energy and personable approach toward difficult conversations.This seminar will integrate the principles of existential psychotherapy, i.e. especially the work of Dr. Viktor Frankl (Meaning and Life) and Dr. Elisabeth Kübler-Ross (Meaning and Death). The goal will be to introduce a clinical model for the assessment and treatment of grief and bereavement. Participants will examine the phenomenology as well as a treatment model for facilitating the grief process and dealing with complicated grief.
Contact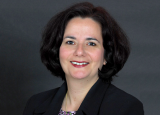 Maria Mouratidis
Professor/Chair