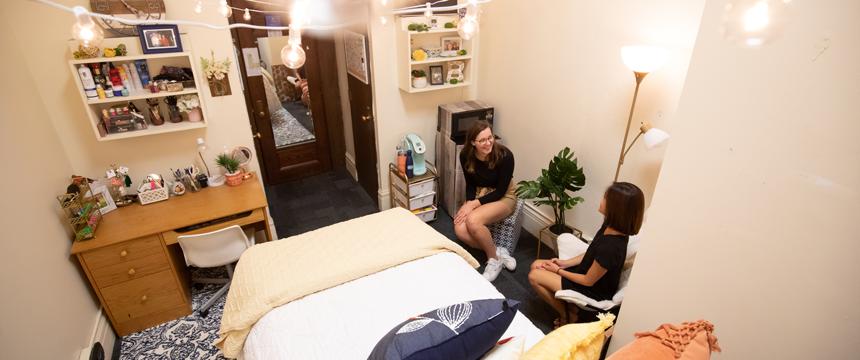 ​Housing
On-campus housing is available for full-time graduate and undergraduate students.
Residence halls are equipped with lounges, kitchenettes, laundry facilities, computers, landline capabilities, cable television and internet access.
Residence Halls
Doyle Hall
Doyle Hall includes both single and double rooms with a common bathroom (for the 2020-2021 Academic Year, all students will be housed in single rooms). The building includes kitchens and laundry facilities, and each floor has a lounge and study room.
Housing for:
Women's College students
Co-ed students in the Graduate Studies, School of Pharmacy, and English Language Institute programs
Features of Doyle Hall
Limited rooms with air conditioning and a private or semi-private bathroom (Accomodations required);
Location of the University's dining room, Gator Alley, a chapel, and the commuter lounge;
Location of mailboxes for all resident students (behind the Doyle Hall Desk).
Meletia Hall
Meletia Hall is an all-women residence hall that houses students in the Women's College at NDMU. The hall offers single, double, and triple rooms with private, suite, and floor bathrooms (for the 2020-2021 Academic Year, all students will be housed in single rooms).
The residence hall also has several kitchens and multiple lounge spaces throughout the building in addition to a laundry room.
Features of Meletia Hall
Includes a beautiful , air-conditioned, main lobby;
Houses an interfaith space that can be utilized by all students;
Location for Living Learning Communities (2nd floor)
Note: Due to dorm capacity, we are no longer able to offer guest room accommodations.
Room Options
Single Room
Double Room
Triple Room (limited availability)
*For the 2020-2021 Academic Year, all students will be housed in single rooms.
Rooms have a twin/twin xl bed, standard twin/twin xl mattress, dresser, desk with chair, and a closet or wardrobe for each student. Extra furniture cannot be removed from the rooms or disassembled.
Accessible Housing/Accommodation
Students requesting accessible housing or accommodations based on documented disability or medical condition must apply through the Office of Accessibility and Health Promotion in Theresa Hall 009. The housing accommodation application along with appropriate documentation must be submitted to the Director of Accessibility and Health Promotion who works in collaboration with the Director of Housing and Residence Life. Students are encouraged to apply for accommodations as early as possible.