Notre Dame continues to educate leaders who are transforming the world. Here are just a few NDMU graduates whose achievements are making a difference.
The Daily Record's Top 100 Women
Since 1996, The Daily Record's Top 100 Women list has recognized outstanding women leaders who are not only leading the way professionally, but are dedicating their time and energy to community work as well as mentoring.
Christina Bolmarcich '97, Principal, Attorneys Semmes, Bowen & Semmes
Leslie Simmons '94, R.N., F.A.C.H.E., President of Carroll Hospital Center
Melissa Delaney '92, Vice President, Global Web Services at Legg Mason & Co, LLC
Mary Beth Lennon '89, President, Mercy High School
Trustee Patricia Brown, Esq., Senior Vice President of Managed Care and Population Health of Johns Hopkins Medicine, President of Johns Hopkins HealthCare LLC, and Senior Counsel for The Johns Hopkins Health System
Ava Lias-Booker, Member, NDMU President's Advisory Council, and Managing Partner, McGuire Woods LLP
---
Laura Snyder Runyeon '94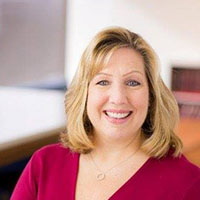 Laura Snyder Runyeon, who holds a B.A. in history from NDMU, has been appointed by Gov. Larry Hogan to the Harford County Board of Education. Laura is a paralegal for Miles & Stockbridge, P.C. and previously served as a substitute teacher for Harford County Public Schools.
---
Mary Ann Lisanti '89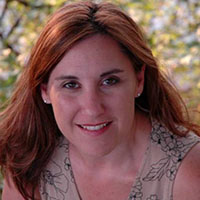 Mary Ann Lisanti is a delegate in the General Assembly of Maryland, representing Harford County. Prior to serving in elected office, Ms. Lisanti worked in Harford County Government, served as City Manager of Havre de Grace, Maryland; and was Executive Director of the Lower Susquehanna Heritage Greenway. Ms. Lisanti was elected to the Harford County Council from 2006-2014 before serving in the state legislature. In addition to her Notre Dame degree in political science, Ms. Lisanti earned a masters in public administration from Michigan University.
---
Angelique Besold, Ph.D., '08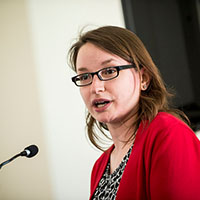 The path to a career in STEM for Angelique Besold, Ph.D., was a bit, well, rocky. She failed high school biology. But a chemistry class ignited a passion for science that has never stopped. Still, the idea of engaging in research didn't appeal to her—she thought it would be boring. But she decided to take a summer internship at a University of Maryland research lab and never looked back. "Lab research was so much more exciting than I ever thought it would be," she says. "You get to ask questions that no one knows the answers to and design experiments to figure out how to answer those questions." She completed a Ph.D. in Pharmaceutical Sciences in November, 2014 at the University of Maryland, where her research focused zinc finger proteins – proteins that use zinc as a co-factor – and their critical role in proper neurological development. Her work resulted in numerous first author publications and awards. She is currently a Postdoctoral Fellow in the Department of Biochemistry and Molecular Biology at the Johns Hopkins Bloomberg School of Public Health and served as the featured speaker at the 2015 Nancy Kreiter Student Research Day.
---
Antoinella Peterkin '12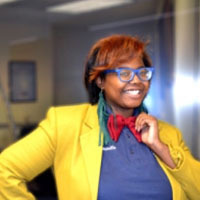 Antoinella Peterkin bubbles with energy as she talks about her plans to start a nonprofit to serve at-risk children in Baltimore. Once faced with her own challenges as a child, Antoinella is an inspiring example of how having strong positive role models can turn young girls into independent, extraordinary women. At only 23, Antoinella has graduated from Notre Dame of Maryland University, spent two years as an AmeriCorps volunteer and spearheaded a successful girls afterschool program at Higher Achievement, an nonprofit that aims to close the opportunity gap for middle school youth. Antoinella says much of her passion stems from her experience with My Sister's Circle (MSC), a United Way funded mentoring program that exposes underprivileged girls to opportunities that empower them to define success for themselves, make intentional decisions about their future and become self-sufficient young women.
---
Queenstar Akrong '14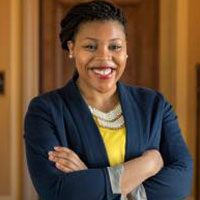 Queenstar Akrong, who has a bachelor's degree in political science and a concentration in international affairs, is currently serving as a Congressional intern on Capitol Hill. Born in Ghana but currently residing in Maryland, Queenstar's passion for education advocacy, specifically for marginalized communities and developing countries, is the driving force behind her work. As a student, Queenstar worked on several projects, such as the Clothesline Project, which brought awareness about the epidemic of violence against women in our communities. In addition, Queenstar's passion for multicultural dialogue and conflict resolution led her to become the youngest summer camp coordinator for the annual International Model United Nations Summer Camp at the UNESCO Center for Peace. Queenstar plans to run for office one day and ultimately become the first female president of Ghana. This spring Queenstar will be serving in the Democratic Cloak Room.
---
Sister Cathy Arata, SSND '70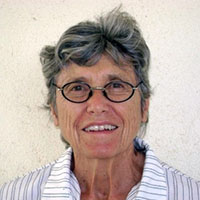 In true SSND style, Sister Cathy Arata has dedicated her life to service and community-building. She has worked with battered women in Maryland and the poor in El Salvador, and she served as the School Sisters of Notre Dame's Justice and Peace Coordinator on the Vatican's Network for Justice, Peace and Integrity of Creation in Rome. Now, Sr. Cathy is director of pastoral services for Solidarity with South Sudan, an international network of more than 200 religious congregations that trains teachers, health workers, and pastoral personnel. Despite the violence that continues to plague the African country, in a 2014 Catholic Weekly article Sr. Cathy said she planned to stay. "Being in solidarity means being one with the people. It means standing faithfully beside them at this tragic time."
---
Danielle Neumeister '15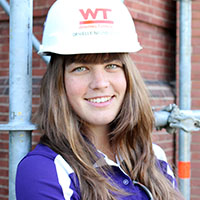 Over the last year, Notre Dame's campus has seen lots of construction activity—and one of our students has helped bring some of those projects to fruition. Danielle Neumeister spent the summer of 2014 as a project engineer intern with Whiting-Turner Contracting Company, one of the country's largest general contracting and construction management companies. She learned the administrative side of the business—organizing schedules, checking in on contracts, receiving bids—and also spent time on campus, assisting the W-T project managers with the Gibbons tower and Doyle Dining Hall renovation projects and the closeout of the University Academic Building. A mathematics major and physics minor, Danielle has just completed the first phase of NDMU's 3-2 program; she'll spend the next two years in the University of Maryland College Park's civil engineering program. "I've learned a lot over the years here," she says. "Being able to have the renovations be part of my internship was a great experience."
---
Rachel De la Haya '14 and Charisma Edmonds-Massey '14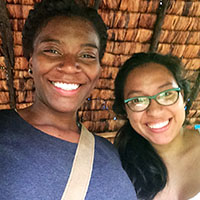 During the summer of 2014, Rachel De la Haya, right, and Charisma Edmonds-Massey traveled to Tanzania, where they taught computer skills to students at the Faraja Primary School for Disabled Children as part of the Davis Projects for Peace. "Everyone has been so kind and welcoming to us and have been patient enough to teach us some Swahili," said Rachel. "I know Charisma and I will always cherish our time here and have a special part in our hearts for the country, continent, and all the people we have met."
---
Jessica Emrich '13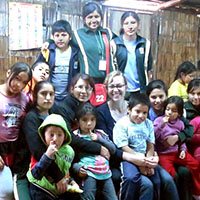 Jessica Emrich has just finished her first year at Eastern Virginia Medical School, and although she hasn't yet chosen a specialty, she knows her focus will be on humanitarian medicine. "For a long time I've felt like I can't see myself doing a career that wouldn't involve doing service," she says. As a Women's College student, Jessica's passion for service was evident in her strong Catholic faith and participation in service trips to Guatemala, the Dominican Republic and Peru (where she has returned this summer as a volunteer teacher and tutor). She was additionally distinguished by her strong abilities in science, spending two years in a brain cancer therapy lab at Johns Hopkins School of Medicine as part of the Sister Alma McNicholas Women Scientists Program. "Jess was one of the best, most engaged students I have ever had," said biology professor Peter Hoffman, Ph.D. "I really think that Jess has the potential to make a real difference in this world."
---
Lauren Ackerman '08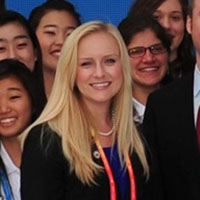 The pages of Lauren Ackerman's passport must be nearly full by now. As a Women's College student, she supplemented her international studies major with trips to Thailand and Mexico, an internship in Chile, and a Davis Projects for Peace venture in Guatemala. As a graduate student at the University of Pittsburgh, where she earned a master's degree in Public and International Affairs with a major in Global Political Economy, Lauren traveled to Tokyo to research Japanese economic policy through the prestigious Japan Travel Program for U.S. Future Leaders Fellowship. After graduation, she was selected as a Presidential Management Fellow, through which she completed rotations in the Federal Housing Finance Agency's Office of Strategic Initiatives and the U.S. Embassy in Seoul, South Korea. As of September 2014, Lauren has a permanent position as principal analyst at FHFA. Only time will tell where her career will take her next!
---
Amber Brehon Class of 2016; Andreina Mijares-Cisneros, Class of 2016; and Gabrielle Rehmeyer '15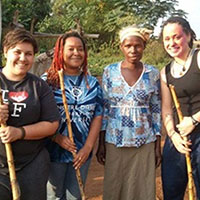 Armed with a grant from the Davis Projects for Peace and suitcases full of colorful yarn, Amber Brehon, Class of 2016; Andreina Mijares-Cisneros, Class of 2016; and Gabrielle Rehmeyer, Class of 2015, set off in May 2013 for Swaziland, a small country in southern Africa where Gabrielle had lived with her missionary parents before coming to Notre Dame. These three Women's College students were on a mission to teach women and girls how to crochet scarves, bags and other items—a simple but effective way to boost their income, enable them to buy food and medicine and grant them more independence. "We went there to try and teach a group of women a skill that might help them," said Andreina. "And they ended up teaching us more than we ever imagined."
---
Tess Maseda '13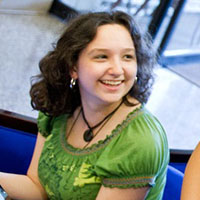 Tess Maseda couldn't wait to give back to Notre Dame. Just a year after she graduated with a degree in biology and a minor in music, she became the youngest member of the Mary Meletia Society, which comprises Notre Dame's benefactors who contribute $1,000 or more to the Notre Dame Fund in a single fiscal year. She is now working as a lab technician at the Johns Hopkins School of Medicine before entering medical school in 2016. Tess made her gift to honor a professor who she says had a profound influence during her education at Notre Dame: Christy Izdebski, an associate professor in the music department. "I really had a wonderful experience in the music department as a science major, and that's what made me decide to make a donation," says Tess, who is proficient on trumpet and piano. "I knew I wanted to give back to Notre Dame in as many ways as possible."
---
Sister Lucia Disconsi C'05, CMS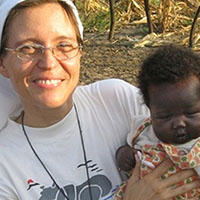 Sister Lucia Disconsi of the Comboni Missionary order, moved to South Sudan to teach shortly after graduating from Notre Dame with a degree in biology and mathematics. Despite the violence that plagues the northeast African country, Sister Lucia remains there, hoping to provide a sense of normalcy to her frightened students and praying for them and their families. "She went there because of her faith and stays there because of her faith. No material gain involved. Pretty fearless, in my opinion," said biology professor Peter Hoffman, Ph.D.
---
Sheri Booker '04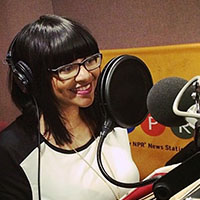 In 2013, Sheri Booker published Nine Years Under, a memoir about her time working in a West Baltimore funeral home. Featured in such national outlets as The New York Times, NPR, and Essence magazine, she also won the 2014 NAACP Image Award for Outstanding Literary Work from a Debut Author. Baltimore's City Paper named Nine Years Under one of its top ten local books of 2014. In addition to being a writer, Sheri is a poet, spoken word artist and teacher. "I found my voice at Notre Dame," she said.
---
Tara Mathew Sahu '01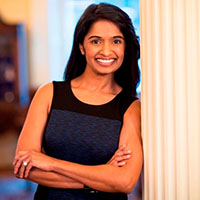 A solid foundation in the theory and practice of marketing at Notre Dame propelled Tara Mathew Sahu to the top of her profession. Her career began with Motorola, where she eventually managed global advertising campaigns. After a stint with Leo Burnett, one of the world's largest advertising agencies, she joined The Coca-Cola Company in Atlanta, where she has worked on Super Bowl campaigns, traveled to the Olympics and developed television spots that were ranked by AdWeek as among the best of 2013. "I have a lot of passion and love for Notre Dame University of Maryland. There are so many things that make this a special place—the faculty, the friendships, the communities and organizations that will help you discover and follow your passion," she said. "You will be joining a community whose sole purpose is to educate leaders that will transform the world."
---
Julie Kline Rybczinski '99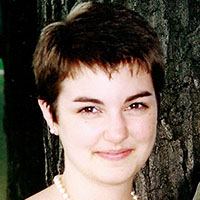 Julie Kline Rybczinski was beloved for her joyfulness and gentle spirit. She received Notre Dame's Recent Graduate Award for leadership in the Archdiocese of Baltimore and devotion to her alma mater. Julie passed away in 2010, leaving behind her husband and daughters, but her spirit lives on through her family, friends, classmates—and the St. John's Bible exhibit in the Loyola/Notre Dame Library. "Julie was a remarkable woman—smart, positive and a very committed individual," said president emerita Dr. Mary Pat Seurkamp.
---
Lisa Matarazzo Ruth, Ph.D. '99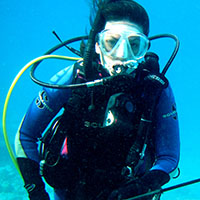 Lisa Matarazzo Ruth, Ph.D. is a civilian aquatic biologist with the U.S. Army Public Health Command Water Resources Program. Every few months, she spends several weeks in the Marshall Islands between Hawaii and Australia, leading a project to study local fish—and trying not to miss her husband and children too much. "The most rewarding part of my job is knowing when I am away from my family that I am making a difference," she said in a Catholic Review article.
---
Shelley Puhak '97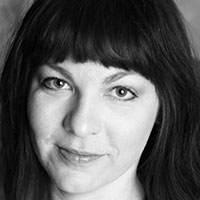 The reviews are still coming in, but the latest book of poetry by NDMU English professor Shelley Puhak is already a hit. Guinevere in Baltimore is a fresh take on the Arthurian legend, set in contemporary Charm City. Its striking, economic language echoes the work of Sister Maura Eichner, SSND '41—appropriate, considering that Shelley holds the Eichner Endowed Chair in English! Guinevere won the prestigious 2013 Anthony Hecht Poetry Prize contest, which was judged by former U.S. Poet Laureate Charles Simic. In the book's foreword, Simic wrote, "Guinevere in Baltimore is masterfully crafted, a veritable feast for any lover of words."
---
Leslie Simmons '94, M'97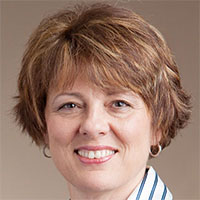 Leslie Simmons is the president of Carroll Hospital Center, located in Westminster, Maryland. A leader in the hospital for 14 years, Leslie is credited with being instrumental in driving the center's outstanding achievements in quality with a focus on accountability and transparency. Leslie, who earned both a bachelor's degree in nursing and a master's degree in management administration from Notre Dame, was recognized as one of The Daily Record's Top 100 Women in 2012.
---
Mia Redrick '92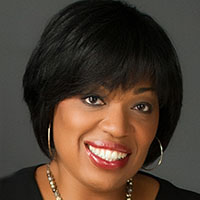 Mia Redrick was a trailblazing "mom strategist" before the term existed. As founder and CEO of Finding Definitions, Mia—a mother of three—is dedicated to sharing her message of the importance of self-care with moms across the country. The author of three books, including Time for Mom-Me: 365 Daily Strategies for a Mother's Self-Care, Mia is also a contributor to The Huffington Post and Dr. Oz's Sharecare.com and has been a guest on ABC News 2 and other media outlets. She is also the founder of the Iron Moms Triathlon Team!
---
Mary Beth Lennon '89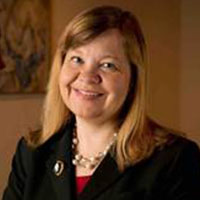 Fearless Notre Dame graduates are always rising to new challenges—just like the dynamic Mary Beth Lennon, who was tapped to lead Mercy High School as its next President beginning July 1, 2014. She left her post as director of communications and assistant to the president at Cristo Rey Jesuit High School, which she helped launch in 2007. In June 2014, Cristo Rey's board of trustees established a fund in Mary Beth's name, citing her "kindness, honesty, integrity and high standards for the benefit of students and colleagues" and the ways that she "championed the establishment of the Cristo Rey Jesuit High School brand in the greater Baltimore community." Mary Beth holds a master's degree in Latin American history; as an undergraduate, she volunteered in a Guatemalan orphanage operated by the SSNDs. "Decide to make a difference," she advised. "At first, you might not know how to do that, so begin with a simple question: How can I help?"
---
Eileen O'Neill '88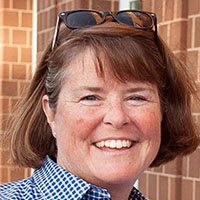 Eileen O'Neill started out at Discovery Communications as an unpaid intern. Over more than two decades, she worked her way up: Now Group President at Discovery and TLC Networks, Eileen has been called one of the most powerful women in Hollywood. Hit shows developed under her leadership include Say Yes to the Dress, Jon & Kate Plus 8, and Cake Boss. "One of my favorite challenges is to find those great characters that people will love … or hate," she said in a 2011 interview.
---
Mary Corey '85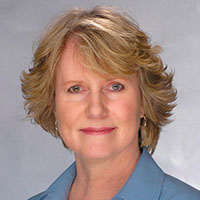 Before graduating magna cum laude from Notre Dame, Mary Corey '85 worked as an intern at The Baltimore Sun. With her Communications/English degree in hand, she joined the staff as an editorial assistant, eventually becoming The Sun's first female Senior Vice President and Director of Content—the top editor—in 2010. A dear friend and mentor to many, Mary passed away one year ago at the age of 49 from breast cancer. "Mary Corey was committed to the Baltimore region and was one of the few editors of a major metropolitan newspaper to have the unique opportunity to lead her hometown paper that she grew up reading," said Mayor Stephanie Rawlings-Blake.
---
Audrey Carrion '81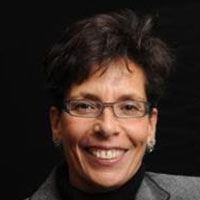 When Notre Dame of Maryland recruited high school student Audrey Carrion from Puerto Rico in 1977, it brought to Baltimore a young woman who would make history and contribute broadly to her profession and community. Now an associate judge for the Baltimore City Circuit Court, Judge Carrion was the first person of Hispanic heritage to be appointed as a judge, first for the District Court of Maryland in Baltimore City in 1995 and then for Baltimore City Circuit Court in 1999. Among other honors, Judge Carrion has been recognized as one of Maryland's Top 100 Women by the Daily Record in 2000 and 2003 and has received the Maryland Leadership in Law Award from the Daily Recordin 2011 and the Outstanding Achievement Award from the Maryland Hispanic Bar Association in 2011.
---
Maxine Johnson Wood, Ph.D. '63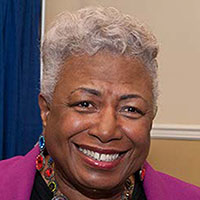 Maxine Johnson Wood, Ph.D., launched her accomplished career in education as a history teacher in Baltimore in 1963. That summer, she'd witnessed history in the making at the March on Washington, where Martin Luther King Jr. delivered his famous "I Have a Dream" speech. In a Timemagazine article on the march's 50th anniversary, Maxine said, "To hear him give that message made you believe you did have a dream, and it was very inspiring."
---
Honorable Kathleen O'Ferrall Friedman '62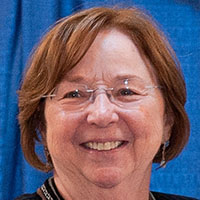 The Honorable Kathleen O'Ferrall Friedman—known as Katy to the campus community—graduated from Notre Dame with a history degree and went on to earn advanced degrees in law and social work. A tireless advocate for women, children and families, Katy served as an attorney with the Legal Aid Bureau and was appointed as a judge to the Circuit Court of Baltimore City in 1985. She also applied her considerable leadership skills to cofounding House of Ruth, a Baltimore shelter and law clinic for victims of domestic violence. At Notre Dame, she is the first layperson to chair the Board of Trustees, served as the chair of the 2014 presidential search committee and was the recipient of the 2012 Elizabeth P. Hoisington '40 Distinguished Alumna Award and the 2014 Pro Urbe Award. She was also named one of the Daily Record's 2014 Leadership in Law honorees.
---
Kathleen Feeley SSND, Ph.D. '50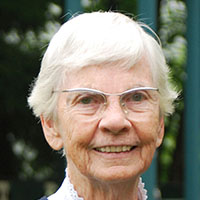 Kathleen Feeley SSND, Ph.D., is a well-known and respected Notre Dame figure. As Notre Dame's president from 1971 to 1992, she oversaw a period of significant innovation and growth. Her many other accomplishments include founding Caroline Center, the SSND project that educates unemployed and underemployed women in Baltimore; serving as interim president at the Institute of Notre Dame; and, most recently, teaching in Ghana. "You can never stop learning," she said at a 2009 campus event.
---
Jo Trueschler '49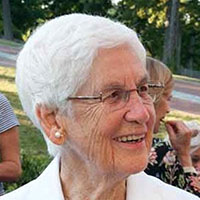 Jo Trueschler is an English department legend. During her 39-year career teaching at Notre Dame—spanning 1959 to 1998—Jo inspired students with her impassioned perspectives on literature and writing. Several significant Notre Dame awards, including the 1985 Mullan Distinguished Teaching Award, have honored her excellence. Now retired, Jo continues to lead a book club that meets on campus. "I fly toward words and sentences, among paragraphs and pages, like a moth to flame," she wrote in The Baltimore Sun.
---
Mildred Buzek Otenasek, Ph.D. '36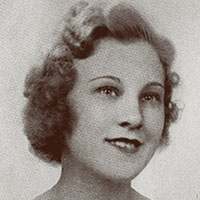 Mildred Buzek Otenasek, Ph.D., inspired countless women in Notre Dame's history/political science department, where she taught for 23 years. "She made politics come alive in the classroom," said a former student upon Millie's death in 2012. A political trailblazer, she was the first woman member of the Democratic National Committee for Maryland. The Otenasek House of the Morrissy Honors Program was dedicated in her honor in 2013.
---
Blessed Theresa Gerhardinger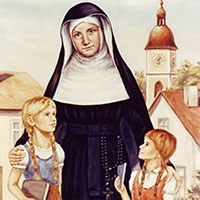 Blessed Theresa Gerhardinger is the original Fearless Notre Dame woman! Just 14 years after founding the School Sisters of Notre Dame in Germany, Theresa Gerhardinger and five other trailblazing School Sisters sailed to America in 1847 on a mission to educate poor girls and women. They were ahead of their time, and what they accomplished was truly remarkable: The SSNDs prevailed over hardship and obstacles to establish several schools, including Notre Dame, and earned an international reputation for teaching excellence. Today, more than 3,000 SSNDs continue to live out Blessed Theresa's philosophy: trust and dare.