Embracing Diversity: Immigration & Refugee Issues Lecture
Thursday, November 9, 2017
LeClerc Auditorium
4201 North Charles Street, Baltimore, MD 21210
Free and Open to the Public
Donald Kerwin, Executive Director of the Center for Migration Studies, will speak about timely topics regarding migration, refugee protection, and related issues.
About the Speaker
Donald Kerwin directs the Center for Migration Studies (CMS), an educational institute/think tank devoted to the study of international migration, to the promotion of understanding between immigrants and receiving communities, and to public policies that safeguard the dignity and rights of migrants, refugees and newcomers.
CMS was established in 1964 by the Congregation of the Missionaries of St. Charles, Scalabrinians. It is a member of the Scalabrini International Migration Network (SIMN), which consists of more than 270 organizations that serve, safeguard and advocate for migrants throughout the world.
Mr. Kerwin worked for nearly 17 years at the Catholic Legal Immigration Network, Inc. (CLINIC), serving as that agency's Executive Director for 16 years. He has also served as Vice-President for Programs and a non-resident senior fellow at the Migration Policy Institute; an associate fellow at the Woodstock Theological Center and co-director of Woodstock's Theology of Migration Project; on the American Bar Association's Commission on Immigration; the Council on Foreign Relations' Immigration Task Force; the board of directors of Jesuit Refugee Services-USA; the board of the Capital Area Immigrant Rights Coalition; the board of the Border Network for Human Rights; and on numerous advisory groups.
He is also the Executive Editor of CMS's Journal on Migration and Human Security. He regularly speaks and writes on migration, refugee protection, and related issues.
Contact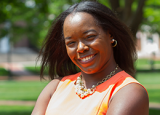 Brandy Garlic
Associate Dean for Inclusion & Community Standards