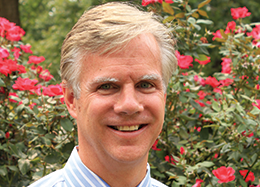 Larry Beyer
Assistant Professor
Business and Economics Department
Fourier Hall (FOU) 308
lbeyer@ndm.edu
410-532-5562
Programs I teach...
School of Arts, Sciences & Business
Education
MBA, Simon Business School, University of Rochester. Concentrations in Finance and Corporate Accounting
BA, McDaniel College, Economics and Business Administration
Chartered Financial Analyst (CFA) designation
Bio
My passions are financial literacy and your career preparation. I teach finance courses (Corporate, International, and Personal) as well as Investment Management, Data Analysis and Strategic Planning.
Students tell me that, in my classes, I successfully give them a window into the real world of finance. For me that comes from experience. Prior to joining Notre Dame in 2009 I worked in the banking industry - first as a financial analyst and then managing an institutional investment portfolio for nearly a decade.
Following that I served as treasurer of a local Baltimore bank, where I gained expertise in interest rate risk hedging, capital management, and loan and deposit pricing, as well as valuable experience in stock and bond issuances and strategic planning.
I gave several speeches on Federal Reserve policy and interest rate hedging to commercial customer groups, and I still enjoy trying to predict the Fed's next move.
Here at Notre Dame I also advise a student-led organization, the Business and Economics Society, through which students gain valuable experience in event planning, budgeting, and promotion; leadership, and teamwork, while providing our campus community with educational and fun experiences like trips to New York City, networking events, and community service.
When not working, I prefer to be traveling, water-skiing, or hiking and biking. Y como muchos de ustedes, estoy tratando aprender español.
Professional Activities & Memberships
Foundation Board Member, SES Foundation, 2007-2014

President, St. Elizabeth School Foundation board, 2013-2014

Treasurer, St. Elizabeth School Foundation board, 2010-2012

Baltimore CFA Society / CFA Institute 2000 -
Finance Committee, NDMU Board of Trustees, 2014 -
Finance Committee, Mount St. Agnes Theological Center for Women, 2011 – 2013
Explore all faculty & staff