Table of Contents
Featured Stories
NDMU Welcomes New Director of Alumnae and Alumni Relations
Upcoming Events
Reunion 2017
Class Notes
Alumnae and Alumni News
A Name Change for the Alumnae and Alumni Association
New Leadership on the Alumnae and Alumni Council
Tower Talk 2017-2018
Online Degrees at NDMU
A Child's Place Preschool for the Youngest Shining Stars at NDMU
Volunteer Opportunities
Reunion 2018 Committee
University News
NDMU Receives Accreditation from Middle States
In Memoriam
In the News
Featured Stories
NDMU Welcomes New Director of Alumnae and Alumni Relations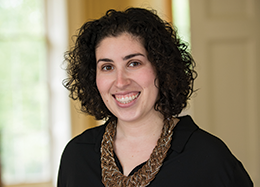 Aliza Ross joined the community and the Institutional Advancement team at the end of March. She comes to Notre Dame to continue her career in higher education. Her previous experience includes work in alumnae and alumni relations and annual giving and she brings new energy and a keen sense of alumnae/alumni engagement to our team. A Baltimore native, Aliza grew up in Baltimore County—she attended Owings Mills High School and earned her B.A. and M.Ed. from Goucher College. For the last two years Aliza lived in Minnesota and was part of the alumni relations team at Carleton College. Aliza says she is more-than-happy to be back in the Maryland climate and even the humid days of summer beat below zero temperatures any day!
Reflecting on her first few months at NDMU, Aliza says, "Engaging people in meaningful opportunities is what motivates and inspires my work. Being at Notre Dame, where alums are eager to get involved and give back is a joy! The Notre Dame spirit is strong in the on and off-campus community and I've already met a number of alums who are models of this philosophy. I can't wait to meet the rest of this warm and wonderful community!"
We are thrilled Aliza has joined the NDMU family. Please take advantage of the opportunity to meet her at Reunion 2017. She is looking forward to hearing about your NDMU experience, your great stories and strong ideas about the institution we love.
Upcoming Events
Reunion 2017

September 15 – 17
Have you registered yet for Reunion 2017? This year's lineup of events is not to be missed! A program of traditional favorites and new additions is planned. When you think Reunion, think flashbacks, crabs, and history tours. Some of our new additions will leave you thinking, "WOW". See the full schedule of events.
Please note that advance registration will close Friday, September 8. Walk-in registration will be available during Reunion and any registrations received between September 9 and 14 will be considered "walk-in" registration.
Class Notes
Victoria Meadows '15 Presents Research on Neurological Damage in Mice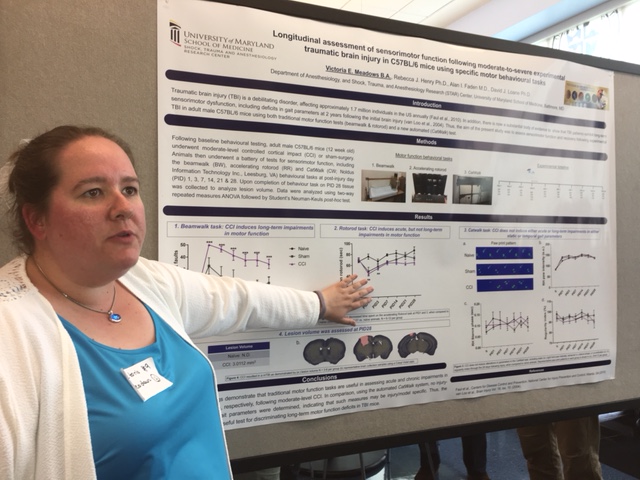 Here's proof that Notre Dame always welcomes its graduates back to campus. Recently the University of Maryland held its Neuroscience retreat at NDMU. Among those who presented their work was biology graduate Victoria Meadows '15. She is currently working as a research technician at University of Maryland. She talked about her love of animal behavior research and using advanced tools to address questions like: do mice exhibit movement deficits after brain trauma?
Alumnae and Alumni News
A Name Change for the Alumnae and Alumni Association
By virtue of the University's growth, the Alumnae and Alumni Association has grown as well. At the June meeting of the Alumnae and Alumni Association Executive Board, the board voted unanimously that our name should reflect who we are now: a family of alums with an intrinsic sense of belonging. For that reason, the Alumnae and Alumni Association will now be called the Alumnae and Alumni Community. In tandem, and to better illustrate its role as a liaising body between alums and the University, the executive board has been renamed the Alumnae and Alumni Council.
Over the next few weeks and months, you'll notice that our publications, website, and materials will reflect this change. We intend to be kind to our resources and will continue to use printed material that features "Alumnae and Alumni Association" until the time comes to reorder.
New Leadership on the Alumnae and Alumni Council
The beginning of the fiscal year brought new leadership and representatives to the renamed Alumnae and Alumni Council. Photos and brief notes about each representative are available on the Alumnae and Alumni Council website.
The current slate of representatives is as follows:
| | |
| --- | --- |
| President | Kristi Halford '01 |
| Vice President | Victoria Meadows '15 |
| Secretary | Elizabeth Brescia M'12 |
| ​Past President | Lisa McMurtrie '93 |
| Women's College | Sallie Mullen '68 |
| CAUS | Connie Matsumoto '94 |
| CAUS | Roxine Phillips '96 |
| School of Pharmacy | Monique Turner '03, PharmD.'15 |
| ​School of Education | Kathy Volk Ph.D.'08 |
| School of Nursing | Naomi Cross '17 |
| SGA | Katie Salim '18 |
| At-Large | Nichole Gatewood '01 |
| At-Large | Jessica Sexton '08 |
| At-Large | Joe Weatherstein '08 |
| ​At-Large | Diane Webbert '04 |
| ​At-Large | Brian Zubek M'16 |

Tower Talk 2017-2018
This publication is moving to a bimonthly schedule. We hope that this adjustment will allow you to access information about NDMU on a more consistent basis. This issue covers news for July and August. The next issue will cover September and October. You can expect to receive that issue close to the start of October.
Online Degrees at NDMU
As an NDMU alum, you know how beneficial an NDMU education is. You also know that people learn in various ways. NDMU is meeting those needs. Perhaps you're familiar with our hybrid courses; those that offer education in combined face-to-face and online format. But are you familiar with our 100% online programs? These special programs feature rolling admissions, multiple entry dates, no previous on-campus experience, and the same personalized support NDMU provides.
So what's available under the 100% online umbrella?
Graduate Programs
Bachelor's Programs
A Child's Place Preschool for the Youngest Shining Stars at NDMU
Spaces available for Fall 2017!
At A Child's Place, we promote each child's emotional, social, cognitive and physical development through a holistic approach. Preschool programs for 3, 4, and 5 year olds, including a State-approved kindergarten program and early kindergarten for children with fall birthdays, offer small classes in a nurturing environment where young children play, learn, and grow.
Preschool: September to June
Ask about our 10% discount for alums!
Check us out online or call us at 410-532-5399.
Volunteer Opportunities
Reunion 2018 Committee
It's not too early! We are looking for volunteers in class years ending in years 3 and 8 to help us plan next year's celebration. If you are interested in helping raise the bar for Reunion success, this committee welcomes you. We seek volunteers to collaborate on program planning, fundraising, class participation, and attendance outreach. For more information, and to volunteer, email the Office of Alumnae and Alumni Relations. Committee meetings will begin in January.
University News
NDMU Receives Accreditation from Middle States
Earlier this year, NDMU underwent a rigorous self-study for the Middle States accreditation process. Several committees, spanning across academic and administrative divisions of the university, worked towards completing the required self-study components for this accreditation process, beginning in 2015, and concluding with a visit by the Middle States Commission on Higher Education in 2017.
The Middle States Commission on Higher Education is a voluntary, non-governmental, regional membership association currently serving higher education institutions in Delaware, the District of Columbia, Maryland, New Jersey, New York, Pennsylvania, Puerto Rico, the Virgin Islands, and other geographic areas in which the Commission conducts accrediting activities to assure students and the public of the educational quality of higher education.
The Commission's accreditation process ensures institutional accountability, self-appraisal, improvement, and innovation through peer review and the rigorous application of standards within the context of institutional mission.
NDMU's accreditation was reaffirmed for the maximum amount of years set for a term and MSCHE will return to campus in 2025.
In addition to this accreditation for the university, NDMU was awarded accreditation for its business programs and School of Nursing through the Accreditation Council for Business Schools and Programs and Accreditation Commission for Education in Nursing, respectively.
Learn more about accreditations for NDMU.
In Memoriam
Barbara Morley '84
Norma Friedman '50
Charlotte Smith Hennessy '52
Joan Manzione Judd '62
In the News
Connected Through Science - Henrietta Lacks' Great-Granddaughter Continues Family Legacy at NDMU