Staffed by our experienced preschool teachers, A Child's Place offers ten weeks of fun-filled theme-oriented camp sessions to excite our young campers. Entertaining age-appropriate activities for children from 3 to 6 years old (entering first grade) provide opportunities to stimulate curiosity, creativity, and imagination!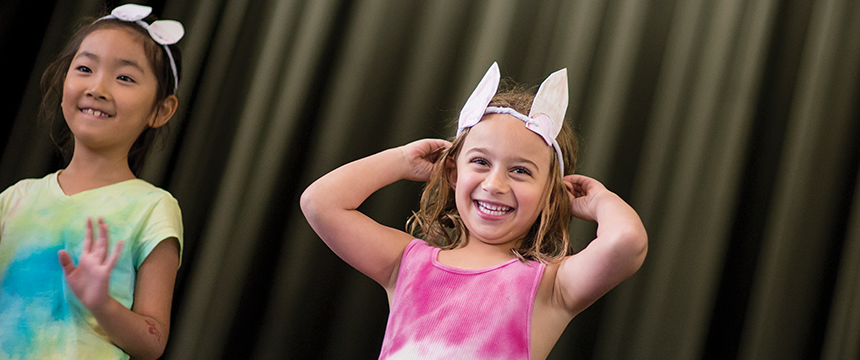 Five two-week sessions of learning and playing ensure that ACP campers enjoy an exciting early learning summer experience. Let's explore nature on Notre Dame of Maryland University's park-like campus as we take learning outside!
Join us for days filled with storytelling, music and movement, making art, nature and craft projects, water play and swimming (for 5-6 year olds), daily indoor and outdoor play, STEM activities, cooking, play-based learning, daily exploration and investigation, and more!
Hours
Normal Day: 9:00 a.m. to 3:00 p.m.
Extended Day (No Extra Charge): 7:30 a.m. to 5:30 p.m.
Online Registration for ACP Summer Camp 2020 Available February 1st, 2020!
Camp Fees
Two-Week Camp Sessions: $590 per session
$125.00 Non-Refundable Deposit Required for Each Session
2020 Sessions
June 15 to 26
Session I: Art-O-Rama
June 29 to July 10 (closed for July 4th holiday)
Session II: Bugging Out
July 13 to 24
Session III: Digging for Dinosaurs
July 27 to August 7
Session IV: Under the Sea
August 10 to 21
Session V: Animals! Animals! Animals!
Group Assignments
The teachers of the regular ACP preschool are also teachers for the ACP summer camp.
Room 1 – 3 year olds (12 children / 2 teachers)
Room 2 – 3 and 4 year olds (16 children / 2 teachers)
Room 3 – 4 and 5 year olds (16 children / 2 teachers)
Room 4 – 5 and 6 year olds (16 children / 2 teachers)
Camp Rules & Information
All children must be fully toilet trained.
Full-day camp includes morning and afternoon snacks and beverages.
Campers are required to bring lunch.
Swim lessons for children in rooms 3 & 4 who are at least 5 years old.
All staff members are trained in CPR and first aid.
All 3 and 4 year olds will have an afternoon nap daily (1 to 3 p.m.).
All children must have provided ACP with proof of immunizations and a completed Health Inventory before they attend their first camp session.
Parents will be provided with A Child's Place Parent Handbook – Summer Camp 2020 and are required to sign and return the "Policies Acknowledgement" indicating that you have read and understand the policies and procedures of ACP and agree to comply with them.
Parents must send in sunscreen for their child and a Medical Authorization form for its use. The plastic tube or bottle of sunscreen must be labeled with the child's name.
Parents must provide pertinent medical information, e.g., asthma, allergies, and/or other medical conditions, when registering your child as indicated on the ACP Summer Camp online registration.
Policies, Forms, and Handbook
Refund and Cancellation Policy
The ACP Summer Camp fee is $590 per two-week session.
A non-refundable $125 deposit for each session in which you enroll is due at time of online enrollment. This will be applied to the camp fee for the session.
The remainder of the Camp fee is due one week prior to the beginning of each session. There will be no refund of the Camp fee after the first day of each session.
Summer Camp Forms and Documentation
Coming soon...
​​Contact Us