The Service to Society Award is presented to a graduate who best exemplifies the ideals of a Notre Dame education through the application of their education, initiative and humanity to socially useful ends in the community, nation or world.
In 1999, the Alumnae and Alumni Association established the Service to Society Award. All graduates are eligible.
2017 Award Winner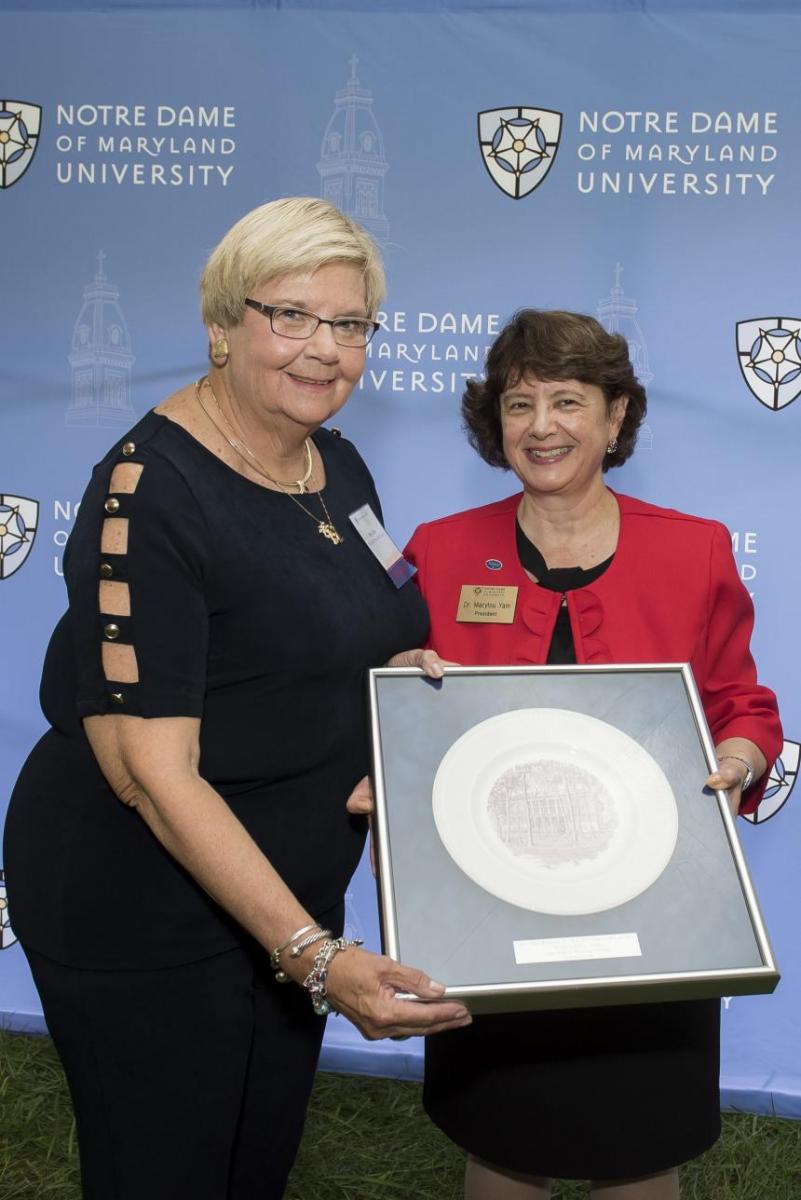 Mary Ellen McFadden '67, MSN '85
Mary Ellen's career began after following the advice of Sr. Mary Alma, SSND to accept a role as a research associate in the, at the time, newly developing oncology program at Johns Hopkins University. Since that first job, Mary Ellen has had a long and prosperous career in the medical field. In her early career, she helped establish the protocols to be used in bone marrow transplantation of patients with a variety of hematologic ailments—this led to participation in the second successful bone marrow transplant in the United States.
Later, and with a second degree from Notre Dame in 1985, Mary Ellen became a nurse. Her growing oncology expertise led to active service not just with patients but with the national and local Baltimore chapters of the oncology nursing society. In 1995, Mary Ellen shifted her focus to a role as a clinical specialist in the oncology sales department of Amgen where she had significant responsibility for educating health care professionals and in her spare time met with Annapolis and Congressional legislators to advocate for patient care issues and the nursing profession.
As William Osler, M.D. said, "The trained nurse has become one of the great blessings of humanity, taking a place beside the physician and the priest." We hold nursing in high esteem at Notre Dame. To be sure it is a field that exemplifies service to society.
Mary Ellen's leadership in and out of the hospital has been recognized in numerous publications, conferences, and accolades over the past 50 years. She has led the way with her dedication to oncology patients and educating peers in the field. Additionally, she has dedicated her spare energies to Notre Dame. Mary Ellen has been an active volunteer in bringing your classmates together for Reunions and supporting the University's fundraising efforts.
Past Winners
Year
Winner
1999
Patricia Fosarelli '73, M.D., Ph.D.
2000
Diana Mand '69
2001
Sue Ford Patrick '67
2002
Retta Blaney '78
2003
Diane Roberts McGlinchey '59
2004
Carole Artigiani '62
2005
Margaret M. Wintz '45
2006
Susan Mueller Aumann '83
2007
Mary Ellen Vanni '69
2008
Mary Ellen Dougherty, SSND '58
Kathleen Marie Engers, SSND '47
2009
Mary Gabriel Roeder, SSND '59
2010
Christopher L. Benzing, M'05
Virginia Bartlett Rugemer, C'91
2011
Susan Love, M.D. '70
2012
Judy Geilfuss Dobson '62
2013
Margaret O'Connor Markovic '82
2014
Andrea Bowden '69, Ph. D.
Betty Contino W'89
2015
Susan Gardiner Larkin '65 Ph.D.
2016
Sr. Patricia McLaughlin, SSND '66
2017
Mary Ellen McFadden '67, MSN '85