Table of Contents
Making Virtual Connections
125th Anniversary
Call for Class Notes and Photos
Upcoming Events
University News
Giving
In Memoriam
Volunteer Opportunities
Stay Connected to NDMU
---
Making Virtual Connections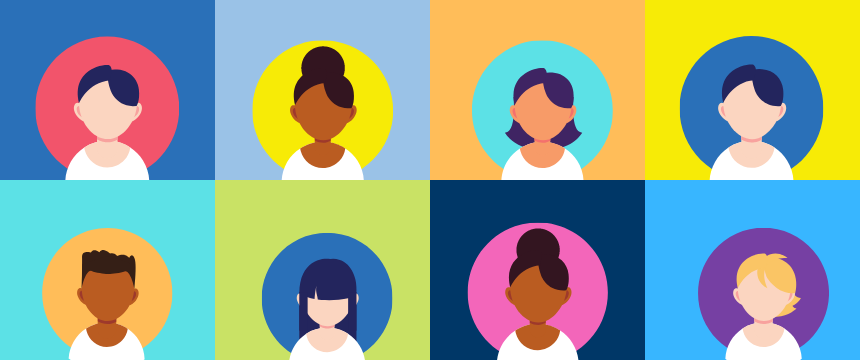 The Office of Alumnae and Alumni Relations has created a virtual suite of resources for all of your myriad needs at this time. You can visit our Virtual Programming and Resources page on the NDMU website to find information on several topics.
In addition to initiatives to connect remotely with fellow alums and staff members, this collection of resources includes helpful tips from several members of the campus community addressing different areas of interest.
Would you like to support current students (either financially or with words of encouragement) during this difficult time? You will find instructions on how to help on this site. Perhaps your concerns are more personal? Within this suite of resources, we have included guidance to help you continue on your career path, continue to grow in faith, and even ways to help your children succeed at home now that face-to-face learning has been suspended.
Whatever your needs at this time, NDMU will strive to deliver services and information to aid you and alleviate any challenges you may face as we share this journey together.
Read on to learn more about a couple of the new programs we have created!
Gab with Gators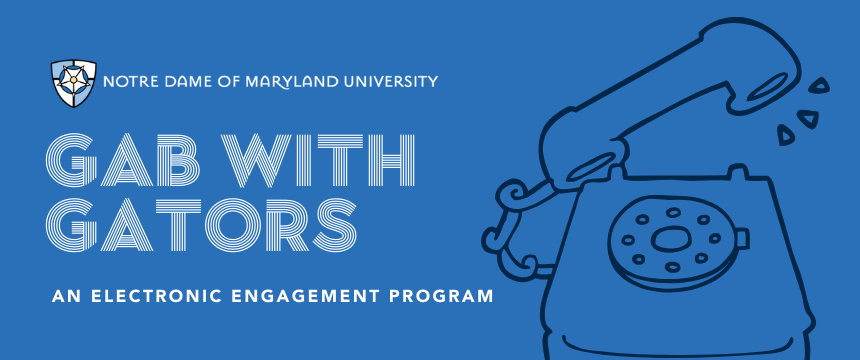 Do you want to practice physical distancing while still connecting with your fellow NDMU alums? The Office of Alumnae and Alumni Relations introduces Gab with Gators, a service designed to mimic the real-life interactions that would occur naturally at an alum event. Those interested in signing up have the opportunity to be matched based on their chosen criteria in three different categories. To learn more, please visit https://ndm.edu/alums/gab-gators.
How Do You Fix Your Coffee?
Join Aliza Ross, our Director of Alumnae and Alumni Relations, for this series of 30-minute casual Zoom chats to discuss the "normal" and mundane. Topics for each chat will change week to week.
To view each week's topic and receive the Zoom meeting information, visit the Virtual Programming and Resources page and click on the "Connect with Fellow Alums" tab.
---
125th Anniversary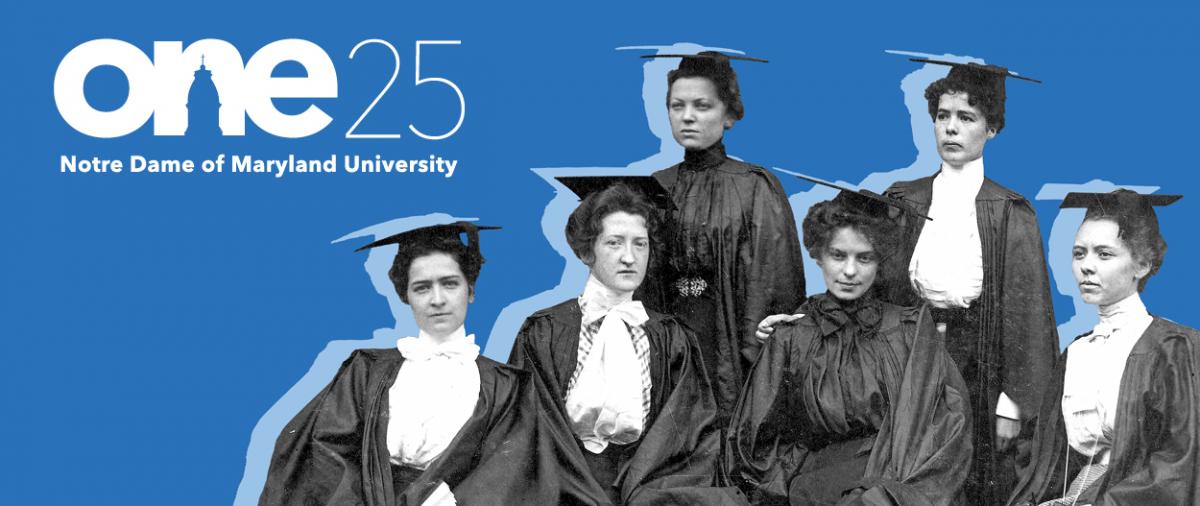 The 125th anniversary website is live! Thank you for being a part of Notre Dame's rich history, supporting the mission of the founding School Sisters of Notre Dame.
Although the spread of COVID-19 has resulted in the cancellation of some face-to-face gatherings of alumnae and alumni across the country, there are still many ways to celebrate NDMU virtually! During the next several months, you continue to have the opportunity to:
With our new suite of online resources, including Gab with Gators, you will also be able to connect with alums and staff in innovative and exciting ways!
---
Call for Class Notes and Photos
Congratulations to Georgene Auman Searfoss '87, whose book Longings of the Heart: The Story of Elsie Machle White, was published in December 2019 by Amazon!
The 2020 issue of Universitas will be out in the summer. Would you like to share a happy update? Did you get married this year? Welcome a new family member? Do you share a Christmas letter? Any and all of these updates are invited! High-resolution photos are emphatically encouraged, too. Send your update to ndmalum@ndm.edu by May 15 for inclusion in the 2020 Universitas.
---
Upcoming Events
In a statement sent by President Marylou Yam on March 18 addressing the recent COVID-19 outbreak, all on-campus events scheduled during March and April have been cancelled.
Previous to this announcement, the WOW-Women of the World Festival Baltimore, originally scheduled for March 7, had been cancelled in an attempt to quell the spread of the virus. The Women's Leadership Institute of Baltimore (WLIB) are considering alternate dates for a rescheduled festival.
The Busta Forum, also produced by the WLIB, has been cancelled. Originally scheduled for April 7, this program will be rescheduled to a later date. The goal of this year's program is to integrate the 125th anniversary with the mission of the Busta Forum, which is to highlight personal and professional leadership journeys. This event will feature four recent alumnae, including Tara Mathew Sahu '01, Michelle A. Streckfus '99, Sheri Booker '04, and Queenstar Akrong '14.
Additionally, the First Impressions program, designed to help NDMU students develop life skills through a series of on-campus workshops and learning opportunities, has been moved to the fall.
Athletics: In an update on March 20, President Yam announced that the CSAC Board of Directors decided to cancel all athletic activities, including contests and championships, for the remainder of the Spring 2020 semester in an effort to dampen the spread of COVID-19.
Weekly Mass: There will be no masses in Marikle Chapel until further notice. However, there are several ways to worship from home! Sr. Mary Kerber, our Director of Campus Ministry and Services, has recommended the app myParish, which will have a number of prayer resources and links to live streamed masses.
Another resource is EWTN Global Catholic Network, the largest religious network in the world. You can watch the Mass every day at 8:00 a.m. on TV or streaming live here. Missed the live stream? Get today's daily readings and homily at this link.
The Mass can also be heard via EWTN's radio affiliates, on SIRIUS/XM Channel #130, online at this link, and live on EWTN's Facebook page at 8 a.m. ET here.
Click here to quickly discover the channel on which to find EWTN on your local cable or satellite provider, and here to find the television schedule.
---
University News
NDMU Suspends Face-to-Face Learning through Spring 2020 Semester
Like most universities across the United States, NDMU has adjusted to challenges created by the spread of COVID-19, the Coronavirus. To ensure the safety and well-being of our students and faculty, face-to-face learning has been suspended for the remainder of the Spring 2020 semester.
Faced with a fully-online program, faculty have worked diligently to adapt their lesson plans and learn new ways to interact with students through online video platforms like Zoom. Students and faculty members have received links to several online resources to aid in this transitional period.
As more information about COVID-19 and social distancing comes to light, NDMU will send out further updates about Commencement and ways to help our students during this difficult time.
Nancy Kreiter Student Research Day
In spite of the suspension of face-to-face classes and the cancellation of numerous events across campus, we are still working on ways to showcase student accomplishments virtually. The School of Arts, Sciences and Business has announced that the organizers of the Nancy Kreiter Research Day, an annual exhibition of student work, are in the process of making this event virtual for this year. More information will follow in the coming weeks.
---
Giving
As Notre Dame of Maryland University continues to respond to the impact of COVID-19, you may want to help current students, faculty, and staff. The support we give to one another and all those in our Notre Dame community is becoming more important every day. Our mission to provide our students with the resources they need to stay safe and reach their academic goals is stronger than ever. Contributing to the Notre Dame Fund allows the university to use your gift for the area of greatest need and gives us the flexibility to respond to the evolving situation. We thank you for your continued prayers, thoughtfulness, and generosity during these challenging times.
---
In Memoriam
Our alumnae and alumni community mourns the passing of the following graduates:
Eileen Bracken Caslow '44
Sheila Kirchenbauer Zimmer '63
Lin Romano '93
Doris Turek '71
Sally Witte Rooney '65
---
Volunteer Opportunities
Service in the Time of COVID-19
Feeling overwhelmed or scared in the face of the pandemic? Eager to help in some way, but not sure what you can do? Here are some ways to start:
Donate food online!
Several organizations are helping to provide necessary supplies for our most vulnerable neighbors. Here are two Baltimore-based organizations that could use your support:
Buy gift cards!
Many small businesses are taking a hit due to closures and self-isolation. Buying gift cards from these businesses can help their employees while still allowing you to maintain social distancing. You can use the cards at a later time or gift them to those in need or those still working in essential roles, such as doctors, nurses, grocers, etc.
Self-quarantine!
This may seem like a small thing, but keeping your distance can be one of the most important acts of kindness you can do at the moment to help others. Stay safe, and stay inside if at all possible.
---
Stay Connected to NDMU
Did you move? Change your email address? The alumnae and alumni office periodically distributes communications. Verify your information and send your mailing/email address to the Office of Alumnae and Alumni Relations or call 410-532-5201.
NDMU also has an active presence on Facebook and LinkedIn! It's a way to share information and connect instantly with fellow alumnae and alumni. Like and follow the pages for the most immediate updates!
---
This publication follows a bimonthly schedule. This issue covers news for March and April 2020. The next issue will cover May and June and will be available close to the start of June 2020.