Table of Contents
Letter to the Class of 2020
Making Virtual Connections
125th Anniversary
Class Notes
Upcoming Events
University News
Giving
In Memoriam
Volunteer Opportunities
Stay Connected to NDMU
---
Letter to the Class of 2020
By: Shannon Austin '12, '15
Dear Graduates,
It may not feel it right now, but you have made it through your final semester at Notre Dame. This semester has not been traditional by any means, but despite every obstacle thrown in your way and every hardship faced, you have accomplished something so special and with such resilience, strength, and grace.
You are not only graduates but also official members of the Notre Dame of Maryland alumnae/alumni community. You join the ranks of women and men who are leaders and dreamers, people who envision a better future and work to make it happen. While you may not get to celebrate this milestone in person, every member of the NDMU community is proud of you and stands by you as you take your next steps in the world.
Nothing worth having comes easy, but your hard work and perseverance have gotten you to this point, as it will continue to do so in your future endeavors. Trust in yourself and take what you have learned at Notre Dame with you wherever you go.
There is a poem by Ada Limón called "Instructions on Not Giving Up," which I have returned to countless times for its beauty and unfailing faith in our ability to face any hurdle and come back stronger despite everything. In it, she contemplates "the greening of the trees" and the leaves that come with the Spring. She writes,
…Patient, plodding, a green skin
growing over whatever winter did to us, a return
to the strange idea of continuous living despite
the mess of us, the hurt, the empty.
It does seem strange, in this time and place, to think of ever living the same way again. Maybe we don't, or shouldn't. However, the key is to continue moving forward, despite everything. Continue growing and learning and doing the best you can in whatever way you can. Be okay with being human. You have gotten this far, and we will be with you all the way.
Congratulations, Class of 2020. You are part of the better future we envision.
---
Making Virtual Connections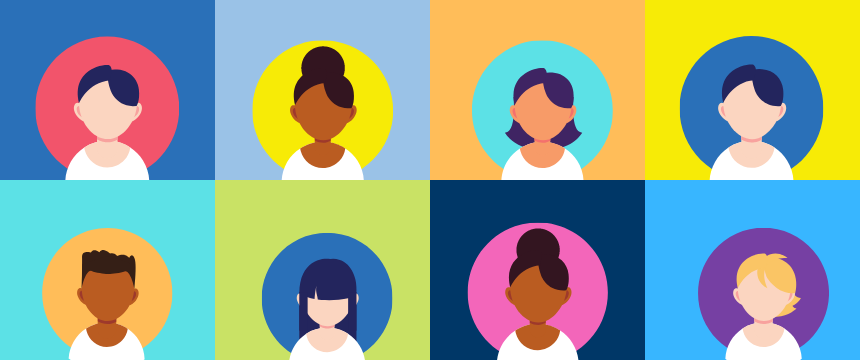 As we continue with remote learning and social distance, our virtual suite of resources contines to grow. You can visit our Virtual Programming and Resources page on the NDMU website to find information on several topics. In addition to initiatives to connect remotely with fellow alums, this collection of resources includes helpful tips from several members of the campus community addressing different areas of interest.
Would you like to support current students (either financially or with words of encouragement) during this difficult time? You will find instructions on how to help on this site. Perhaps your concerns are more personal? Within this suite of resources, we have included guidance to help you continue on your career path, continue to grow in faith, and even ways to help your children succeed at home now that face-to-face learning has been suspended.
Whatever your needs at this time, NDMU will strive to deliver services and information to aid you as we share this journey together.
Read on to learn more about some of the new programs available!
Gab with Gators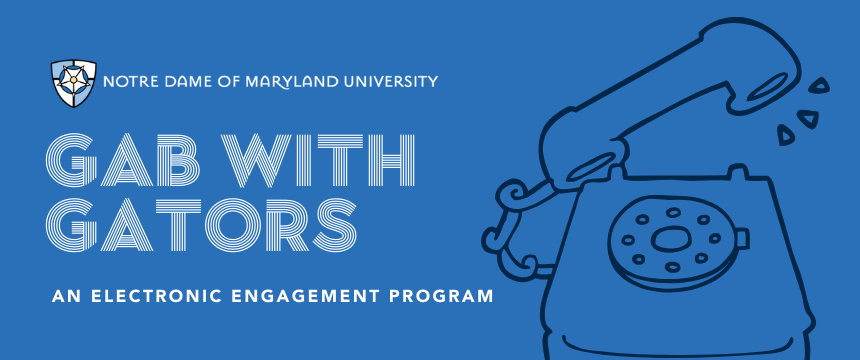 Practice social distancing while still connecting with your fellow NDMU alums! The Office of Alumnae and Alumni Relations introduces Gab with Gators, a service designed to mimic the real-life interactions that would occur naturally at an alum event. Those interested in signing up have the opportunity to be matched based on their chosen criteria in three different categories. To learn more, please visit https://ndm.edu/alums/gab-gators.
How Do You Fix Your Coffee?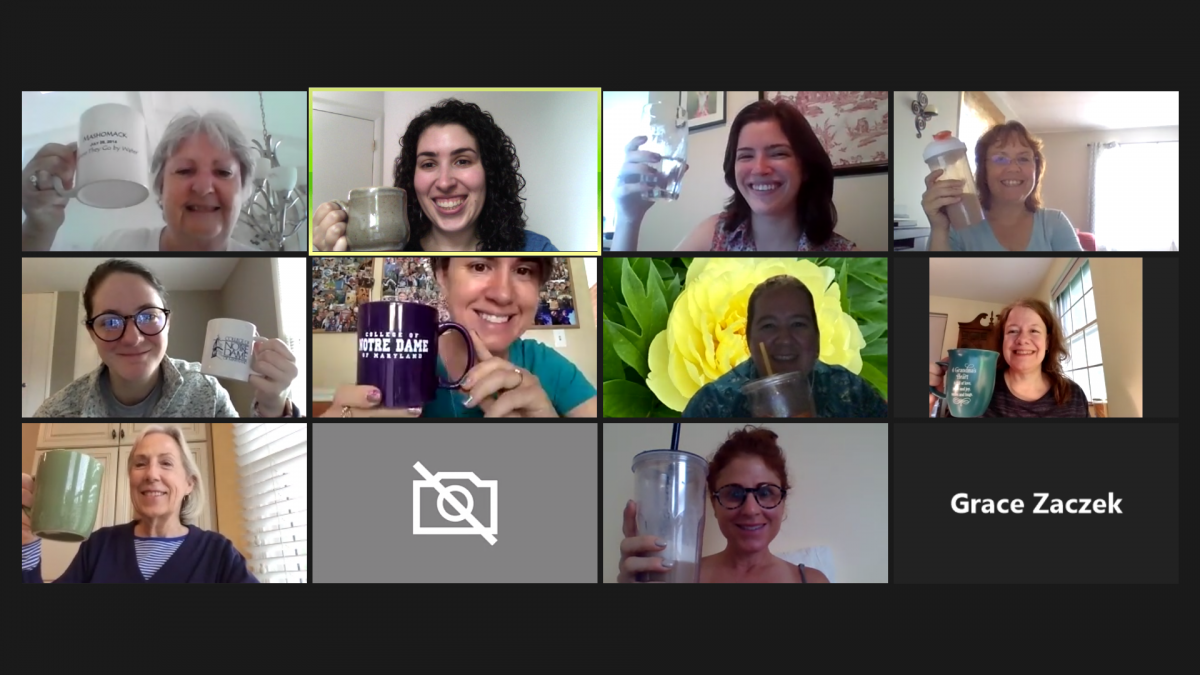 Join us for this series of 30-minute casual Zoom chats to discuss the "normal" and mundane. Topics for each chat change week to week.
In the past few weeks, such topics have included the arts, our DIY tricks, reading recommendations, and humor. This program has been so popular that we have added a series called "How Do You Fix Your Cocktail?" which is the evening version of our morning series.
All in the community are invited to attend and participate in these events. The next two sessions of "How Do You Fix Your Coffee?" (Thursday, July 9) and "How Do You Fix Your Cocktail?" (Monday, July 13) will serve as opportunities for open discussion regarding our first-ever virtual Reunion. To receive the login information, email Aliza Ross at aross@ndm.edu.
NDMU Personal Interviews
Along with our new virtual programs, the Office of Alumnae and Alumni Relations has also conducted personal interviews with various members of the NDMU community. Topics have included:
A nurse's perspective with NDMU Nursing alum Naomi Cross '15, '17
Learning online, gaming, and the IT world with School of Education technology expert Ryan Schaaf
Owning, operating, or working within a small business with NDMU alums Christine Baumgarten '13, '15 and Andrea Waleryszak '03
Videos of these interviews are available on our Facebook page and YouTube channel under "Alumnae and Alumni Community."
---
125th Anniversary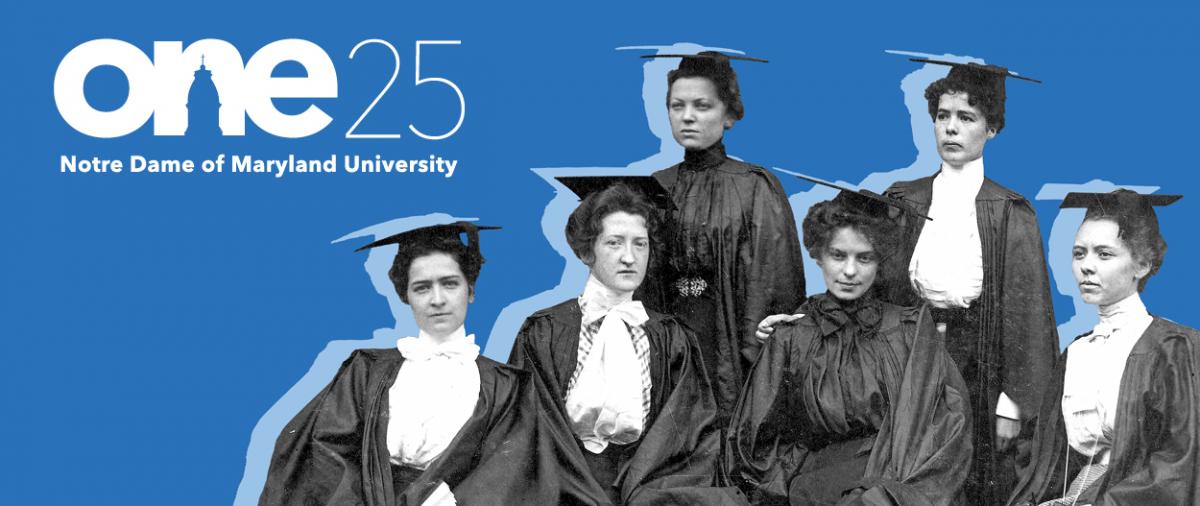 The 125th anniversary website is live! Thank you for being a part of Notre Dame's rich history, supporting the mission of the founding School Sisters of Notre Dame.
Although the spread of COVID-19 has resulted in the cancellation of some face-to-face gatherings, there are still many ways to celebrate NDMU virtually! During the next several months, you continue to have the opportunity to:
With our new suite of online resources, including Gab with Gators, you will also be able to connect with alums in innovative and exciting ways!
---
Class Notes
Mary Katherine Annan '55 has had an exciting life since her days at Notre Dame! After graduating, she became a flight attendant for American Airlines. Later, she hosted the weather segment on WMAR-TV and then a radio talk show called "Open Line" for eight years. Today, she is a Unity minister in Carlsbad, CA, with a YouTube channel under her current name, Cathy Ellicott Carver. She will be celebrating her 65th Reunion this year!
---
Upcoming Events
As part of our "How Do You Fix Your Coffee?" series, the Office of Alumnae and Alumni Relations will hold two open forums to discuss the final virtual Reunion schedule and any questions concerning the program. The first session will take place on Thursday, July 9 from 9:00 a.m. to 10:00 a.m. EST. The second session, an evening "How Do You Fix Your Cocktail?" edition, will take place on Monday, July 13 from 7:00 p.m. to 8:00 p.m. EST. All are welcome to attend and participate. To receive the login information, contact Aliza Ross at aross@ndm.edu.
On May 20, the Women's Leadership Institute of Baltimore (WLIB) hosted "Women and Finances during COVID-19: A Common-Sense Approach," the first in a series of virtual talks on women and investing. President and CEO of Jemma Financial Services, Bonnie Stein, hosted this session, along with Investment Advisor Mary "Mimi" Makowske. The next session in this finance series will take place on July 15 and will center around "Hot IPOs and Why a Financial Foundation is Important."
Another WLIB virtual event, "Mindful Eating During Emotional Times," was held on June 25 at 7:00 p.m. This session featured nutritionist Noni Robinson, founder of the health and wellness movement Black Girls Eat. For more information on upcoming WLIB virtual events, check out the Events page on the NDMU website or email Maricka Oglesby, Director of the WLIB, at moglesby@ndm.edu.
Athletics: In an update on March 20, President Yam announced that the CSAC Board of Directors decided to cancel all athletic activities, including contests and championships, for the remainder of the Spring 2020 semester in an effort to dampen the spread of COVID-19.
Weekly Mass: There will be no masses in Marikle Chapel until further notice. However, there are several ways to worship from home! Sr. Mary Kerber, Associate Vice President for Mission and Ministry, recommends the app myParish, which has a number of prayer resources and links to live-streamed masses.
Another resource is EWTN Global Catholic Network, the largest religious network in the world. You can watch the Mass every day at 8:00 a.m. on TV or streaming live here. Missed the live stream? Get today's daily readings and homily at this link.
The Mass can also be heard via EWTN's radio affiliates, on SIRIUS/XM Channel #130, online at this link, and live on EWTN's Facebook page at 8 a.m. ET here.
Click here to quickly discover the channel on which to find EWTN on your local cable or satellite provider, and here to find the television schedule.
---
University News
2020 Commencement
On Wednesday, May 20, President Yam sent out a campus update to all alumnae and alumni. Included was an update regarding this year's Commencement ceremony, originally scheduled for May 17, 2020. In light of the ongoing concerns surrounding COVID-19 and the need for continued social distancing, this year's Commencement will now be combined with the Commencement activities scheduled for May 2021. It is the University's intention to make this ceremony special for both classes. It is sure to be quite the celebration!
For those who would like to send well wishes and congratulations to the Class of 2020, the Office of University Communications has set up a virtual message board to celebrate the class. Let the newest alums know how proud of them you are!
NDMU Community Steps Up to the Challenge
In the midst of a global pandemic, NDMU faculty, staff, students, and alums are doing their part to help their communities in a variety of ways.
Nursing student Ricelle Taganas '20, a medic in the Army Reserves, is currently serving on the frontlines in New York City. Since April 7, she has been working at the Javits Center, the convention center that had been turned into a makeshift hospital in Manhattan.
Back at Notre Dame, groups of faculty and staff have been sewing masks for students currently living on campus, as well as for incoming freshmen and children in A Child's Place, the university's preschool program. They gather on campus to cut, sew, and create packets for people to sew masks at home. The groups make about 75 masks a day, and according to a recent news article, the goal is to make 100 children's masks and 1,000 adult masks.
As we face the next stages of the pandemic and observe the stay-at-home orders, we continue to support one another and recognize that any action, big or small, makes an impact on those around us. Whether through organizing food donations or taking care of their loved ones, members of the NDMU community are showing resilience, compassion, and love in the face of adversity.
The Impact of COVID-19 on Summer Activities
Despite the gradual reopening of the state and certain businesses around Maryland, Notre Dame has decided to practice caution in planning its summer campus activities. Summer session courses, the first of which began on June 1, will be held online in order to maintain the safety of faculty and students.
Additionally, all on-campus summer camps have been cancelled for this year. These include Camp Notre Dame, as well as A Child's Place summer camp and Pharmacy Camp. However, we are offering Camp Notre Dame at Home, an experience box filled with guided activities, supplies for various projects, and other surprises that will bring the fun of camp to your home! Additionally, we are pleased to offer NDM alums a discount. Upon checkout, use the code athome10off.
Despite the cancellation of face-to-face learning during the summer, the NDMU community is hopeful for the future. President Yam announced that Notre Dame plans to reopen for the fall 2020 semester while following strict social distancing protocols and all federal, state, and local restrictions and safety guidelines.
Virtual Reunion 2020
The format of Reunion 2020 has been a hot topic of conversation for several months now. To align with the safety measures being put in place by the University and with special consideration of all our alumnae and alumni, we have decided to create our first-ever virtual Reunion! The theme of this year's Reunion will be Reinvention and Interaction.
While some traditional events will undoubtedly need to be revised or removed from this year's schedule, the overall goals and spirit of Reunion remain the same. The Office of Alumnae and Alumni Relations is currently working to transition all of the fun and connectivity with classmates to this online format. Although we will miss the feeling of being on campus and getting to spend time together in person, we are taking this opportunity to use the technology available to us to connect in ways we never have before.
Because we are doing things differently this year, we need your input to ensure we bring to you all you were expecting from Reunion 2020. Please review a draft schedule and reply to the short survey no later than Tuesday, June 30. We are asking for a quick turnaround so we can cement the schedule and communicate more details in July.
Reunion 2020 will still be held in October, and a list of Frequently Asked Questions is evolving on our website. For more information, email Aliza Ross at aross@ndm.edu.
---
Giving
As Notre Dame of Maryland University continues to respond to the impact of COVID-19, you may want to help current students, faculty, and staff. The support we give to one another and all those in our Notre Dame community is becoming more important every day. Our mission to provide our students with the resources they need to stay safe and reach their academic goals is stronger than ever. Contributing to the Notre Dame Fund allows the university to use your gift for the area of greatest need and gives us the flexibility to respond to the evolving situation. We thank you for your continued prayers, thoughtfulness, and generosity during these challenging times.
---
In Memoriam
Our alumnae and alumni community mourns the passing of the following graduates:
Rosalie Jones Connor '51
Mary Reynolds Kirkham '44
Margaret Lawless '67
Regina Losinski Morin '54
Joan Kneavel Shettle '50
Rosemary Castellaneta Trivisonno '65
---
Volunteer Opportunities
Service in the Time of COVID-19
Feeling overwhelmed or scared in the face of the pandemic? Eager to help in some way, but not sure what you can do? Here are some ways to start:
Donate food online!
Several organizations are helping to provide necessary supplies for our most vulnerable neighbors. Here are two Baltimore-based organizations that could use your support:
Buy gift cards!
Many small businesses are taking a hit due to closures and self-isolation. Buying gift cards from these businesses can help their employees while still allowing you to maintain social distancing. You can use the cards at a later time or gift them to those in need or those still working in essential roles, such as doctors, nurses, grocers, etc.
Self-quarantine!
This may seem like a small thing, but keeping your distance can be one of the most important acts of kindness you can do at the moment to help others. Stay safe, and stay inside if at all possible.
---
Stay Connected to NDMU
Did you move? Change your email address? The alumnae and alumni office periodically distributes communications. Verify your information and send your mailing/email address to the Office of Alumnae and Alumni Relations or call 410-532-5201.
NDMU also has an active presence on Facebook and LinkedIn! It's a way to share information and connect instantly with fellow alumnae and alumni. Like and follow the pages for the most immediate updates!
Likewise, if you know someone who does not regularly receive notices from NDMU, please encourage them to update their contact information with the alumnae and alumni office.
---
This publication follows a bimonthly schedule. This issue covers news for May and June 2020. The next issue will cover July and August and will be available close to the start of August 2020.