Table of Contents
Alumnae and Alumni Adventures
Upcoming Events
Review of The Two Gentlemen of Verona
Volunteer Opportunities
Spotlight
Class Notes
Giving
In Memoriam
SSND News
Stay Connected to NDMU
Alumnae and Alumni Adventures
A Pilgrimage to the Holy Land: June 12-23, 2019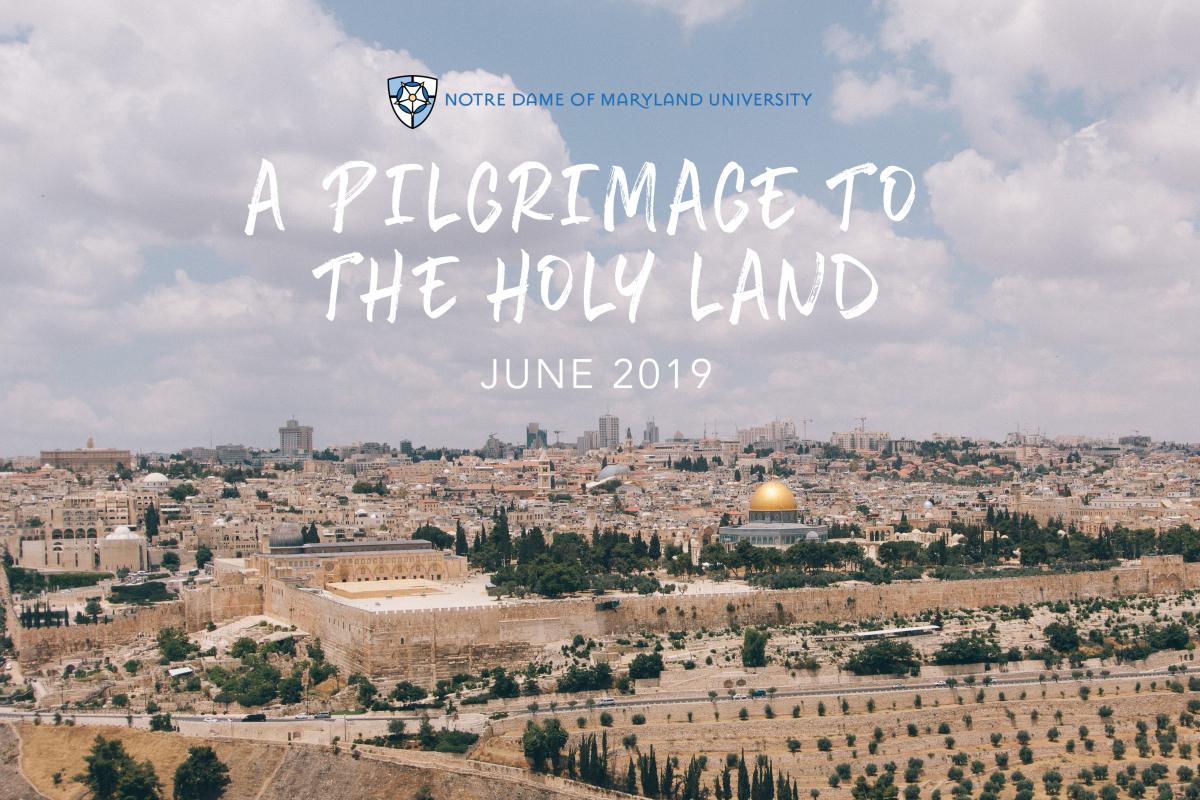 Notre Dame of Maryland University is proud to share news of our first adventure! This brand new opportunity provides a way to engage with NDMU and deepen faith and understanding of ancient history.
NDMU has partnered with Select International Tours and our chaplain, Fr. John McCloskey, to lead this unique pilgrimage. Together, we will explore the Holy Land and share time for reflection, learning, exploration and fun. This trip is designed for Notre Dame of Maryland University alumnae, alumni, family members and friends. For more information, check out the website or view the brochure and itinerary, pricing, and sign up for the trip through Select International.
---
Upcoming Events
Alumnae and Alumni Holiday Happy Hour: Tuesday, December 11, 5:30-7:00 p.m., Noyes Alumnae House
Christmas Eve Mass: Monday, December 24, 4 p.m., Marikle Chapel
Cheer on the Gators at upcoming Athletic Events!
Weekly Mass: Monday - Thursday at 12:05 p.m., Friday at 8 a.m., and Sunday at 8 a.m. Mass is celebrated in Marikle Chapel, on the second floor of Gibbons.
See full calendar of NDMU events.
Review of The Two Gentlemen of Verona
Shannon Austin '12, M'16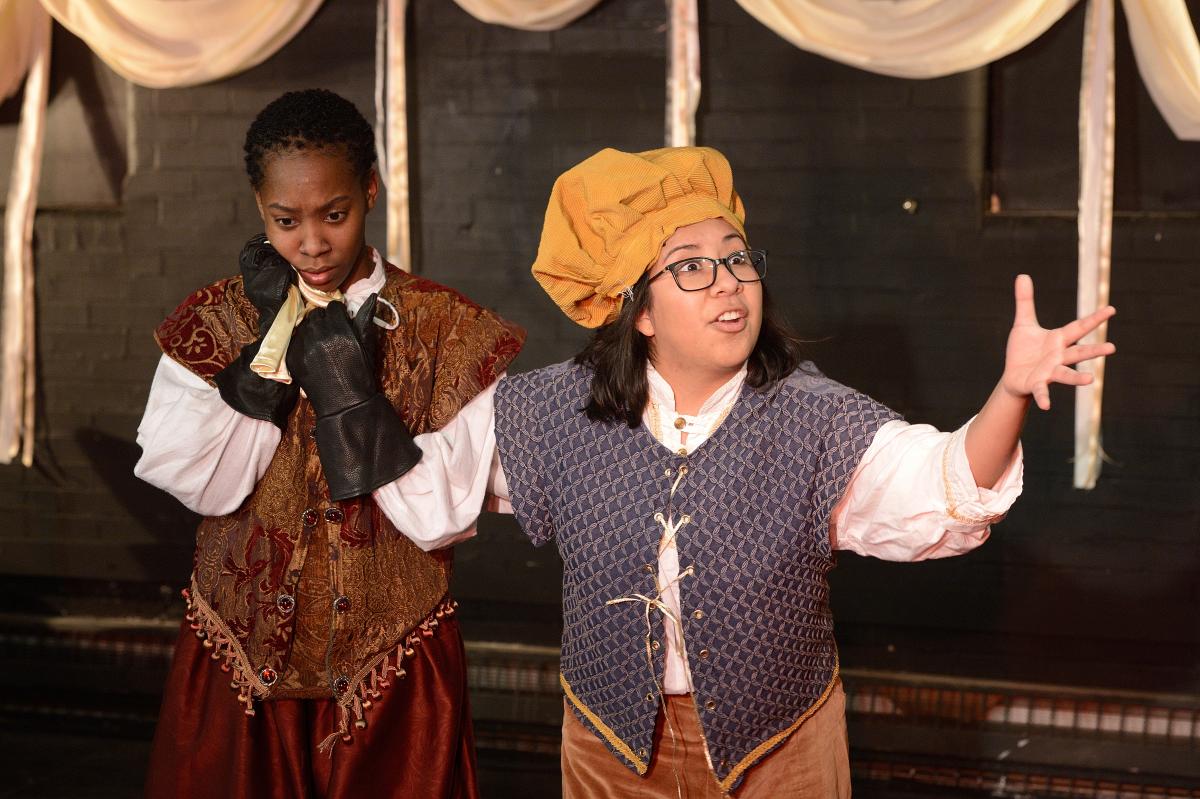 Let's be honest. Most people are familiar with the likes of Hamlet, Macbeth, or Romeo and Juliet. Far fewer have read, let alone seen, The Two Gentlemen of Verona. Perhaps this makes NDMU's production that much more unique…and challenging.
Considered by many to be Shakespeare's first play, Two Gentlemen displays some weaknesses in terms of plot and pacing, particularly given its somewhat rushed and not-entirely-satisfying ending. However, the actors managed to take a now-archaic text and elevate it to a truly memorable and enjoyable experience.
As is always the case, what Shakespeare lacks in originality of plot he more than makes up for in his language choices. The actors not only navigated through the difficult passages written in early-modern English but in some instances surpassed my expectations. For this play, students from both Notre Dame and Loyola acted alongside professionals from the Baltimore Shakespeare Factory, but with how seamlessly everyone performed together, it was hard to distinguish the pros from the students.
The decision to stage Two Gentlemen in the Marion B. Copeland Theater, a small black box space, was a wise one, for it afforded the actors an intimacy with the audience that made the performances stand out even more. Before the start of the play and during intermission, the actors used the space to present songs ranging from traditional Italian ballads to a cover of The Proclaimers' "I'm Gonna Be (500 Miles)," all the while staying in character. As the actions of the play resumed, the actors would continue to interact with the audience, often speaking directly to different individuals or even accepting money as payment for singing a jaunty tune.
The standouts, for me, were the comedic duo of Speed and Launce, two of Shakespeare's classic fools, as well as Launce's dog Crab (a master at his craft!). The actress playing Launce, especially, had excellent timing and turned mishaps into opportunities (such as a potential wardrobe malfunction that ended up garnering a big laugh). Each actor, nevertheless, brought something special, and it was impressive as well to see some of the actors playing multiple roles.
Though by the end of the play I dearly wished Silvia and Julia would leave their less-than-worthy beaus behind (I did appreciate the knowing glance shared by the actresses), I was grateful for the chance to see the students embrace the complexity and kookiness of Shakespeare and hopefully inspire others to delve into his lesser-known works.
University News
Reunion Weekend Recap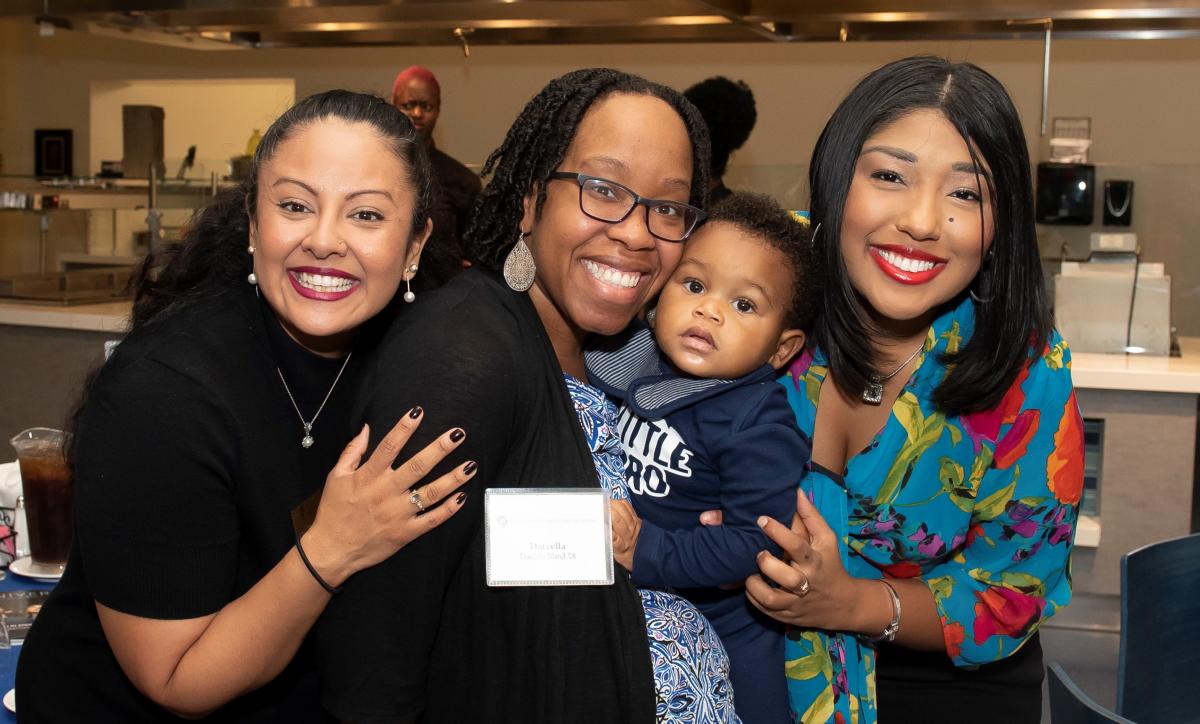 It was a weekend to remember: Notre Dame welcomed the Alumnae and Alumni Community back to campus on October 5-7, 2018 to reconnect, reminisce and have fun. And what a grand time was had by all! From chats with faculty to intergenerational story sharing, photo-bombing to scavenger hunts, milestone celebrations and new memories created, it was a terrific weekend.
Photos from the weekend are now available.
Didn't make it this year? You won't want to miss the next one. Reunion 2019 will kick off celebrations for the NDMU's 125th anniversary! Registration will open in May.
The Volleyball Team Take the CSAC Championship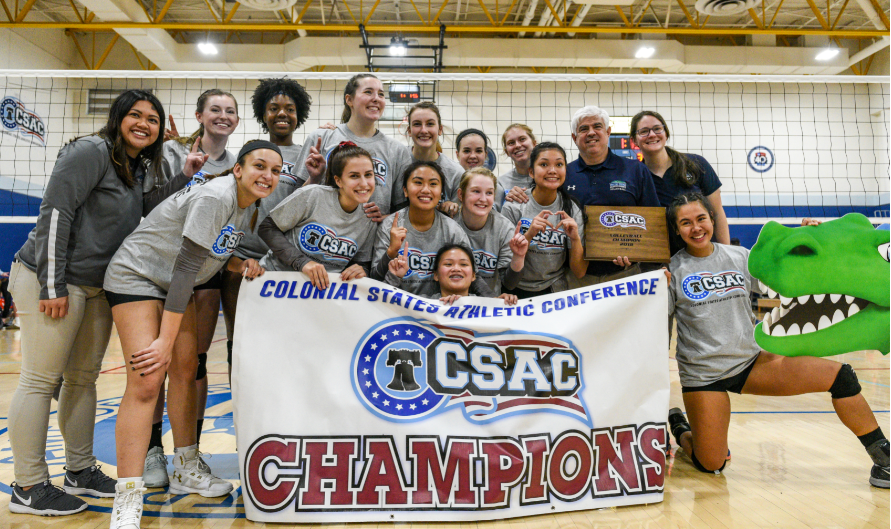 Congratulations, Gators! For the first time since joining the Colonial States Athletic Conference (CSAC), Notre Dame won a CSAC Championship. The volleyball team, who went undefeated in conference play faced Keystone College in the 2018 CSAC Championship game and won in straight sets (3-0) to clench a spot in the Division III NCAA Volleyball Tournament. The Gators faced number one seed Juniata and despite playing a hard fought game, they fell in straight sets. Congrats to the players, and the coaching staff - Henry DeTitta, Catherine Subrizi '11, M'16 and Cleaya Antes '16.
View NDMU's game schedule and cheer on the Gators in more of their athletic endeavors!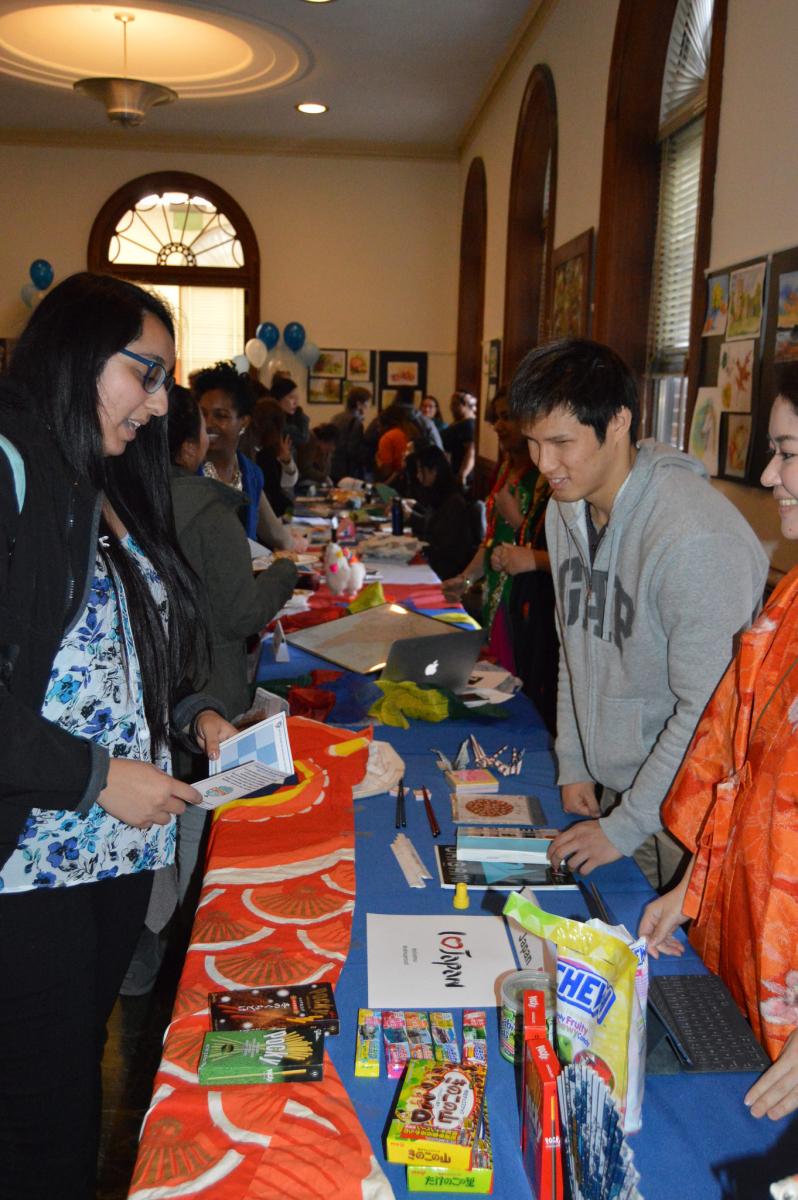 ELI Turns 35
The English Language Institute (ELI) proudly celebrated 35 years at NDMU on November 14, 2018. The festivities were held in conjunction with ELI's annual Culture Day. President Emerita Sr. Kathleen Feeley and current President Dr. Marylou Yam were guest speakers, as well as three ELI students, past and present.
After the speeches, students from across campus enthusiastically represented 25 cultures with decorative tables, music, games and dancing. More than 200 guests were in attendance and the party continued for hours. Here's to the ELI's next 35 years of bringing cultures together on campus!
If you have an international friend, family member or colleague who would like to improve their English skills please refer them to the ELI. The program is accepting applications for the spring semester and would love to welcome new members to its global learning community.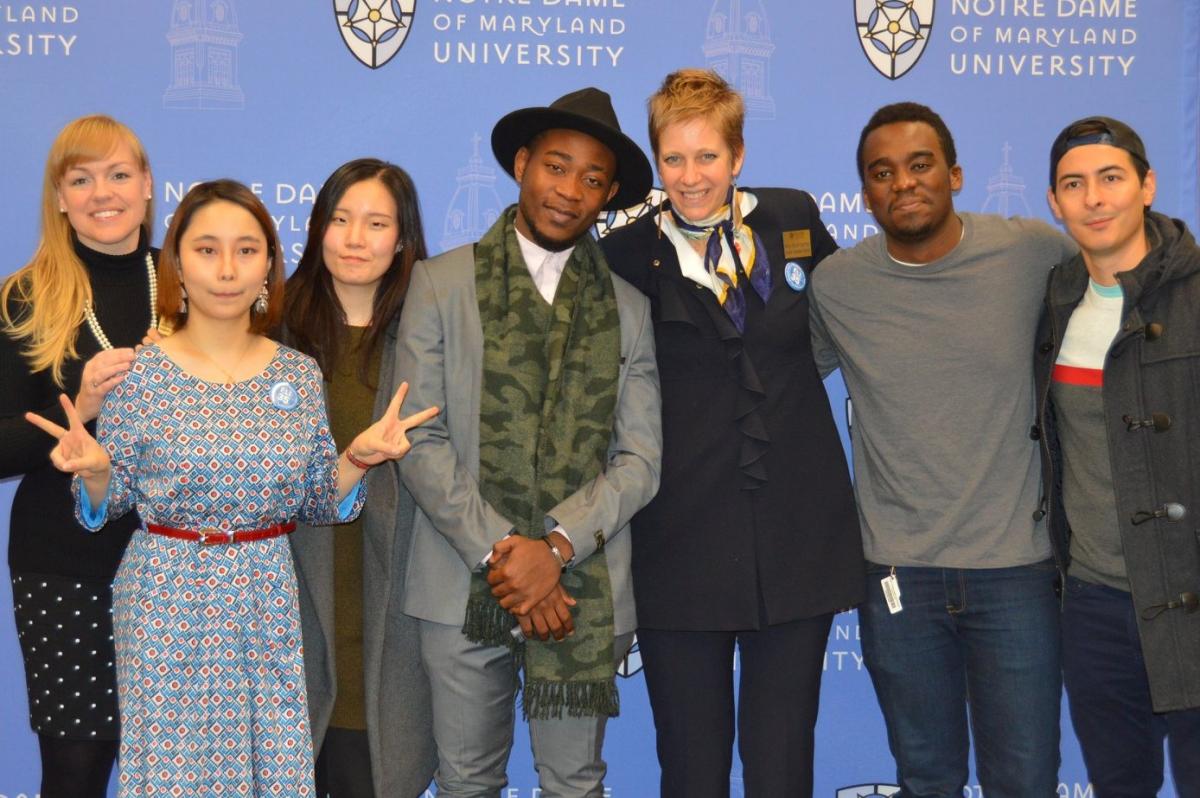 ELI's Spring Orientation for new students is on January 14 & 15, 2019, with classes beginning on January 22, 2019. Interested students can sign up online.
---
Volunteer Opportunities
NDMU Needs Your Input!
You recently received an email inviting you to take an online survey to explore your attitudes and opinions about Notre Dame. This survey is one part of a comprehensive market research study being conducted by the University. SimpsonScarborough, a higher education marketing firm, is partnering with Notre Dame to conduct this research, and your input is critical to the success of the study.
If you have not yet shared your input, we hope you will consider doing so soon—check your email for a message from SimpsonScarborough. Your responses will be submitted directly to SimpsonScarborough and will be kept confidential. As a thank you for your participation, you will be entered into a drawing for a chance to win a $500 Amazon.com Gift Card. Any questions about the survey may be directed to SimpsonScarborough Senior Account Executive Steven Lovern.
Reunion 2019 Planning Committee
Reunion 2019 will be held September 6-8 and we are looking for volunteers from all classes, especially those in years ending in "4" and "9," to help plan next year's celebration. If you are interested in raising the bar for Reunion success, this committee welcomes you!
We seek volunteers to collaborate on program planning, fundraising, class participation and attendance outreach. Contact Aliza Ross, Director of Alumnae and Alumni Relations, for more information. The next committee meeting will be held on January 26, 2019.
NDMU in the Community
So What Else? Baltimore
So What Else? Baltimore is a nonprofit committed to serving the city through community engagement and youth outreach. They offer city youth a range of free enrichment activities such as vegan cooking with Farmer Nell of City Weeds, athletic camps taught by trained professionals, photography, and film workshops, and so much more! Volunteers can work with one of their weekly after-school enrichment programs, or various one-time special events throughout the year.
Alumnae and alumni interested in volunteering should call or email Jessica Cash, Administrative Director (443-538-0767).
CARES
CARES on York Road needs volunteers who can come regularly, two or more hours a week. They especially need help in the food pantry on Saturday mornings, as well as Monday and Thursday evenings. Short term opportunities and helping out at special events are also welcome.
Alumnae and alumni interested in volunteering should contact Rachel V. Neill, Director of Community Services via email or phone, 410-532-7117.
Adelante Latina!
Adelante Latina! is the first after-school, college-bound program for Latina girls in Baltimore. They are in need of volunteer tutors.
Where: Esperanza Center, 430 S. Broadway (corner of Eastern Ave).
When: Once a week on Tuesdays or Thursdays from 4:15-6:15 p.m. Starting in mid-September and continuing until early June 2019, with City Public School vacation breaks and snow days.
Goal: To improve English composition, reading comprehension and writing skills of high performing, low-income Baltimore City high school sophomores, juniors and seniors. Adelante Latina! is a 3-year, college prep program. Tutoring is one-on-one, preferably with the same student throughout the year and, hopefully, for all three years.
Tutor Qualifications: Excellent English language skills, tutoring skills, and the ability to get along with teenage girls. No knowledge of Spanish is required. Tutoring sessions are one-on-one or, at most, two students per tutor. Three of our 28 students have only been in this country for 2-3 years and would require a tutor with ESL teaching experience.
Time Commitments: Once a week, on Tuesdays or Thursdays, from 4:15-6:15 p.m.
Visit the website to learn more, call or email Leonor Blum, Professor Emerita, Notre Dame of Maryland University, (410-591-0547).
---
Spotlight
Through this section, the goal is to connect you to recent additions or familiar campus faces in a new way! In this issue, we're highlighting alumna Felicia John M'17, Student Life Program Assistant. Felicia knows first-hand the benefits that a personal, connected community provides to students and she strives to pay it forward with current students.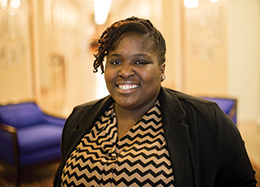 Can you share a favorite memory from your time at Notre Dame?
One of my favorite memories at NDMU was watching one of [our] students cross the stage at the May 2018 commencement with her master's degree. Since I started at Notre Dame, Briana Johnson has been a student that I not only learned from but got the chance to know on a personal level. Throughout her four years at NDMU, she has been the student who would challenge ideas and speak her mind about what she was feeling. I've watched Briana develop into a Notre Dame woman. Her resilience is what always stood out to me. During difficult times, Briana always found a way to make things work for herself and her family. Having the chance to act as a mentor to Notre Dame students is one of the best parts of my job.
Who has inspired you in your life and why?
One person who has inspired me through my adult journey would have to be my friend and mentor, Natalie Gillard. Natalie has been such an inspiration since I met her as an undergraduate student. While earning my bachelor's degree, I was a part of many organizations and clubs on campus that Natalie oversaw. Once I graduated, Natalie and I kept in touch, she pushed me to pursue my master's degree here at Notre Dame where I served as her Graduate Assistant for two years. [Working with her] taught me so many skills and life lessons that I continue to pass on to students I encounter every day. Natalie has always been such a great person to look up to because she never backs down from a challenge and always stands up for what she believes in. She is never afraid to try something new or to do something outside of her comfort zone. She executes challenges with ease, which is something I continue to learn from her. If she has a dream or a great idea she definitely makes it happen. Natalie was challenged to create a diversity training for a group of students, which is how she [came to create] her board game "Factuality." [The game's] delivery allows participants to learn about structural inequality, in America. Natalie has always been someone I can look to for advice about anything going on in my life...or if I just need a restaurant suggestion for dinner!
You graduated from NDMU with a master's degree in nonprofit management. What did you enjoy about this program?
I enjoyed the nonprofit management program because it was very hands on. The classes were small so you got the opportunity to know your classmates on a personal level. The faculty in the program were very knowledgeable and dedicated to the field. I enjoyed learning the curriculum and seeing it come to life in assignments and projects. Since most of the faculty worked in the nonprofit field, we had a few guest speakers come into class to discuss their organizations and give us a chance to network with them. I'm grateful for the program because things that I learned I utilize in my work here at NDMU.
How do you like to spend your time outside of work?
Outside of work I love spending time with my family, friends and my dog Juno! I also love to explore Baltimore. I am originally from Brooklyn, NY, so finding new places to go is something that I do often. Baltimore is small city but so beautiful and full of lots hidden gems. I love going to Fells Point because it has a few of my favorite restaurants which includes Blue Moon Café for brunch. If you're interested in Dominican food, Sajhoma is really good! Recently, I attended a comedy magic show in Federal Hill which was pretty amazing. When I am not exploring the city, I also enjoy relaxing at home, binge watching a show on Netflix or FaceTiming my family in New York.
What motivates you about your work here at Notre Dame?
Honestly, if one thing motivates me here at Notre Dame the most, it has to be the students. I always enjoy watching their growth throughout their four years at NDMU. I always think about when a particular student first arrives for orientation in the summer and how nervous they are about starting their college careers and by the end of their first year, they are a president of a new club, a work study student or an orientation leader. As time flies that same student is walking across the stage at commencement. It is such a bittersweet moment. I love when students come into my office to tell me that they passed a test they thought was not going to go well, or if they need advice on handling a situation in their life. Building personal relationships with the students is something that helps my team and I figure out what [they] need and [how we can help them at NDMU and beyond.]
Is there any advice you would like to share with alumnae/alumni and current students?
Do not forget the impact that Notre Dame had on you. If you have time, stop by and let us know what you are doing. The current students need to know what alumnae and alumni are doing after their time at NDMU. It will give them that boost of confidence that they need. Faculty and staff can offer tons of advice to them, but the alumnae and alumni community has a much more meaningful impact. [Sharing an experience is helpful.]
---
Class Notes
Adelaide Davis '93 received a Master in Ministry with a concentration in Christian Education from United Baptist College and Seminary of Maryland in 2014.
Rachel Dodge '97, MD, MPH, FAAP has been honored with the Special Achievement Award by The American Academy of Pediatrics.
Jennifer Hale '08 and Jackie Morrison '08 suddendly lost their mothers this year and in searching for grief support, decided to create a beautiful community where people can share stories, lean on each other and, most of all, laugh together. They will be kicking off their new group, Good Mourning, with a party. All are welcome to join them at Encantada Restaurant at the American Visionary Art Museum on Friday, Dec. 7 from 7-10 p.m. There will be food, great music and an amazing line-up of knee-slapping talent. If you want to learn how to smile again and join folks on the very same "good mourning" journey, RSVP today because space is limited. They can't wait to meet you! If you can't make their kickoff event, be sure to 'Like' them on Facebook and visit their website for updates on their podcast, blog and future events.
Have a life-update to share? Want to announce a promotion or job change? Write a class note! Class notes are brief updates shared with the larger NDMU community. Email your note to the alumnae and alumni office.
---
Giving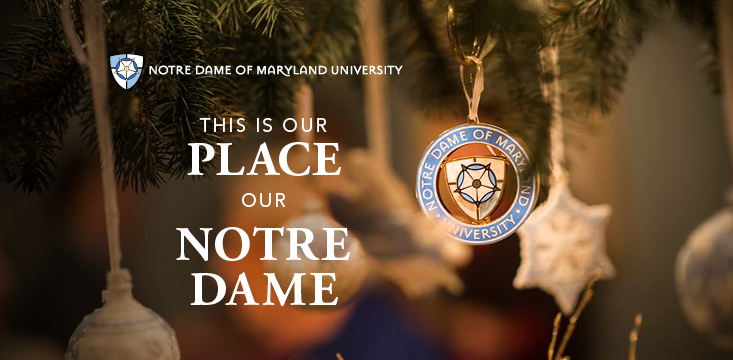 As you celebrate the holiday season, we hope you will make a gift. Your gift allows Notre Dame to create a place where education and passion meet, a place where outstanding faculty come together with dedicated students, a place where people come to learn and grow before transforming the world. Each year, gifts from alumnae and alumni, parents, faculty, staff and friends like you allow Notre Dame to continue offering a place of discovery and innovation.
Thank you to everyone who contributed to their class gift for Reunion Weekend and donated on Giving Tuesday! Each gift makes an impact, and we are grateful for your generosity.
---
In Memoriam
Angela Valenti Bands '49
Emma Maher Gaines '46
Mary Kornick Grim '46
Barbara Antonelli Hopewood '82
Lisa McMurtrie '93
Joan Sweeney Muth '46
Lois Anne Kiefer Pearce '60
Mary Carroll Donegan Roche '50
Lucy Loker Timmons '69
Ellan Wheeler Thorson '66
Sr. Rita Tschudi, MHSH '64
---
SSND News
The annual SSND Family Chapter Breakfast took place during Reunion Weekend on October 7, 2018. Local sisters gathered on campus with President Yam to hear a university update and enjoy fellowship with one another.
The SSNDs are celebrating their 185th anniversary this year! To mark the occasion, the SSNDs of the Atlantic-Midwest Province have initiated a 185th anniversary/185 stories effort. All NDMU alums are invited to contribute stories about their favorite professor or provide a reflection on their NDMU/SSND education. Stories, reflections, and questions may be directed to Sheila Welton via email or phone, 410-377-7774.
---
How to stay connected to NDMU
Did you move? Change your email address? Just want to check to see if NDMU has your accurate information? The almnae and alumni office periodically sends email and/or print mailings and wants to make sure these items are arriving (correct name, address, email, etc). The best way to do that, is to have you verify your information. NDMU has updated to a new system and is no longer using MyNDM. To share an update, please contact the Office of Alumnae and Alumni Relations via email or phone: 410-532-5201.
NDMU also has an active presence on Facebook, Instagram and Twitter. It's a way to share information instantly and connect with fellow alumnae and alumni. Like and follow the pages for the most immediate updates!
Facebook
Instagram
Twitter
---
Tower Talk 2018-2019
This publication has moved to a bimonthly schedule. This issue covers news for November and December. The next issue will cover January and February and will be available close to the start of February 2019.