Message from the Alumnae and Alumni Engagement Team
Greetings Alumnae and Alumni,
Happy April! We hope our relaunch of Tower Talk this past January was as exciting for you as it was for us. We know hearing more about what is happening on campus, highlighting our sensational alumnae/i, and learning about upcoming events and programs to participate in was crucial for so many of you, and we are thrilled to be sharing this next edition. Please do us a favor; if you have classmates and friends who feel like they don't hear about Alumni Engagement news, go ahead and forward this message to them so they can reconnect with us. As a new team, we are very interested in reconnecting with all of you.
With spring in the air, the campus feels rejuvenated and our community is enjoying events and classes outside. Our students are so happy to be wrapping up the semester. However, seniors are experiencing that beautiful combination of joy and sadness with Commencement around the corner. As the Alumni Engagement Team, we are showering them with celebration because we cannot wait to welcome them into our Alumnae/i Family. I'm sure you share our feelings there!
If you're following our social media accounts, you've seen posts about extraordinary alumni doing amazing things every week. We are always interested in hearing about what is happening in your life personally and professionally, so please send us your updates and news whenever you can. As we look ahead to the summer, we have some new events for you to enjoy, including a crab feast on campus and a trip to Camden Yards for alumni, family, and friends! Happy Easter, everyone, and we hope to see you at an event or back on campus soon.
Warmly,
Alex & Rose
Your Alumni Engagement Team
---
The Montrose Society: Legacy Giving
The Montrose Society includes alumnae and friends who have committed to a planned gift to Notre Dame. Options for planned gifts include remembering Notre Dame in your will, making Notre Dame a beneficiary in your retirement account or insurance policy, bequeath real or personal property to the University or creating a Notre Dame donor advised fund naming the University as a benefactor. Vanetta Wallace is a graduate from the Class of 1993 and current Montrose Society member. Read more about Netta's love for Notre Dame and why she decided to join the Montrose Society.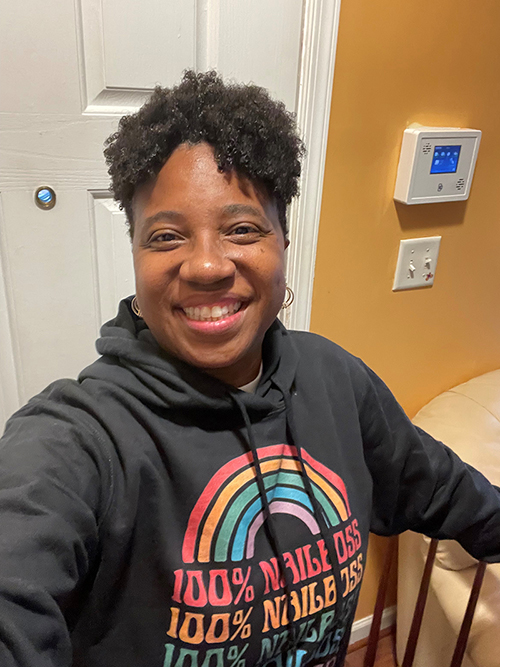 Early one Saturday morning, I stepped onto Notre Dame's campus for a music audition and instantly fell in love. Prior to that visit I had never heard of Notre Dame. I wondered, what on earth could a women's college do for me?  
As we drove up the Charles Street entrance, the first thing I saw was the tower. The tower called out to me. I truly believe it was the Holy Spirit telling me I had found my home away from home for the next four years, a place where I would be spiritually and intellectually stimulated in both an enriching and inspiring environment. 
My four years inspired me to become a leader with purpose, a force to be reckoned with. I watched and learned from inspiring female faculty members like Dr. Karen Stoddard and Sister Joseph Mary Zimmer. They pushed me to try harder, because being OK is never enough. They wanted me to be all I could be and then strive for more.  
Twenty-five years later, I have my own day care business: Netta's Nest Family Childcare. I feel that the strong leadership skills and self-confidence I gained while attending Notre Dame have made me the success I am today. With so many fine institutions closing due to lack of support—such as my elementary and high schools and the graduate school where I earned my Master's in Early Childhood Education—I had to make a decision that I felt was best to help support Notre Dame.  
Keeping the dream alive for future generations of women is not something I had to think about twice. I felt it was my duty to give back to the one place that gave me so much and made me who I am today. I therefore decided to include NDMU in my will and became a member of the Montrose Society.
You can help strengthen and sustain the mission of NDMU for future generations by becoming a member of Notre Dame's Montrose Society. 
Learn more about Montrose Society and Planned Giving at NDMU