Table of Contents
Virtual Reunion
Class Notes
Upcoming Events
University News
Giving
In Memoriam
Volunteer Opportunities
Stay Connected to NDMU
---
Virtual Reunion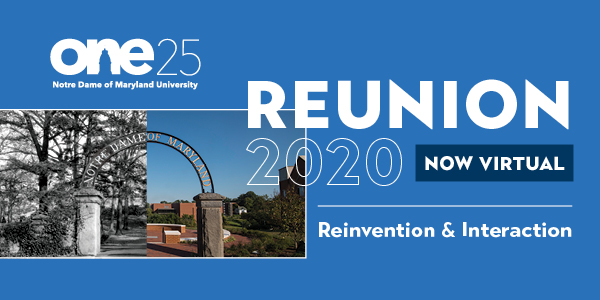 There's no plane ticket or hotel stay required--Reunion is VIRTUAL! We're excited to see over 225 alumnae and alumni for five days of Reunion activities: Wednesday, October 7- Sunday, October 11.
This, Notre Dame's first Virtual Reunion, will feature opportunities to connect with and learn from friends, toast milestones, hear a university update, participate in new activities, and more. It will be an exciting five days--won't you join us? Register today.
We are pleased to honor the 2020 Alumnae and Alumni Award Recipients during Virtual Reunion:
Elizabeth P. Hoisington '40 Distinguished Alumna Award
Mary Beth Lennon '89
Service to Society Award
Veronica Walker Hackett '67

Regina Russo Hammel '41 Recent Graduate Award
John G. Boyle M'16

Alumnae and Alumni Engagement Award
Donna C. Ringger Easton '70
---
Class Notes
This summer, Jennifer Price '09 wrote, illustrated, and self-published a children's book. The story, titled Mask Up! A Covid Crusader Story, centers on a boy who learns why it's important to wear his mask to help protect others during the pandemic.
A graduate of NDMU's Leadership in Teaching Master's Program, Jennifer wanted to take her anxiety about being a kindergarten teacher during the pandemic and channel it into something that she hopes will help kids, families, and educators. At the end of the paperback and E-book, she includes a link to a document with supplemental activities that can be done at home or at school. Congratulations, Jennifer, on this wonderful accomplishment!
Jennifer's book can be purchased through Amazon.
Would you like to share a special update? Did you get married this year? Welcome a new family member? Make a career change? Any and all of these updates are invited! High-resolution photos are emphatically encouraged, too. Please send your update to ndmalum@ndm.edu.
---
Upcoming Events
Reunion Mass with Montrose Society Appreciation
Reunion Mass will be held via livestream on Sunday, October 11 at 11:00 a.m. We are looking forward to this tradition in its new format and to honoring those who have made a legacy commitment to the Notre Dame Community. All are invited to view the livestream from the comfort of home--please do not come to campus to attend mass. A link to access the feed will be included on this page and on our Reunion site beginning Monday, October 5. There is no registration needed and no charge associated with access to mass. If you are interested in the all-access Reunion pass, please register for the Reunion program. Mass is the only event that will be broadcast in a public way.
Academics
On Friday, October 16 at 9:00 a.m., NDMU's psychology department will host another in a series of continuing education seminars for psychologists and other mental health professionals. In this session, titled Healing Racial Trauma, guest speaker Dietra D. Hawkins, Psy.D. will lead participants in a discussion of racial bias and the impact of racial trauma. This session is free to NDMU students and staff and $89 for all other participants. Registration is available through the NDMU website.
Athletics
In light of the decision to suspend the fall athletic season due to safety concerns regarding COVID-19, the Colonial States Athletic Conference (CSAC) has launched a new series of virtual programming for student-athletes known as "Raise Your Game," which will touch on a variety of topics ranging from nutrition to mental health. More information on the series can be found at www.csacsports.org/raiseyourgame.
Weekly Mass
Aside from the Reunion Mass, there will be no masses in Marikle Chapel until further notice. However, there are several ways to worship from home! Sr. Mary Kerber, Associate Vice President for Mission and Ministry, recommends the app myParish, which has a number of prayer resources and links to live-streamed masses.
Another resource is EWTN Global Catholic Network, the largest religious network in the world. You can watch the Mass every day at 8:00 a.m. on TV or streaming live here. Missed the live stream? Get today's daily readings and homily at this link.
The Mass can also be heard via EWTN's radio affiliates, on SIRIUS/XM Channel #130, online at this link, and live on EWTN's Facebook page at 8 a.m. ET here.
Click here to quickly discover the channel on which to find EWTN on your local cable or satellite provider, and here to find the television schedule.
---
University News
Strategic Plan: Going Beyond: Vision 2025
In September, President Marylou Yam announced to the campus community the official launch of the University's new strategic plan, Going Beyond: Vision 2025. The strategic plan is set to successfully guide NDMU through the next five years and beyond. It will ensure Notre Dame's path of continuing its tradition of providing a transformational educational experience, while preparing students for personal and professional success. Going Beyond is forward-looking, student-centered, ambitious yet realistic, data informed, and focused on the University's core values.
President Marylou Yam explains the goals, themes, and the inspiration behind the strategic plan in her address to NDMU. Join us at Virtual Reunion to hear more about the plan during President Yam's live address.
Nikki Gatewood '01 Named President of Alumnae and Alumni Council
In an email message sent on August 26, the Office of Alumnae and Alumni Relations announced the unanimous election of Nichole' "Nikki" Gatewood, Esq. '01 as the new President of the Alumnae and Alumni Council (AAC). For the past three years, Nikki has served as an at-large member on the AAC and for far longer has been part of NDMU's Networking Committee, First Impressions Committee, and served as an ambassador for the NDMU community.
We congratulate Nikki on this much-deserved recognition and wish her luck in this position! We also invite alums to view the complete list of AAC representatives and consider becoming a member of the Council.
Gormley Gallery Goes Virtual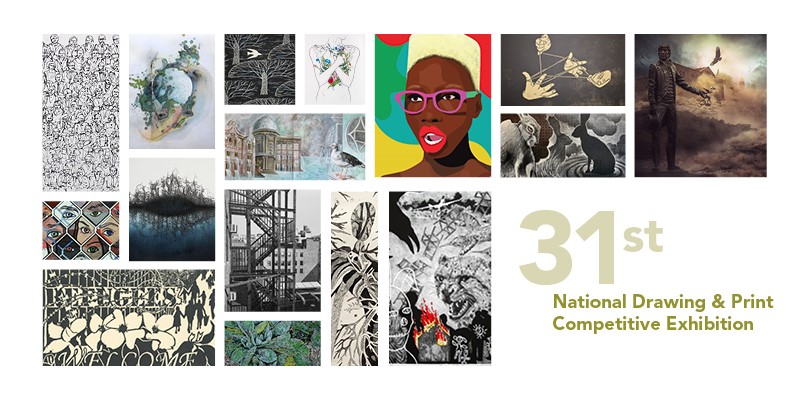 Experience the joy of art from your own home by exploring Gormley Gallery's new virtual site, gormleygallery.com. Housed on the site will be a series of virtual exhibitions and events, including the winners of the 31st National Drawing & Print Competitive Exhibition.
You can also check out Civera Gallery's new exhibition, Celebrating Materials, on the website. Featuring artwork from graduate students and faculty of the Art Therapy program, this show celebrates the power of different art media in the therapeutic process. Whether on or off campus, you can discover new and exciting work from some exceptional artists!
---
Giving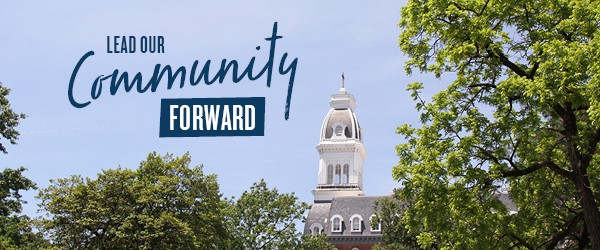 When you give to Notre Dame, you provide a diverse student body with access to an education that brings out the best in all of us. Your gift to the annual fund will be used for the area of greatest need, helping support student scholarships, new technology for remote instruction, and on-campus infrastructure. You can make a difference for Notre Dame students by donating. Make your gift today!
---
In Memoriam
Our alumnae and alumni community mourns the passing of the following graduates:
Patricia B. Kelly '54
Kathleen Glab Brooks '70
Zelma Garretson-Butt '85

---
Volunteer Opportunities
Service in the Time of COVID-19
Feeling overwhelmed or scared in the face of the pandemic? Eager to help in some way, but not sure what you can do? Here are some ways to start:
Donate food online!
Several organizations are helping to provide necessary supplies for our most vulnerable neighbors. Here are two Baltimore-based organizations that could use your support:
Buy gift cards!
Many small businesses are taking a hit due to closures and self-isolation. Buying gift cards from these businesses can help their employees while still allowing you to maintain social distancing. You can use the cards at a later time or gift them to those in need or those still working in essential roles, such as doctors, nurses, grocers, etc.
Social distance and wear a mask!
Though some parts of the state are reopening, we must remember to maintain a safe distance between others when venturing outside of our homes. Keep six feet apart from others when possible, and don't forget to wear your mask!
---
Stay Connected to NDMU
Did you move? Change your email address? The alumnae and alumni office periodically distributes communications. Verify your information and send your mailing/email address to the Office of Alumnae and Alumni Relations or call 410-532-5201.
NDMU also has an active presence on Facebook and LinkedIn! It's a way to share information and connect instantly with fellow alumnae and alumni. Like and follow the pages for the most immediate updates!
Likewise, if you know someone who does not regularly receive notices from NDMU, please encourage them to update their contact information with the alumnae and alumni office.
---
This publication follows a bimonthly schedule. This issue covers news for September and October 2020. The next issue will cover November and December and will be available close to the start of December 2020.