Table of Contents
A Message from President Yam
125th Anniversary
Upcoming Events
Review of The 25th Annual Putnam County Spelling Bee
University News
Call for Class Notes and Photos
Giving
In Memoriam
Volunteer Opportunities
Stay Connected to NDMU
A Message from President Yam
In early November, President Marylou Yam sent out an email message filled with good news regarding university updates, events, and triumphs to all NDMU alums. In addition to noting the success of Reunion 2019 and the recent federal grant acquired by the university (covered further in this issue), the President spoke on several other exciting endeavors by the university and members of our campus community. Below is an excerpt from that message:
"I am pleased to share the news that our School of Pharmacy was recently re-accredited by the Accreditation Council for Pharmacy Education (ACPE) for another eight years! APCE is the national organization the U.S. Department of Education recognizes as the national agency for the accreditation of professional degree programs in pharmacy.
In the spring, I announced that we received approval for a Doctorate in Occupational Therapy degree program. We have begun our pursuit of specialty accreditation with the Accreditation Council for Occupational Therapy Education (ACOTE).
Last month, we received approval from Maryland for several new programs including a Master of Arts in Leadership in Higher Education for Changing Populations. Our new Bachelor of Science Nursing (BSN) Accelerated Program launched successfully in June with over 30 students. Additionally, a few months ago, we signed an agreement with the Maryland Army National Guard to offer educational programs for our guardswomen and men.
Notre Dame has been fortunate to partner with the Maryland Commission on the Commemoration of the Passage of the 19th Amendment to the United States Constitution for the production of the WOW Baltimore Festival. Please save the date and plan to join us on Saturday, March 7, 2020 at the Columbus Center in downtown Baltimore.
Two years ago, Mrs. Yumi Hogan, Maryland's First Lady, visited NDMU for the launching of the Art Therapy bachelor's and master's programs. In late October, Mrs. Hogan returned to campus to view the Art Therapy exhibit in the Civera Art Gallery. First Lady Hogan has long been a supporter of art therapy.
With the help of a second AmeriCorps VISTA, NDMU has continued the York Road Education and Service (YES) Program. The YES Program supports college preparation and increased academic achievement in Baltimore youth via a partnership with two local community schools, Govans Elementary and Tunbridge Public Charter. Having successfully launched a tutoring program in academic year 2018-2019, YES is expected to expand to include a mentoring program in 2019-2020 and a health program in 2020-2021."
---
125th Anniversary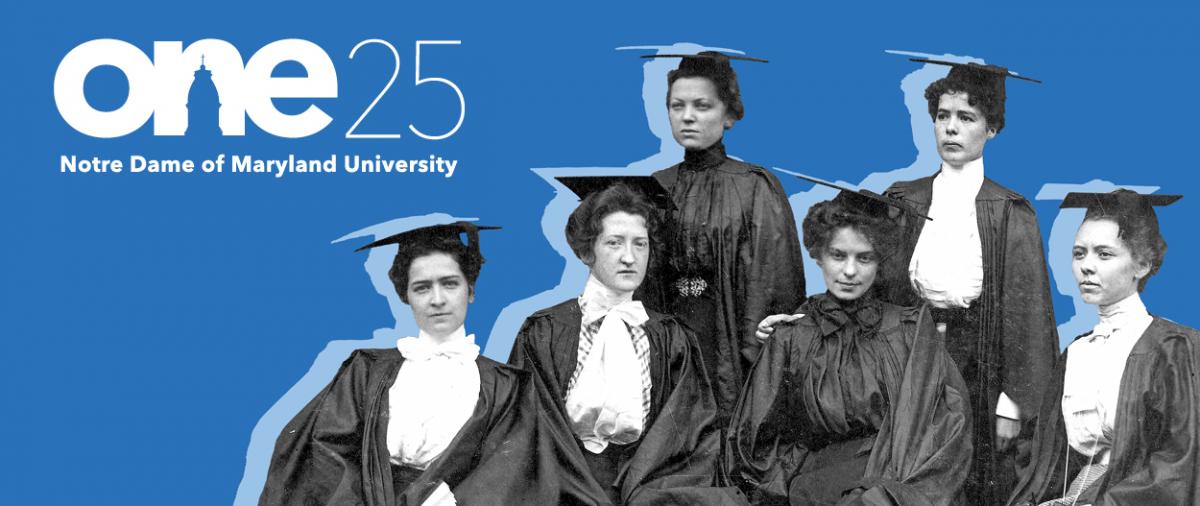 The 125th anniversary website is live! Have you seen it yet?! Check it out for these details and more:
Host a 125th anniversary party in your region. We'll provide the supplies! Let us know if you'd like to Volunteer!
Thank you for being a part of Notre Dame's rich history, supporting the mission of the founding School Sisters of Notre Dame. We hope you will join President Marylou Yam and local NDMU alumnae, alumni, and friends for regional gatherings to celebrate the anniversary. Next up:
125th Anniversary Party: Washington, DC
Wednesday, December 11, 2019
6:00 p.m. to 8:00 p.m.
Council for Advancement and Support of Education (CASE) Headquarters
1307 New York Avenue, Washington, DC 20005
To RSVP, contact Shannon Austin at saustin@ndm.edu or 410-532-3163. Registered guests will receive an email with additional event details on or about Monday, December 9.
Visit the 125th events calendar to learn about more anniversary events.
---
Upcoming Events
Join NDMU's Concert Choir as they present "Holiday Spirit," an evening of holiday songs! The concert is free and open to the public and will take place in the Marikle Chapel on December 7 at 5:00 p.m.
Christmas Eve Mass: Monday, December 24, 4:00 p.m., Marikle Chapel
Cheer on the Gators at upcoming Athletic Events!
Weekly Mass: Monday - Thursday at 12:05 p.m., Friday at 8:00 a.m., and Sunday at 8:00 a.m. Mass is celebrated in the Marikle Chapel, on the second floor of Gibbons.
See full calendar of NDMU events.
---
Review of The 25th Annual Putnam County Spelling Bee
Shannon Austin '12, M '15
What do magic feet, free candy, and a cameo by Jesus Christ have in common? They are all components in the delightfully absurd musical The 25th Annual Putnam County Spelling Bee, staged earlier this month by NDMU's own drama department.
Performed in the Marion B. Copeland theater, the musical centers on a group of spelling bee contestants navigating through life's various challenges while simultaneously vying for the chance to win the illustrious Bee. Throughout the show, we see that each character is undergoing some sort of personal journey separate from the competition, and we the audience are treated to moments of self-discovery, introspection, and commentary on parental and social pressures that belie the light-hearted and sometimes silly nature of the show's premise.
One character grapples with perfectionism and the need to perform. Another struggles with his family's perceptions of his intelligence and capabilities. Yet another deals with absent parents and the need to feel both seen and loved. Even the Bee's dual moderators and its Official Comfort Counselor Mitch Mahoney (an ex-convict performing community service) get their moments to shine—and boy, do they shine!
One might think in an ensemble cast like this that one or two actors might upstage the others, but in this production all of its actors brought something special to the table. The actors were more than capable of balancing the unusual comedy with the show's more serious moments and messages.
Another notable element of this musical was its audience interaction. Before each performance, members of the audience were encouraged to sign up as additional spelling bee contestants, enhancing the experience of the already quirky show. Throw in some free candy lobbed at the audience members by a disgruntled former contestant, and it's clear that the audience was just as much part of the show as the actors.
Kudos should also be given to the show's choreographer, who created visually intriguing ways of conveying the passage of time, especially when attempting to show the increasing pressure of the Bee as contestant after contestant stepped up to the mic. One particularly clever moment came when the actors exaggerated their movements, mimicking the slow-motion effect usually seen in film.
While I find it hard to believe that this is truly the first musical ever performed at Notre Dame, I can only say that if it is, this performance proves just how much we've been missing.
---
University News
NDMU Awarded Largest Federal Grant in its History
NDMU recently received a Title III grant award for $2.1M from the U.S. Department of Education's Strengthening Institutions Program (SIP). This is the largest federal grant that NDMU has received in its now more than 125-year history. Read more about NDMU's program and how it will transform the student learning experience here.
Alumna Art Exhibition in Civera Gallery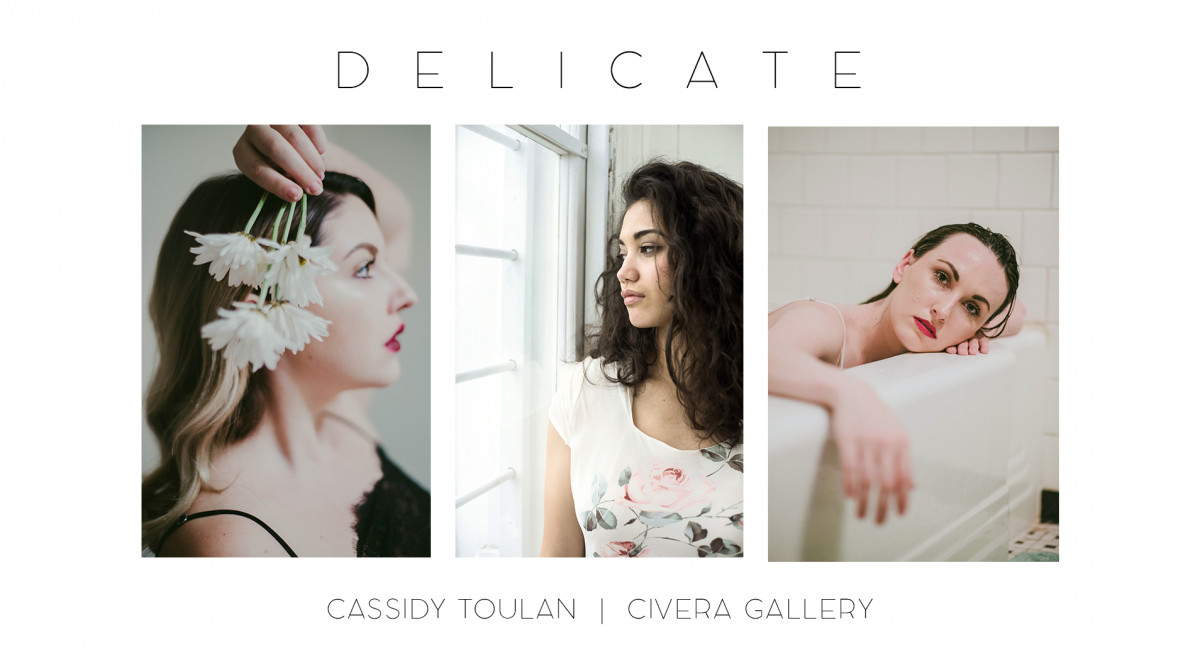 Delicate, a collection of portrait photography by NDMU alum Cassidy Toulan '17, is currently open to the public in Civera Gallery (located on the second floor of the University Academic Building). The exhibition will run through December 13.
Student Exhibit in Gormley Gallery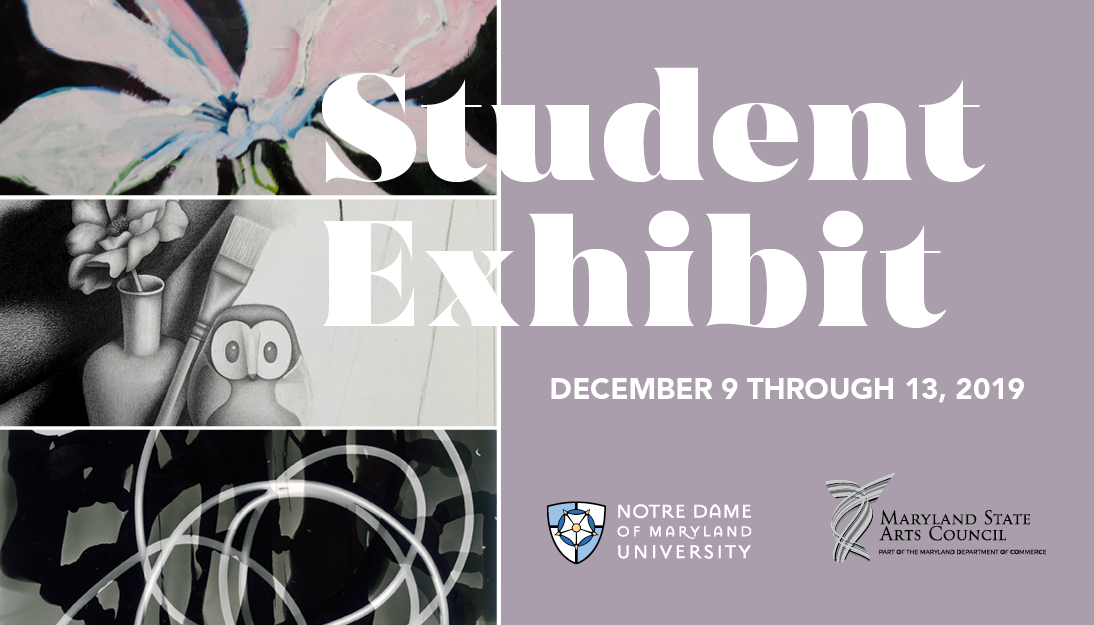 The annual Student Exhibit, a salon-style exhibition of work by students enrolled in art courses this fall semester, will open in NDMU's Gormley Gallery on Monday, December 9 and will run until December 13.
Don't miss the opportunity to see this wonderful work!
---
Call for Class Notes and Photos
Have a life update to share? Want to announce a promotion or job change? Now is the perfect time to share a class note for inclusion in the 2020 issue of Universitas!
Class notes are brief updates shared with the larger NDMU community. High-res photos of your special events (weddings, new babies, etc.) are welcome and we will include them alongside your notes! You can email your notes and photos to ndmalum@ndm.edu.
---
Giving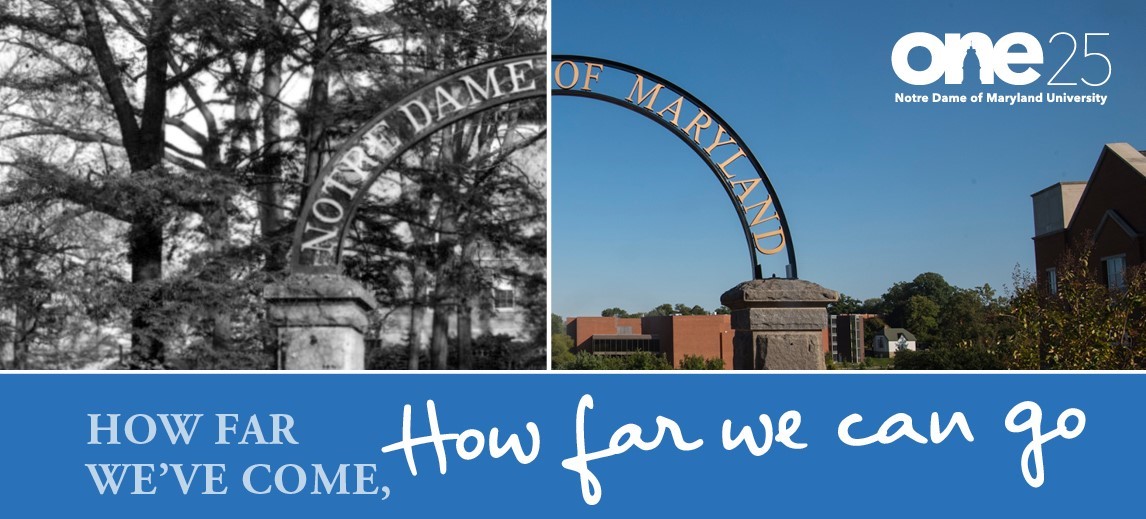 As we commemorate 125 years of Notre Dame, we celebrate how much we have grown and the bright future we have ahead of us. With your contribution, we can build on the existing network of outstanding faculty, uphold the legacy of the SSNDs, and maintain our innovative programs that keep Notre Dame of Maryland University at the forefront of academic excellence. Together, we can do all this and more on behalf of NDMU students who will transform the world. Make your gift today!
---
In Memoriam
Our alumnae and alumni community mourns the passing of the following graduates:
Margaret DiDomenico Castoro '50
Jean Schlosser Dyer '46
Winifred D. Woodbury '66
---
Volunteer Opportunities
Adelante Latina!
Adelante Latina! is the first after-school, college-bound program for Latina girls in Baltimore, and it needs volunteer tutors.
Where: Knott Science Center, Rooms 315 and 317, 4701 N. Charles St, Baltimore, MD 21210

When: Once a week on Tuesdays or Thursdays, from 4:15 p.m. to 6:15 p.m. Starting in mid-September and continuing until late May, with Baltimore City Public School vacation breaks and snow days.

Goal: To help improve the English composition, reading comprehension, and writing skills of high-performing, low-income Baltimore City high school sophomores, juniors, and seniors. Adelante Latina! is a three-year, college-prep program. Tutoring is one-on-one, with the hope that each student will work with the same tutor for all three years.
Tutor Qualifications: Excellent English language skills, tutoring skills, and ability to get along with teenage girls. No knowledge of Spanish is required as English is the primary language. Prior teaching experience is helpful, but not required. Substitutes are available if notified ahead of time.
This non-profit program was created by Leonor Blum, Professor Emerita of History/Political Science at NDMU.
Visit the website to learn more or contact Leonor Blum at 410-591-0547 or blumele@aol.com.
---
Stay Connected to NDMU
Did you move? Change your email address? The alumnae and alumni office periodically distributes communications. Verify your information and send your mailing/email address to the Office of Alumnae and Alumni Relations or call 410-532-5201.
NDMU also has an active presence on Facebook and LinkedIn! It's a way to share information and connect instantly with fellow alumnae and alumni. Like and follow the pages for the most immediate updates!
---
This publication follows a bimonthly schedule. This issue covers news for November and December 2019. The next issue will cover January and February and will be available close to the start of February 2020.