Table of Contents
Reunion Weekend
University News
Giving
In Memoriam
Volunteer Opportunities
SSND News
Stay Connected to NDMU
Reunion Weekend: September 6-8, 2019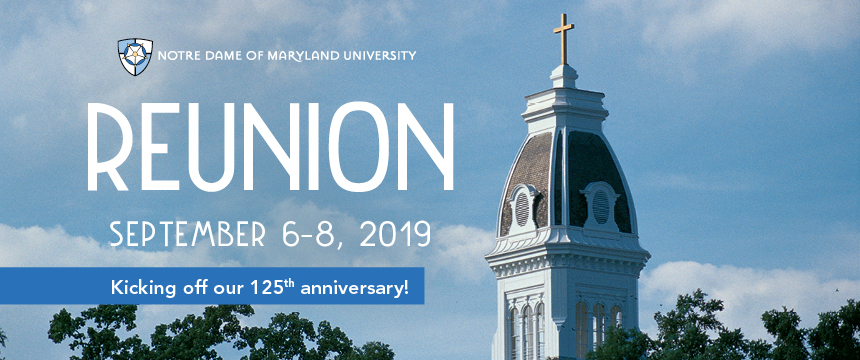 Reunion is for EVERYONE. Know that you'll join us for this year's extra special weekend? Make sure the Office of Alumnae and Alumni Relations knows that so you'll have a seat at the table! Register online or call the Office of Alumnae and Alumni Relations staff. Questions? Contact ndmalum@ndm.edu or call 410-532-5201.
Who's Coming?
Look at how many alums have already made their registration official! The list grows every day and we want to see your name on here! Register now and review the Who's Coming page for frequent updates. Note: This list is current as of August 7.
New Programming in 2019
Reunion is all about celebrating Notre Dame and bringing graduates together. In addition to kicking off the 125th anniversary, there is new programming afoot to connect to Notre Dame and grow your relationships in refreshed ways. Explore the complete schedule and check out the event descriptions on the Reunion website.

Jubilarian Luncheon: A specific opportunity for those who have already marked their 50th reunion to connect with each other. Similar in format to the Reunion Luncheon.
Research Day on Repeat: Notre Dame students continue to produce excellent work. Each spring, the campus community is treated to a sample of that work at Nancy Kreiter Research Day. Explore a few examples of student research during this drop-in fair.
School Receptions: Connect with fellow graduates and current faculty from your school and program. Each of the four schools: Arts, Sciences, and Business; Education; Nursing; Pharmacy will host a reception.
Alumnae and Alumni College: An umbrella program that will feature different sessions each year. In 2019, there are four sessions designed to engage with students, learn from each other, and reconnect with SSNDs.
Alumnae & Alumni Awards
Notre Dame is fortunate to have so many graduates who continue to live the mission of Notre Dame to transform the world! In honor of their achievements, the University presents annual awards that recognize accomplishments in career, community, and contributions.
This year, as NDMU kicks off its 125th anniversary, we are honored to recognize these awardees at the 125th Celebration on Friday, September 6 at 7 p.m. Join us in a toast to these leaders who inspire us with their fervent support. Tickets are available on the Reunion website: ndm.edu/reunion.

Elizabeth P. Hoisington '40 Distinguished Alumna Award
Group Award:
Victoria M. Genco Bell '69
Julie Courtney Ben-Susan '69
Andrea R. Bowden '69
Cathryn Archibald Curia '69
Mary Ellen Vanni '69

Service to Society Award
Sara Martinelli de la Guardia '69

Regina Russo Hammel '41 Recent Graduate Award
Queenstar Akrong '14

Alumnae and Alumni Engagement Award
Mary Ellen Steiner Gunther '54
---
University News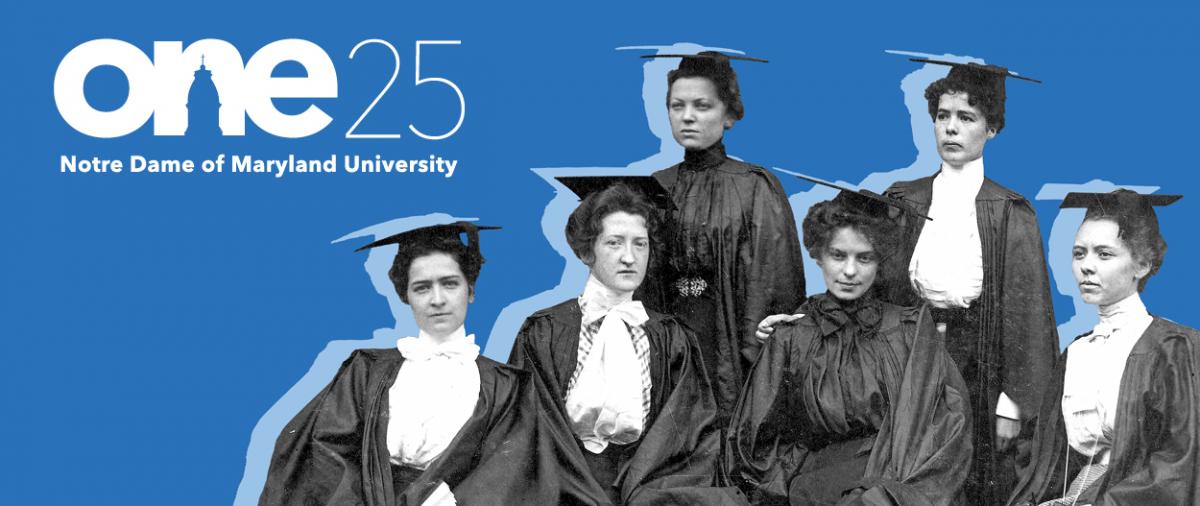 It's the quasquicentennial! The 125th anniversary of when Notre Dame began offering baccalaureate coursework and we're celebrating for the next 18 months with YOU!
Keep your eyes peeled for a website launch, Universitas and events mailing, and ways to volunteer for this milestone occasion. Ready for a teaser? During the next 18 months, you will be able to:
Join a 125th anniversary party on campus (at Reunion!!) or around the country

Host an anniversary party in your neighborhood

Share an NDM memory with the global community

Experience history through at least three on-campus exhibits and an online timeline

And more!
This is an exciting time at Notre Dame!
---
Giving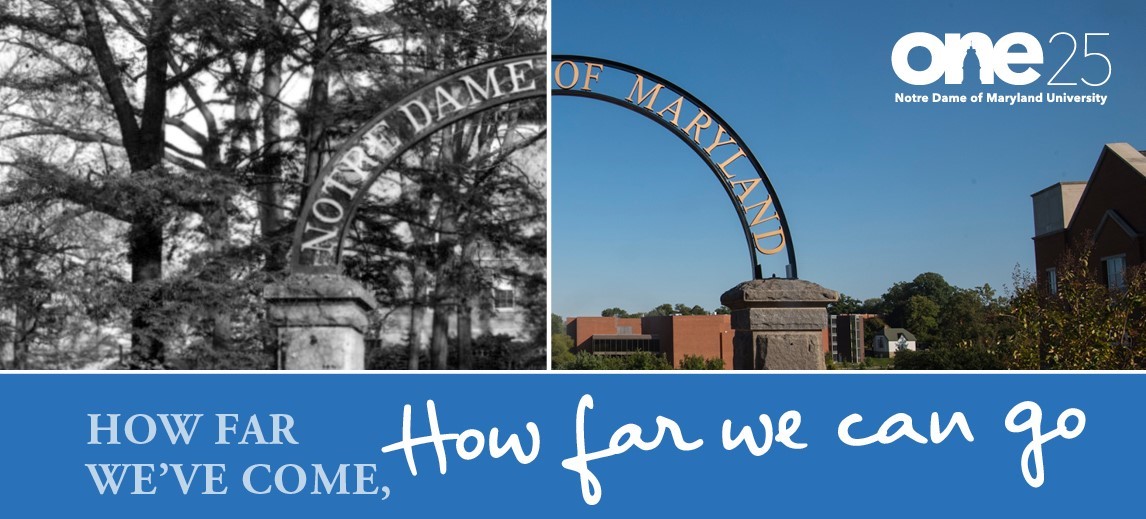 THANK YOU to the alumnae and alumni who gave to Notre Dame during the 2018-2019 fiscal year! Your gifts allow us to continue providing a place for remarkable NDMU students to learn, grow, and transform.
If you are celebrating a milestone reunion year, please consider a contribution to your class gift. Gifts made by or on Labor Day will count toward your class total.
---
In Memoriam
Our alumnae and alumni community mourns the passing of the following graduates:
Catherine Roloson Counselman '41
Mary Patricia Harding '82
Grace Culleton Harmon '48
Mary Ann Killinger '59
Katherine Bracken Murphy '44
Mary Agnes Plumer '00
Doris Petersen Scott '47
Anita Di Rocco Sherman '65
Elizabeth "Betty Nell" Nell Wagner '89
---
Volunteer Opportunities
NDMU in the Community
Adelante Latina!
Adelante Latina! is the first after-school, college-bound program for Latina girls in Baltimore, and it needs volunteer tutors.
Where: Archbishop Borders School, 3500 Foster Avenue, Baltimore, MD 21224

When: Once a week on Tuesdays or Thursdays, from 4:15-6:15 p.m. Starting in mid-September and continuing until late May, with City Public School vacation breaks and snow days.

Goal: To help improve the English composition, reading comprehension, and writing skills of high-performing, low-income Baltimore City high school sophomores, juniors, and seniors. Adelante Latina! is a three-year, college-prep program. Tutoring is one-on-one, with the hope that each student will work with the same tutor for all three years.

This non-profit program was created by Leonor Blum, Professor Emerita of History/Political Science at NDMU.
Tutor Qualifications: Excellent English language skills, tutoring skills, and ability to get along with teenage girls. No knowledge of Spanish is required as English is the primary language. Prior teaching experience is helpful, but not required. Substitutes are available if notified ahead of time.
Visit the website to learn more or contact Leonor Blum, Professor Emerita, at 410-591-0547 or blumele@aol.com.
---
SSND News
The SSNDs are celebrating their 185th anniversary this year! To mark the occasion, the SSNDs of the Atlantic-Midwest Province have initiated a 185th anniversary/185 stories effort. All NDMU alums are invited to contribute stories about their favorite professor or provide a reflection on their NDMU/SSND education. Stories, reflections, and questions may be directed to Sheila Welton via email or phone, 410-377-7774.
---
Stay connected to NDMU
Did you move? Change your email address? The alumnae and alumni office periodically distributes communications. Verify your information and send your mailing/email address to the Office of Alumnae and Alumni Relations or call 410-532-5201.
NDMU also has an active presence on Facebook and LinkedIn! It's a way to share information and connect instantly with fellow alumnae and alumni. Like and follow the pages for the most immediate updates!
---
This publication follows a bimonthly schedule. This issue covers news for July and August 2019. The next issue will cover September and October and will be available close to the start of October 2019.