Table of Contents
Spring Commencement
Reunion Weekend
University News
Giving
In Memoriam
Volunteer Opportunities
SSND News
Stay Connected to NDMU
Spring Commencement
On Sunday, May 19, hundreds of smiling students and their families gathered at Royal Farms Arena to accept their well-earned degrees. Excitement was in the air as family, faculty, and staff cheered on each student as they crossed the stage. Commencement speaker Judy Kelly, founder of the Women of the World (WOW) festival, bestowed graduates with an inspiring message, "The potential of all human beings is indescribable, it's limitless."

Congratulations to the Class of 2019! We're thrilled to welcome you to the NDMU Alumnae and Alumni family and wish you success on your future endeavors. To relive the memories and see photos from that day check out NDMU's Flickr album.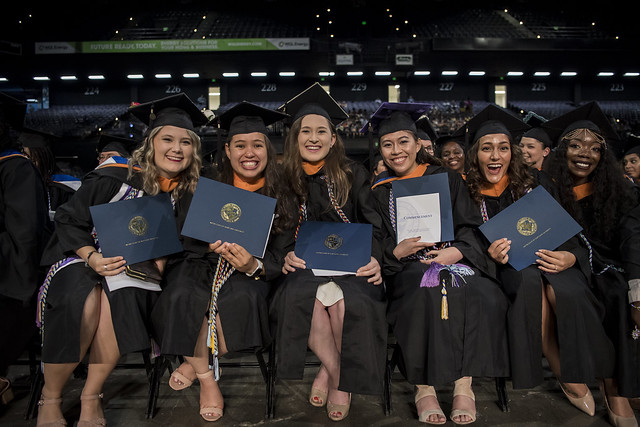 ---
Reunion Weekend: September 6-8, 2019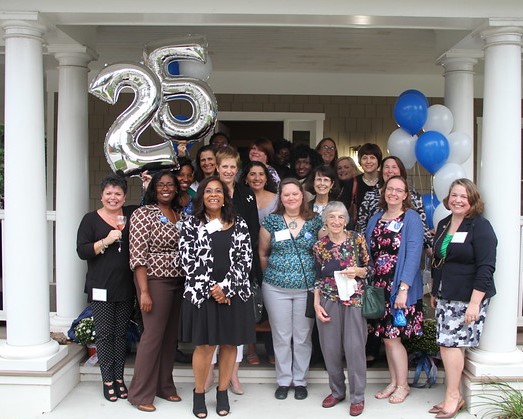 Reunion Weekend registration is open!
From celebrating graduates like you, to the 125th Anniversary, NDMU will celebrate a number of not-to-be-missed milestones and we want you to be play an active part. If you are looking to reconnect with classmates, check out out the "Who's Coming" webpage! Are you an artist or author who would like to sell your crafts and books? Sign up to display your work at this years NMDYou Lunch! Would you like to give a presentation on your area of expertise? Sign up to be a presenter at this year's Ten Talks. Do you have an awesome playlist you'd like to share? We want to hear it! Help us gather music for Reunion: Music Playlist. Looking to get some advice from an SSND? Now's your chance! Submit a question to ask the SSNDs during the Alumnae and Alumni College.
Also, just a reminder, if you have any dietary restrictions, please let us know as soon as possible.
If you have any questions, check our list of Frequently Asked Questions or connect via phone (410-532-5201) or email with the Office of Alumnae and Alumni Relations.
Schedule Highlights
Friday, Sept. 6
Jubilarian Luncheon, Noon – 1:30 p.m.
A special luncheon for alumnae celebrating a reunion greater than 50 years. Spouses and guests are welcome.
125th Celebration, 7-9 p.m.
Celebrate the University's 125th anniversary with a cocktail reception and dinner. All are welcome and encouraged to attend this event!
Saturday, Sept. 7
Intergenerational Chats, hosted by WLIB, 10-11:15 a.m.
Come talk with us about our sisterhood's shared past, present, and future. This session will begin with stories from members of the Class of '69. All are welcome.
Ask an SSND, 3:30-4:30 p.m.
A small panel of SSNDs will take group questions ranging from life's struggles, to joys, to faith practice.
Beer and Wine Tasting, 4:30-6:30 p.m.
Sample beverages (tasting pours) and relax as the afternoon winds down. Non-alcoholic beverages will also be available.
Sunday, Sept. 8
125th Anniversary Mass: Celebrated by Archbishop Lori, 11 a.m. – Noon
Join us for a very special mass celebrated by Archbishop Lori to prayerfully lead us into our 125th year.
Reception, Noon - 1:30 p.m.
Say farewell to a weekend spent renewing your NDMU bonds. Light fare will be available. All are welcome.
Reunion 2019 Planning Committee
Reunion 2019 will be held Sept. 6-8, and we are looking for volunteers from all classes, especially those in years ending in 4 and 9, to help plan next year's celebration. If you are interested in raising the bar for Reunion success, this committee welcomes you!
Volunteers will help collaborate on program planning, fundraising, class participation and attendance outreach. Contact Aliza Ross, Director of Alumnae and Alumni Relations, for more information.
---
University News
$10,000 Project for Peace Grant Awarded to Two NDMU Students
Nursing majors Andrea Zuluaga '21 and Jenae Fernandes '21 have been awarded $10,000 to design and undertake a Project for Peace during the summer of 2019. The project centers around the community rebuilding effort of San Pio X Parish in Itagüí, Colombia. The church collapsed during a 6.0 magnitude earthquake in 2018.

STEM Summer Camp
Is your child interest in STEM? Join us July 15–19 for an exciting adventure through the African Wilderness! Your child will engage in hands-on STEM activities with instructors from the NDMU STEM Leadership program. The camp will also include swimming, team building, crafts, and lunch!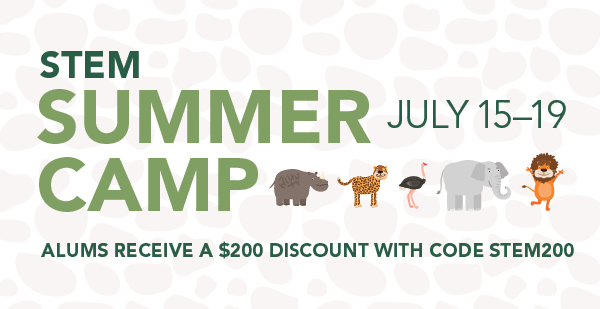 Archeological Tour of Italy, January 5-16, 2020
Adventure continues at Notre Dame! Sister Therese Marie Dougherty, Ph.D., Professor of Classical Studies and Dr. Maria Mouratidis, Ph.D., Professor of Psychology will be leading a study tour to Italy this winter. This tour will allow participants to enjoy the delights of modern Italy while examining the world of the ancient Romans through visits to archeological site visits and museums, while reading the words of some ancient writers.
Tour director: Sister Therese Marie Dougherty, Ph.D., Professor of Classical Studies.
Sister Therese Dougherty has been on the faculty of Notre Dame of Maryland University for more than 50 years. During that time she has led archeological tours to classical sites in Greece, Italy, Sicily, Turkey, France as well as tours of Roman Britain and Germany. She has directed numerous National Endowment for the Humanities Summer Institutes for teachers both on campus and in Italy. One of her greatest joys in teaching is the opportunity to introduce her travelers to the beauty of the ancient world hidden beneath the modern. She has received the American Philological Association's Excellence in Teaching Award as well as the Mullan Distinguished Teacher Award from Notre Dame of Maryland University.
Co-director: Maria Mouratidis, Ph.D., Professor of Psychology.
Dr. Maria Mouratidis is chair of the psychology department of the criminology department. During her ten years on the faculty at Notre Dame she has participated in many study abroad programs such as travel to London and Paris, China, and Greece. She led a service-learning study abroad trip to Bosnia, Croatia, and Austria. A recipient of the Notre Dame of Maryland University Service-Learning Award, Dr. Mouratidis is committed to experiential learning and helping students become leaders who transform the world as global citizens. Dr. Mouratidis is a licensed psychologist and a productive scholar. Prior to coming to Notre Dame, she was on the faculty of Yale University, School of Medicine and served with the Department of Defense as a psychologist treating service members returning from Iraq and Afghanistan.
Trip Details:
This trip requires a minimum number of 15 travelers and maximum of 25. Highlights of the trip include the Roman Forum, Colosseum, Pantheon, Ara Pacis and other monuments and museums in Rome; the amphitheatre and gladiator museum in Capua, the remains of the cities of Pompeii, Herculaneum, Oplontis and other sites destroyed by the eruption of Vesuvius; and a tour of ancient Ostia, the port city of Rome. Cost: $2950; single supplement: $450. The cost includes two pre-trip orientation sessions; roundtrip airfare from BWI; hotel accommodations, double occupancy; all breakfasts and some dinners; local transportation in Italy; admission to sites and museums.
Registration deadline: September 30 with final payment due October 30. Registration received before September 1 will qualify for entry into a raffle for modest discount.
For more information contact Sister Therese Dougherty at tdougherty@ndm.edu or 410-532-5559.
---

Giving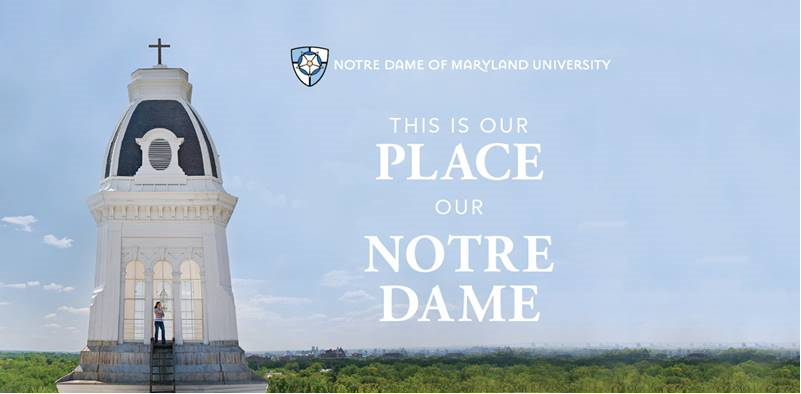 It's nearing the end of Notre Dame's fiscal year, which makes it the perfect time to give! This is your last chance to join the list of donors for 2019, and support great faculty, top-notch academic and professional programs and an educational experience in the SSND tradition.
---

In Memoriam
Our alumnae and alumni community mourns the passing of the following graduates:
Mary Lou Santora Carney '77
Kathlyn Brocato Ford '74
Veronica Klug '94
Helen Hertzog Linhard '53
Marge Logan '46
Rosalind Plummer-Reid '99
Rosemary Conti Sedlacheck '68
Angie Maccarone Suozzi '43
Sr. Marie Michelle Walsh '48
---
Volunteer Opportunities
NDMU in the Community
Adelante Latina!
Adelante Latina! is the first after-school, college-bound program for Latina girls in Baltimore, and it needs volunteer tutors.
Where: Temporarily located at Notre Dame of Maryland University
When: Twice a week. on Tuesdays or Thursdays, from 4:15-6:15 p.m.
Goal: To help improve the English composition, reading comprehension, and writing skills of high-performing, low-income Baltimore high school sophomores, juniors, and seniors and to help with SAT verbal test preparation. Adelante Latina! is a three-year, college-prep program. Tutoring sessions are one-on-one, with the hope that each student will work with the same tutor for all three years.
Tutor Qualifications: Excellent English language skills, tutoring skills, and the ability to get along with teenage girls. No knowledge of Spanish is required. Prior teaching experience is helpful, but not required.
Visit the website to learn more or contact Leonor Blum, Professor Emerita, at 410-591-0547 or blumele@aol.com.
---
SSND News
The SSNDs are celebrating their 185th anniversary this year! To mark the occasion, the SSNDs of the Atlantic-Midwest Province have initiated a 185th anniversary/185 stories effort. All NDMU alums are invited to contribute stories about their favorite professor or provide a reflection on their NDMU/SSND education. Stories, reflections, and questions may be directed to Sheila Welton via email or phone, 410-377-7774.
Sr. Marie Michelle Walsh '48
Sr. Marie Michelle, friend and guide to countless students and alumnae, and long-time faculty member at Notre Dame, passed away in May. A beautiful obituary was written by Jeanne Hildenbrand, SSND. In sympathy, we share the full obituary below.
Mary Catherine Walsh began what she called her "earthly career" on the feast of the Assumption, Aug. 15, 1926. Mary Catherine, born in North Bergen, N.J., was the first child of Joseph and Emma Collins Walsh. Two brothers, Joseph and Edward, soon followed Mary's birth, and fifteen years later her sister Jane was born. The family moved to Connecticut, and as there was no Catholic school, Mary began first grade at the Bedford Park public school. Prepared by the pastor of her parish, Mary received her first Holy Communion in the spring of 1933.
The next year, the Walsh family moved to Leonia, N.J., where Mary continued to attend public school. She received the sacrament of Confirmation from Bishop Thomas J. Walsh in June, 1940. Towards the end of the eighth grade, Mary's parents offered her a choice of high schools. She chose to attend Holy Angels Academy in Fort Lee, N.J. Meeting the School Sisters of Notre Dame was Mary's first contact with any teaching religious order. As a junior, Mary's "decision regarding her vocation gradually formed itself." She graduated from Holy Angels in June, 1944. Following her parents' wishes, she continued her education at the College of Notre Dame of Maryland (now Notre Dame of Maryland University). Mary recorded in her autobiography that this "continued contact with the order only strengthened my vocation." On Aug. 28, 1945, Mary received the bonnet at Holy Angels chapel.
As a candidate, Mary continued to attend Notre Dame, taking an accelerated course, and obtained her Bachelor of Arts degree with a major in English and minor in French on June 3, 1947. Mary's reception into the novitiate occurred on July 16, 1947, and she was given the name, Marie Michelle. Sister Marie Michelle professed her first vows on Aug. 3, 1948.
Sister Marie Michelle's first assignment as a professed sister was teaching high school classes at St. John's Literary Institute in Frederick, Md. (1948-56). She again taught secondary classes at St. Mary's High School, Annapolis, Md. (1956-65). Sister Marie Michelle had her first job at the College of Notre Dame of Maryland as the Dean of Students and teacher of English (1965-71). For the next 4 years, she was a student at Catholic University, Washington, D.C., pursuing a doctorate in English and Linguistics (1971-74). On her return to Notre Dame of Maryland, Sister Marie Michelle was a professor of English and Communications and chairperson of the English department (1977-2013). At her retirement, she was named Professor Emeritus of English.
Sister Marie Michelle was active in many phases of governance in the Baltimore Province of the School Sisters of Notre Dame. She was a member of the Provincial Chapter, the Chapter Planning Committee, Provincial Election Committee and the Provincial Directory Committee. Sister was a writer and editor for Provincial and General Chapter newsletters. She authored articles and served as editor for such province publications as Intercom, Soundings and The Bond.
In addition to her Bachelor of Arts and Doctor of Philosophy degrees, Sister Marie Michelle also obtained a Master of Arts degree in English (1959) from the Catholic University of America, Washington, D.C.
Described as "the kind of Sister you wanted to live with," Sister Marie Michelle was affectionately nicknamed "Mitch" by her companion Sisters. Quiet and unassuming, always pleasant, always grateful, she was the gentlest of souls and was loved by her Sisters. It was said that she had a PhD in poverty, humility and compassion. Along with her beautiful smile and generosity of spirit, she told great stories, could take a joke, and enjoyed the company of dogs, especially Romper, the service dog at Villa Assumpta. Marie Michelle loved to take walks and did it daily. Though not blessed with a sense of direction, she determined her route through Homeland by the time available and always managed to find her way home.
A woman of tremendous intellect and brilliant mind, Sister was conscientious about her ministry and was known as a topnotch teacher. She took school seriously and inspired her students to do well. She reached out, challenged and nurtured them. She treated her students as women and had a wonderful rapport with them. Sister Marie Michelle leaves a great legacy as a teacher and scholar.
The one thing that truly mattered to Marie Michelle was her relationship with Jesus. She had great faith, deep faith, and a faith that never wavered. Hers was truly a life lived for Jesus.
Sister Marie Michelle went to Maria Health Care Center in 2013 for recuperation after a fall and remained there in retirement. She died peacefully on May 18, 2019.
A Christian Wake Service honoring Sister Marie Michelle was held on Wed. May 22, and the Liturgy of Christian Burial was celebrated by Rev. Paul Zaborowski, OFM Cap. on Thurs., May 23. Both services were held in the chapel of Villa Assumpta. Interment followed in the Notre Dame of Maryland University cemetery. Sister Marie Michelle's survivors include her brother, Joseph Walsh of Optos, CA, and a brother-in-law, Paul Mattingly of Raleigh, NC.
---
Stay connected to NDMU
Did you move? Change your email address? Just want to check to see if NDMU has your accurate information? The alumnae and alumni office periodically distributes communications. Want to receive this correspondence? Verify your information and send your mailing/email address to the Office of Alumnae and Alumni Relations or call 410-532-5201.
NDMU also has an active presence on Facebook, Instagram, LinkedIn and Twitter! It's a way to share information and connect instantly with fellow alumnae and alumni. Like and follow the pages for the most immediate updates!
Facebook
Instagram
Twitter
---
This publication follows a bimonthly schedule. This issue covers news for May and June 2019. The next issue will cover July and August and will be available close to the start of August 2019.