Lecture: Rights of Immigrant Students in Maryland Public Schools
Thursday, March 8, 2018
Knott Auditorium
4701 North Charles Street, Baltimore, MD 21210
Free and Open to the Public
Immigrant children and English Learners often face barriers in gaining entry to public schools and participating in school activities. In this presentation, attorney Roger Rosenthal discusses the rights of immigrant children (and their families) in Maryland public schools.
Topics Include
Documentation that public schools can and cannot require, including Social Security numbers, immigration documents, birth certificates, and immunization records
Access to school lunch and breakfast programs
Update on the status of DACA-protected students in our public schools and colleges
Additional topics to be covered briefly include Special Education and English Learners, and access to post-secondary education for immigrant students.
About Roger Rosenthal
Roger C. Rosenthal, an attorney, is the Executive Director of the Migrant Legal Action Program (MLAP), a national non-profit support and advocacy center located in Washington, D.C. He has worked for MLAP since 1980, serving as Executive Director since 1985.
Mr. Rosenthal is considered one of the foremost legal experts in the country regarding the Title I, Part C Migrant Education Program and the rights of immigrant children and English Learners in the public schools. He also works extensively on immigration policy issues. He represents the interests of migratory and immigrant families on Capitol Hill and before federal and state administrative agencies both directly and in cooperation with other public interest groups. Roger is a popular presenter, and has delivered workshops frequently in Maryland and across the United States.
Contact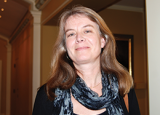 Christa De Kleine
Professor