Psychologist CE Seminar: Psychological Needs and Care of Immigrants and Refugees
Friday, January 12, 2018
NDMU, Knott Auditorium
4701 North Charles Street, Baltimore, MD 21210
$89.00
The APA approved continuing education seminars are relevant for all mental health disciplines including psychology, professional counseling, social work, and psychiatry.
Over the past five years we have seen the mass movement of immigrants and refugees around the world, Here in the United States, and in Maryland, we are home to immigrants and refugees from dozens of countries. They come here for many reasons: economics, war, safety, or ad desire for a better life.
Each immigrant brings an individual world of culture, experiences, and needs. However, there are some common psychological experiences and needs as well. The purpose of this seminar is to assist mental health professionals in developing the knowledge and skill set to work effectively and in a culturally relevant way to address the psychological needs of immigrants and refugees.
APA Approved
Notre Dame of Maryland University is approved by the American Psychological Association to sponsor continuing education for psychologists. Notre Dame of Maryland University maintains responsibility for this program and its content.
Contact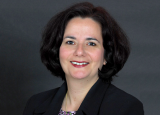 Maria Mouratidis
Professor/Chair