Occupational Therapy
OTD
The Occupational Therapy Doctorate (OTD) program is an entry-level pathway for those with a non-occupational therapy bachelor's degree to pursue a career in this in-demand field. Through rigorous coursework developing the knowledge base in the science of occupation and hands-on learning experiences in the field, you will be prepared to meet the knowledge and clinical skill requirements to become an occupational therapist.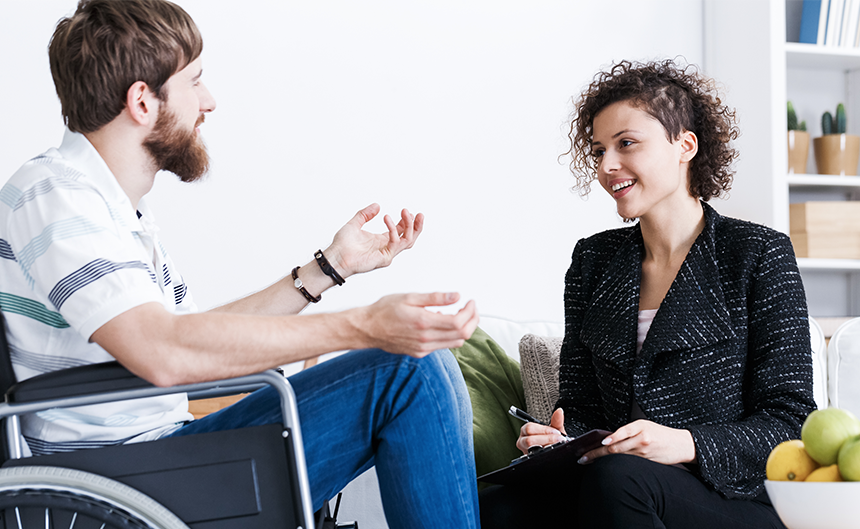 Program Locations
What to Expect Studying at Notre Dame of Maryland University
NDMU healthcare programs share a common focus on compassionate care of patients and consideration for the whole person. We believe these are essential to becoming an effective leader in health care.
In our OTD program, your instructors will take you beyond the textbook. We emphasize client based therapeutic interventions, professional and clinical reasoning, and therapeutic use of self to meet clients where they are and empower them to meet their goals through evidence influenced practice.
Commitment
The Occupational Therapy Doctorate is a full-time, year-round professional program which can be completed in three years.
Faculty
Academic Fieldwork Coordinator/Assistant Professor

Director of Occupational Therapy Program
Curriculum
OTD 500 - Foundations & Theories of Occupational Therapy (3)
OTD 500L - Foundations Lab (1)
OTD 501 - Anatomy and Biomechanics (3)
OTD 502 - Development Across the Lifespan (3)
OTD 503 - Research Methods and Application I (3)
OTD 504 - Social Responsibility & Occupational Justice (3)
OTD 505 - Neuroanatomy (3)
OTD 506 - Pathophysiology in Occupational Therapy I (3)
OTD 506L - Pathophysiology Lab I Assessments and Treatment Planning (2)
OTD 507 - Activity Analysis and Clinical Reasoning (3)
OTD 508 - Level IA Fieldwork: Physical Dysfunction (1)
OTD 509 - Mental Health (3)
OTD 509L - Mental Health Assessments and Treatment Planning (2)
OTD 512 - Level IB Fieldwork: Mental Health (1)
OTD 513 - Pediatrics (3)
OTD 513L - Pediatrics Lab Assessments and Treatment (2)
OTD 510 - Research Methods and Application II (3)
OTD 511 - Pathophysiology in Occupational Therapy II (3)
OTD 511L - Pathophysiology Lab II (2)
OTD 514 - Level IC Fieldwork: Pediatrics (1)
OTD 525 - Leadership and Management (3)
OTD 521 - Policy and Ethics (3)
OTD 522 - Research Methods and Application III (3)
OTD 523 - Aging (3)
OTD 524 - Education, Wellness, Community and Emerging Trends (3)
OTD 527 - Level 1D Fieldwork Education, Wellness, Community and Emerging Trends (1)
OTD 520 - Modalities, Ortho & Splinting (3)
OTD 526 - Assistive Technology (3)
OTD 528 - Professional Seminar 1 (3)
OTD 529 - Professional Seminar 2 (1)
OTD 540 - Level II Fieldwork (6)
OTD 600 - Capstone Planning (2)
OTD 530 - Professional Seminar 3 (1)
OTD 550 - Level II Fieldwork (6)
OTD 531 - Professional Seminar 4 (1)
OTD 610 - Capstone Project (3)
OTD 620 - Capstone Experience (6)
Total Credits: 99
Admission Requirements
Admission into the OTD program at NDMU is competitive. Students are considered for admission with the following:
Bachelor's degree - minimum 3.25 cumulative GPA (4.0 scale)
Completion of prerequisite courses
3 letters of recommendation
Human service observation hours
Personal statement
Resume
Interview
Note: All observational hours need to be completed within the past two years.
Prerequisites
Completion of the following prerequisite courses within the past 5 years with a minimum grade of B (3.0 based on 4.0) is required for admission into the OTD program. Transcripts of bachelor's degree and completed prerequisite courses must be submitted. Courses may be taken online or in person from an accredited institution.
NOTE: Physics Lecture – grade "B" preferred but will accept grade "C". Physics Lab – grade "B" required.
Required Courses & Credits
Human Anatomy & Physiology I Course and Lab (4)
Human Anatomy & Physiology II Course and Lab (4)
College Writing (3)
Basic Statistics (3)
Introductory Psychology (3)
Psychopathology OR Abnormal Psychology (3)
Human Growth & Development or Developmental Psychology Across Life Span (3)
Introductory Sociology (3)
Medical Terminology (3)
Introductory Physics with Lab (4)
Total Credits: 33
NOTE: Advanced Placement (AP) credits are not accepted as fulfillment of prerequisite courses. Course credits from other occupational therapy programs are not accepted.
Letters of Recommendations
Provide three letters of recommendation, from individuals who have taught the applicant in an academic setting. Letters of recommendation should address academic, professional and personal attributes, and potential for successful graduate education.
Human Service Observation
Applicants are required to complete thirty-five (35) hours of observation in a practice area and settings as listed on the AOTA Website. Three practice area and settings are required, one with 15 hours and two with 10 hours each. All observational hours need to be completed within the past two years.
Fifteen (15) hours are required in the practice area that you intend to pursue after graduation and must be done under the direction of an Occupational therapist.
One additional observation must be done with an OTR.
The third observation may come from work experience where you worked with populations with a disability, including geriatrics, pediatrics, day camps, mental/behavioral health, etc., for example.
NOTE: Your essay should be reflective of your insights and experiences gained from these observations. All hours must be completed prior to admission into the program.
Personal Statement
A personal statement should cover your interest in occupational therapy with emphasis on the practice area that you intend to pursue after graduation, insights gained from the observations, your strengths, professional skills, personal attributes, and how these experiences have helped to shape your desire to become an occupational therapist. Required length is a minimum of 500 words to a maximum of 750 words.
Cost of Attendance
Current Costs

2021 Fall Semester

2022 Spring Semester

2021-2022 Academic Year

Total Cost
3-Year Program 2021-2024

Tuition

$16,500

$16,500

$33,000

$99,990

Student Fee

$300

$300

$600

$1,818

Books and Supplies

$700

$700

$1400

$4,212

Loan Fees

0

0

0

0

Distance Ed Fees

0

0

0

0

Total

$17,500

$17,500

$35,000

$106,020
Note: Illustration based on a 3% increase in year three, however fees are subject to change.
Fieldwork
Opportunities for clinical experiences are built into the curriculum to provide gradually increased levels of responsibility and experience in occupational therapy settings under the guidance and supervision of a qualified occupational therapist.
Level I Fieldwork provides an introductory experience where you can become more comfortable with client needs in a supervised setting. It helps to enrich didactic coursework by seeing firsthand the concepts discussed in class. It also provides an opportunity to explore different practice settings. At NDMU, level I fieldwork includes placements related to physical dysfunction; mental health; pediatrics; and education, wellness, community, and emerging trends.
Level II Fieldwork provides more in-depth experiences working directly with clients to enhance your skills as a practitioner. The NDMU curriculum includes two full-time placements.
Capstone
The capstone is the culmination of your OTD studies and is comprised of three courses:
Capstone Planning
Capstone Project
Capstone Experience
Planning for the doctoral capstone requires collaboration with faculty and a mentor to prepare for the experience. You will develop in-depth skills in areas such as practice, research, administration, leadership, program and policy development, advocacy, education, and theory development.
The Capstone Experience occurs over a minimum of 14 weeks or 560 hours under the supervision of a mentor, who may or may not be an occupational therapist depending on the expertise needed to provide appropriate direction. No more than 20% of the 560 hours may occur off-site from the mentored practice experience. Time spent off-site may include independent study activities, such as research and writing.
How to Apply
The first class of the NDMU Occupational Therapy Doctorate program will start in Fall 2021. The application is now live and can be submitted through the Occupational Therapist Centralized Application Service (OTCAS).
The deadline to submit an application is August 1.
Program Accreditation
The entry-level occupational therapy doctoral degree program has applied for accreditation and has been granted Candidacy Status by the Accreditation Council for Occupational Therapy Education (ACOTE) of the American Occupational Therapy Association (AOTA), located at 6116 Executive Boulevard, Suite 200, North Bethesda, MD 20852-4929. ACOTE's telephone number c/o AOTA is (301) 652-AOTA and its web address is www.acoteonline.org.
The program must have a preaccreditation review, complete an on-site evaluation, and be granted Accreditation Status before its graduates will be eligible to sit for the national certification examination for the occupational therapist administered by the National Board for Certification in Occupational Therapy (NBCOT). After successful completion of this exam, the individual will be an Occupational Therapist, Registered (OTR). In addition, all states require licensure in order to practice; however, state licenses are usually based on the results of the NBCOT Certification Examination. NOTE: A felony conviction may affect a graduate's ability to sit for the NBCOT certification examination or attain state licensure.
Students must complete 24 weeks of Level II fieldwork as well as an individual 14-week capstone experience within 12 months following the completion of the didactic portion of the program. The doctoral capstone experience must be started after completion of all coursework and Level II fieldwork as well as completion of preparatory activities defined in 2018 ACOTE OTD Standard D.1.3.