Transfer Tuesday
Tuesday, June 11, 2019
Admissions Office, Fourier Hall 002
4701 North Charles Street, Baltimore, MD 21210
Bring your application materials and stop by NDMU anytime between 12:30 and 4:00 p.m. to receive an instant admission decision for the Women's College for Fall 2019.
Admission counselors will be available if you have any questions. To receive an instant decision, please complete the following:
Apply online prior to your visit.
Submit your admissions essay/personal statement online or bring it with you.
Bring official, sealed copies of all transcripts from all academic institutions attended.
Note: Students with less than 30 college credits need to bring an official high school transcript as well.
Contact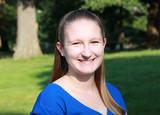 Danielle Piontkowski
Admissions Counselor