The Psychologist's Playbook for Working with Individuals on the Gender Spectrum
Friday, January 8, 2021
Zoom Seminar
89
Notre Dame of Maryland University Psychology Department, as an APA approved sponsor, is pleased to offer a series of continuing education seminars for psychologists and other mental health professionals.
This three hour seminar is designed to enhance the psychologist's understanding of the social, political and personal challenges faced by those who are on the gender spectrum. It will highlight ways to assess, diagnose and treat patients in effective, knowledgeable and compassionate ways. The seminar will be multifocal. It will review some of the relevant history of gender treatment. It will include a discussion of the ever changing landscape of gender, including terminology and the array of identities that make up the spectrum. Attention will be given to ways in which the psychologist can interface with and assist this population. Developmental considerations that impact diagnosis and treatment will be included. Understanding how the socio-political backdrop has impacted this frequently marginalized minority will be discussed throughout the seminar.
Learning Objectives
At the conclusion of the seminar, the participant will be able to:
Integrate historical conceptualizations with current and evolving understandings of gender.
Develop comfort in meeting the needs of patients who are on the gender spectrum.
Apply current principles of assessment, diagnosis and treatment to working with patients on the gender spectrum.
Examine the impact of various ethical, social and political forces on those who are on the gender spectrum.
Speaker Biography
Kate Thomas, PhD is a clinical sexologist with over 30 years of experience working with patients who have sexual and gender based concerns. She is the Director of Clinical Services at the Johns Hopkins Sex and Gender Clinic, which is a clinic, established in 1971, devoted to the training and education of psychiatric resident physicians and medical students as well as to the provision of patient care. She is also the Director of Mental Health Services at the Johns Hopkins Center for Transgender Health. This is a center founded in 2017 and devoted to providing medical, surgical and psychological care to the gender variant community. She holds faculty positions at the Johns Hopkins School of Medicine, the Institute for Advanced Study of Human Sexuality and the University of Senchen in China. She has taught undergraduate, medical and graduate students in topics related to sex and gender throughout her career. Dr. Thomas maintains a private clinical practice, specializing in sex, gender and couples issues and concerns. She frequently lectures locally, nationally and internationally on related topics.
Contact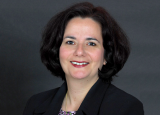 Maria Mouratidis
Professor/Chair