Marketing Communications
Major
Communication Arts Department
The interdisciplinary Marketing Communications program provides a foundation in writing and speaking skills, as well as specific career training in creative fields such as advertising, public relations, event planning, and publication and digital design. The curriculum covers business best practices in marketing, finance, teamwork, and negotiation, along with the full spectrum of marketing strategies and promotional tactics, cultivating the necessary business experience and flexibility to adapt to current and future marketplace trends.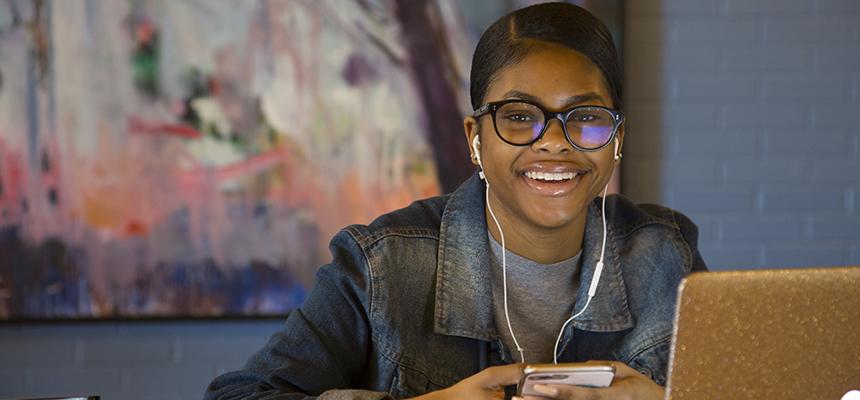 Program Locations
Available Majors
Available Minors
Business
Economics
Entrpreneurship
Faculty
Professor

Associate Professor

Acting Dean, School of Arts, Sciences and Business
Four-Year Plan
Sample program of study for the marketing communications major. Students should select courses with the assistance of a faculty advisor.
Fall
Spring

First Year

COM-101 Introduction to Media Writing
3
BUS-334 Teamwork and Negotiation
3
BUS-105 Introduction Business and Entrepreneurship (recommended)
3
CST-130 Intro to Computer Applications
3
NDMU-100 Perspectives in Education
4
General Education Requirements
6
General Education Requirements
6
COM-210 Social Media
3
[15 credits]
[15 credits]

Second Year

BUS-303 Principles of Marketing
3
COM-319 Advertising or
COM-331 Public Relations
3
COM-106 Fundamentals of Oral Communication
3
BUS 225 Data Analysis for Business Decisions
3
General Education/Electives
6
General Education/Electives
9
DMA 101 Graphic Design
3
[15 credits]
[15 credits]

Third Year

COM-375 Event Planning
3
COM-319 Advertising or
COM-331 Public Relations
3
CST-261 Web Page Design
3
BUS-482 Consumer Behavior or
BUS 483 Integrated Marketing Communication
3
General Education/Electives
9
General Education/Electives
6
[15 credits]
BUS 416 Managing Financial Resources
3
[15 credits]

Fourth Year

BUS-360 Business Research
3
BUS-461 Business Practicum
4
IDS-361 Internship (recommended)
3
COM-461 Communication Arts Practicum
3
COM-401 Writing for the Web
3
BUS-482 Consumer Behavior or
BUS 483 Integrated Marketing Communication
3
General Education/Electives
6
General Education/Electives
6
[15 credits]
[16 credits]
Note: Descriptions for the courses required as part of the marketing communications major may be found in the business, communication arts, art, and computer studies sections of the catalog.
What to Expect Studying at Notre Dame of Maryland University
Small class sizes and personal attention enhance the student experience while internships and practica allow you to apply classroom learning to real world situations. An interdisciplinary curriculum allows you to customize the program to your own interests and goals.
Student Outcomes
After completing the program, you will be able to:
1. Develop effective data-driven marketing communications strategies
a. Devise, conduct and analyze secondary research which informs marketing problem definition and strategy development
b. Design, gather, analyze and integrate primary research information into the development of a marketing communications program
c. Identify, analyze and solve marketing problems and in formulating and evaluating multiple solutions through critical thinking
2. Evaluate and design effective communication plans for internal and external audiences either working individually or as a member of a team
a. Demonstrate effective teamwork: Use skills in communication, cooperation, group process, conflict resolution, giving constructive feedback, and negotiation to contribute to team effectiveness and efficiency in achieving common goals and projects.
b. Estimate and justify a budget for marketing communications activities and determine measures to track financial contribution.
c. Evaluate the effectiveness of both traditional and nontraditional marketing communications tools and media in achieving marketing communications objectives.
3. Create effective marketing messages that are ethical, socially responsible and well-reasoned using diverse media
a. Recognize unethical, socially irresponsible, illogical promotional elements and/or campaigns and design ethical, socially responsible, and logical marketing campaigns.
b. Select and design effective communication tools and media to meet specific marketing challenges.
c. Design professional, persuasive, logical and effective communications, both in writing and orally.
Toggle between the photo and the story
Amazing Opportunities
Alum, NDMU Class of 2001
Marketing Communications
Read story
Research & Internship Opportunities
The program culminates in a professional practicum to gain work experience analyzing, designing, implementing and reviewing integrated marketing communication plans for local businesses.
Examples of Internships
​Marketing Communications Careers
Corporate Marketing Communications Professionals
Account Managers in Advertising or Direct Marketing Firms
Social Media or Web Content Managers
Event Planners
Public Relations Professionals
Marketing Representatives
Trade Show Coordinators
Publication Managers
Product Managers
Media Buyers
Sales Promotion Directors
Internet Marketing Managers