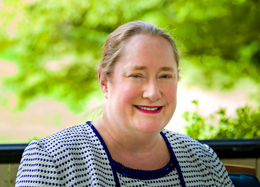 Pam O'Brien
Acting Dean, School of Arts, Sciences and Business
School of Arts, Sciences & Business
Gibbons Hall (GIB) 104
pobrien@ndm.edu
410-532-5521
Programs I teach...
School of Arts, Sciences & Business
Education
M.A. and Ph.D. in Mass Communications, Indiana University-Bloomington
B.A. in Radio/TV Production (Honors), Southern Methodist University
Teaching Interests
Advertising
Animation
Media Technology
Communications Law
Media Management
Research Interests
Critical/cultural and historical study of animation
Social media technology
Publications
Dr. O'Brien recently co-edited and contributed a chapter in the book Social Media: Pedagogy and Practice.
Bio
Pamela C. O'Brien (Associate Professor) most recently served as Chair and Associate Professor in the Department of Communications at Bowie State University. She taught for ten years at BSU, during which time she created an undergraduate concentration in Emerging Media and served as Program Coordinator for the M.A. in Organizational Communication.
Dr. O'Brien also taught for nine years at the George Washington University in the Electronic Media major.
Explore all faculty & staff