Contemporary Communications
MA
Communication Arts Department
The Master of Arts in Contemporary Communications program's dynamic mix of creative and practical coursework provides a deep reservoir of problem solving skills. The interdisciplinary curriculum is grounded in contemporary communication theory and emphasizes written, visual and computer-based communication proficiency.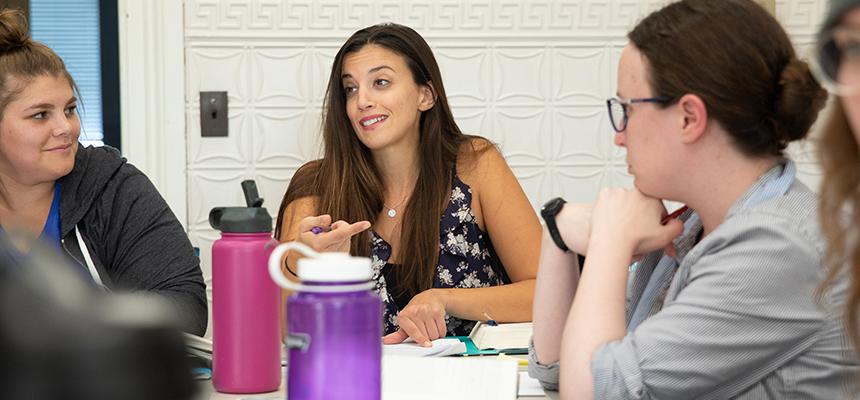 Program Locations
Additional Study Options
Student Outcomes
At the completion of the program, you will be able to:
Integrate computer skills and creativity in media through visual images and written communication
Write clear, purposeful, audience-oriented communications across a variety of media
Apply creative approaches to communications planning and problem solving
Coordinate the production of visually effective and informative print, graphic and electronic communications
Exhibit a solid grounding in communication theories
Employ research techniques, applications and organizational methods and skills in new and emerging technologies
Demonstrate a comprehension of the language and complexities of communication modes: visual, written and oral
Develop skills to pursue professional careers in new opportunities for communication or creative expression
Faculty
Assistant Professor

Assistant Professor

Acting Dean, School of Arts, Sciences and Business
Curriculum
Required Courses (6 Credits)
IDS 510 - Approaches to Contemporary Communication (3)
CST 515 - Technology in Contemporary Communication (3)
Discipline Requirements (30 Credits)
Select 30 credits from the following courses, including at least 18 credits in any combination of CST and COM courses. The remaining credits may be taken in any combination of ENG, PHL, ART, COM, CST, and IDS.
Art
ART 509 - Graduate Photography Workshop (3)
ART 520 - Visual Culture (3)
Communication Arts
COM 505 - Business Communication (3)
COM 507 - Film Themes (3)
COM 509 - Media Criticism and Theory (3)
COM 511 - Communication Issues (3)
COM 515 - Cross-Cultural Communication (3)
COM 517 - Communication and Gender (3)
COM 520 - Media Technology Management (3)
COM 530 - Independent Study (3)
COM 556 - Research Methods for Professionals (3)
COM 565 - Campaign Design and Execution(3)
COM 620 - Public Relations Management (3)
COM 610 - Social Media for Professionals
Computer Studies
CST 511 - Topics in Information Systems (3)
CST 530 - Fundamentals of Knowledge Management (3)
CST 531 - Data Design and Management (3)
CST 534 - Data Driven Business Decisions (3)
CST 580 - Managing Info in Web-Based World (3)
CST 593 - Web Development (3)
CST 595 - Multimedia Applications (3)
English
ENG 503 - Graduate Writing (3)
ENG 512 - Topics in Contemporary Interpretation (3)
Philosophy
PHL 511 - Topics in Philosophy (3)
PHL 521 - Ethical Issues in Leadership (3)
Interdisciplinary
IDS 512 - Writing Workshop (3)
IDS 600 - Colloquium in Contemporary Communication (6)
What to Expect Studying at Notre Dame of Maryland University
Small class sizes and personal attention enhance the student experience while an interdisciplinary curriculum allows you to customize the program to your own interests and goals.
Flexible Class Schedules
We offer highly flexible degree completion options to meet the needs of working students:
Face-to-Face
100% Online
Hybrid Courses
You may choose to apply what you have learned to complete a 6-credit masters thesis, or a creative endeavor, such as a screenplay, novel, photo essay, or website.
Contemporary Communications Careers
Public Relations
Organizational Communication
Website Development
Social Media Coordination