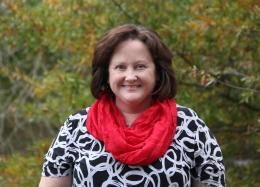 Kelly Bull
Associate Professor
Education (School of)
Theresa Hall (THE) 308B
kbull@ndm.edu
410-532-3160
Programs I teach...
School of Education
Education
Ph.D. in English Education, University of Virginia
M.A.Ed. in Secondary Education, University of Alabama at Birmingham
B.S. in English, Towson University
Bio
Dr. Kelly Bull joined the faculty of Notre Dame of Maryland in 2008. Dr. Bull believes strongly in shared governance and has served in multiple roles including the University Promotion and Tenure committee, Faculty Senate, Strategic Planning Task Force, Initial Certification, and Professional Development Schools committees.
Dr. Bull teaches courses in research, literacy, language, and culture. Her scholarship has been published in English Journal, The ALAN Review, Theory into Practice and in numerous book chapters on adolescent literacy. Currently, she is writing a book for teachers entitled Engaging with Global Perspectives.
Active in professional organizations, Dr. Bull is the Maryland state representative for the Assembly on Literature for Adolescents. She involves her NDMU students in critical inquiry and social justice pedagogy, as they work to build inclusive communities and increase K-12 students' academic achievement. Additionally, she enjoys working with educators in Professional Development Schools in the Baltimore metropolitan area.
Selected Publications
Bull, K. (2018). Engaging with Global Perspectives: Teaching World Literature for Young Adults. Manuscript in preparation.
Bull, K. & J. Bach (Eds.). (2017). Multicultural and Multivoiced Stories for Adolescents [Special issue]. English Journal, 107(1).
Bull, K., Dupuis, J. & A. Snyder (2017). More than a metaphor: Drowning cities, social justice and environmentalism. SIGNAL Journal.
Bull, K. & J. Dupuis (2017). Young adult literature as the sustaining force: An interdisciplinary approach to teaching environmentalism. Teaching Young Adult Literature Today: Insights, Considerations, and Perspectives for the Classroom Teacher. 2nd ed. J. A. Hayn, J. S. Kaplan, D. R. Clemmons. Rowman & Littlefield. Lanham.
Bull, K. (2016). Analyzing and integrating: YA science books that foster interdisciplinary connections. In J.A. Hayn & A. Nolen (Eds.), Young adult nonfiction: Gateway to the Common Core. Lanham, MD: Rowan & Littlefield.
Selected National Presentations
Bull, K. Building Intercultural Communication with Refugee. National Council of Teachers of English, Houston, TX., 2018.
Bull, K., Sattler, J., Honsberger, G., Gratz, A., & M. Engle. Honoring the Refugee and Immigrant Experience: Preparing Students and Teachers to Speak Out for Equity and Justice. National Council of Teachers of English, Houston, TX., 2018.
Dupuis, J. & K. Bull. More Than a Metaphor: Human Impact, Drowned Cities, and Social Justice. North American Association of Environmental Educators, Spokane, WA., 2018
Bull, K., Wagner, A. & E. Sullivan. Syrian Refugees Today and Tomorrow: Growing Relationships and Building Inclusive Communities. National Council of Teachers of English, St. Louis, MO., 2017.
Spratt, E., Walrath, D., Bull, K., & A. Moore. Addressing social justice through the novel "Like Water on Stone." National Council for the Social Studies. Washington, DC., 2016.
Professional Memberships
National Council of Teachers of English
English Language Arts Teacher Educators
Commission on the Study and Teaching of Adolescent Literature
Commission on Social Justice in Teacher Education
American Association of University Professors
Assembly on Literature for Adolescents
Kappa Delta Pi
State of Maryland Literacy Association
TESOL International Association
Maryland TESOL
Explore all faculty & staff