Notre Dame of Maryland University's rich history provides a powerful foundation for continuing innovation.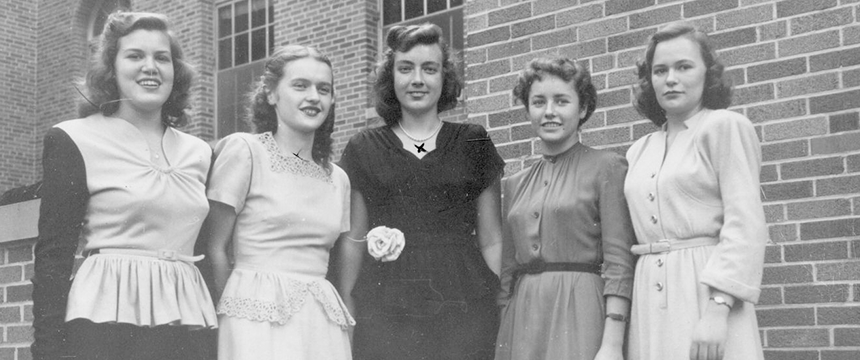 Honored Traditions
Today's students celebrate many of the same traditions introduced generations ago. Every autumn, the campus community comes together as incoming students recite the Honor Pledge in the presence of family, friends, faculty members and the administration. On Notre Dame Day, students are recognized for their commitment to service and academic achievement. One hundred nights before their graduation, Women's College seniors come together to reflect on their undergraduate experiences and anticipate the excitement of commencement. The School Sisters of Notre Dame remain at the heart of campus life as educators, administrators, colleagues and mentors.
Our Story
The story of Notre Dame begins with a journey from Germany. In the summer of 1847, Mother Mary Theresa of Jesus Gerhardinger, foundress of the SSNDs, traveled to America with five sisters on a mission to educate those neglected by society — poor girls and women. Soon the SSNDs were teaching in four schools, including three in downtown Baltimore. By the 1871 the sisters selected a beautiful 33-acre site in North Baltimore that would accommodate its burgeoning student populations, as well as future expansion. In 1873, Notre Dame of Maryland Collegiate Institute, educating both elementary and high school-aged girls, opened on Charles Street, where the present University is located today. As the turn of the century neared, the SSNDs had developed an international reputation for the quality and rigor of their teaching.
The SSNDs established College of Notre Dame of Maryland in 1895 as the first Catholic college for women in the United States to award the four-year baccalaureate degree. A press clipping from the time commended the new college for its curriculum that would "meet the ever increasing demand to give women the opportunity for intellectual training as thorough and comprehensive as is afforded to men in the best colleges of the country." Six young women were in the first graduating class: Helen Burr of Lincoln, Neb.; Mary Teresa Curran of Andover, Mass.; Dorothea Kilkoff of Deland, Fla.; Louise Power of San Francisco; and sisters Catherine and Ellen Coll from Baltimore.
Two important people in the lives of the first Notre Dame students were Mother M. Theophilia Bauer, who was the College's first president, and Sister Mary Meletia Foley, the College's dean of students. For more than a hundred years, the SSNDs have continued their leadership role at the College, as presidents, deans, faculty, administrators, mentors and friends. They remain the sponsoring congregation of the University, which continues to embrace the motto they bestowed: Veritatem Prosequimur (We Pursue Truth).
Honor Code
In 1936 Notre Dame approved the Honor Code, an enduring bond between students and faculty. The Honor Code emphasizes truth and honesty in academic work, while challenging students to incorporate these ideals into all aspects of their lives. Seventy-five years later, incoming students continue to recite the Honor Pledge, a commitment to pursue truth, beauty and goodness, and to uphold their own and Notre Dame's academic integrity by following the Honor Code. Notre Dame's alma mater, written by classmates Lucie B. Collins and Ann Connor of the class of 1952, is a tribute to the pursuit of truth inherent in the Honor Code. As the 1970's approached, the Notre Dame community experienced a defining moment when many single-sex colleges and universities in the country moved to co-education. Notre Dame organized Quest '70, a landmark event that brought students, alumnae, faculty and trustees together in dialogue about single-sex education and to determine the school's future course. After thoughtful and often lively debate, participants reached an overwhelming consensus: Notre Dame would remain first and foremost a women's college, as envisioned by the SSNDs three-quarters of a century earlier.
Continuing Education
While holding fast to its cherished traditions, including its commitment to the education of women, Quest '70 led Notre Dame to expand its educational reach and remain ever responsive to changes in education and society. In 1972 the College began the Continuing Education program, offering women age 25 and older the opportunity to study and earn a bachelor's degree by attending classes with traditional-age undergraduate students. In 1975, Notre Dame established the Weekend College to provide conveniently scheduled classes meeting the needs of employed women and men.
Graduate Programs
Innovation and growth led Notre Dame into the 21st century. In 1984, the Graduate Studies Program began offering master's degrees to working professionals. The Accelerated College for working professionals launched in 2003 to provide learning opportunities for student cohorts through partnerships with schools, businesses and healthcare organizations throughout Maryland. In 2004, Notre Dame introduced its first Ph.D. program in education. The School of Pharmacy (offering the Pharm.D.) opened in 2009 and was accredited in 2013. It is the first of its kind created by a U.S. women's college and Notre Dame's first professional degree program.
University Status
On September 9, 2011, the 116th anniversary of the first day of classes at the College, Notre Dame became Notre Dame of Maryland University. The University offers programs through its flagship Women's College (including Continuing Education), the College of Graduate Studies and College of Adult Undergraduate Studies (formerly the Weekend and Accelerated Colleges). The University is organized into four academic schools: Arts and Sciences, Education, Nursing, and Pharmacy. In addition, the University's English Language Institute provides language and culture classes for non-native speakers and the Renaissance Institute offers lifelong learning opportunities for students 50 and older. While varied in scope, all of Notre Dame's programs continue to emphasize professional and personal knowledge, development and integrity.
For 125 years, Notre Dame's 26,000 alumnae and alumni have gone on to lead exceptional lives of service and achievement. They have built buildings and families, made scientific discoveries, run for office and in marathons, become military leaders and SSNDs, served as CEOs and in soup kitchens. Their lives prove time and again the powerful legacy of the founding SSNDs, whose mission remains: Transforming the world through education.