We offer opportunities for commuter students to get involved, connect with the campus community, and take advantage of available resources.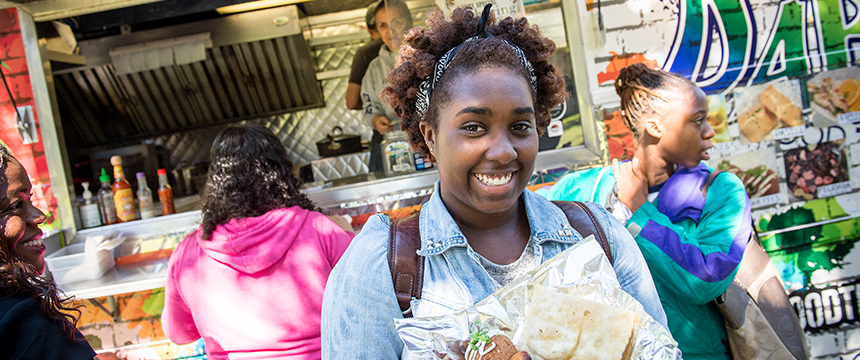 Commuter students include anyone enrolled at NDMU in the Women's College, College of Adult Undergraduate Studies, and College of Graduate Studies.
Women's College Students
You are able to commute to campus while earning your first 60 credits if you are living with a parent or legal guardian less than 30 miles from campus.
You must complete the Commuter Student Intent form each spring during the Housing Selection Process.
Resources
Commuter Lounge
The Commuter Lounge is a space in the lower level of Doyle Hall that is available for you to study, relax, and socialize with other students.
There are two spaces available as part of the Commuter Student Lounge:
A lounge space equipped with computers, a refrigerator, and comfy couches to relax between and after classes
A study room with a large conference table and dry erase board to use while studying or working on group projects
The bulletin board outside of the Commuter Student Lounge provides information on upcoming events and initiatives by Road Scholars (commuter student organization) and Commuter Life.
Lockers
Lockers for commuter students are available in the lower level of Doyle Hall as well as in the Marion Burk Knott (MBK) Complex.
To reserve a locker, please complete a locker agreement form at the Doyle Hall Desk during the start of the semester.
First year students will be able to reserve a locker during June orientation. You will need to provide your own lock, which must be removed at the end of the academic year.
Dining Options
Doyle Dining Hall is a welcoming gathering place for our University community. It features an open kitchen, comfy booths along the windows, and a long seating counter lined with electric outlets to power laptops.
You can purchase either the block or commuter student meal plan in the Business Office.
Block Meal Plans
Unused meals from academic year block meal plans roll over from semester to semester and can stay with you during your time at NDMU until they are used.
The plan provides a discounted rate for meals compared to the rate you would pay at the door.
25 meals for $165
45 meals for $250
Commuter Student Meal Plan
The xommuter student meal plan provides 5 meals per week that can be used for either breakfast or lunch. This meal plan is a great option if you would like to grab breakfast before class or have lunch with friends while on campus.
Unused meals are not rolled over from week to week.
The Commuter Student Meal Plan is $480 a semester.