The Regina Russo Hammel '41 Recent Graduate Award honors a recent graduate, not more than 10 years ago, who has exhibited professional achievement and/or contributions to community life and who had demonstrated loyalty to the University.
In 1999, The Regina Hammel '41 Outstanding Recent Graduate Award was created by Gary and Laura Hammel Dicovitsky in honor of Mrs. Dicovitsky's mother.
2017 Award Winner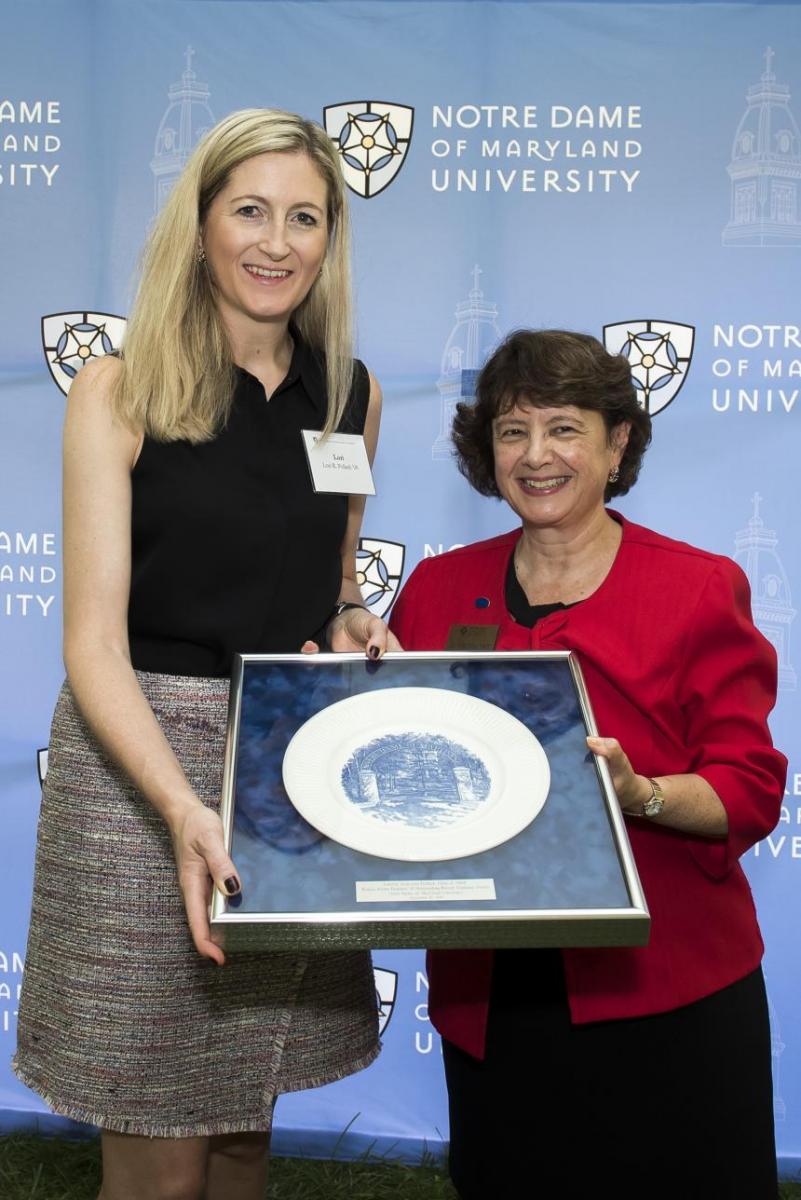 Lori Pollack '08
In the past decade, since receiving her Bachelor of Arts degree in business management from Notre Dame of Maryland University, Lori has earned two masters degrees from Johns Hopkins: a Master of Health Science in mental health with a concentration in aging populations, and a Masters in applied economics iwith a concentration in healthcare. Her academic accomplishments have led to her current role as a healthcare researcher specializing in discovering risk factors for Alzheimer's disease and related neurodegenerative diseases.
Lori's work has been recognized around the globe and inspires her significant volunteer commitment to the Alzheimer's Association. Lori has consulted on educational programming, provided grant proposal support, collaborated with local assisted living facilities, and chaired the association's annual Memory Ball.
In her spare time, Lori serves on the University of Maryland St. Joseph's Medical Center board of directors and is a longtime supporter of Notre Dame. We are grateful that Lori has helped raise the visibility of the Notre Dame community through her work as a trustee associate, consistent Meletia Society donor, and most of all, through engaging with fellow alumnae and alumni by sharing her own Notre Dame story.

Past Winners
| Year | Winner |
| --- | --- |
| 1999 | Milda Motekaitis DeVoe '90 |
| 2000 | Theresa Giardina Wiseman '90 |
| 2001 | Theresa O'Keefe Armiger '90, M'98 |
| 2002 | Wendy Tribaldos – DePuy '92 |
| 2003 | Marianna Russell C'94 |
| 2004 | Elizabeth Higgins Frost '97 |
| 2005 | Colleen Manley Sisolak '96 |
| 2006 | Roxanne Gladden Miller W'99 |
| 2007 | Michelle Lizardo Kuntz '97 |
| 2008 | Veronique Gugliucciello '98 |
| 2009 | Julie Kline Rybczynski '99 |
| 2010 | Christina Hood Gray '00, M'01 |
| 2011 | Pamela Walters '01, M'03 |
| 2012 | La Vida Cooper '03 |
| 2013 | Lorna K. Hanley M'06 |
| 2014 | Lauren Ackerman '08 |
| 2015 | Nicole Kotulak '09 Ph.D. |
| 2016 | Monique L. Turner '03, PharmD. '15 |
| 2017 | Lori Anderson Pollack '08 |