The Elizabeth P. Hoisington '40 Distinguished Alumna Award is presented to a graduate who, through achievements in career and/or community service, embodies the principles of Notre Dame.
Winners, who have graduated no fewer than five years ago, have demonstrated loyalty to the University and achievements in career and or community.
History
After her death in 2007, the award was dedicated to Brig. Gen. Elizabeth P. Hoisington '40, who served our nation with leadership and vision—particularly as one of the first women to attain the rank of U.S. Army general. The 2008 award was the first given under the new name.
2017 Award Winner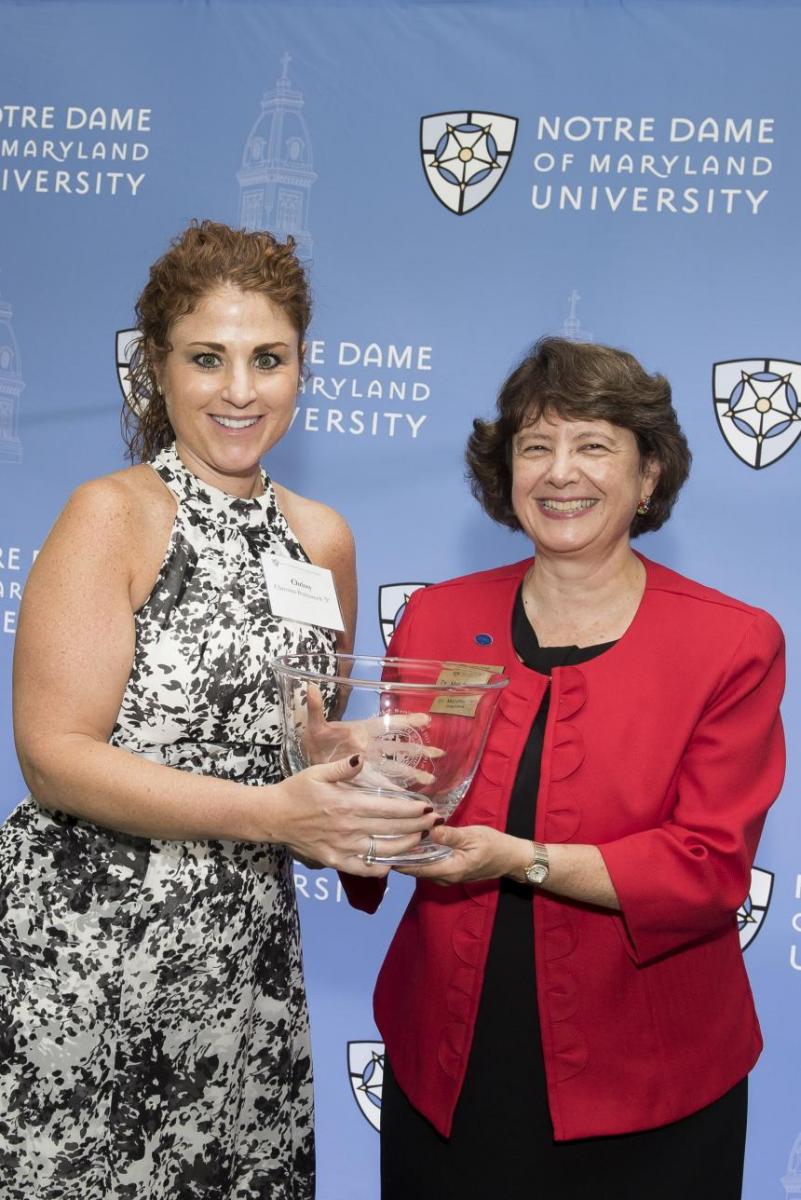 Christina Bolmarcich, Esq. '97
Principal, Semmes, Bowen & Semmes
Active as a student, editor of Columns being one of those activities, Chrissy's affinity for Notre Dame has extended to her role as alumna. She continues to be a fervent supporter in roles on University committees, active engagement in events, and as a contributor to the Notre Dame Fund.
Chrissy's career as an attorney began when she passed the bar in 2004 and became an associate attorney at Bouland & Brush, LLC in Baltimore. Since then, she has steadily accrued more career responsibility and has been recognized as a Maryland Super Lawyer Rising Star in 2013 and 2014 and a one of Maryland's Top 100 Women by The Daily Record in 2016. Chrissy, a principal at Semmes, Bowen & Semmes firm, focuses her work on all areas of labor and employment for maritime, transportation, and hospitality-industry clients. Beginning in January 2018, Chrissy will serve as a member of Semmes, Bowen & Semmes' Management Committee. Her service on the committee means that she will also chair the Business Litigation and Maritime Department. Chrissy is only the second woman to serve on the Management Committee and the first to be chair of a department in the firm's 130-year history.
What I have learned from volunteering, and which I earnestly try to impart to friends, family, and colleagues, is how rewarding it is and how much you can learn from helping and teaching others...Whether you volunteer at your school, at your church, or at your local hospical, it's important to give back to your community. As you make volunteering a priority, you are setting a profound example for your colleagues, faimly, and friends.
Past Winners
Year
Winner
1991
Patricia Ann Denny Bathon '49
1992
Veronica Walker Hackett '67
1993
Mildred Buzek Otenasek '36, Ph.D.
1994
Margaret Dempsey McManus '41
1995
School Sisters of Notre Dame
1996
Margaret Dougherty '41
1997
Dorothy Brown, Ph.D. '54
1998
Donna Ringger Easton '70
1999
Suzanne Janes Peck '64
2000
Alice El Koury '39
2001
Margaret J. Steinhagen'54, Ph.D.
2002
Anne Bruggy Deming '61, Ph.D.
2003
Mary Lu Schroeder McNeal '50
2004
Regina McKeowne Hubbard '43
2005
Candee Morici Swenson '69, Ph.D.
2006
Dr. Doris Ann Trauner '66, M.D.
2007
Kathleen Carney Buetow '50, Ph.D.
2008
Dolores Warwick Frese '58, Ph.D.
2009
Jo Trueschler '49
2010
Edith McParland Donohue '60
2011
Patricia Knott Smyth '51
2012
Kathleen O'Ferrall Friedman '62
2013
Margaret Haskell Farnham '92
2014
Mary Kay Shartle Galotto '64, Ph.D.
2015
Frances Hanna Flanigan '65
The Hon. Irene Murphy Keeley '65
2016
The Hon. Audrey J.S. Carrion '81
2017
Christina Bolmarcich, Esq. '97