Upcoming Events
Master of Arts in Teaching
The 10-month fast-track Master of Arts in Teaching program provides aspiring teachers (including recent college graduates and career changers), the opportunity for a year-long, school-based internship while completing the requirements for a Master of Arts in Teaching (MAT) degree that leads to Maryland certification.
Learn more about the program or contact the College of Graduate Studies at gradadm@ndm.edu.
---

28th National Drawing & Print Competitive Exhibition
Now - April 28, 2017
Gormley Gallery, Fourier Hall 2nd floor
The exhibition features works on paper by 21 artists from the local, regional and national art community. For more information visit, ndm.edu/gormleygallery
---
National Public Health Week April 3-9
April 3, Great Amazing Race, 5:30-7:30 p.m., NDMU Arch
April 4, Keynote Speaker, 6-8 p.m., LNDL Auditorium
April 6, Opioid Discussion, 6-8 p.m., Knott Auditorium
April 7, Block Party, 1-5 p.m., MBK Gymnasium
---
The Rover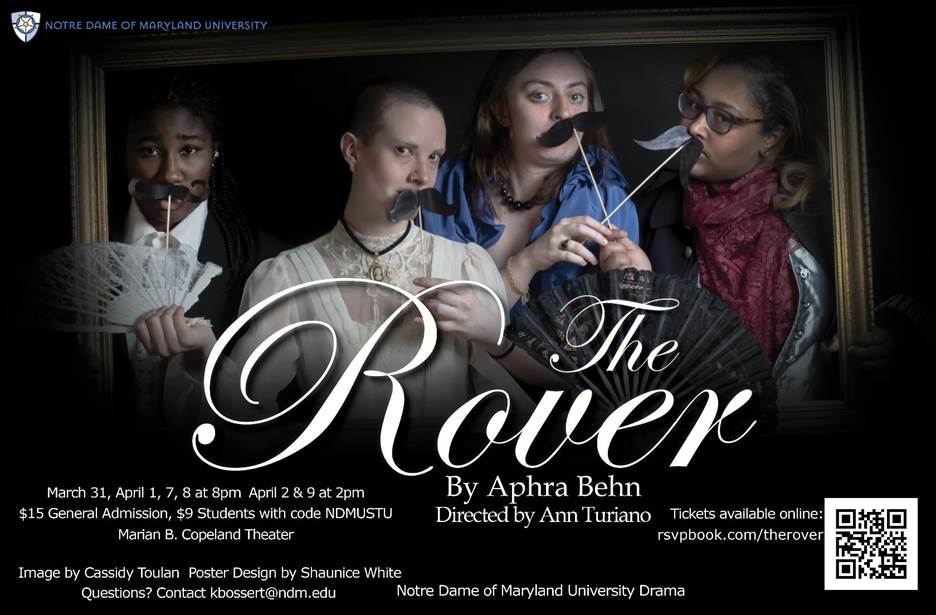 April 7 & 8, 8 p.m.
April 9, 2 p.m.
Sword fights! Secret rendezvous! Masks! Revels! Courtesans! Cavaliers! Comedy! Restoration-era proto-feminism!
Tickets may be purchased online
$15 General Admission, $9 for all students with code NDMUSTU 
---
Tiffany Lin, Artist & Illustrator
On the Mythology of the American Dream
April 4, 12:15-1:30 p.m., Fourier 24B
---
Bingo and Kickback Fundraiser
April 5, 5-6 p.m., Gator Alley
---
Catch Me Outside Tie-Dying
April 5, 6-7:30 p.m., Gator Patio
---
Interfaith Communal Forgiveness Service
April 5, 4:30 p.m. Peace Pole – Doyle Hall
Join the campus community in a ritual of forgiveness.
---
Renaissance Institute Guest Speaker
April 6, 1:16 p.m., Fourier Hall Room 103
Frank Januzzi, President and CEO of the Maureen and Mike Mansfield Foundation, and former staff member of the Senate Foreign Relations Committee will discuss America's relationship with North Korea.
Januzzi is one of a small number of Americans who have visited North Korea and one of its nuclear facilities. 
---
Become a Student Ambassador
Stop by Theresa Hall Room 116 to pick-up and application
Due by Friday, April 7 4:30 p.m.
---
Dance Party
April 7, 7-10 p.m., Gator Alley
---
Food Drive Community Service
April 9-15, Doyle SLIC Desk
---
Memorial Mass for Sister Kara Ryan, SSND
April 10, 12:15 p.m., Marikle Chapel
---
Easter Egg Hunt
April 11, 12:30-1:30 p.m., Doyle Lawn
---

Good Friday - NDMU Closed
April 14
---
Easter Monday
April 17
---
Donation Drive for Weinberg Shelter  
April 18-28, Meletia Hall
---
Polar Bear Clothes Exchange Fundraiser
April 18, 11:00 a.m. - 1:00 p.m. Doyle Formal Cafe
---
Spring Carnival
April 19, 4:30-6:30 p.m., Gator Alley
---
Deathfest
April 19, 6-9 p.m., FIC
A campus-wide information and activity fair modeled on the "Death Café" movement, to share with the NDMU community what they have been learning in the honors course "Caregiving at the End of Life," this semester.
---
Jill Fannon, Artist & Photographer
On the Body & Object Fetishism
April 20, 12:15-1:30 p.m., Fourier 24B
---
Nancy Kreiter Research Day
April 21, Fourier Hall
---
Notre Dame Bazaar
April 21, 4-6:00 p.m., Doyle Formal
---
Phi Xi Chapter of Kappa Delta Pi Induction Ceremony
April 22, 3-5 p.m., Marikle Chapel
---
End-of-Semester Party
April 25, 4-6 p.m., FIC
---
"Arts for Hearts" Recital Series
April 30, 2:00 p.m., The Chapel at Villa Assumpta (6401 N. Charles Street)
Join SOE Admissions Manager Christopher Rhodovi and his wife, Karen Myers Rhodovi (a former NDMU employee) for a recital of Johann Sebastian Bach's The Coffee Cantata.