The Bulletin is published every month for faculty, staff, and students.
---
April 2017 Contents
NDMU News
NDMU Becomes First Maryland University to Join the Small World Initiative (SWI)
NDMU recently had the distinction of being honored as the first university in the state of Maryland to join the Small World Initiative (SWI). SWI gathers some of the world's top universities who support and source the discovery of new antibiotics.
Lead by Assistant Professor of Biology, Dr. Jennifer Kerr, NDMU, as part of the SWI will acts as an advocate for long-term involvement in the sciences, allowing upper-level biology students to continue working on antibiotic-producing bacteria identified by undergraduates in the 200-level introductory microbiology classes. By joining the SWI, the University is addressing a worldwide health threat – the rise of antibiotic-resistant infections, and it's providing NDMU students the hands-on research needed for future professional careers in the drug industry.
---
Spring Break at the United Nations
A group of NDMU students spent their spring break at the United Nations in New York. The theme for this year was "women's economic empowerment in the changing world of work." Our students took part in numerous panels and saw firsthand how the UN operates.
Among the students who took part in the trip, Micah Castelo, '18. "I think this experience helped me become a more global citizen. It is important to be aware of the problems outside of our own country and other people's perspectives."
Gerriza Balmes, '19, who also participated, shared her sentiment, "I also hope to become a voice for my fellow women as I eventually enter the male-dominated STEM work field as a leading researcher for neuroscience."
This opportunity was an enlightening experience for all involved and the experience is sure to help these women in their future endeavors.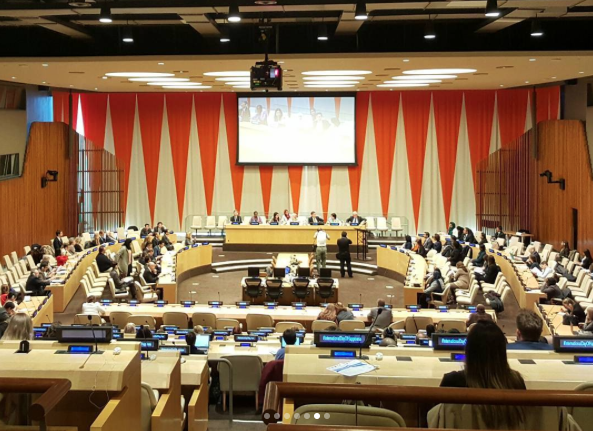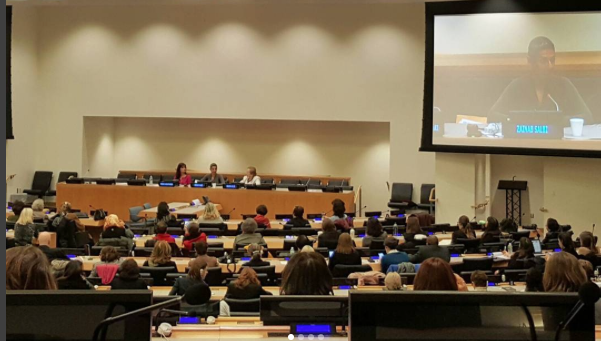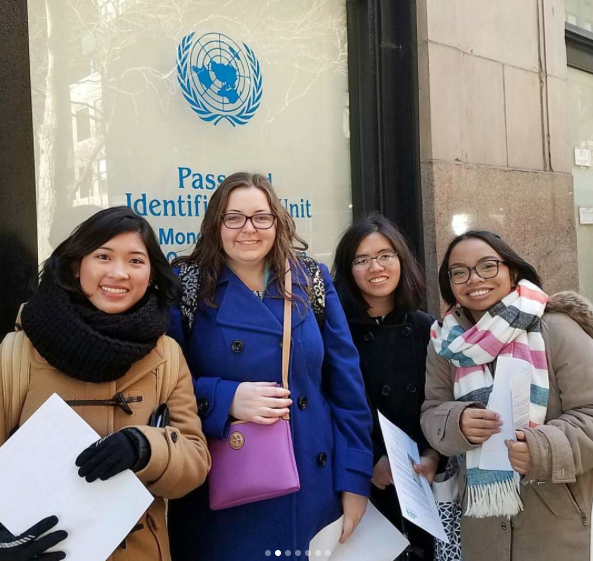 ---
Third Straight Year, Morrissy Wins Maryland State Portz Award
For the third year in a row, a Notre DameMorrissy student was awarded the Portz Award for Outstanding Student in a Four-Year Honors Program. Micah Castelo '18 was presented with the prestigious award at the Maryland Collegiate Honors Council Conference in March. The award is based on student GPA, writing samples, letters of recommendation, and service to the student's honors program, university, and community. Lillian Doyle '17 was also awarded at the 2017 MCHC Conference with Outstanding Student Abstract for a Presentation. Six Morrissy Honors students in all traveled withMorrissy Director Dr. Jeana DelRosso to the conference and presented their original research to honors students and faculty from across the state.
---
Morrissy Plays Host to Tokyo's Aoyama Gakuin Women's College
Five students and a faculty member from Notre Dame's partner school Aoyama Gakuin Women's Junior College in Tokyo spent nine days on campus in March. Hosted by Dr. Jeana DelRosso and the students of the Morrissy Honors Program, the Aoyama group attended Women's College and ELI classes, toured the campus and surrounding areas, and took day trips to Baltimore's Inner Harbor, Washington, DC, and New York City. The students stayed in the residence halls, ate in the dining hall, and presented their original research to the honors students. The Aoyama students built strong bonds with theMorrissy students and provided a cultural exchange opportunity that students from both colleges will remember for years to come.
---
Innovative NDMU Course Garners National Attention
A new NDMU Honors Course, "Caregiving at the End of Life," will be featured in a national research project highlighting innovative teaching methods in the field of Interfaith Studies. The course employs a variety of contemplative practices and other experiential methods to help both nursing and non-nursing students care compassionately for people facing death.
The course was developed and is co-taught by Dr. Wakoh Shannon Hickey, assistant professor of religious studies, and Hannah Murphy Buc, MSN, RN, assistant professor in the School of Nursing. They welcomed two researchers, Dr. Trina Jones of Wofford College and Cassie Meyer of the non-profit organization Interfaith Youth Core, to observe a class meeting and interview both students and instructors about their experiences in the course.
The research project is sponsored by the Wabash Center for Teaching and Learning in Theology and Religion.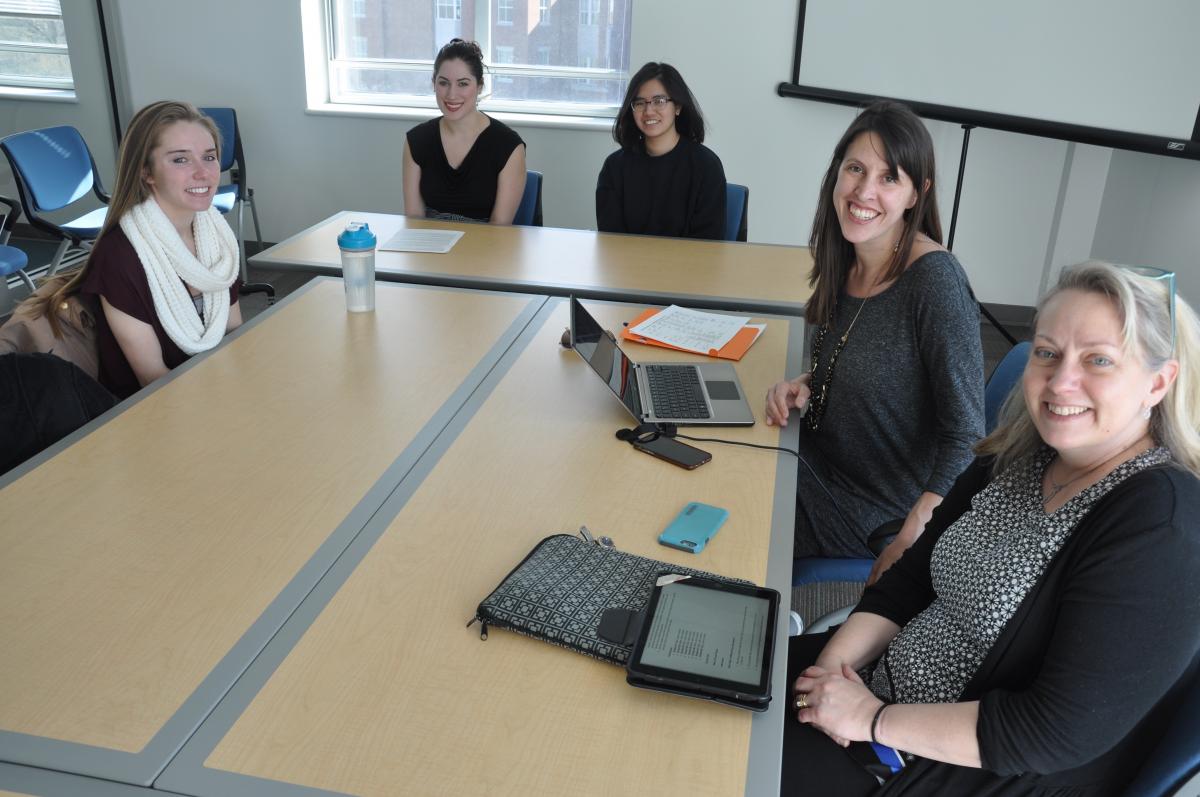 ---
Loyola Notre Dame Library News
Design Your Own Pop-UP Class!
Hold a pop-up class in the library! The purpose of a pop-up class is to provide specialized information in a format conducive to active group learning. Pop-up classes can be a great way to draw attention to specific programs on campus, or market new skills to students in a fun, creative way. Our librarians are here to help you set up a pop-up class of your own design! Previous examples include a 3-D modeling class and "Beats & Bytes," a session about using specialized software to create and manipulate music.
Learn More at Loyola Notre Dame Library
---
News by School
School of Arts, Sciences, and Business
Faculty Accomplishments
Dr. Alfred D'Agostino, Professor of Chemistry attended the Maryland Distance Learning Association Conference "Rebooting Student Engagement" on March 9 and participated in sessions on approaches that would Increase Student Engagement, Retention and Self-Directed Learning in online courses and how collaborative journals, peer-reviewed papers and role-regulated discussion boards can help foster learning communities.
Dr. D'Agostino attended the Scholarship of Teaching and Learning Commons Conference in Savannah, GA, March 29-31 and presented his research on the influence of instructional methods on learning style in "Connecting instructional methods and outcomes to student learning style through self-assessment."
Oxford University Press will publish a new book by Dr. Wakoh Shannon Hickey, assistant professor of religious studies. Mind Cure: How Meditation Became Medicine is "a religious history of mind-body medicine," focusing on the process by which meditation and yoga became accepted by the medical mainstream as treatments for a variety of physical and psychological ailments. Tracing the history of mind-body medicine from the mid-seventeenth century to the present day, the book highlights the ways that racism and sexism affected the process by which these religious disciplines became secularized, medicalized, and commodified.
School of Education
School News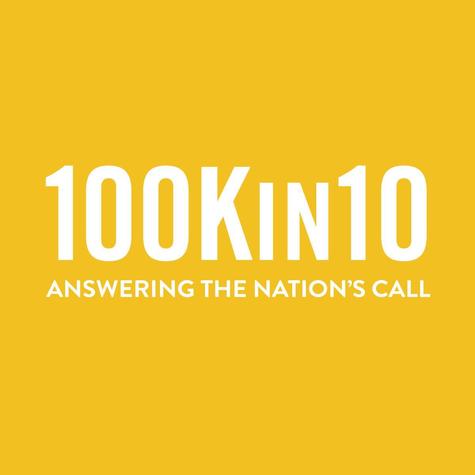 The School of Education recently became a member of the national organization 100Kin10. This organization unites the nation's top academic institutions, nonprofits, foundations, companies, and government agencies in order to train and retain 100,000 excellent science, technology, engineering, and math (STEM) teachers so that we can educate the next generation of innovators and problem solvers. As a result of this partnership members of the SOE STEM program have the opportunity to attend an annual networking summit to continue the conversation and work surrounding the development of STEM teachers. This year we are proud to announce that one of our graduates Ashley Demski, a pre-K teacher in Baltimore City will be attending as one of 30 teachers who received an all-expenses paid trip. Ashley was nominated by Dr. Juliann Dupuis, for her dedication and commitment to STEM education at the early childhood level. Ashley is a leader in her school and district and now at 100K in 10 as Captain of the 100Kin10 Teacher Forum. Congratulations Ashley, you are truly making a difference!
Graduates and professors of the Master's in Leadership: STEM represented Notre Dame of Maryland University's at a two-day workshop at the National Oceanic and Atmospheric Administration (NOAA). Educators worked closely with scientists in the field to learn about the latest trends in science and try out some new activities to bring back to their students. (picture attached, from L to R-Victoria Beard (graduate) Becky Palmisano (graduate) Dr. Juliann Dupuis (SOE) Joe Davis (Instructor) Deddeh Beddell (graduate).
Faculty Accomplishments
Congratulations to Professor Patricia M. Dwyer. She recently had an article published in Liberal Education, the Association of American Colleges and Universities' (AAC&U) quarterly publication. The read a copy of the article, go to goo.gl/Kbubpi.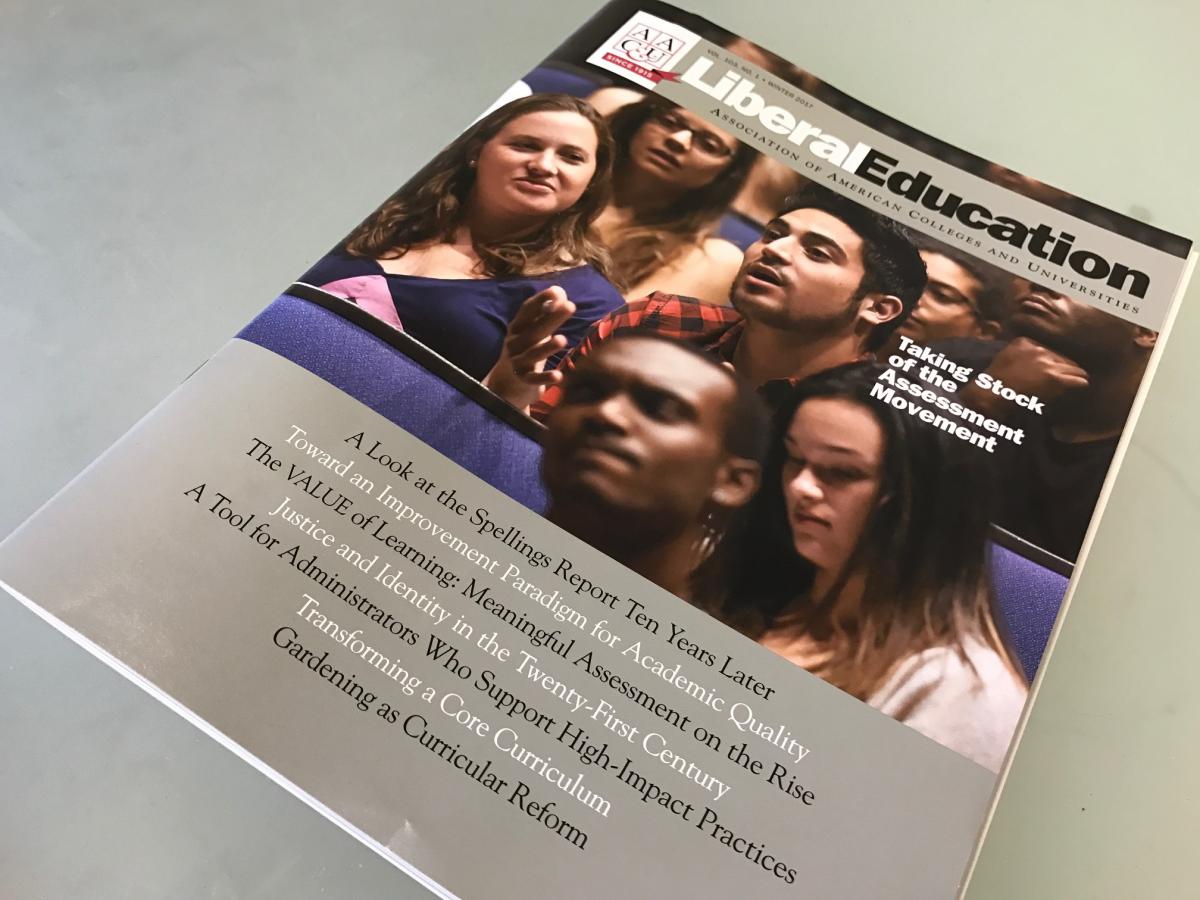 Dr. Juliann Dupuis recently presented with several of the School of Education Master's in STEM Leadership graduates at the Maryland Association for Environmental and Outdoor Education. Rebecca Palmisano (Johns Hopkins School of Engineering) and Stephen Knott (Frostburg University) co-presented Last Child In The Woods – An Inspiration To Urban Educators. Ashley Demski and Scott Hartman (both from Baltimore City Schools) co-presented Nature City: Strategies For Connecting Urban Youth With Nature Experiences.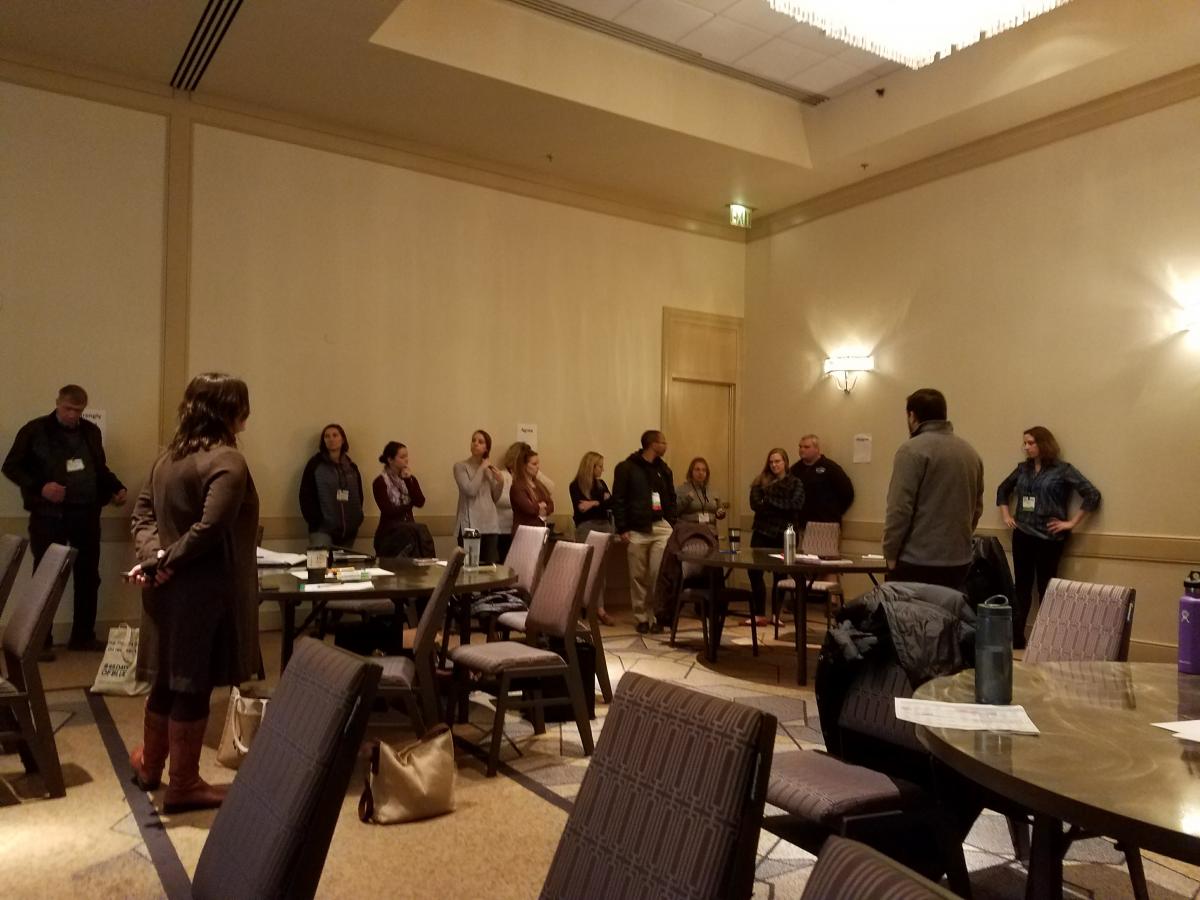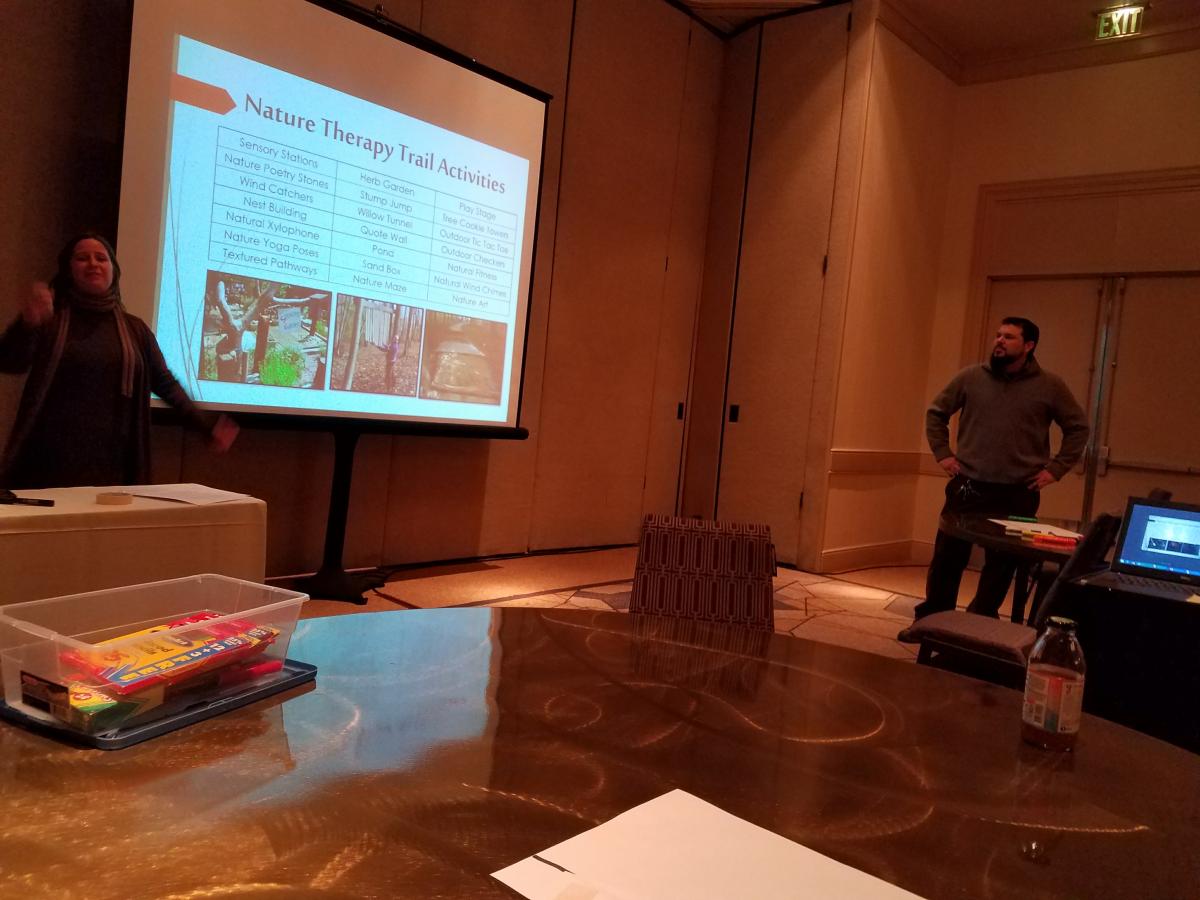 Student News
Culturally Responsive Teaching and Leading
On Saturday, March 18th the Phi Xi Chapter of Kappa Delta Pi hosted a regional workshop entitled "Culturally Responsive Teaching and Leading" here at NDMU. The day featured a variety of presentations and activities surrounding the pedagogy of cultural responsiveness in the classroom and featured material delivered by NDMU professors Dr. Stephanie Savick, Dr. Kelly Bull, Dr. Joan Sattler, as well as Ph.Dd candidate Travis Reyes and special guest Monica Guerrero Vazquez. The presentation topics included themes surrounding culturally responsive classrooms, white privilege, diverse literature, immigration in the classroom, and the LGBTQ experience of students today. In total, 46 people were present to experience the day and participants came from as far away as Philadelphia and Fairfax, VA.
School of Nursing
Student Accomplishments
In March, students at the School of Nursing were named Grand Prize winners in the American Nurses Association (ANA) Healthy Nurse Healthy Nation (HNHN) Grand Challenge video contest. The contest asked nurses and nursing students to create one-minute videos addressing their commitment to one of the five designated indicators of wellness: rest, nutrition, physical activity, quality of life and safety. Hillary Flowers, Katelynn Olson, Michaela Olson, Neeral Modi, and Sara Connolly, all from the class of 2017, won for their Quality of Life video. Cassandra Renner, Brittany Nedd, Jordan Walker, Brianna Palmer, Alluntae Bryant, Bisola Etweusa-Butler, and Maci Zellars, also from the class of 2017, won for their Nutrition video.
The Grand Challenge is connected to the ANA's Year of the Healthy Nurse initiative that encourages nurses to set an example for those they care for by improving their own level of wellness. The initiative includes monthly focus areas with related events, resources, and activities such as a National Nurses Week Toolkit and a robust social media campaign.
School of Pharmacy
School News
School of Pharmacy is authorized by the Maryland Department of Health & Mental Hygiene to conduct Overdose Response Program training and certification workshops. Dr. Min Kwon, Assistant Professor, Clinical & Administrative Sciences is the program director. Drs. Regine Beliard, Andrea Gauld and Mamta Parikh, Assistant Professors, Clinical & Administrative Sciences are also authorized to conduct such training.
Faculty News
Publications
Dr. Sharon K. Park, Assistant Professor, Clinical & Administrative Sciences published "Pharmacotherapy Casebook: Patient Focused Approach" 10th ed. (https://www.amazon.com/Pharmacotherapy-Casebook-Patient-Focused-Approach-Tenth/dp/1259640914)
Dr. Sharon Park, Assistant Professor, Clinical & Administrative Sciences, published "Priming the Preceptor Pipeline: Collaboration, Resources, and Recognition. The Report of the 2015-2016 Professional Affairs Standing Committee" AJPE 2016; 80(9):Article:S19
Dr. Jonathan Thigpen, Assistant Professor, Clinical & Administrative Sciences published "Influence of statin therapy at time of stroke onset on functional outcome among patients with atrial fibrillation" in his research in International Journal of Cardiology. 2017;227:808-12.
http://www.internationaljournalofcardiology.com/article/S0167-5273(16)33135-7/abstract
Presentations
Drs. Regine Beliard, Andrea Gauld, Min Kwon, Ashley Moody, Mamta Parikh, Assistant Professors, Clinical & Administrative Sciences conducted the "Overdose Response Program and Certification" on April 14, 2017, during the Maryland Society of Health-Systems Spring Seminar
Dr. Nicole Culhane, Assistant Professor & Ms. Sherry Moore, Instructor, Clinical & Administrative Sciences presented two workshops Adopting the Pharmacists' Patient Care Process(PPCP) to optimize Patient Care Outcomes "Cares Pharmacy Annual Meeting on Feb 4th and 5th 2017.
Dr. Min Kwon will present "Incorporation of the Pharmacist Patient Care Process into the Pharmacy Lab" – an American Association of Colleges of Pharmacy Webinar on March 30, 2017.
Dr. Anne Lin Dean, School of Pharmacy presented "Accelerating Change in Pharmacist Patient Care Process: Change Champion Workshop" during the AACP Interim Meeting on February 27, 2017.
Dr. Monique Mounce, Assistant Professor, Clinical & Administrative Sciences presented" Pharmacotherapy for the Treatment of Nicotine Dependence" a part of the Tobacco Treatment Specialist certification at Anne Arundel Medical Center on March 2, 2017.
Dr. Jonathan Thigpen, Assistant Professor, Clinical & Administrative Sciences presented "Pubic Health and the Pharmacy Curriculum" an American Association of Colleges of Pharmacy webinar on March 9, 2017.
Student News
Mayrim Millan-Barea '18 is the recipient of the American Pharmacists Association – Academy of Student Pharmacist Student Leadership Award – this was presented at the American Pharmacists Association national conference on March 26, 2017.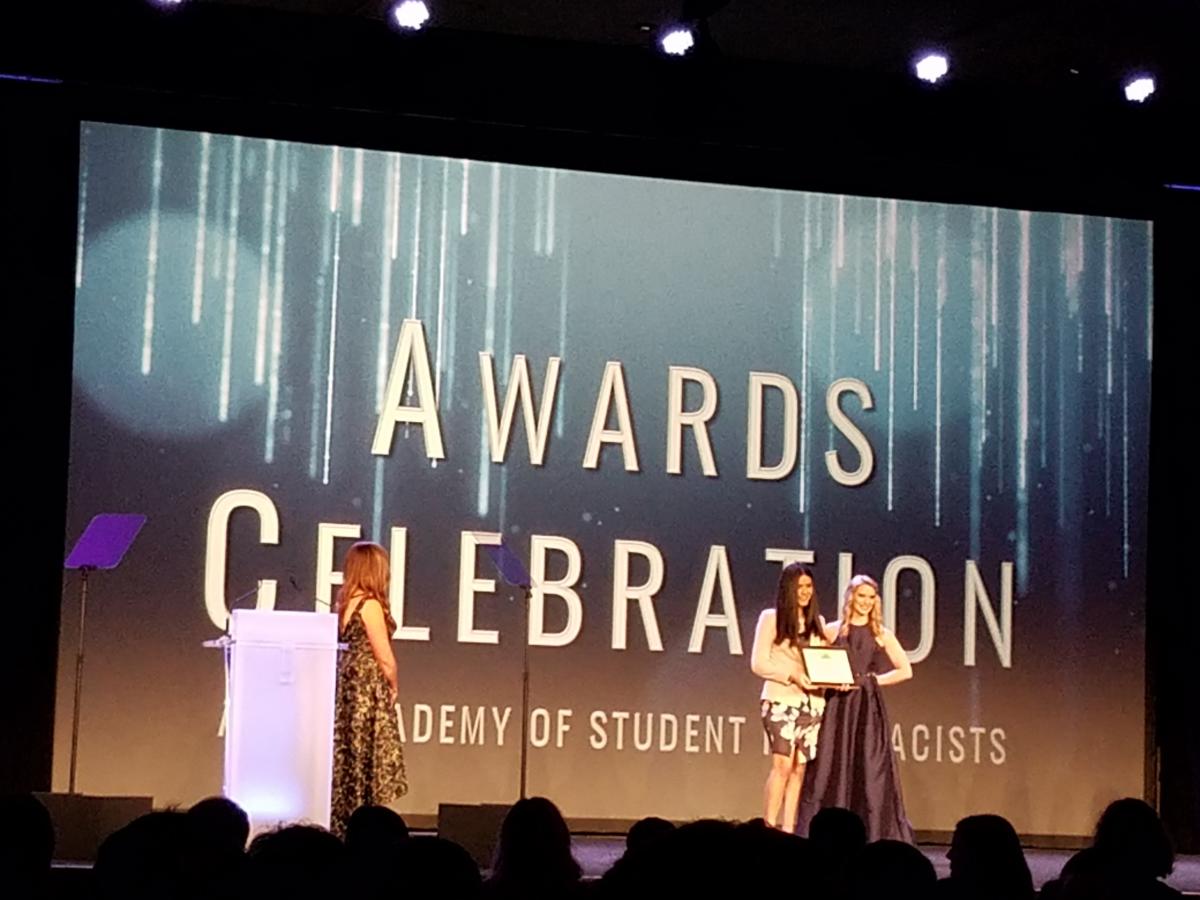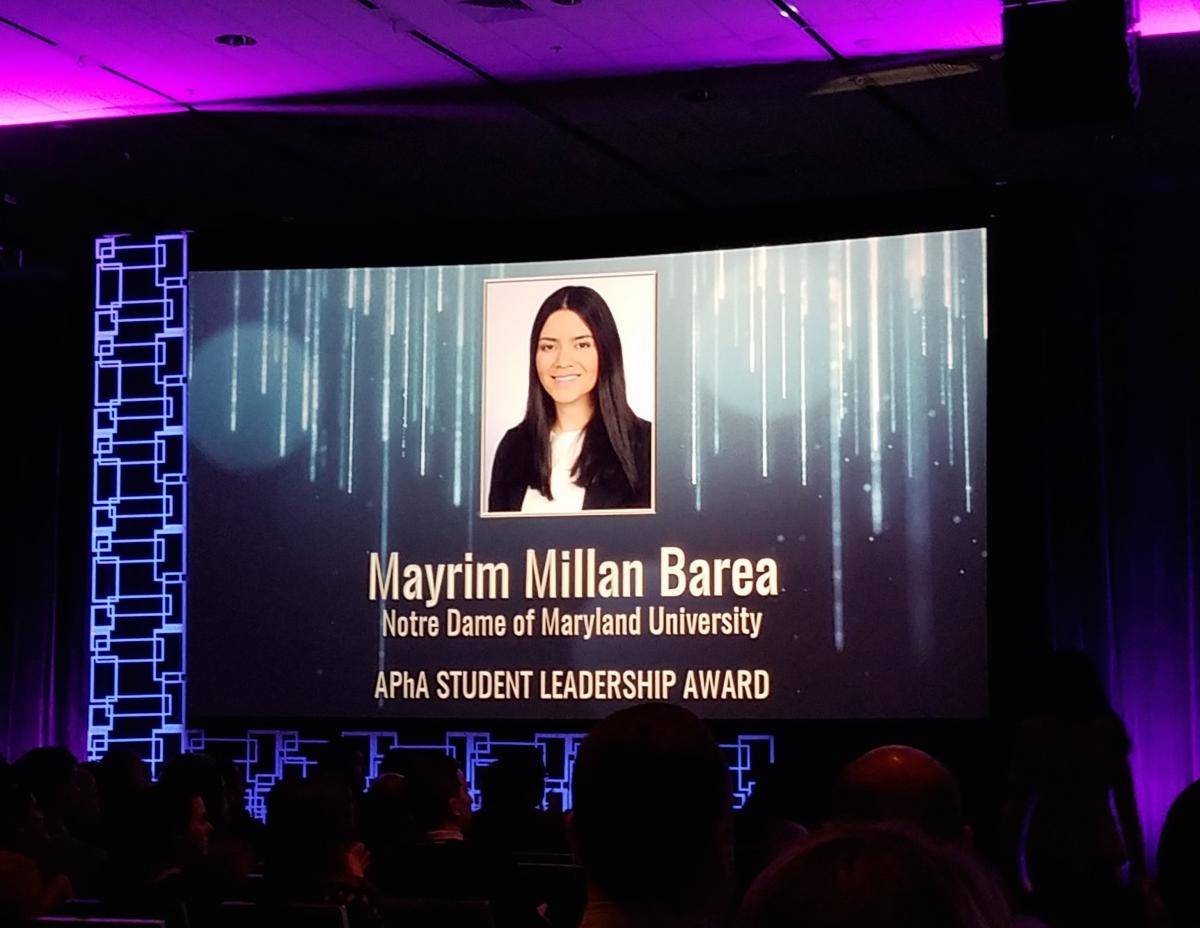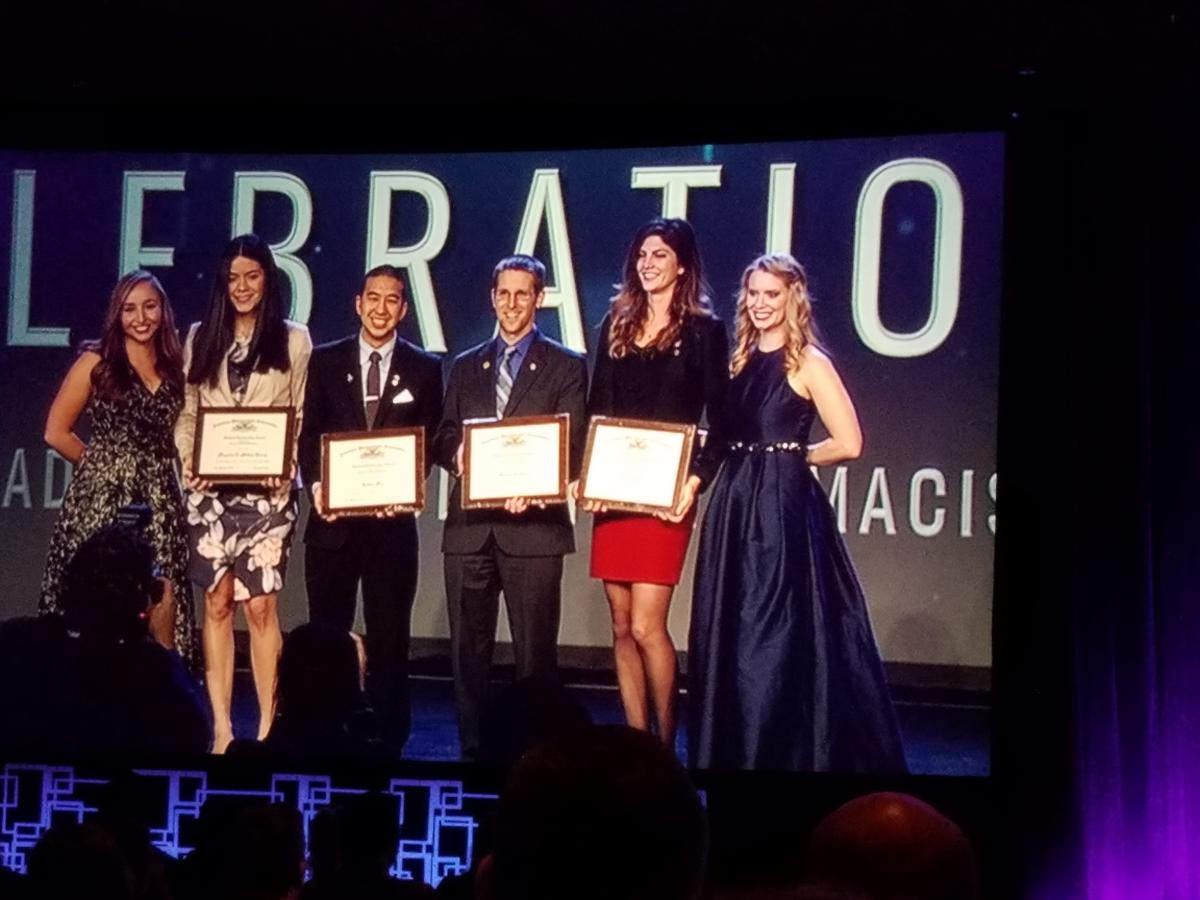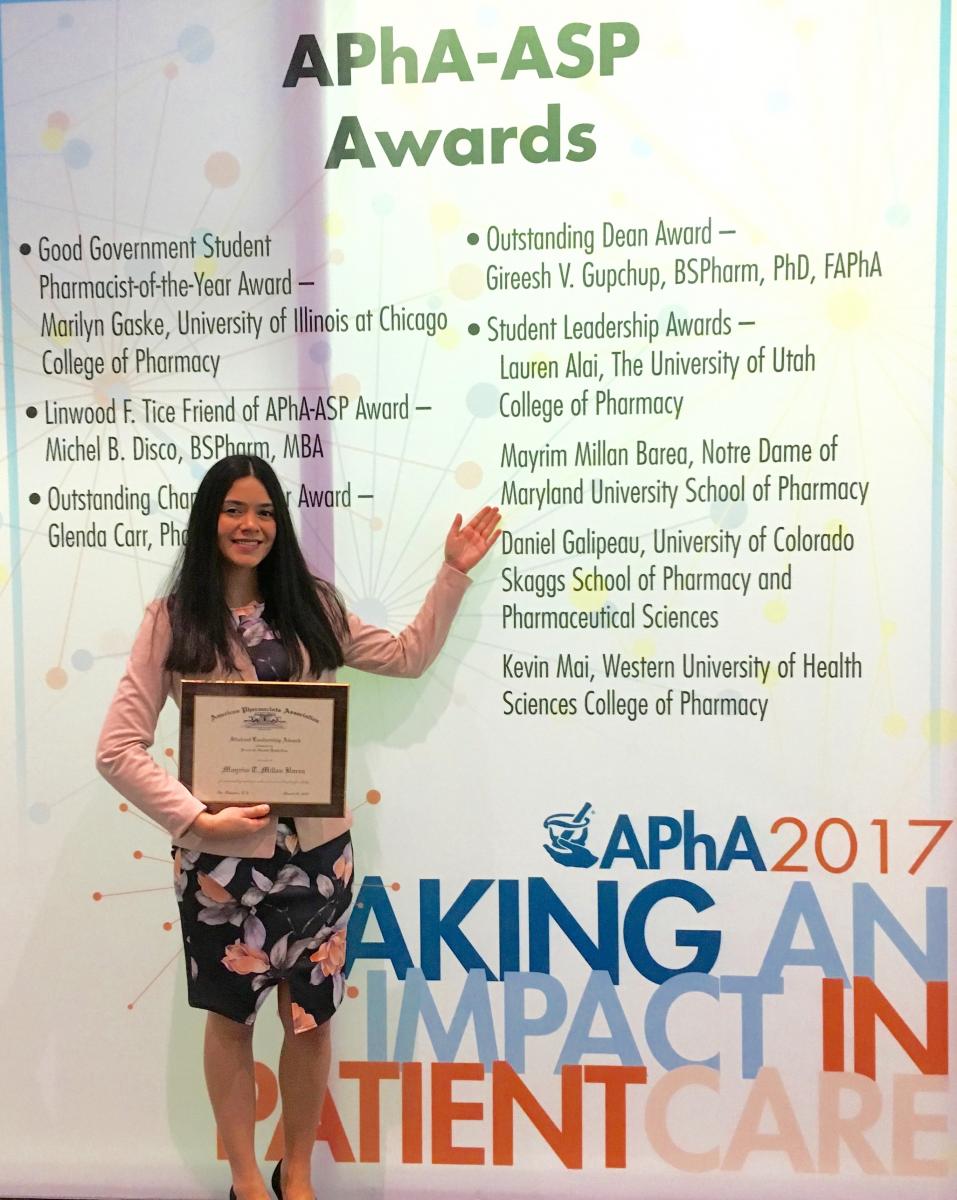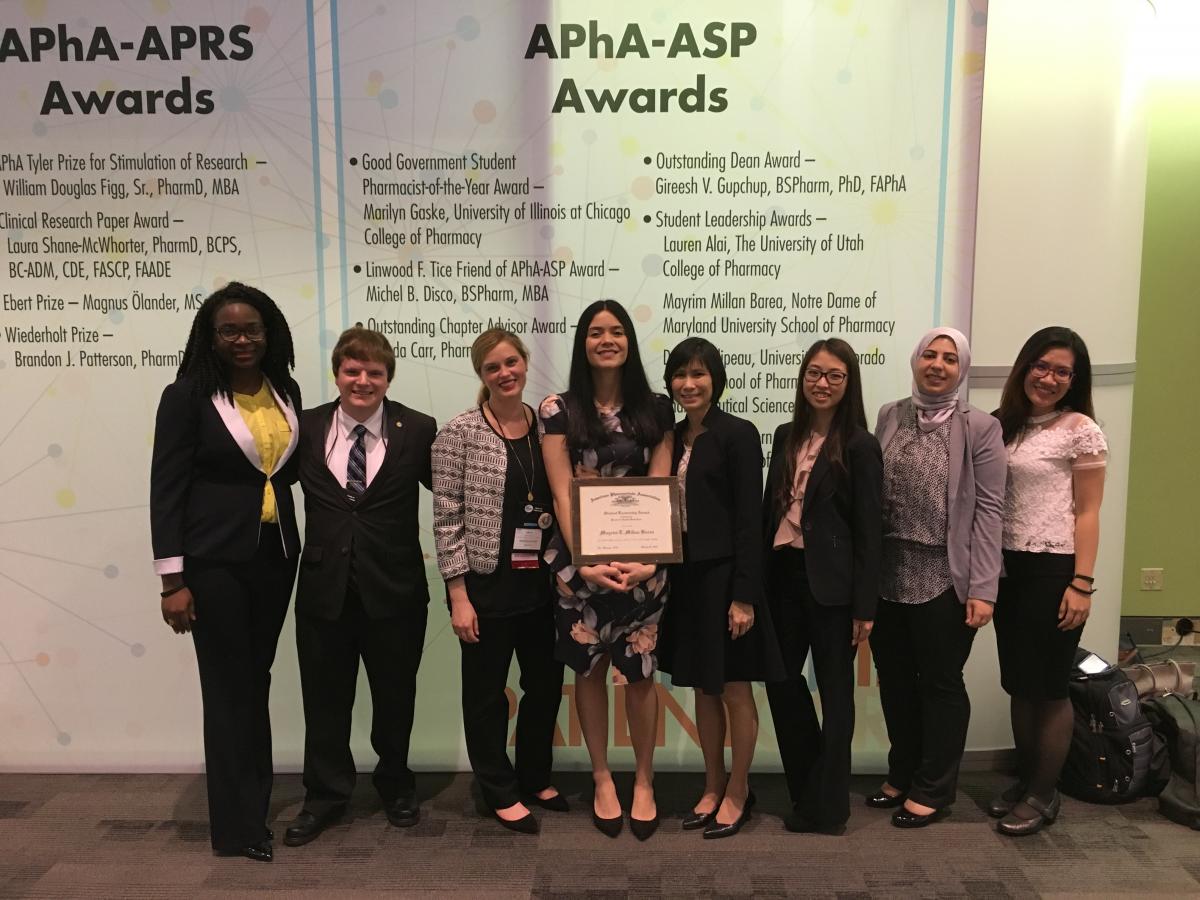 Dizon Jermae '17, Dr. Sharon Park presented a poster presentation "Use of Internet Resources for Learning by Health Professions Students" at the American Pharmacists Association Annual Conference on March 25, 2017.
The following students from Class 2017 have matched to PGY-1 residencies:
Vala Behbahani – University of California San Francisco, CA
Jason Choe – Thomas Jefferson Medical Center, PA
Rachel Dewberry – Medstar Union Memorial Medical Center, MD
Courtney Ensor – Coatsville Veterans Administration Medical Center – PA
Rhiannon Marselli – Meritus Medical Center – MD
Tejas Patel – MedStar Union Memorial Medical Center, MD
Alexandra Phan – Medical Center Health System, Odessa, TX
The following Class 2017 student was accepted into a 2-year Pharmacotherapy Residency
Brittany LaViola – University of Incarnate Word
The following alumni were matched to PGY1 and PGY2 residencies
Hannah Noh '16 – PGY2 ambulatory care – Kaiser Foundation Health Plan, CO
Sharanjeet Kaur '14 – PGY1 – Ingalis Memorial Hospital, IL
Upcoming Events
Master of Arts in Teaching
The 10-month fast-track Master of Arts in Teaching program provides aspiring teachers (including recent college graduates and career changers), the opportunity for a year-long, school-based internship while completing the requirements for a Master of Arts in Teaching (MAT) degree that leads to Maryland certification.
Learn more about the program or contact the College of Graduate Studies at gradadm@ndm.edu.
---

28th National Drawing & Print Competitive Exhibition
Now - April 28, 2017
Gormley Gallery, Fourier Hall 2nd floor
The exhibition features works on paper by 21 artists from the local, regional and national art community. For more information visit, ndm.edu/gormleygallery
---
National Public Health Week April 3-9
April 3, Great Amazing Race, 5:30-7:30 p.m., NDMU Arch
April 4, Keynote Speaker, 6-8 p.m., LNDL Auditorium
April 6, Opioid Discussion, 6-8 p.m., Knott Auditorium
April 7, Block Party, 1-5 p.m., MBK Gymnasium
---
The Rover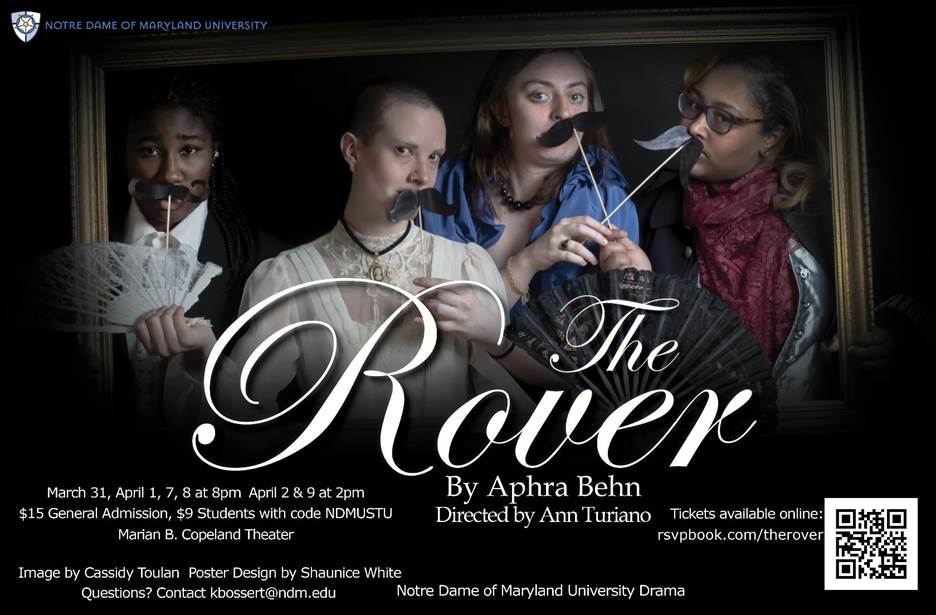 April 7 & 8, 8 p.m.
April 9, 2 p.m.
Sword fights! Secret rendezvous! Masks! Revels! Courtesans! Cavaliers! Comedy! Restoration-era proto-feminism!
Tickets may be purchased online
$15 General Admission, $9 for all students with code NDMUSTU
---
Tiffany Lin, Artist & Illustrator
On the Mythology of the American Dream
April 4, 12:15-1:30 p.m., Fourier 24B
---
Bingo and Kickback Fundraiser
April 5, 5-6 p.m., Gator Alley
---
Catch Me Outside Tie-Dying
April 5, 6-7:30 p.m., Gator Patio
---
Interfaith Communal Forgiveness Service
April 5, 4:30 p.m. Peace Pole – Doyle Hall
Join the campus community in a ritual of forgiveness.
---
Renaissance Institute Guest Speaker
April 6, 1:16 p.m., Fourier Hall Room 103
Frank Januzzi, President and CEO of the Maureen and Mike Mansfield Foundation, and former staff member of the Senate Foreign Relations Committee will discuss America's relationship with North Korea.
Januzzi is one of a small number of Americans who have visited North Korea and one of its nuclear facilities.
---
Become a Student Ambassador
Stop by Theresa Hall Room 116 to pick-up and application
Due by Friday, April 7 4:30 p.m.
---
Dance Party
April 7, 7-10 p.m., Gator Alley
---
Food Drive Community Service
April 9-15, Doyle SLIC Desk
---
Memorial Mass for Sister Kara Ryan, SSND
April 10, 12:15 p.m., Marikle Chapel
---
Easter Egg Hunt
April 11, 12:30-1:30 p.m., Doyle Lawn
---

Good Friday - NDMU Closed
April 14
---
Easter Monday
April 17
---
Donation Drive for Weinberg Shelter
April 18-28, Meletia Hall
---
Polar Bear Clothes Exchange Fundraiser
April 18, 11:00 a.m. - 1:00 p.m. Doyle Formal Cafe
---
Spring Carnival
April 19, 4:30-6:30 p.m., Gator Alley
---
Deathfest
April 19, 6-9 p.m., FIC
A campus-wide information and activity fair modeled on the "Death Café" movement, to share with the NDMU community what they have been learning in the honors course "Caregiving at the End of Life," this semester.
---
Jill Fannon, Artist & Photographer
On the Body & Object Fetishism
April 20, 12:15-1:30 p.m., Fourier 24B
---
Nancy Kreiter Research Day
April 21, Fourier Hall
---
Notre Dame Bazaar
April 21, 4-6:00 p.m., Doyle Formal
---
Phi Xi Chapter of Kappa Delta Pi Induction Ceremony
April 22, 3-5 p.m., Marikle Chapel
---
End-of-Semester Party
April 25, 4-6 p.m., FIC
---
"Arts for Hearts" Recital Series
April 30, 2:00 p.m., The Chapel at Villa Assumpta (6401 N. Charles Street)
Join SOE Admissions Manager Christopher Rhodovi and his wife, Karen Myers Rhodovi (a former NDMU employee) for a recital of Johann Sebastian Bach's The Coffee Cantata.