The Bulletin is published every month for faculty, staff, and students.
---
December 2018 Contents
NDMU News
Annual Holiday Celebration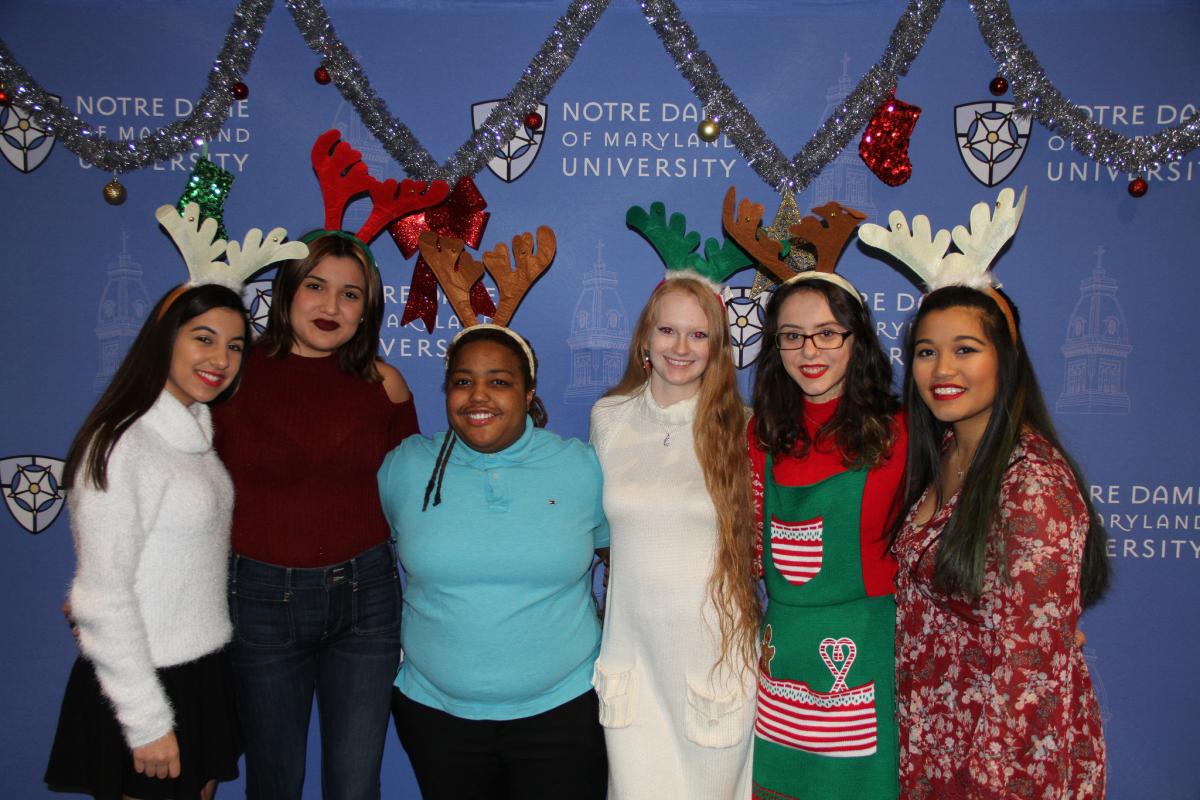 Tis' the season to celebrate the holidays. NDMU's Annual Holiday Celebration will take place on Friday, Dec. 7.
Festivities will kick off at 4:30 in the lobby of Gibbons Hall. Each student organization and university department and office will place a decoration on the tree. Following the Tree Trimming ceremony, the campus is invited to an advent prayer service in Marikle Chapel at 5 p.m.
The Annual Holiday Dinner for students will occur immediately after the service in Doyle Dining Hall. Following dinner, attendees will sing well-known carols in unison for a joyous time. You'll get to contribute your own versions of the season's songs with the highlight of the celebration being our unique take on The 12 Days of Christmas! For more information contact Student Engagement.
---
Great Showing by NDMU at the Ethics Bowl
Each year a group of Notre Dame students take part in the Regional Ethics Bowl. The teams argue and defend their moral assessment of some of the most troubling and complex ethical issues facing society today. This year's event featured 28 teams from the Northeast and took place at Marist College in New York. Notre Dame was among the teams and faced three tough competitors.
In the first round the Gators faced Northeastern University and defeated them by a unanimous decision. In the second round, Notre Dame went up against Rutgers University and once again came out on top with a unanimous decision. Round three proved to be a little more challenging, as the Gators faced a tough Yale University team. Despite giving it their all and making some great arguments, Notre Dame fell to Yale 142-138. Congrats to all who took part.
---
Three Morrissy Scholars Take Part in the National Collegiate Honors Conference
Three students from the Morrissy Honors Program participated in the National Collegiate Honors Conference in Boston between 11/7 and 11/11.
Jessie Willinghan shared her research in a poster presentation: From Unification to Genocide an Examination of British Policy in Scotland Following the Jacobite Rebellion of 1745.
Chinwendu Nwokeabia and Lorelie Soriano participated as moderators in several sessions of the conference.
All three students represented NDMU well.
---
Celebrating Trailblazers
​The Trailblazers program celebrated the success of first-generation faculty, staff and students by taking part in a nationwide event on November 8. The participants enjoyed productive conversation, sharing, and connections at this event.
In addition, Notre Dame is featured on the National Association of Student Personnel Administrators website.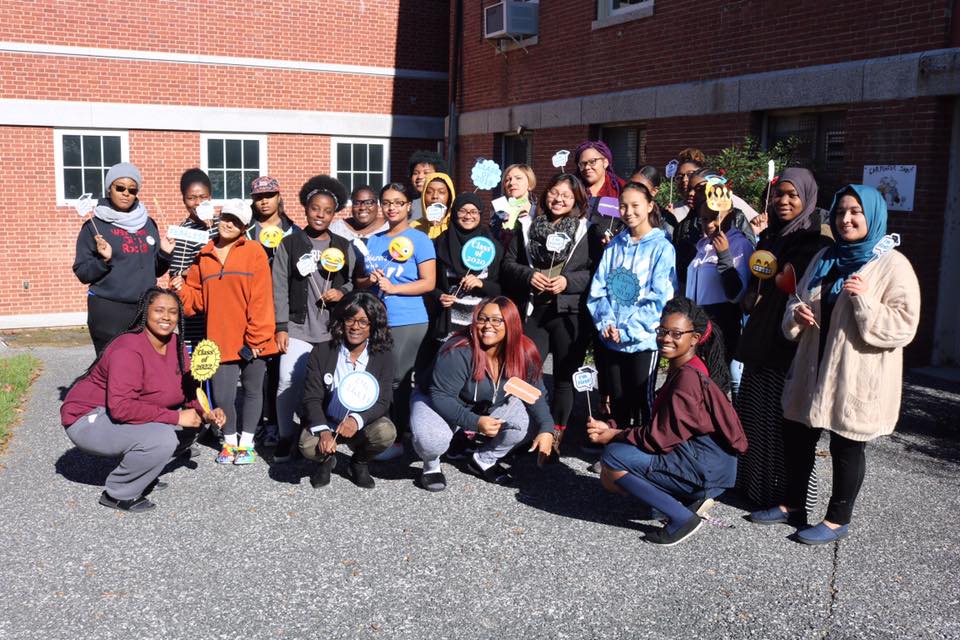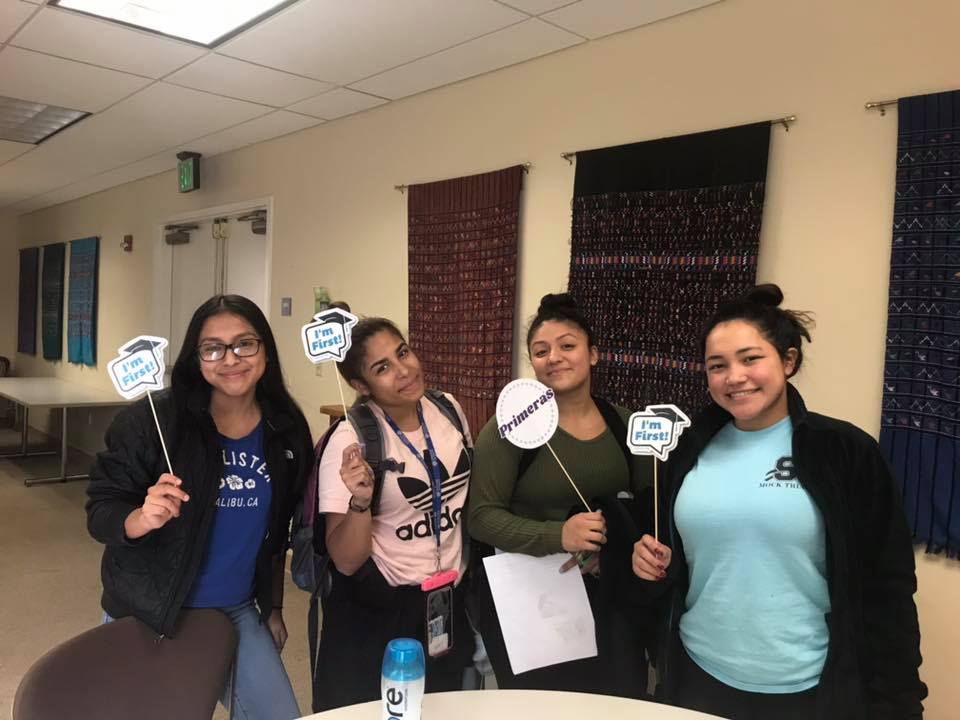 ---
Inaugural Eichner Women Writers Series
Best-selling author Azar Nafisi will be the inaugural writer in the Eichner Women Writers series at Notre Dame of Maryland University, hosted by the S. Maura Eichner Endowed Professorship of English.
Dr. Nafisi will be on campus Tuesday, Apr. 16, 2019 for a day class and an evening reception and reading. The reading will take place at 7 p.m. in LeClerc.
Dr. Nafisi is best known for her book Reading Lolita in Tehran (Random House, 2008). More details will be announced as they become available.
---

ELI Celebrates Its 35th Anniversary!
ELI proudly celebrated its 35 years at NDMU on November 14! This anniversary celebration was held in conjunction with the annual Culture Day celebration. President Emerita Sr. Kathleen Feeley and current President Marylou Yam were guest speakers, as well as three current and past ELI students. Following the speeches, students from across campus enthusiastically represented 25 cultures with decorative tables, ethnic dishes, music, games and dancing. More than 200 guests turned out for the festivities. To see more pictures check out NDMU's Flickr page.
If you have an international friend, family member or colleague who would like to improve their English skills, please refer them to the ELI. The program is accepting applications for the spring semester and is looking for new members to join its global learning community. ELI's Spring Orientation for new students is scheduled for Jan.14 & 15, 2019, with classes beginning on Jan. 22. Interested students can sign up online.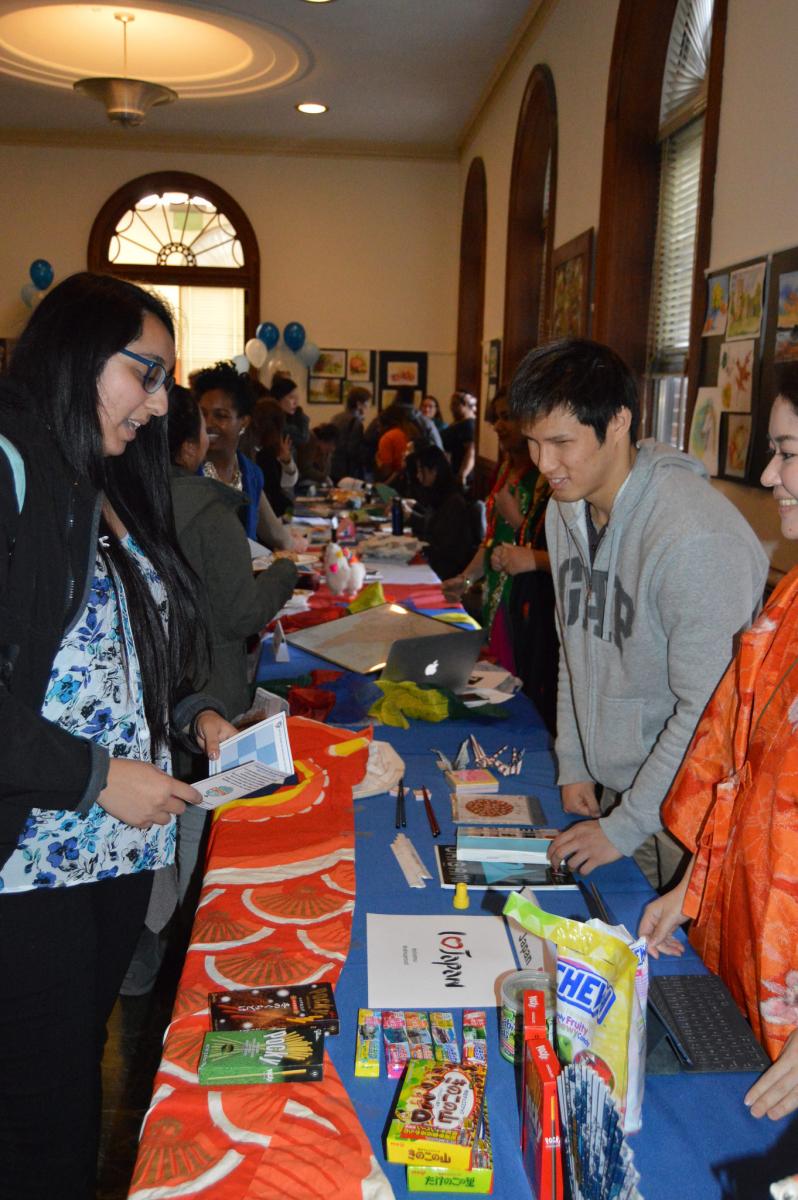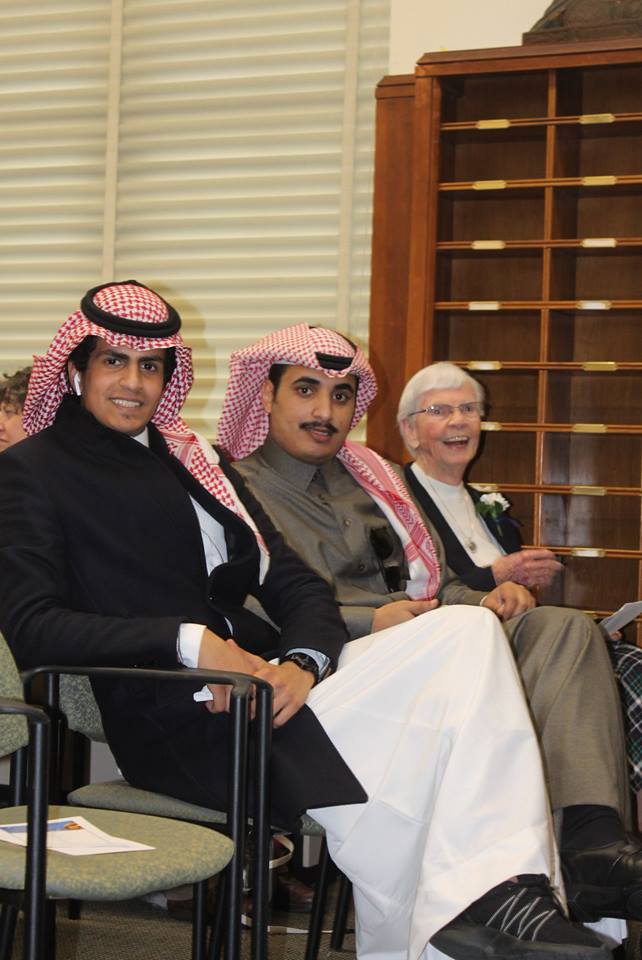 ---
Notre Dame in the News
Notre Dame has seen some big recognition in the press lately. The art therapy program was recently featured in Baltimore Magazine. The article discussed both the undergraduate and graduate level program and gave insight from both a student and professor, as well as Cathy Goucher, the program's director.
In addition, two senior nursing students, Lauren Munchel and Brenda Diazdelvalle were recently featured and interviewed on WBAL-TV for a piece on social media and selfie awareness. The two discussed their takes on taking the perfect selfie and what apps they use to capture the look, to what it's like living in a digital age. To see their full interview check out WBAL's website.
---
The Gators Dig in for the NCAA Tournament
Pass, set, swing, game! What dives, cheers, and went to the NCAA Tournament? It's your Gator Volleyball team! On Nov. 10, Gator Volleyball travelled to Pennsylvania to face the Juniata Eagles in the first round of the NCAA Division III Volleyball Tournament.
It was a big night for the Gators, as it was a first time the volleyball team made it to the NCAA Tournament since joining the Colonial States Athletic Conference. After a tough fight, the Gators fell in straight sets to the number one Eastern Region seed.
With 12 returning players, the Gators hope to return for another fight next fall.
For more information, head to the NDMU Gator athletics.
---
Fun Time at Gator Games!
We've got spirit, how about you? On Nov. 27, NDMU Athletics worked with the BUS-303 Marketing class to bring the Gator community the first-ever Gator Games!
The pep rally style event kicked off with competitive games between each class and faculty all fighting to earn the title of the of "Most Spirited." The Class of 2022 came out on top this time but the other classes will be back next year to compete for the winning title.
The games finished with the moment everyone was waiting for… a pie to a professor's face! After a vote by the attendees, Dr. Jocelyn McKeon came in second and both Dr. Deborah Calhoun and Dr. Ken Sossa tied for first place to see pies fly in their face. To see more pictures and video check out NDMU's Instagram page.
---
The Job Search is on for Our Students!
Print out your resume, choose your best outfit, and practice your handshake because NDMU brings the jobs to you! Last month Notre Dame's Career Center gave students the opportunity to meet future employers at the Business and STEM Internship and Career Fair.
The event was well attended by students and a variety of employers such as the FBI, the National Institute of Health, Merrill Lynch and more. Students were able to turn in their resumes and talk about future career or internship opportunities.
If students seek further help in finding internship opportunities and job placement, make your way to the Career Center to find out more.
---
Giving Back to #StopSuicide
The Omega Phi Alpha National Service Sorority here at NDMU recently participated in the American Foundation for Suicide Prevention Out of the Darkness walk. NDMU students raised more than $550 dollars for the cause over the course of a week. Congrats to all those who took part!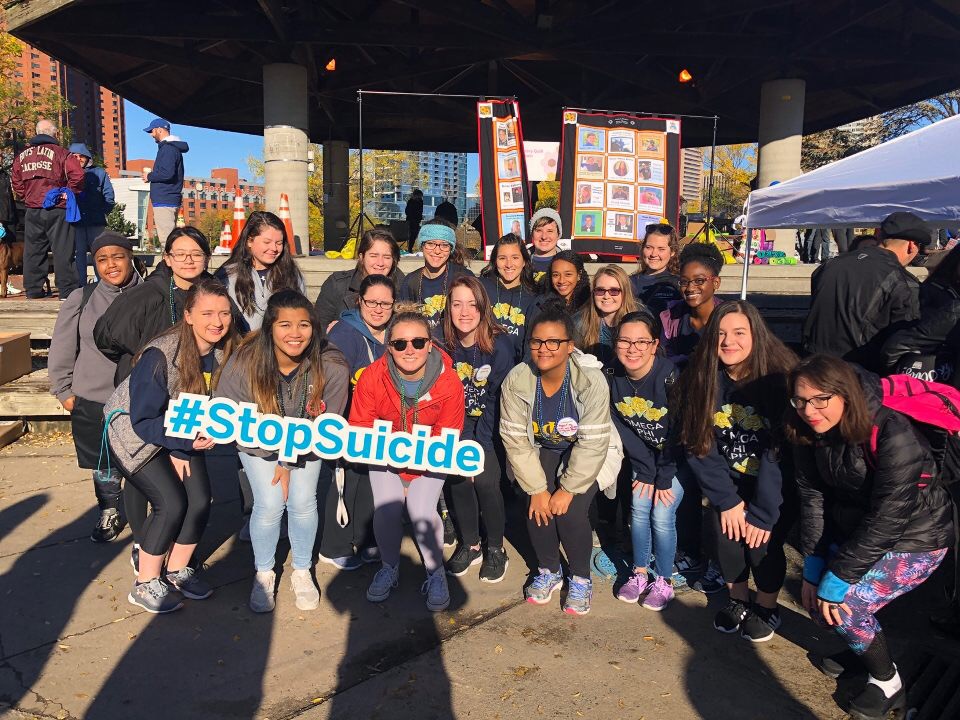 ---
NDMU Presents: A Pilgrimage to the Holy Land
This Christmas season, give the gift of a truly unforgettable experience: a pilgrimage to the Holy Land with your NDMU family. The Office of Alumnae and Alumni Relations is organizing NDMU's very first adventure trip June 12-23, 2019.
The experience will give you an opportunity to deepen your faith and explore ancient history. For more information check out our website. Registration is open now through our travel partner, Select International Tours.
---
Dining Services News
SAGE Dining Removes Romaine Lettuce Amid Safety Concerns
Due to the nationwide recall of romaine lettuce, SAGE Dining Services wants you to know your safety and health is its priority. Upon receiving an alert from the Center for Disease Control (CDC) regarding an E.Coli outbreak, SAGE immediately pulled all romaine lettuce from their menus until further notice. To continue promoting healthy eating SAGE has been offering romaine lettuce alternatives such as iceberg, spinach and arugula. Recently, the CDC lifted some restrictions, however, NDMU is still following the recall and not serving romaine lettuce.
---
Sports
Catch Up With Gator Basketball
Notre Dame basketball, lead by head coach Tom Gizzi opened its home schedule this month, hosting Colonial States Athletic Conference opponent, Cedar Crest College. The Gators will host three more home games in December before returning in January.
On December 8, Notre Dame will welcome Immaculata University at 1:00 p.m. In their final home game of 2018, the Gators face Wesley College at 7:00 p.m. in MBK Sports Complex.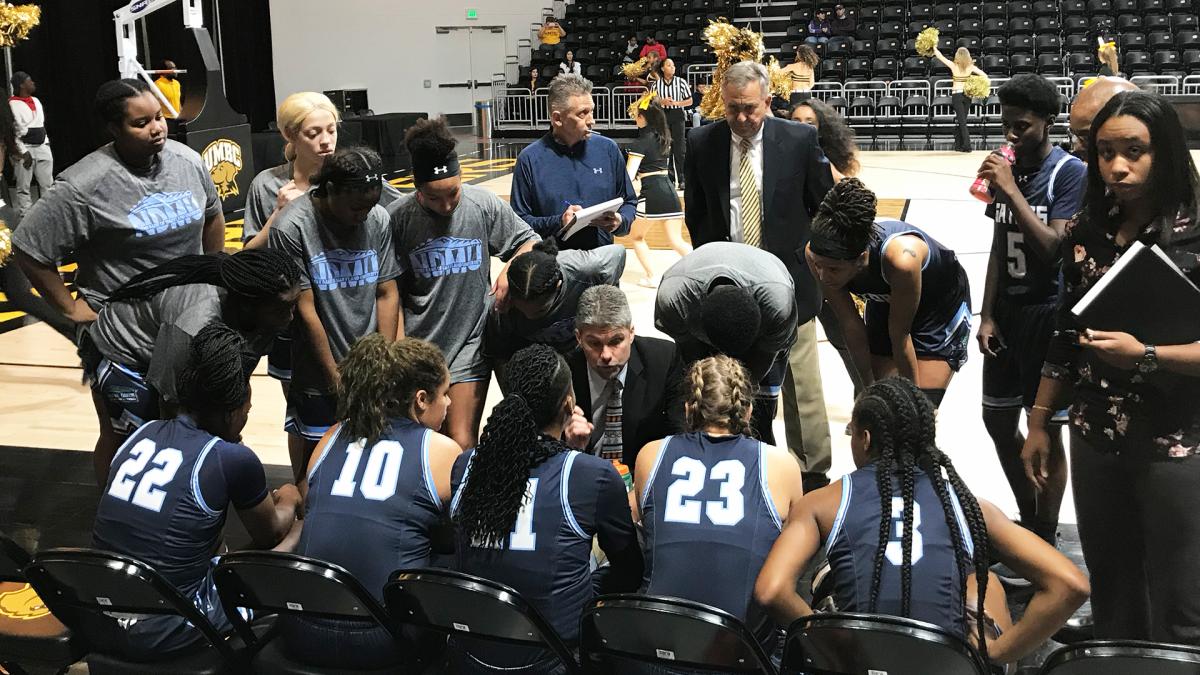 ---
Library News
Avoid Library Fines This Holiday Season! Return or Renew Items by December 14.
By December 14, please return or renew all Library materials that will be due before you return from break. To renew materials please contact the Library Help Desk at 410-617-6801. Log into your Library account to see when items are due (click on Notre Dame of Maryland University from the list of schools).
Special December and January Library Hours
24-Hour Fall Semester Exam Hours (Dec. 9 – Dec. 20)
Sunday, Dec. 9 (open @ noon) - Saturday, Dec. 15 (close @ 10:00 p.m.): Open Continuously
Sunday, Dec. 16 (open @ 10 a.m.) - Thursday, Dec. 20 (close @ 5 p.m.) : Open Continuously
Winter Break (Dec. 21 – Jan.1)
Library Closed
January Term (Jan. 2 – Jan. 13)
Monday – Thursday: 8 a.m. – 8 p.m.
Friday: 8 a.m. – 6 p.m.
Saturday: 9 a.m. – 5 p.m.
Sunday: Noon – 8 p.m.
Regular spring semester hours resume on January 14.
---
News by School
School of Arts, Sciences, and Business
Faculty Accomplishments
Dr. Jeana DelRosso, Department of English, gave a reading from her latest book, Unruly Catholic Nuns: Sisters' Stories (SUNY Press, 2017) at The Ivy Book Shop in Baltimore in October. Other readers included her two co-editors as well as four contributors, including Dr. Patricia Dwyer (School of Education).
School of Education
Student Accomplishments
Congratulations to graduate student Mary Beth Capka. She recently received the annual BGE Bright Ideas Teacher's Grant. The award is given to teachers to support an innovative STEM or technology project.
Capka, a second grade teacher at Hillcrest Elementary School in Catonsville, Baltimore County, will use the funding to purchase a weather station for the school's outdoor classroom. This will give young students the opportunity practice monitoring the weather and provide daily weather reports.
At the request of Deborah Phelps, Executive Director to the Education Foundation of Baltimore County Public Schools and former NDMU Board of Trustee, Capka will present her project at the BCPS State of the Schools in Spring 2019.
---
Faculty Accomplishments
Congratulations to Dr. Christa De Kleine as the final version of her article An Analysis of Grammatical Patterns in Generation 1.5, L1 and L2 Students' Writings: A Replication Study has now been published in the "Journal of Second Language Writing," and is also available online.
In addition, Dr. De Kleine, in collaboration with Dr. Rachele Lawton, had a chapter titled "Linguistically Diverse Students" recently published in the Handbook of College Reading and Study Strategy Research, edited by Rona F. Flippo & Thomas W. Bean (Routledge).
---
The Maryland TESOL Conference was recently held at NDMU and faculty members Dr. Christa De Kleine and Patty Silver represented the University, as well as numerous current and former students. Dr. De Kleine presented Generation 1.5 Students at the College Level: The Role of Age of Arrival; Patty presented Undocumented: a Brief History of Immigration Law. Former NDMU professor Debra Suarez was also in attendance and received the Lifetime Achievement Award.
---
Andrew Moore has been appointed as Vice-President to MCGATE (Maryland Coalition for Gifted and Talented Education).
---
Is a "Critical Mass" of Teacher Candidates Needed in a Professional Development School to Achieve a Quality Student Teaching Experience? is an article written by Stephanie L. Savick, Gary Thrift and Mark Fenster which is being published in the fall 2018 issue of School-University Partnerships.
---
Molly Dunn recently presented "Can You Teach Compassion?: Results from a Teacher Mindfulness Study" at the IOSSBR (International Organization of Social Sciences and Behavioral Research) annual conference in Boca Raton, FL.
---
Dr. Angelo Letizia's pending presentation: Visualizing Justice: Graphic Novels and Citizenship Education was accepted for the 2019 Conference on Higher Education Pedagogy at Virginia Tech in February. In this presentation, he will examine ways graphic novels can be used to promote the skills and dispositions of the social studies. In addition, he will also examine ways faculty can use the graphic novel format in their own research.
---
At this year's National Council of Teachers of English (NCTE) meeting, Kelly Bull enjoyed presenting alongside NDMU colleagues:
Giving Voice to Women in the Past to Empower Women in the Future
Honoring the Refugee and Immigrant Experience: Preparing Students and Teachers to Speak Out for Equity and Justice with Joan Sattler
Teaching for Equity and Justice with Young Adult Literature with doctoral student, Travis Reyes
Speaking Out for Equity and Justice in English Education with Dawn Martin
---
NDMU's STEM Camp received honors from its partnership with JHU Engineering. You can read the entire article online.
---
Dr. Katherine Beauchat will be presenting "The Impact of Explicit Instruction on Head Start Students' Vocabulary Knowledge" at the Massachusetts Reading Association conference to be held in Boston in April 2019.
---
Dr. Juliann Dupuis will be presenting at AERA with a colleague from Westat. The title of their presentation is, Examining the Relations Between Middle School Teacher Preparation, Professional Development, and Student Performance.
In addition, Dr. Dupuis along with Ashley Demski (Baltimore City School teacher and graduate of the NDMU STEM program) had their project accepted through "100K in 10." Their team will be working on ways to support teachers in the Mid-Atlantic region by developing a strategy to foster a thriving community of local teachers and STEM industry—better enabling access to resources. Their partners for this project are: Digital Harbor Foundation, Johns Hopkins School of Engineering, and the Teaching Channel.
---
School of Nursing
Faculty Accomplishments
Dr. Sabita Persaud presented at the 2018 Sigma Leadership Conference in Indianapolis, IN. The presentation titled Project PLAN: Preparing Leaders to Advance Nursing, showcased School of Nursing activities supported by a 2018 Nurse Support Program II Grant from the Maryland Higher Education Commission.
---
Drs. Marleen Thornton and Sabita Persaud recently published "Preparing Today's Nurses: Social Determinants of Health and Nursing Education" in The Online Journal of Issues in Nursing.
---
Student Accomplishments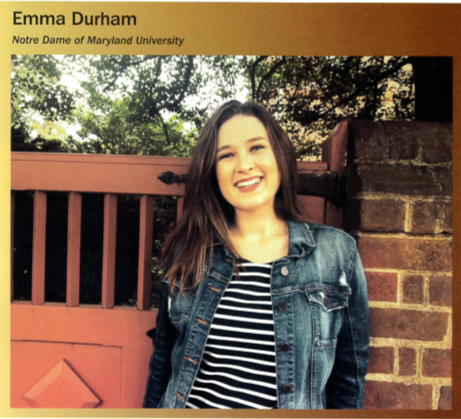 Senior nursing student, Emma Durham of Millville, NJ was the recipient of the Daily Record 2018 Leading Woman scholarship award. The Daily Record has partnered with Keswick Multi-Care Center to create a Leading Woman scholarship to honor a student who is majoring in/pursuing a degree in public health, nursing, geriatrics or a health-related major/degree. On behalf of the University, the School of Nursing nominated Emma for demonstrating academic success as a student, consistently participating in University and School of Nursing activities and exhibiting a commitment to inspiring change in nursing, specifically gerontological nursing.
You can read more about Emma in The Daily Record's program. The Leading Women of Maryland's Future awards were created in 2010 to celebrate successful women who are 40 years of age or younger. The Leading Woman scholarship in partnership with Keswick, was established two years ago.
---
Three students in the Master of Science in Nursing Program were supported by the School of Nursing to present their work as posters at the 2018 Sigma Leadership Conference in Indianapolis, IN.
Michelle Atherton presented Pursuing Pathway to Excellence and Approaches to Nursing Education
Natasha Maith presented Competence in Caring for Patients with Opioid Addiction: A Phenomenological Approach
Carrie Ann Roberts presented compassion Fatigue in the Presence of Employee Engagement
---
On November 18th, 2018, the Mu Eta Chapter of Sigma inducted 36 new members. Sigma is the international honor society of nursing and the Mu Eta Chapter is located here at NDMU. Inductees included 18 BSN students, 16 MSN students and 1 Nurse Leader.
School of Pharmacy
School Award
Baltimore County Department of Aging presented the Legacy Partner Award to the School of Pharmacy for its sustained commitment and service to geriatric clients in Baltimore County. The award was presented at its annual luncheon on May 17, 2018.
Faculty Publications
Dr. Jennifer Bailey, Assistant Professor of Clinical & Administrative Sciencespublished "New Initiatives for HIV Taking Off This Year"
Faculty awards
Dr. Lindsey Crist, Assistant Professor of Clinical & Administrative Sciences, was selected as the 2017-2018 Teacher of the Year after nomination by students and peer review. She will be honored at the Teacher of the Year luncheon along with winners from all schools of pharmacy in the U.S. at the American Association of Colleges of Pharmacy in July 2018.
Dr. Nicole Culhane, Assistant Dean for Experiential Education & Professor of Clinical & Administrative Sciences won the Excellence in Experiential Education Award from the Experiential Education Section of the American Association of Colleges of Pharmacy in July 2018.
Dr. Ashley Moody, Assistant Professor of Clinical & Administrative Sciences was presented with the American Pharmacist Association Immunization Certificate of Recognition by the Immunizing Pharmacists SIG at its annual conference in March 2018.
Dr. Ray Weber, Associate Professor of Clinical & Administrative Sciences was presented with the Mentor of the Year Award by the Class of 2018 at the graduation banquet on May 18, 2018.
Faculty Activities
Dr. Anne Lin, Dean & Professor of Clinical & Administrative Sciences was installed as a Trustee for the 2018-2019 Board of Directors of the Maryland Pharmacists Association on July 1, 2018. This is Dr. Lin's second year of service on the Board.
Student Accomplishments
The following Class 2018 students matched to PGY-1 residencies:
Cesar Bejaraono-Garica '18 – Meritus Medical Center – Hagerstown, MD
Alyssia Dyett '18 – University of North Carolina Chapel Hill/Walgreens (community pharmacy residency), Chapel Hill, NC
Nahed Elias '18 – Virginia Commonwealth University Medical Center (community pharmacy residency)– Richmond, VA
Kyle Gundlach '18 – Desert Regional Medical Center – Palm Springs, CA
Quynh-Nhu Ha '18 – Sinai Hospital – Baltimore, MD
Shannon Haar '18 – Virtua Health – Mt. Holly, NJ
Miaka Huynh '18 – Indian Health Service Residency, Public Health Service
David Lewis '18 – Shady Grove Medical Center -Adventist Health Care – Rockville, MD
Mayrim Millan- Barea '18 – Johns Hopkins Hospital – Baltimore, MD (combined PGY1/PGY-2 & MS in Health System Administration)
Binh Nguyen '18 – Mercy Medical Center – Mason City, IA
Raza Zeinab '18 – Howard County General Hospital – Columbia, MD
Tiffany Sherrod Harris '18 – Wake Forest Baptist Health (community pharmacy residency) – Winston-Salem, NC
The following Class 2017 Alumni matched to the following PGY-2 residencies after completing a PGY-1 residency:
Vala Behbahani '17 – Mount Sinai Hospital - New York, NY (Solid Organ Transplant)
Rachel Dewberry '17 – MedStar Health – Columbia, MD (Health System Pharmacy Administration)
Shayne Wharton '17 - Pittsburgh Veterans Administration Medical Center – Pittsburgh, PA (psychiatry)
Upcoming Events
December 1-18
Refugee Drive sponsored by the African-Caribbean Student Association
All day, donations may be placed in marked boxes across campus
---
December 6
Intern with the Orioles
11:30 a.m. - 1 p.m., Gator Alley
Seeking an internship in business management and marketing? The Baltimore Orioles organization will be on campus to meet students in Gator Alley, come and meet with Alejandro Florez, Orioles recruiter.
HOSA: S'more Social
12:15 p.m. – 12:30 p.m., Gator Alley
Proclaim Takeover Week presented by the Bethel Campus Fellowship
2 p.m. – 3 p.m., Gator Alley
CAB Presents Gator Live!
7 p.m. – 9 p.m., Gator Alley
A Not So Silent Night sponsored by the Class of 2021
7 p.m. – 10 p.m., Meletia Common Room
---
December 7
Trailblazers: Holiday Study Break
3 p.m. – 4 p.m., Feeley International Center (FIC) 003
Take a break from finals with other Trailblazers.
Holiday Celebration Events
4 p.m. – 8 p.m., Gibbons Hall First Floor Lobby/Marikle Chapel/Doyle Dining Hall
Rae of Sunshine presents "Winter Wonderland"
6 p.m. – 8 p.m., Doyle Formal
Mask & Tea with The Makeup Club
8 p.m. – 9:40 p.m., Meletia 2nd Floor Lounge
---
December 8
Pre-Finals Movie Night presented by NDMU InterVarsity Christian Fellowship
7 p.m. – 10 p.m., Gibbons Hall 215
---
December 10
Make a Winter Kit with UN Club!
12 p.m. – 2 p.m., Gator Alley
Women for Justice Movie Night
6 p.m. – 8:30 p.m., Knott Auditorium
---
December 11
Study Day
No classes
Anchorage Home for the Holidays Celebration
6 p.m. – 8 p.m., Gator Alley
Late Night Pancake Breakfast
8 p.m. - 10 p.m., Doyle Dining Hall
---
December 12
Finals Begin
---
December 13
WBAL-TV 11 will be airing its Season To Celebrate on December 13, at 8 p.m. Among the performers, NDMU's Shannon Raum, a member of The Susquehanna Symphony Orchestra. The orchestra will be one of the local groups performing! This is the second year WBAL is airing a holiday special to highlight local groups.
---
December 19
Faculty & Staff Christmas Celebration
Please RSVP by Wednesday, Dec. 7
A Child's Place Caroling
10:45 a.m., Marikle Chapel
Mass
11 a.m., Marikle Chapel
Faculty & Staff Christmas Luncheon
12-1:30 p.m., Doyle Dining Hall
---
December 22 - January 1
Campus Closed
---
January 2, 2019
Campus Reopens