The Bulletin is published every month for faculty, staff, and students.
---
January 2019 Contents
NDMU News
Campus Holiday Celebrations
From feasts to tree trimmings, to prayer services and everything in between, the annual holiday celebrations for students, faculty and staff were a huge success.
Students began their festivities with the annual tree-trimming, followed by a service in Marikle Chapel, and a family-style steak dinner served by faculty and staff. After dinner the campus came together for the traditional singing of the "12 Days of Christmas." The night ended with everyone heading outside to take part in the Gibbons Tower lighting.
Just two weeks later, faculty and staff came together for a holiday luncheon. It was about fun, food, friends and of course the staff's own rendition of "12 Days of Christmas." Various departments also sang/acted out some holiday classics, including the School of Education's version of "Rudolph the Red Nosed Reindeer.
To see pictures from both events go to Notre Dame's Flickr page and to watch the video from the student celebration, including the annual Tower Lighting check out our Facebook page.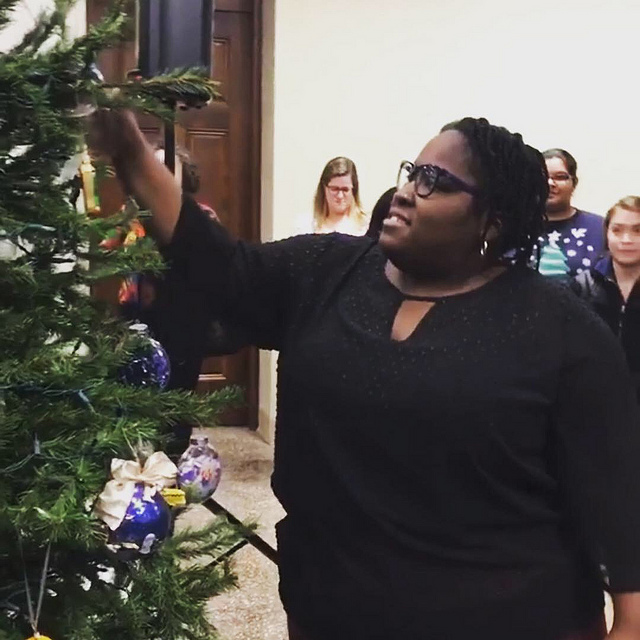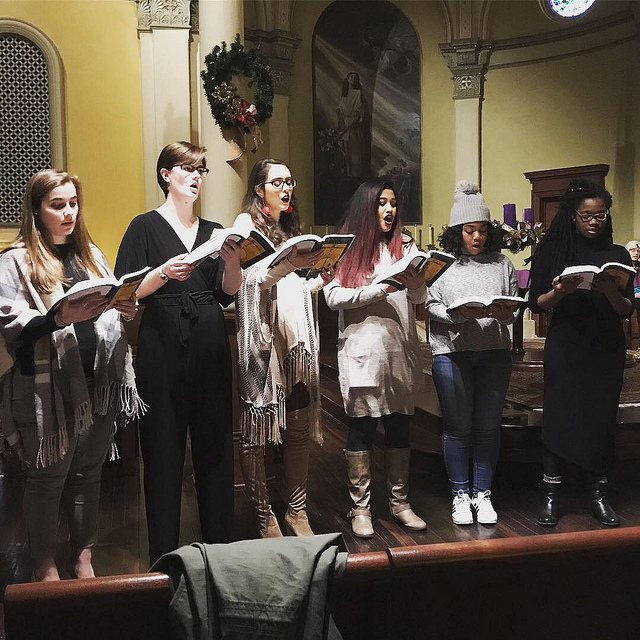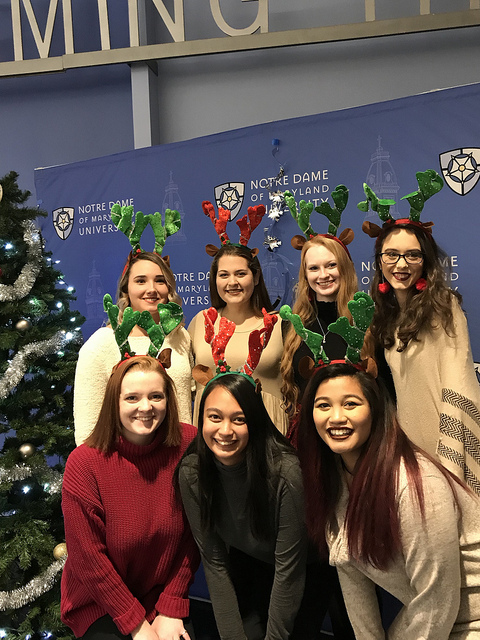 ---
NDMU Rallies to Help the SSND Haiti Project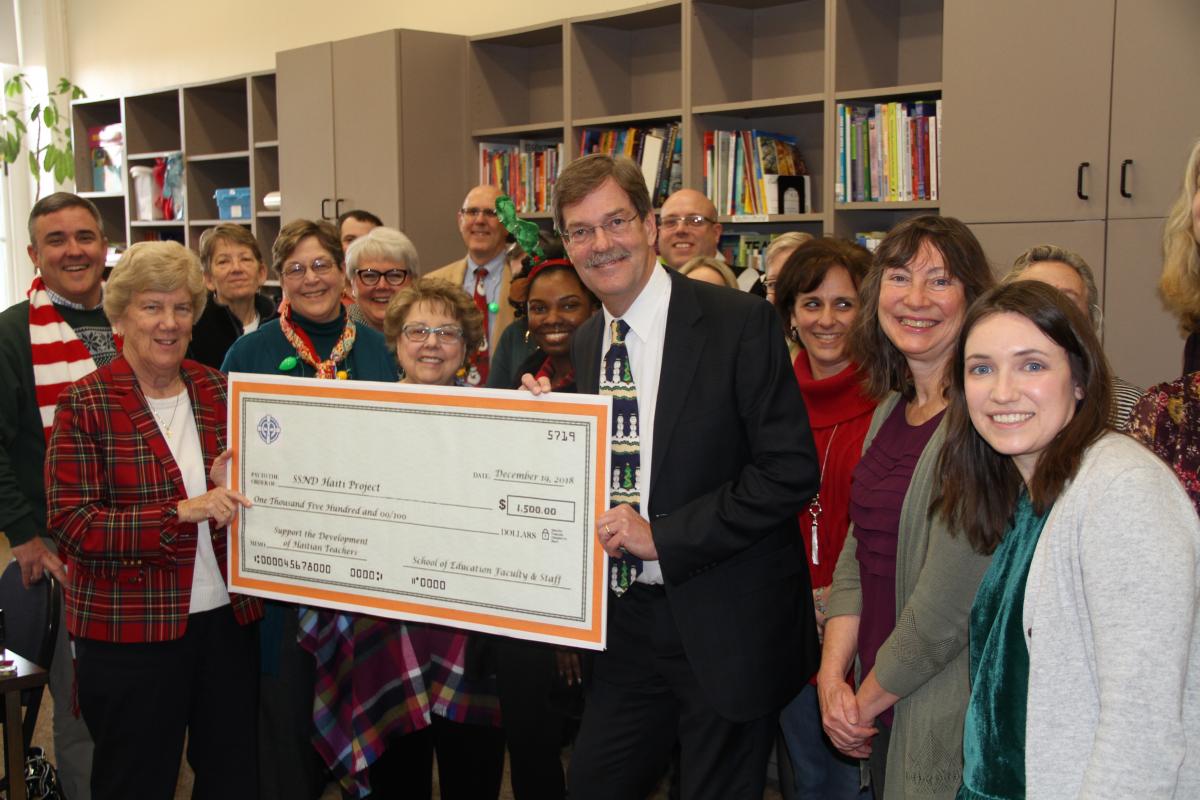 For two years, Sr. Sharon Slear, Provost at Notre Dame of Maryland University, and former Dean of the School of Education, has led a team of faculty and staff during the summer to a very small, extremely impoverished island community called La Gonâve. This island lies in the bay of Port-au-Prince, Haiti. The area, hit hard by the 2010 hurricane, is very barren and with little water available due to water exploitation and weather, agricultural development suffers. While many nations have come to the rescue in terms of medical care, new wells for water, and other economic development, there remains little to no opportunity for an adequate education.
Sr. Sharon has worked to bring teaching supplies and support to help the teachers of La Gonâve (some of whom only have a 9th grade education themselves) be better prepared to help students improve their skills. Over the past two summers, Sr. Sharon has helped these teachers identify the signs of children with varied needs or delays in social and emotional development as well as focusing on special education topics - including the recognition of and response to anxiety, ADHD, autism and related issues.
This summer, Sr. Sharon will return to this island; however, this time, her mission will be to transport these teachers to Port-au-Prince where she will train them to improve their instructional practice in mathematics and the use of manipulatives. The cost to sponsor each teacher is approximately $2000.
Just prior to the annual NDMU Faculty and Staff Christmas Luncheon, Dr. Gary Thrift, the new Dean of the School of Education, was pleased to present to Sr. Sharon a check in the amount of $1500 to help sponsor one of these teachers. These funds were raised entirely by the School of Education faculty and staff. It is our sincere hope that others in the NDMU community will hear this call for help and will pledge additional support to Sr. Sharon and her team as they endeavor to train, educate, inspire, and excite these novice Haitian teachers.
If you are interested in donating to this cause, please forward your SSND Haiti Project contribution to Sr. Sharon Slear at 4701 N. Charles Street, Baltimore MD 21210. And, if you have any questions email Sr. Sharon.
---
Notre Dame Day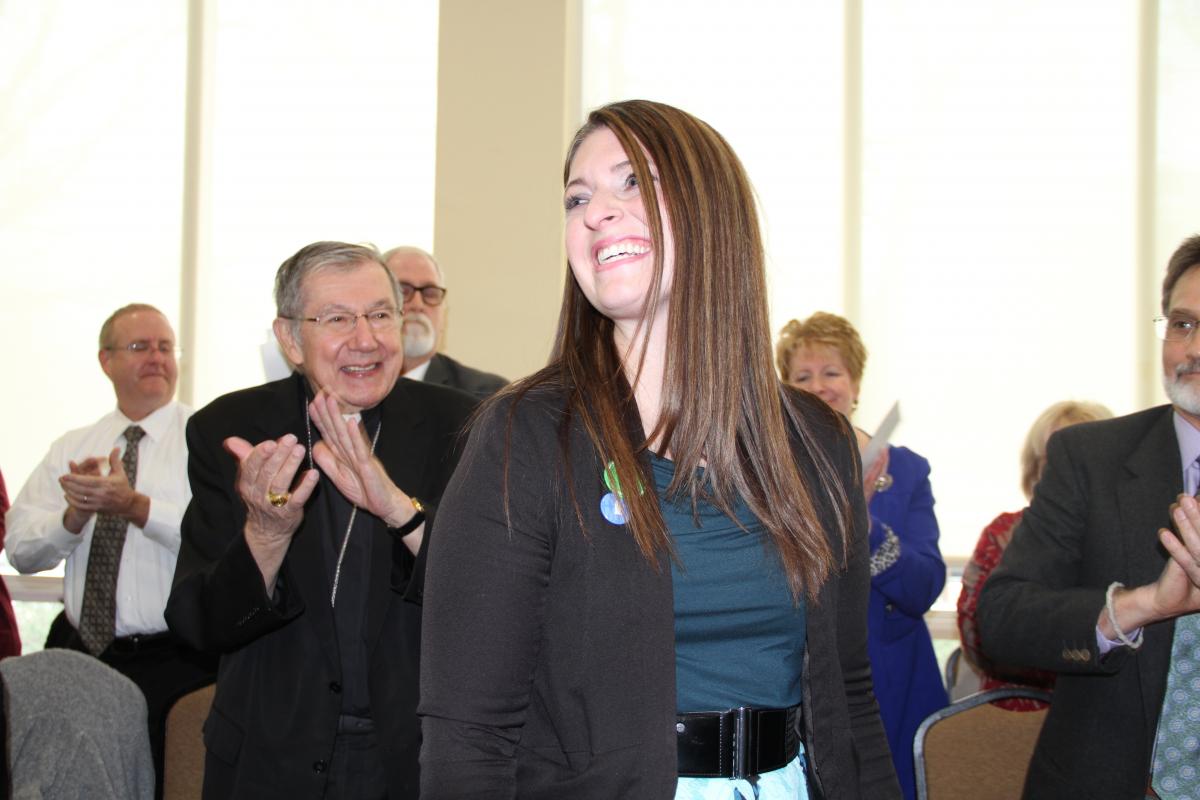 The campus will come together on February 12 to celebrate Notre Dame Day! The day recognizes the accomplishments of our students and our rich history.
Among the awards that will be presented: the Distinguished Staff Award, the SSND Mission and Ministry Award, the Service-Learning Faculty Award and the Mary Ann O'Donnell Team Academic Achievement Award – 2017-2018. In addition several departmental awards will be handed out.
Originally on March 25, Notre Dame Day was created to celebrate the two cores of our school: Mary, and our state of Maryland.
---
100 Nights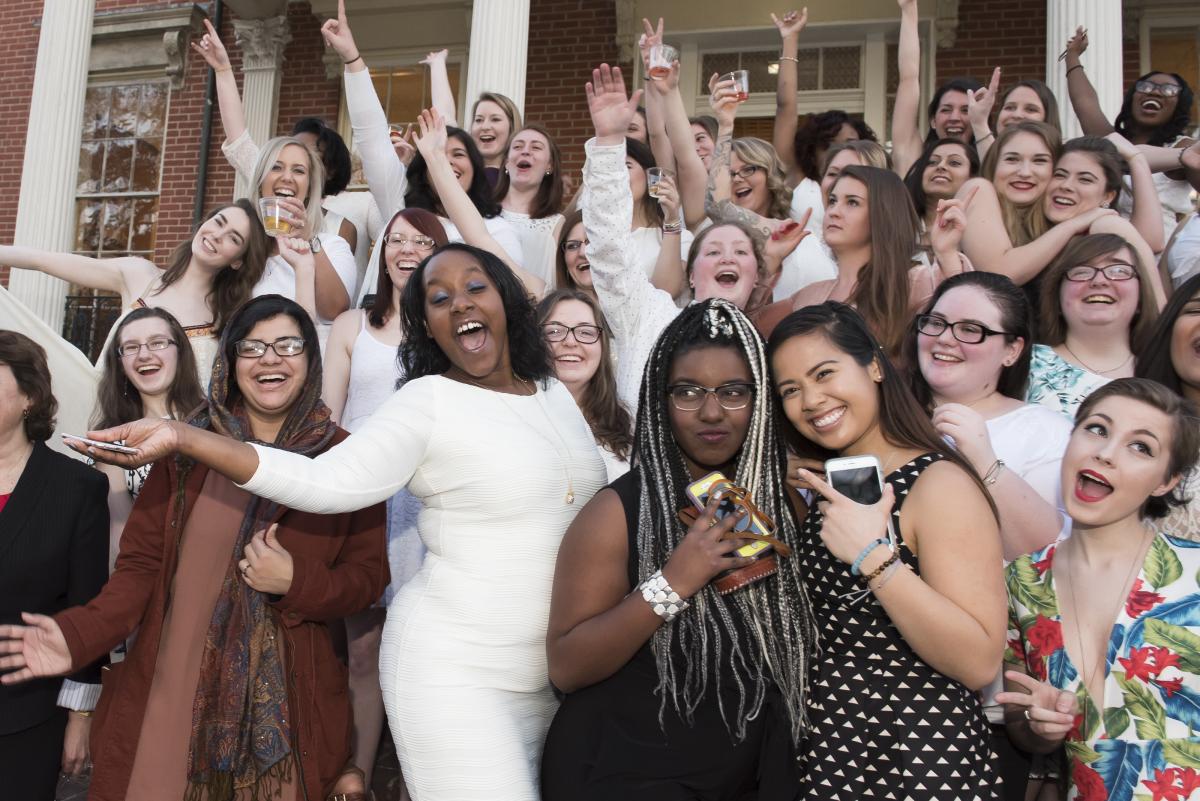 Every year, the graduating Women's College students gather for a reception marking the 100 nights until Commencement. This year's event will be held on February 1, in Fourier Hall.
The Class of 2019 will mark the occasion with a cocktail hour, followed by dinner and a night out in Baltimore.
The tradition of 100 nights was established in the early 1980s, and has become a time for graduating seniors to reflect on their experiences as undergraduates at Notre Dame.​
---
Anne Lin Elected President of American Association of Colleges of Pharmacy
Congratulations are in order for School of Pharmacy Dean, Anne Lin. In addition to heading up one of only three Maryland pharmaceutical schools, Lin is currently serving as the Immediate Past Chair of the Council of Deans for the Board of Directors of the American Association of Colleges of Pharmacy (AACP). Just recently she was selected by her peers as President-Elect of AACP.
This July, Lin will officially assume the role of President-elect and in July 2020 she will take over as President following the annual meeting. The term runs for one year when she transitions to the role of Immediate Past President.
---
Service Project with Notre Dame of Maryland University
Twenty-nine third grade students participated in an exciting 3D printer project sponsored by Notre Dame of Maryland University (NDMU) and Digital Harbor Foundation on December 4, 2018. Fifteen first-year NDMU students engaged in this project as part of NDMU's "Perspectives on Education and Culture" course, which requires each student to engage in a minimum of 10 community service hours. The Govans students were filled with wonder and excitement as they watched the printer create small animals that they had designed themselves. Thank you to Dr. Deborah Calhoun, Valerie Tracey, Sara Kelly, Rebecca Wheeler, Amanda Porter, and Sandi McFadden for coordinating this outstanding opportunity.
---
Studying Abroad in Paris
The winter break has just a few weeks left.. From going home and spending time with family and friends, to studying abroad, to taking classes during Winterim, the holidays have been filled with a lot of activities for many of our students.
Sophomore Marketing & Communications major, Michaila Sheedy recently returned from a study abroad in Paris. She was in the "City of Lights" as part of a Medieval Latin scriptures program by the Paideia Institute.
In addition to her studies, Michaila got some hands-on learning while visiting Notre-Dame Cathedral, The Basilica of the Sacred Heart of Paris, commonly known as Sacré-Cœur, the Luxembourg Gardens and Saint-Denis. To see more on her travels check out her My View From NDMU on Instagram.
---
Commencement Liturgy Committee
SENIORS and GRADUATES, it may seem like graduation is far away, but the time is going to come quickly. The Commencement Liturgy is May 18th at 4 p.m. in Marikle Chapel. This mass is open to all and is planned by graduates. In the past, the committee has been made up of students from each of the Schools. The hope is that we could have two from each school. If we start early, you will have very little to do as the time gets closer. For more information contact Sister Mary.
School of Arts, Sciences, and Business
Faculty Accomplishments
Dr. Jeana DelRosso, Department of English, gave a reading from her latest book, Unruly Catholic Nuns: Sisters' Stories (SUNY Press, 2017) at The Ivy Book Shop in Baltimore in October. Other readers included her two co-editors as well as four contributors, including Dr. Patricia Dwyer (School of Education).
School of Education
Faculty Accomplishments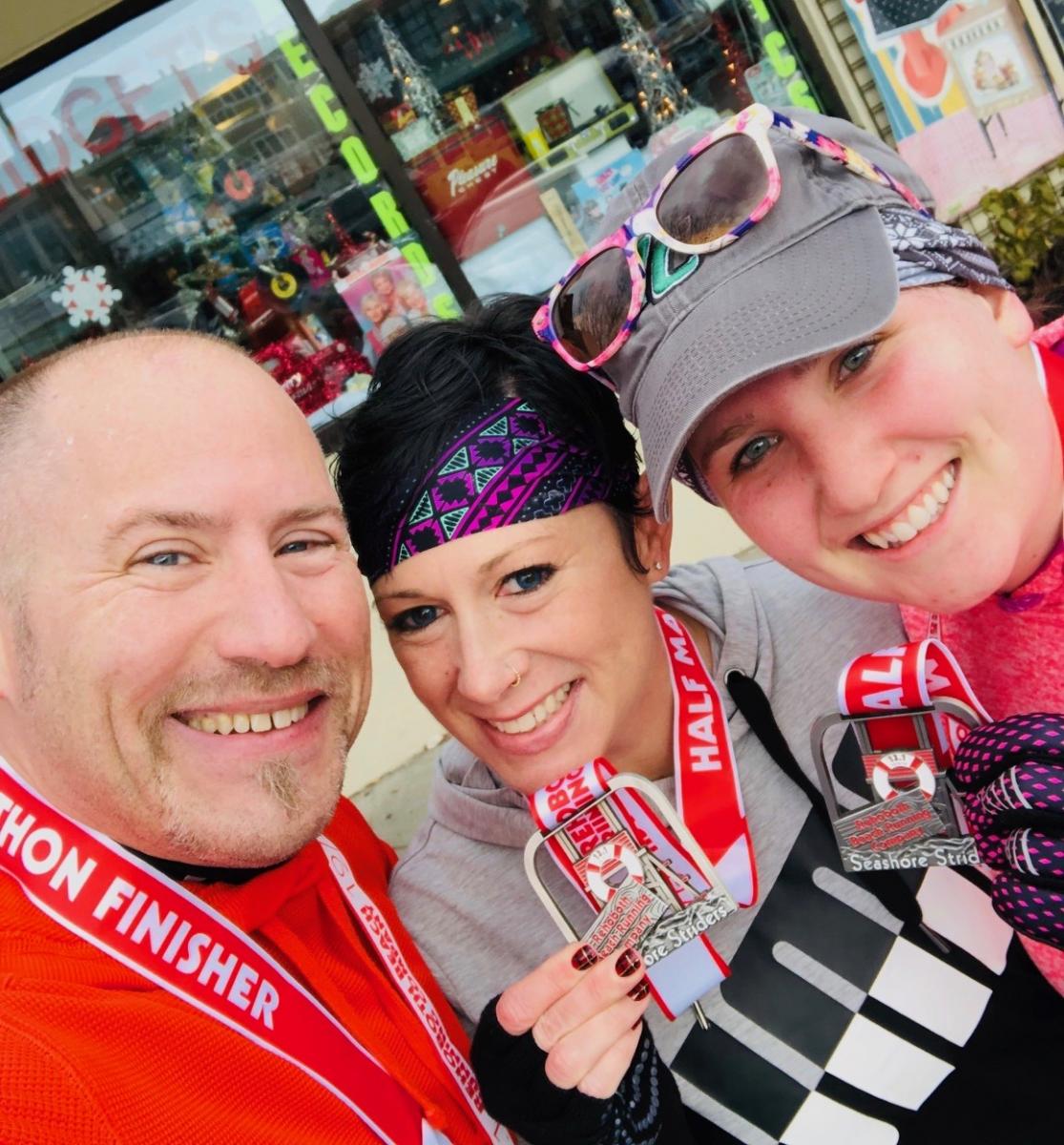 Dr. Katherine Beauchat, her husband and friend just completed a half marathon in Rehoboth Beach.
Ryan Schaaf is the lead presenter for three sessions at the Future of Education Technology Conference later this month. These are: Game On: Using Digital Games to Transform Learning and Assessment; Reinventing Learning for the Always-On Generation: Strategies That Work; and A Brief History of the Future of Education. In addition, Ryan will hold a "Meet the Author" session to promote his latest book, "A Brief History of the Future of Education." Those interested in purchasing an early copy of his book can do so online.
Dr. Juliann Dupuis has been selected to be a new MAEOE Advisory Council member for the coming term. The Maryland Association for Environmental and Outdoor Education (MAEOE) encourages, engages and empowers our community to understand, responsibly use and promote the natural world.
Dr. Angelo Letizia's paper, titled Citizen Joker? An Exploration of how the Batman Mythos can help Students Understand Citizenship, was accepted for inclusion at the Batman in Pop-Culture Conference to be held in April 2019 at Bowling Green State University. As part of the conference, Dr. Letizia will show how students can create their own versions of Batman stories to articulate the skills and dispositions of citizenship. (Yes you read this right...it is an academic conference about Batman!). "POW! ZAM! Holy Hole in a Donut Batman!"
---
Student accomplishments
Ph.D. Candidate Katie Filling will be presented with the 2018 Lorne Woollat Distinguished paper award at the 2019 AERA Conference in Toronto.
Katie is one of Dr. Thrift's candidates and is completing her research on how Title I schools in Baltimore County utilize their funds. Her Woollatt award is for Ensuring Equity: Local School System's Policies and Practices Related to Supporting Homeless Students and Families. According to the Awards Committee Katie's paper earned the highest overall rating of all eligible submissions. The committee said, "[her] work examining practices that impact vulnerable populations of students, particularly homeless students, is commendable. Given the growth in student homelessness, it is important for the educational research community and the public to understand the context in which homeless students are studying. Identifying and addressing the needs of homeless students in the Baltimore County Public Schools can help to serve as a model for other large school districts that are seeing similar increases in the number of homeless students."
School of Nursing
Faculty Accomplishments
Dr. Sabita Persaud presented at the 2018 Sigma Leadership Conference in Indianapolis, IN. The presentation titled Project PLAN: Preparing Leaders to Advance Nursing, showcased School of Nursing activities supported by a 2018 Nurse Support Program II Grant from the Maryland Higher Education Commission.
---
Drs. Marleen Thornton and Sabita Persaud recently published "Preparing Today's Nurses: Social Determinants of Health and Nursing Education" in The Online Journal of Issues in Nursing.
---
Student Accomplishments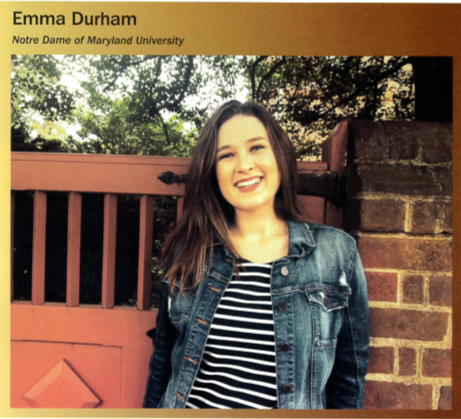 Senior nursing student, Emma Durham of Millville, NJ was the recipient of the Daily Record 2018 Leading Woman scholarship award. The Daily Record has partnered with Keswick Multi-Care Center to create a Leading Woman scholarship to honor a student who is majoring in/pursuing a degree in public health, nursing, geriatrics or a health-related major/degree. On behalf of the University, the School of Nursing nominated Emma for demonstrating academic success as a student, consistently participating in University and School of Nursing activities and exhibiting a commitment to inspiring change in nursing, specifically gerontological nursing.
You can read more about Emma in The Daily Record's program. The Leading Women of Maryland's Future awards were created in 2010 to celebrate successful women who are 40 years of age or younger. The Leading Woman scholarship in partnership with Keswick, was established two years ago.
---
Three students in the Master of Science in Nursing Program were supported by the School of Nursing to present their work as posters at the 2018 Sigma Leadership Conference in Indianapolis, IN.
Michelle Atherton presented Pursuing Pathway to Excellence and Approaches to Nursing Education
Natasha Maith presented Competence in Caring for Patients with Opioid Addiction: A Phenomenological Approach
Carrie Ann Roberts presented compassion Fatigue in the Presence of Employee Engagement
---
On November 18th, 2018, the Mu Eta Chapter of Sigma inducted 36 new members. Sigma is the international honor society of nursing and the Mu Eta Chapter is located here at NDMU. Inductees included 18 BSN students, 16 MSN students and 1 Nurse Leader.
School of Pharmacy
Faculty News
Dr. Jennifer Bailey, Assistant Professor, Clinical & Administrative Sciences - appointed to the Bylaws and Policy Committee, American Association of Colleges of Pharmacy
Dr. Asish Dutta, Associate Professor, Pharmaceutical Sciences – elected Chair-Elect, Section of Pharmaceutics, American Association of Colleges of Pharmacy
Dr. Asish Dutta, Ellison Park '20 – "Development of an Improved Reversed-Phase HPLC Stability Indicating Method and Forced Degradation Studies of Curcuminoids" –poster presentation at the American Association of Pharmaceutical Sciences
Chinyere Onyirimba '20 , Anjali Patel '19 , Zoya Ramzan '19, Dr. Payal Agarwal (Associate Professor, Pharmaceutical Sciences) "Self-Emulsifying Drug Delivery System (SNEDDS): An Attempt to Develop an Incomplete SNEDDS Formulation for Oral Delivery of Exendin-4 for Treatment of Type-2 Diabetes – poster presentation at the American Association of Pharmaceutical Sciences
Dr. Prashant Mandela, Assistant Professor, Pharmaceutical Sciences presented a poster presentation at the KGI Symposium 'Use of Rituximab Biosimilars in the Treatment of Chronic Lymphocytic Leukemia' along with colleagues from Marshall B. Ketchum College of Pharmacy.
Dr. Jonathan Thigpen, appointed Dawson Award Committee, American Association of Colleges of Pharmacy
Student News
The following students presented poster presentations at the American Society of Health System Pharmacists Midyear Clinical Meeting in December 2018.
Olivia Akah '19 "Incidence of antibacterial prescribing for upper respiratory tract infections and bronchitis in a rural outpatient setting"
Cynthia Clark '20 "Characterization of clinical metrics associated with a medication history program at The Johns Hopkins Hospital"
Patricia Dieso '19 "Effects of probiotic supplementation on inflammatory bowel disease: a systematic review"
Danielle DiFalco '19 "Medication use evaluation of prothrombin complex concentration in a small community hospital"
Labasse Doumbia '20 "Evaluation of pharmacy technician workload in an inpatient satellite pharmacy at a large academic medical center"
Aara Hall '19 "Evaluation of delay in the second dose of antibiotics in patients admitted to The Johns Hopkins Hospital from the emergency department"
Samantha Hartig '19 "Incidence of recidivism for opiate overdose in the absence of naloxone discharge prescription in a rural hospital setting"
Tyffani Howard '19 "Identifying potential cost savings with industry sponsored patient assistant programs for patients receiving immunotherapy agents in an outpatient oncology clinic"
Daniel Lee '19 "Patients' acceptance of influence vaccination during influenza season of low vaccine match"
Rachel Marrone '19 "Use of acupuncture in the prevention and treatment of dementia"
Ayesha Nasir '19 "Effects of probiotic supplementation on hyperlipidemia: a systematic review"
My Nguyen '19 "Time to attaining therapeutic vancomycin trough in pharmacist pharmacokinetic service"
Amura Ama Oduro '19 "Liraglutide as an adjuvant therapy to regular U-500 insulin in a morbidly obese patient with type-2 diabetes mellitus"
Richie Onwuchekwa Uba '19 "Assessing risk of medication errors due to non-standardized investigational drug labels in two large academic hospitals"
Anjali Patel '19 "Association between prenatal acetaminophen exposure and attention deficit hyperactivity disorder in children: A systematic review"
Mateo Pelja '20 "To Ignore or Not to Ignore: An Analysis of Drug Utilization Review in an Outpatient Pharmacy Setting"
Zoya Razman '19 "Evaluating the most common initial empiric therapy for skin and soft tissue infections"
Sulaiman Sesay '19 "Cost-avoidance through redistribution of short-dated emergency drug box medications"
Christiana Showunmi '19 "Probiotic effects in incidence reduction in clostridium difficile infection"
Arlene Velez-Bartolomei '19 "Evaluation of the appropriate use of antibiotics in patients with chronic obstructive pulmonary disease (COPD) exacerbations"
Kelly Ward '19 "Incidence of continued tobacco abuse in patients with chronic obstructive pulmonary disease after smoking cessation education"
Upcoming Events
January 22
Spring Semester Begins/Classes Resume​
Basketball v. Rosemont College
MBK Sports Complex, 7 p.m.​
---
January 26
Basketball v. Centenary University (New Jersey)
MBK Sports Complex, 1 p.m.​​
---
January 30 – March 8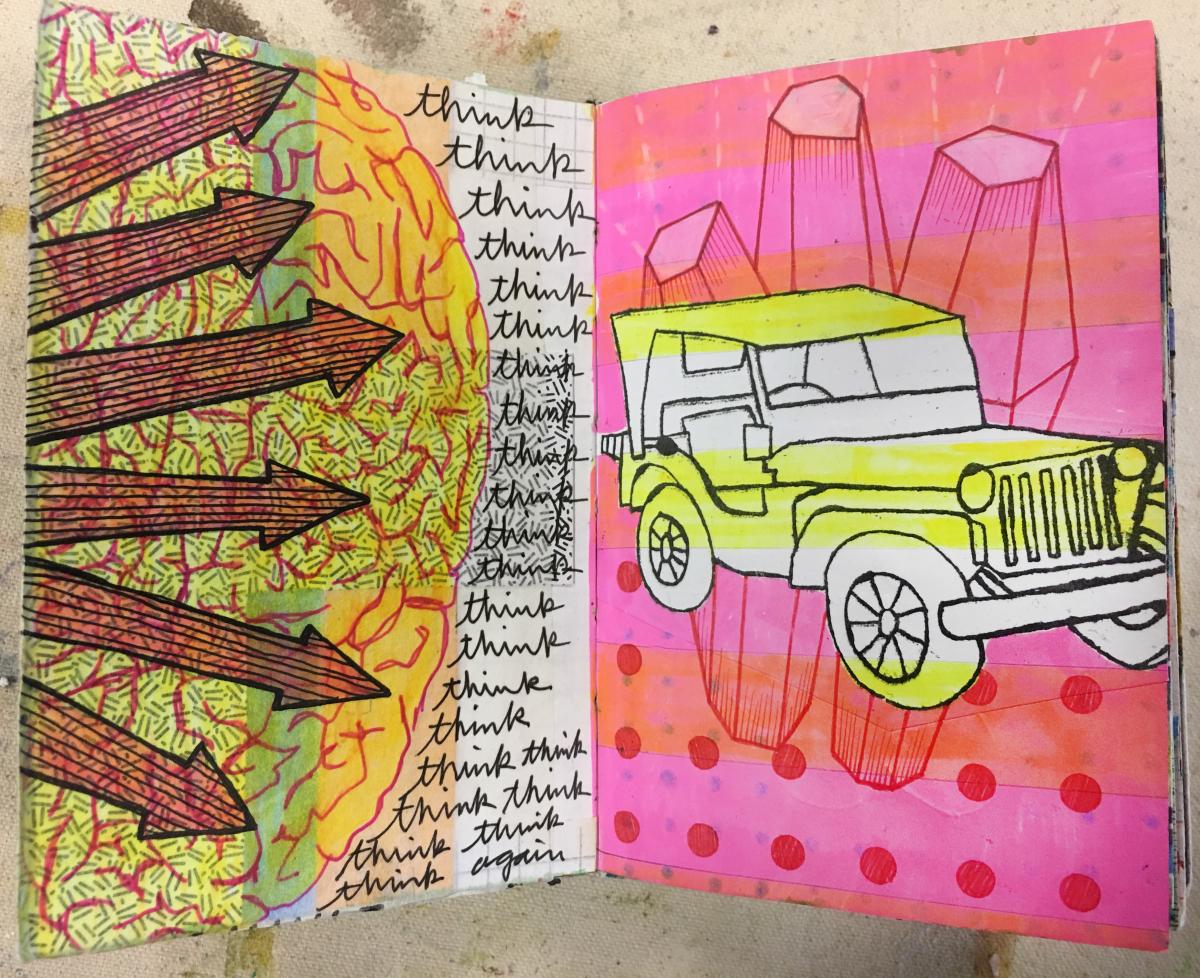 David Modler & Samuel Peck, tet[R]ad: Draw and Play Here Session #10
Gormley Gallery, Fourier Hall 2nd Floor, 8:30 a.m. – 5 p.m.
This installation is designed to be collaborative and will grow and develop as students work with the artists to complete it.
Artists' Reception
Gormley Gallery, February 16, 4-6 p.m.
---
January 30
Basketball v. Keystone College
MBK Sports Complex, 7 p.m.​​
---
February 1
100 Nights
Fourier Hall, 5:30 - 7:30 p.m.
Seniors come together to celebrate 100 nights until graduation​.
Basketball v. Marywood University
MBK Sports Complex, 7 p.m.​
---
February 12
Notre Dame Day​
Doyle Formal, 2 p.m.
---
February 19
Damozel Deadline
NDMU's creative literary magazine is currently acceting poems, stories, essays, plays, original artwork and photography from undergrads, graduate students and alums. Email all submissions as a word or PDF document by February 19. Please include a cover letter with your full name, email address, maor and class year.