The Bulletin is published every month for faculty, staff, and students.
---
June 2018 Contents
NDMU News
Commencement 2018
The Class of 2018 has officially joined the ranks of alumnae/alumni. Commencement was held at Royal Farm Arena on May 20 and Dr. Susan Love, world renowned breast cancer surgeon and author was welcomed as the Commencement Speaker. In addition to Dr. Love, fellow graduate Mayrim Millan (Pharm.D.)offered the Student Response.
The day began as graduates made their way into the area and ended with graduates receiving their degrees. To relive the memories of the ceremony go to the University's Flickr page.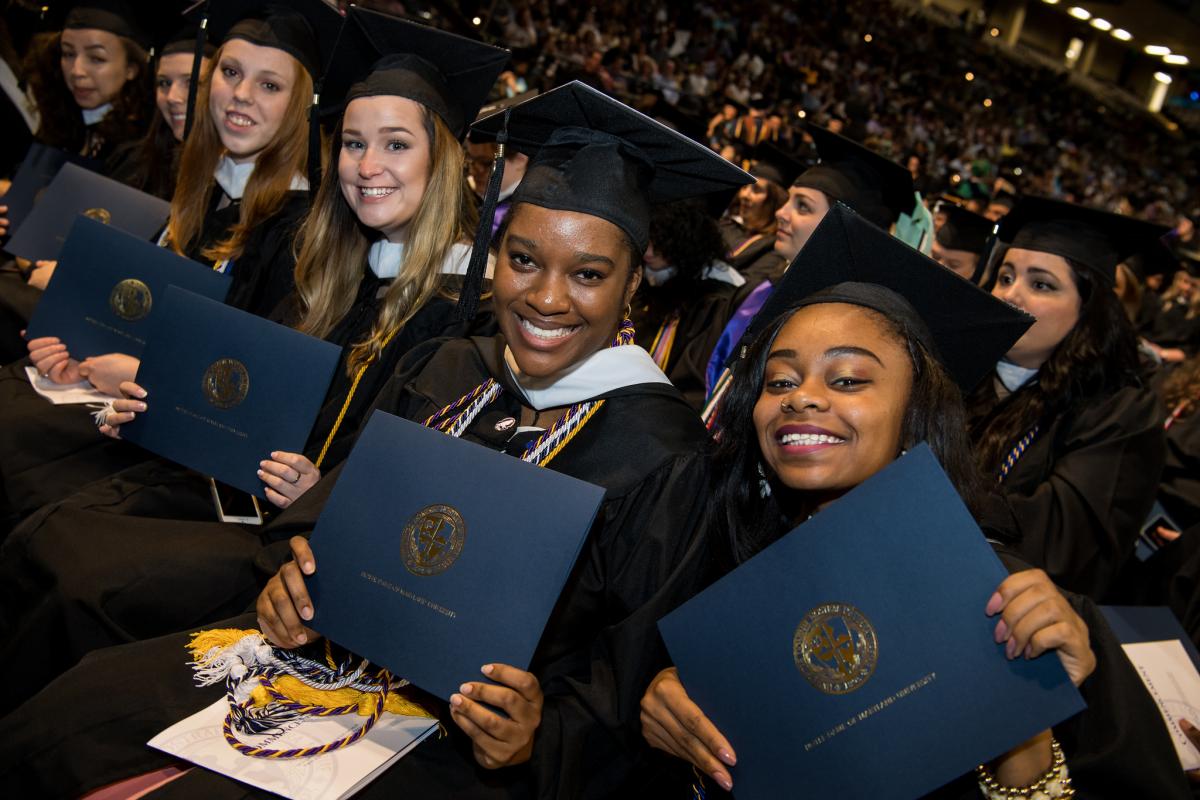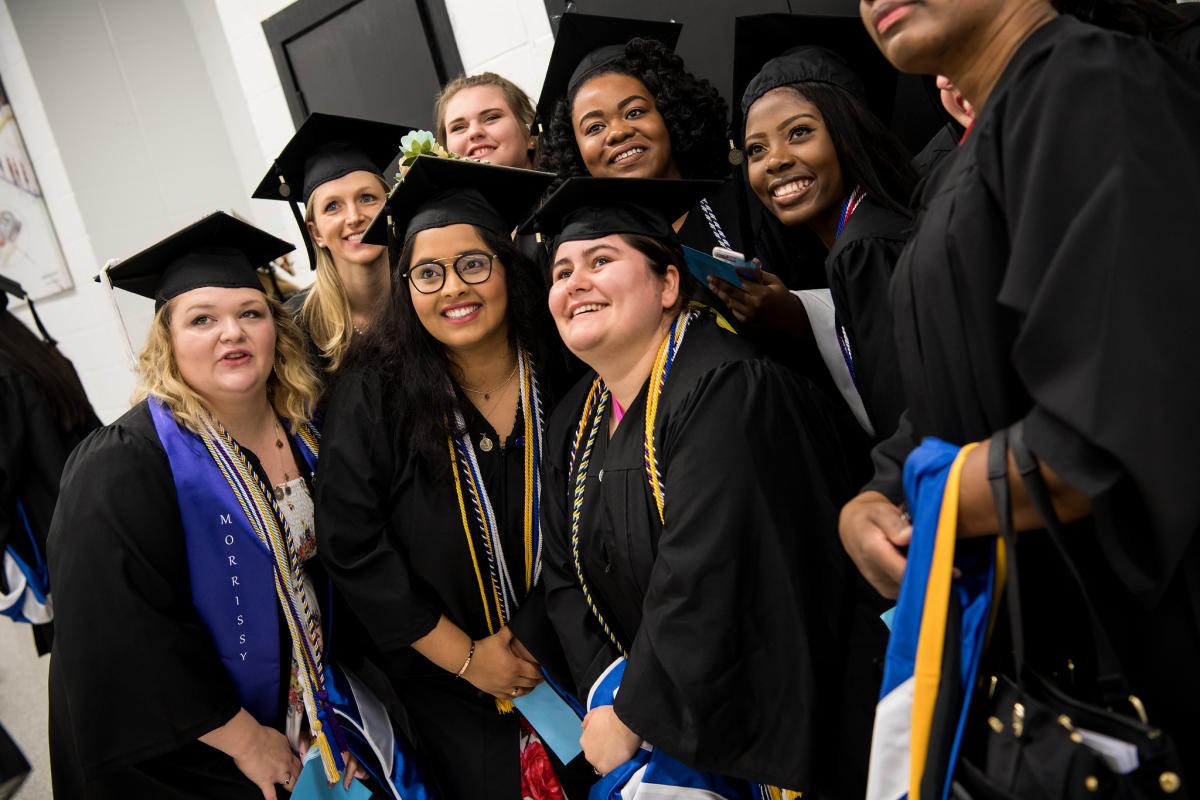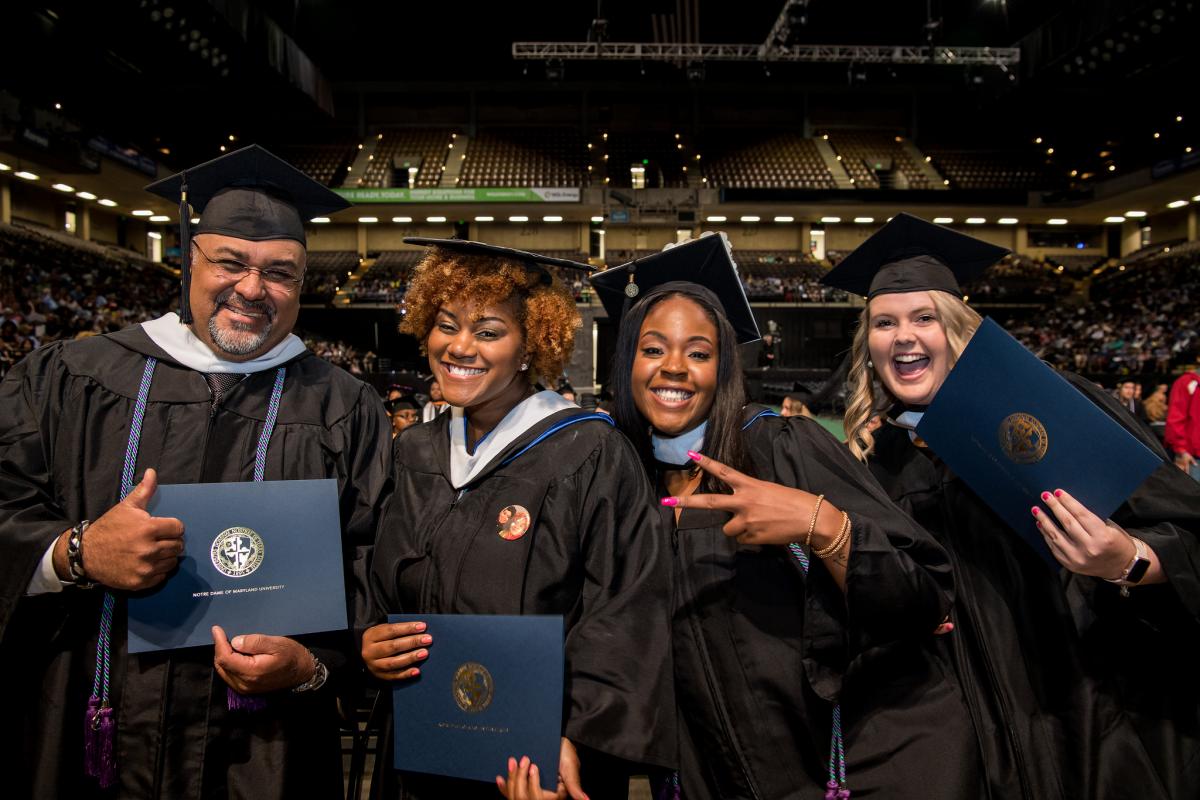 ---
Senior Celebrations
Commencement season is a time to honor graduates. From lunches to awards celebrations, the time leading up to Commencement was jam packed with activities. One of the first events included the School of Nursing's Pinning and Lighting of the Lamp ceremony. This event is something that has been practiced in the nursing profession for centuries.
From there, NDMU's School of Pharmacy held its Pinning Ceremony to mark third-year Pharmacy students becoming P4s. The School of Education took its graduates off campus for an awards celebration, while the School of Arts, Sciences, and Business held its awards celebration the morning before graduation.
As for other celebrations, the Morrissy Honors Brunch and Trailblazers Celebration lunch were held the Friday before commencement. In the 24 hours leading up to the festivities, graduates came together one last time in the dining hall for the Women's College Senior Brunch, followed by the Commencement Liturgy in the Marikle Chapel.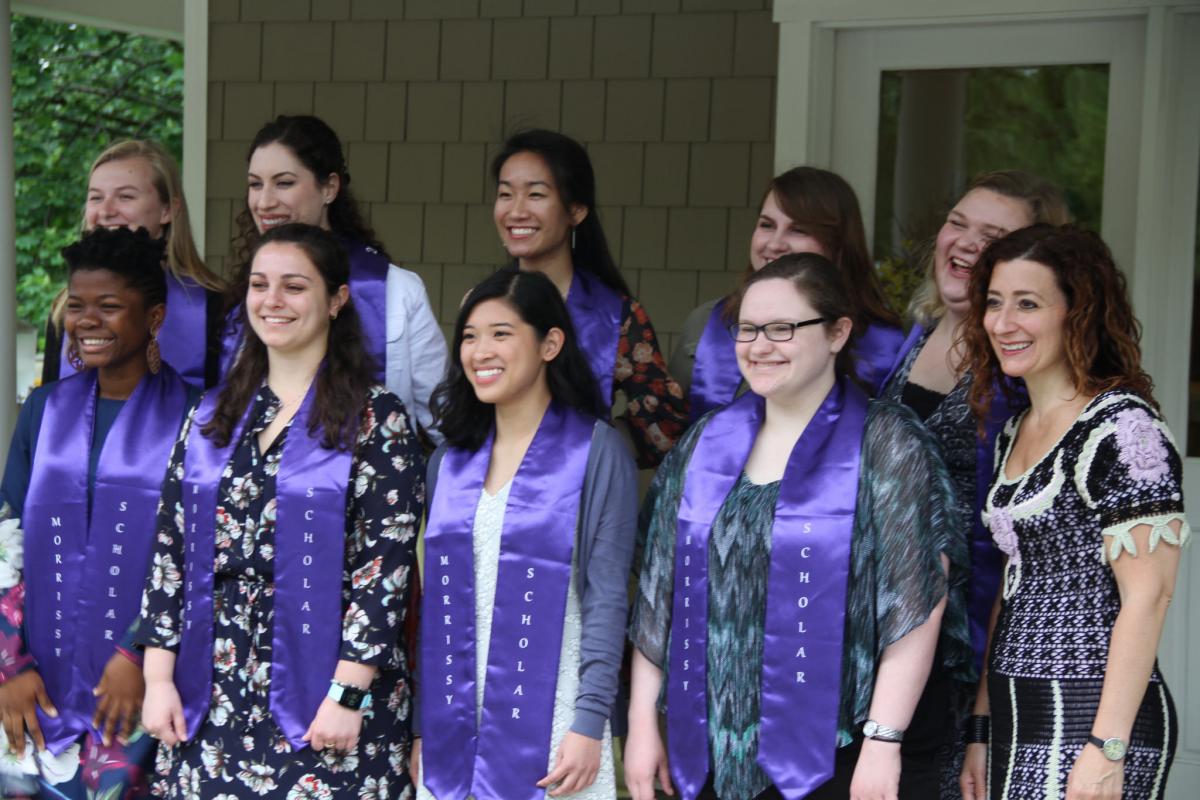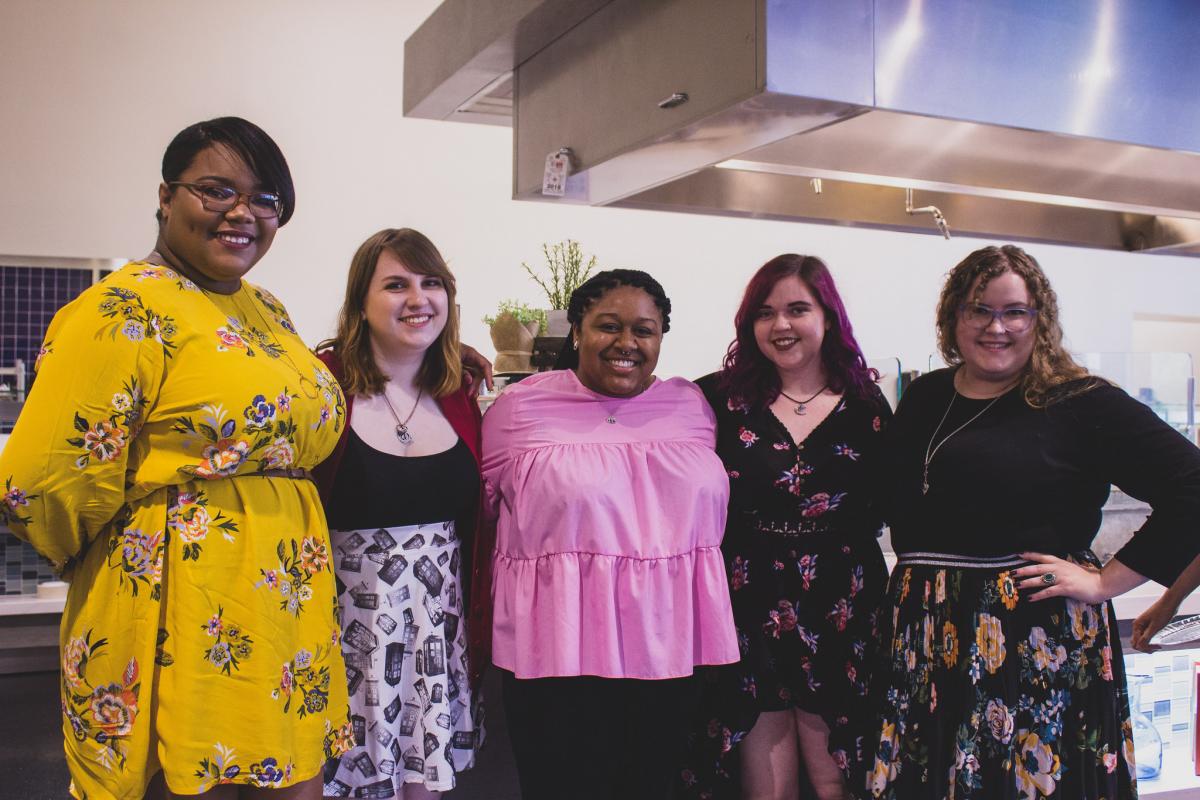 ---
NDMU Research in South Korea
Two Notre Dame students, Keira Mull '20 and Uloaku Onwumelu '20 are getting an experience of a lifetime this summer. They are studying abroad at Yeungnam University in South Korea. The two are taking part in a 10-week research project on eDNA with NDMU professor, Dr. Hangkyo Lim. They are working with scientists and furthering their biological research skills. In addition, they are experiencing the culture - including eating new foods and visiting new places, and they are making new friends.
For more on Keira & Uloaku's adventure and to track their journey, check out their blog.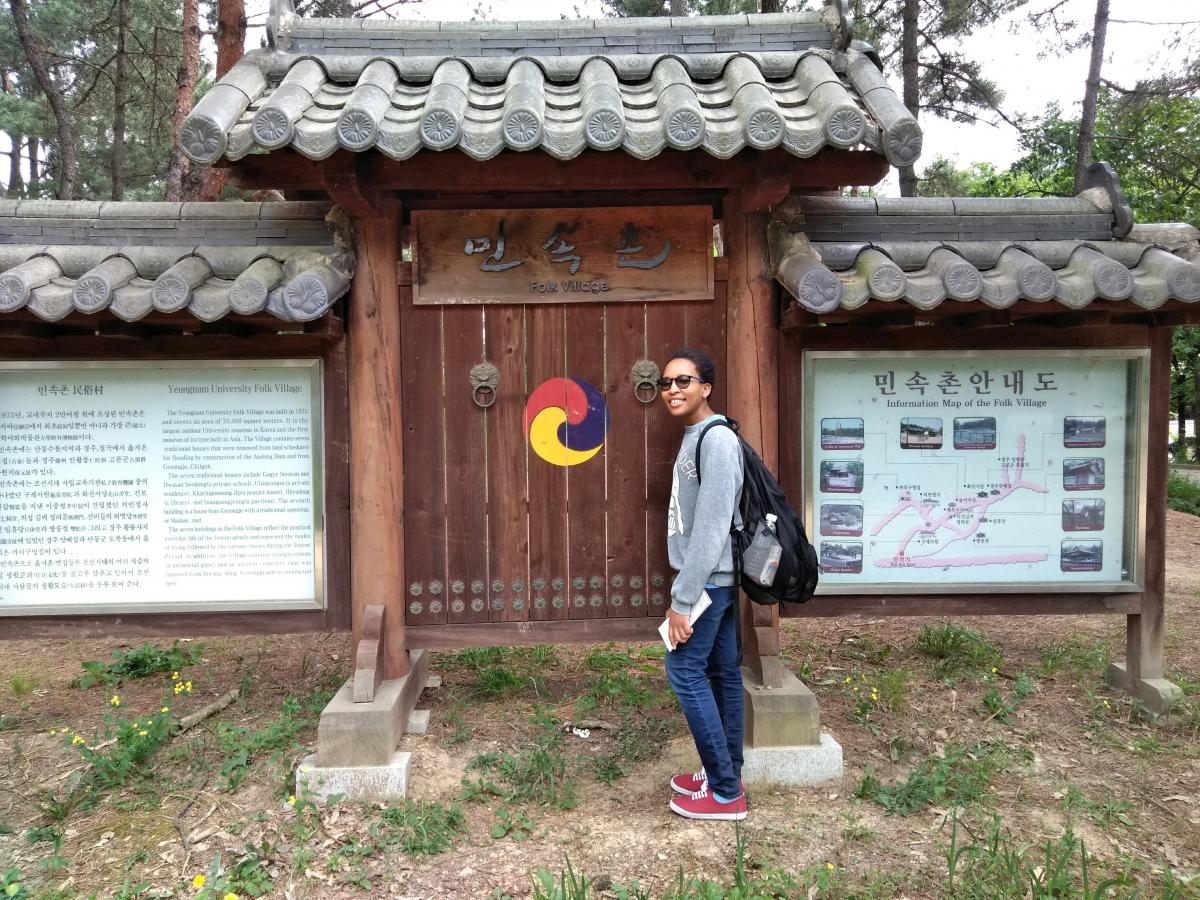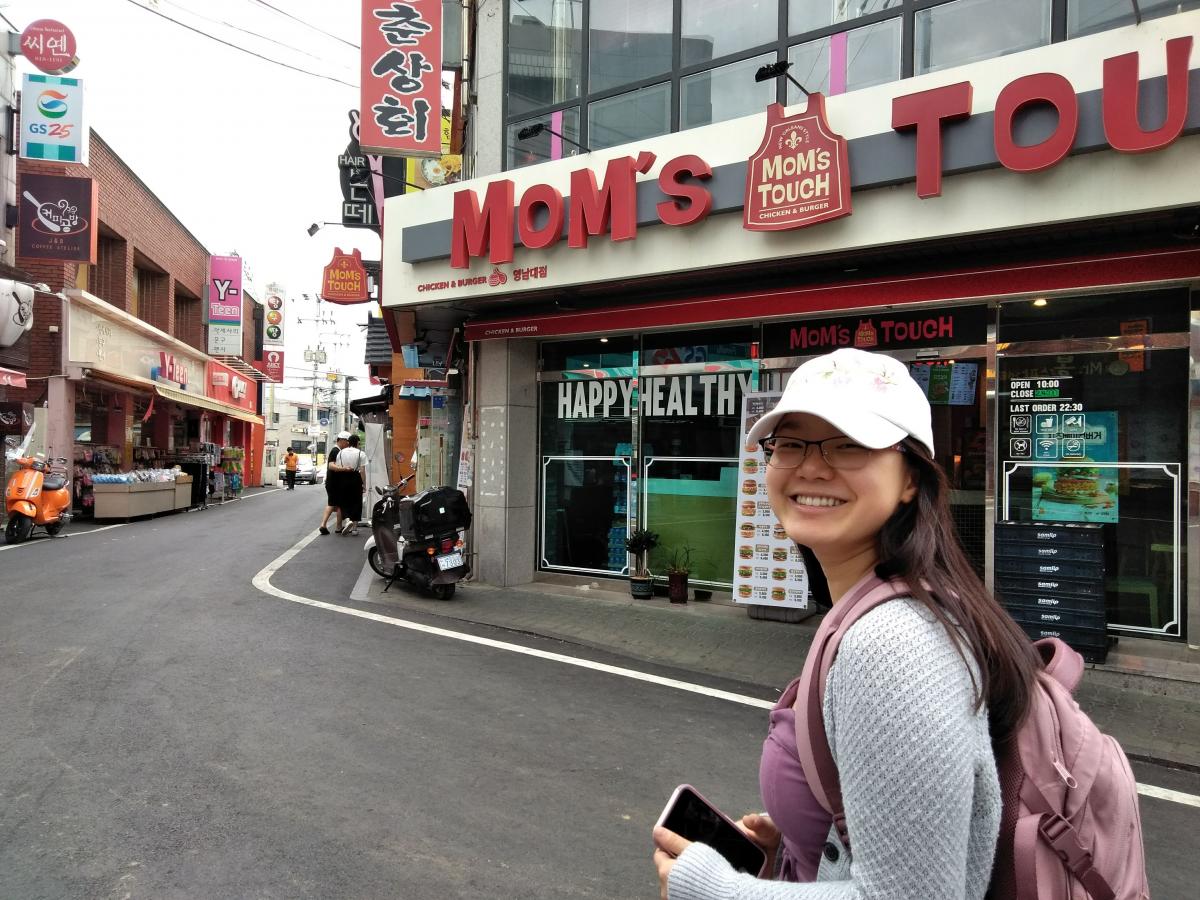 ---
Students in Peru
Hours after commencement came to a close, eight NDMU students and two faculty members (Roberta Engel and Marcela Valencia) traveled to Lima, Peru on a two-week exchange visit with our new partners at Universidad Femenina de Sagrada Corazon (UNIFE). This is the second half of the project called Agua/Water = Vida/Life which is funded in part through a 100,000 Strong in the Americas grant. Activities in Lima include helping to construct artificial wetlands, touring a water treatment plant and visiting the Paracas National Reserve.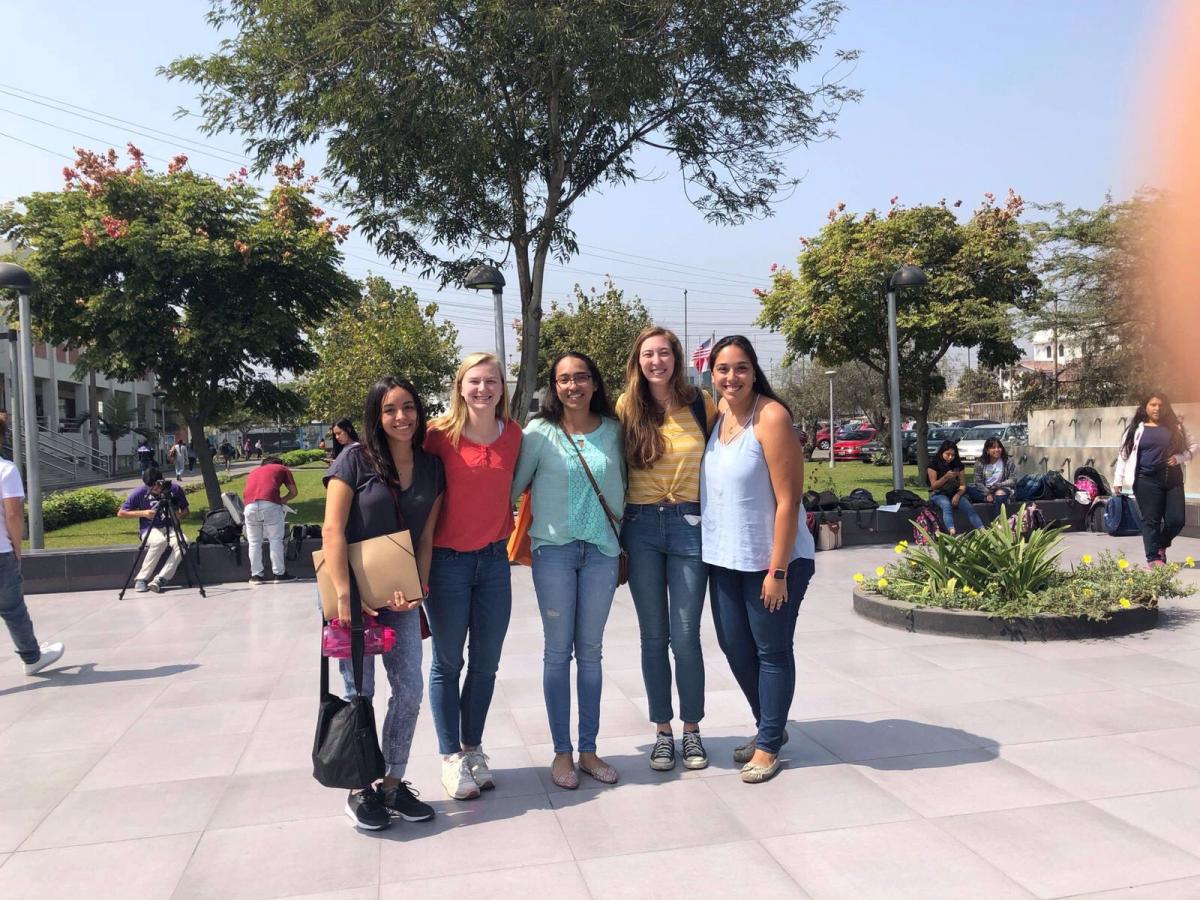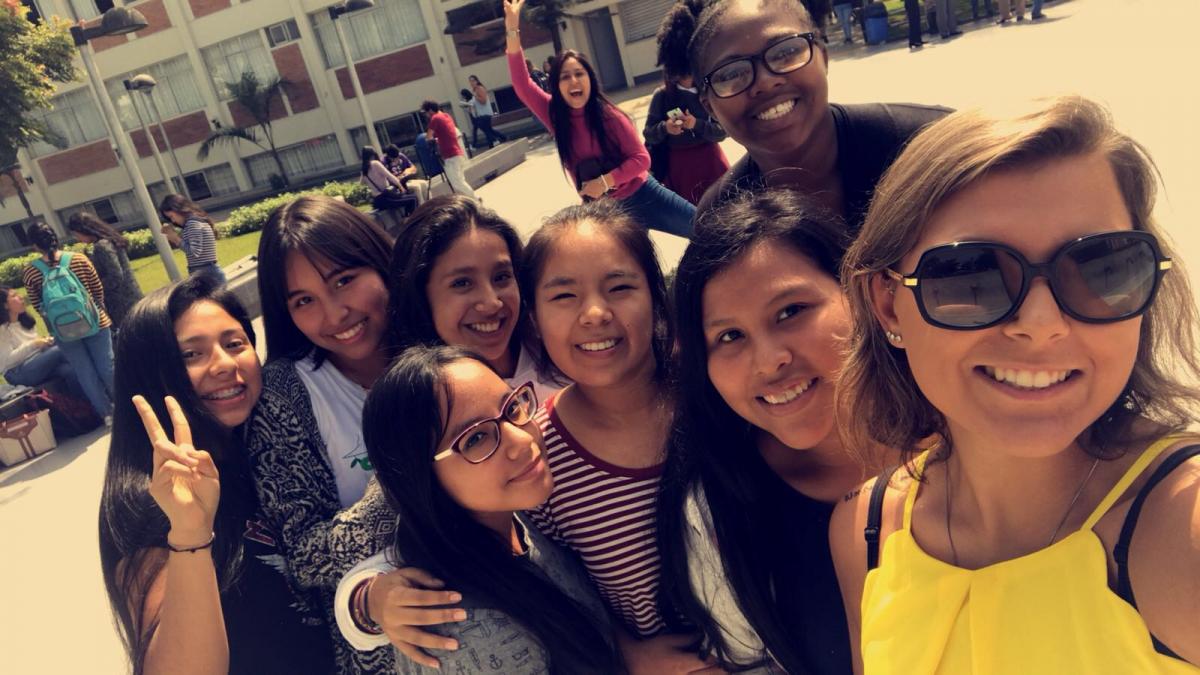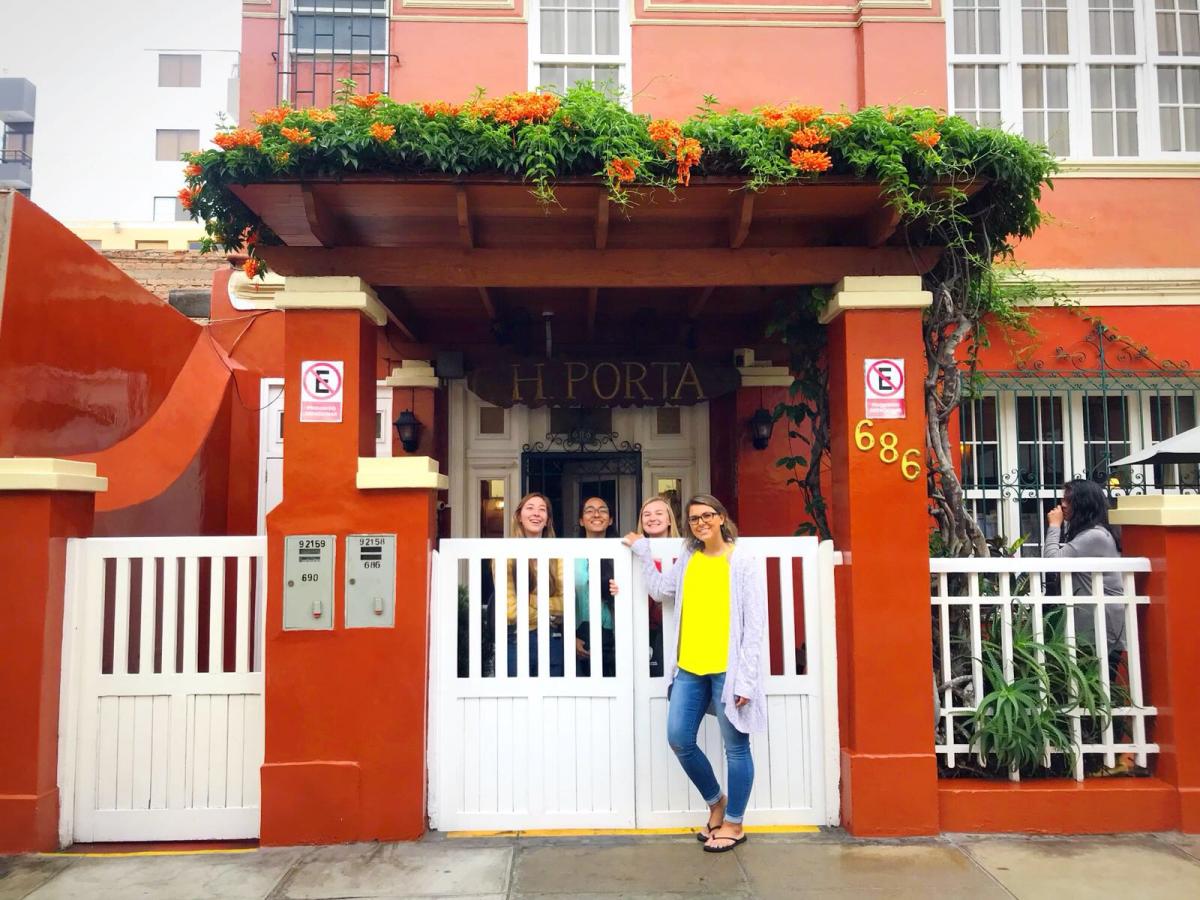 ---
NDMU Students Travel to the United Nations
A group of NDMU students recently visited the United Nations with Dr. Anne Henderson. It was part of a two-day conference on the Israeli-Palestinian conflict. The conference took place as protests erupted in Gaza against Israeli occupation, and as the U.S. moved its embassy to Jerusalem, leading to a highly charged environment. The conference brought together Israelis, Palestinians, and humanitarian NGOs to discuss a path forward in these difficult times.
All the participants were dedicated to finding a peaceful solution, which gave students a chance to see that people on all sides of the conflict are working toward peace even as violence seems intractable.
Students got to meet and discuss the conflict with individuals who've lived through it, which was a valuable learning experience for them. Several students made thought-provoking comments during the discussion periods, which was very significant because they were in the U.N. Trusteeship Council Chamber with high level U.N. officials and senior diplomats from several countries, but they had no hesitation in speaking their minds!
In addition to Dr. Henderson's students, four ELI students, Baraa Alansari (Saudi Arabia), Ibrahim Bakayoko (Ivory Coast), Mario Tirado Lopez (Columbia), and Wonshik Choi (South Korea) made the trip as well. They too participated in the discussion, calling it a once in a lifetime opportunity.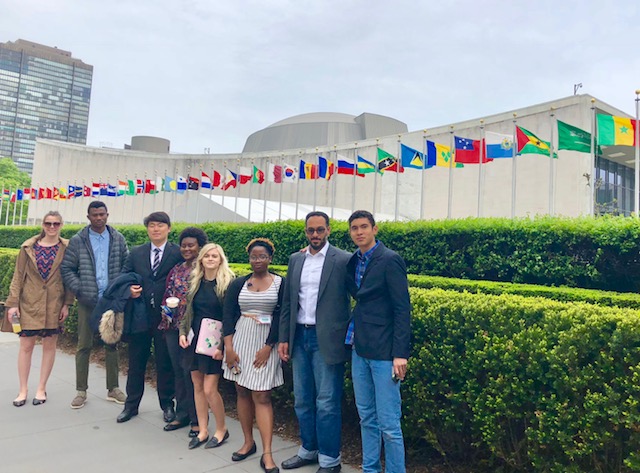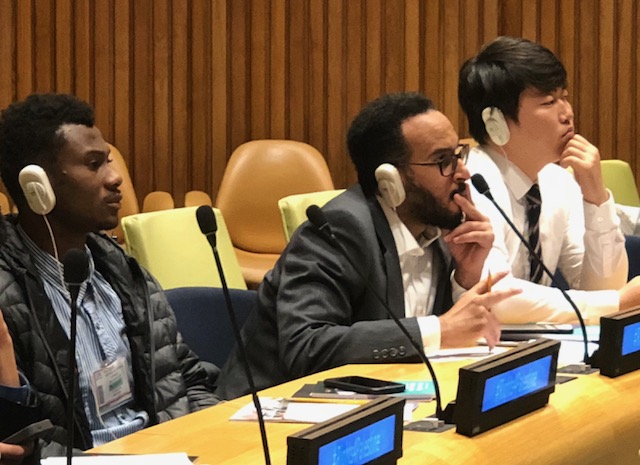 ---
Teachers of Promise
Congratulations to the School of Education's Angelo Monaldi, Dylan Craig, Morgan Weller, Sara Sotaski, April Ann Marshall, Kathleen Banerjee and Amanda Tepper. All, were selected to this year's Teachers of Promise (TOP)! The selections are based on their high academic standing and strong potential to be an outstanding teacher.
As part of this program these teacher candidates, will be mentored by outstanding educators and they were invited to attend the 11th annual TOP Institute held this past April. During the Institute, they were able to meet many leaders in education including state and national teachers of the year, and the state superintendent, all of whom shared useful teaching tips and survival strategies.
In addition, during the institute Acting Dean, Dr. Gary Thrift was awarded a SMART document camera for use in the School of Education. Congrats to all!
---
Cleaning Up and Cleaning Out
This is the time of year when many of you may be cleaning up and cleaning out your offices or homes, and Student Life wants you to remind you, that "one man's trash, could be another's treasure." Student Life would welcome your donations of board games, puzzles, and Legos. If you have any of these types of things please drop them off to the Division of Student Life!
---
Summer Camps, Conferences & Events
There's a flurry of new people on campus. They are here for a variety of camps and conferences. In all, NDMU will welcome about 20 different camps, conferences and events to campus this summer.
Conference services will update the community each month with a list of the groups that will be on campus along with general locations of where you can expect to find our guests.
If you have any questions, comments or concerns regarding our summer groups, please call (ext. 5732) or email Michael Golze, Summer Programs & Events Manager.
For more on the groups that will be on campus this summer, check out Bulletin Events.
---
Camp Notre Dame Donations
Camp Notre Dame still has some vacancies and registration is ongoing. Don't forget employees receive a 25% discount on camp tuition.
In an effort to teach our campers the importance of recycling, we are asking for donations of recyclable items that will be repurposed to enhance our daily activities and closing celebrations.
Egg cartons (paper pulp or foam, not plastic)
Tissue boxes
Cardboard boxes/sheets
Empty paper towel/toilet paper rolls
Milk/juice cartons (cleaned/washed)
Clean, empty plastic bottles (various sizes) and their lids
Plastic or paper grocery bags
Donations may be placed in the bin outside the Camp Notre Dame Office in MBK Seminar Room. We will be collecting items throughout the summer.
---
A Child's Place Registration
A Child's Place Preschool and Early Learning Lab School is currently accepting applications for Fall 2018, as well as for Summer Camp 2018!
Preschool programs for 3, 4, and 5-year olds, including a State-approved kindergarten program and early kindergarten for children with fall birthdays, offer small classes in a nurturing environment where young children play, learn, and grow. A Child's Place promotes each child's emotional, social, cognitive and physical development through a holistic approach.
Preschool runs from September to June - monthly tuition for SY2018-2019 will be $1175.
Summer camp sessions start on June 11 and runs through August 17. The fee for each two-week session is $560.
A Reminder- All NDMU faculty, staff, and students are eligible for a 25% discount on tuition. If you're an alum, you qualify for a 10% discount.
---

Refer a Friend Special at a Child's Place!!!
If a returning ACP family refers a friend who enrolls a child, the referring family will be granted a monthly tuition rate of $1100.
The new family must enroll for a minimum of one academic year and will receive the approved tuition rate for SY2018-2019, $1175 a month.
For more information check out NDMU's websiteor call us at 410-532-5399.
---
Sports
Outdoor Track
NDMU is off and running with the addition of a new NCAA sport for the 2018-19 academic year. Outdoor Track had been added to the competition roster for Spring 2019.
Outdoor track is one of the fastest growing sports for pre-college girls across the country. In Maryland alone, nearly 6,000 high school girls run track. The addition of the program is already having a positive impact on the University. Several members of the Cross-Country Team, the Track Club, as well as incoming students have committed to running track for the upcoming season.
"By adding Outdoor Track to NDMU's other eight NCAA sports we are providing our cross-country student-athletes with another opportunity to compete in a spring sport. We also get to create opportunity for other athletes to take on track as a way to increase their performance levels in the other sports where they compete." says Director of Athletics and Wellness, Renee Bostic. "Outdoor Track is great for the well-rounded athlete."
Citing his extensive background with track and field, Bostic says current Cross-Country Head Coach, Patrick Donohue will assume the role of Head Track Coach.
While the schedule hasn't been announced, this year's team will compete in seven meets.
---
Loyola Notre Dame Library News
Summer Library Hours
The library's regular summer schedule will begin on Tuesday, May 29: Monday-Thursday 8 a.m. - 8 p.m., Friday 8 a.m. - 5 p.m., and Saturday/Sunday 12 -5 p.m. Research help is always available 24/7 via online chat: www.lndl.org. Just click "Chat with a Librarian" in the lower right corner of the screen.
Streaming Videos
Stream documentaries and films with the databases Kanopy and Films on Demand. Collections include videos from PBS, Criterion Collection, California Newsreel, Media Education Foundation, and many others. Click here for more information! Just log in with your NDMU username and WebAdvisor password if you are off-campus. Links to videos can be embedded into Joule for easy access.
Search Seeker from Your Mobile Device!
Need to research on-the-go? Seeker is now fully accessible on your mobile device. Access Seeker from the "Articles, Books, and More" search box in the middle of the library's homepage. Happy searching!
---
News by School
School of Arts, Sciences, and Business
Faculty Accomplishments
Sean Coyne, Ph.D, Assistant Professor of Psychology, and his colleagues published a paper entitled "Adaptive developmental plasticity in rhesus macaques: the serotonin transporter gene interacts with maternal care to affect juvenile social behavior" in The Proceedings of the Royal Society B Biological Sciences.
---
Congratulations to Erinn Gales! She recently received the 2018 Staff Award for Outstanding Civic Engagement, for collaborating with the community for service-learning and civic engagement initiatives and encouraging others to integrate civic engagement and service-learning into their respective roles.
The award was presented by Campus Compact Mid-Atlantic.
---
Professors Roberta Engel and Hangkyo Lim recently participated in the 2018 City Nature Challenge at Leakin Park. As entomologists, both collected and identified specimens for the event.
---
School of Education
Faculty Accomplishments
Sister Mary Fitzgerald presented "Developing Faith and Spirituality as Catholic School Leaders" at the Convention of the National Catholic Educational Association in Cincinnati on April 3, 2018.
---
Student Accomplishments
Emily Slear '18, niece of Sister Sharon Slear, received the Administration and Supervision Award on May 16 at the Country Club of Maryland. Emily's change project focused on creating a better pattern of arrival/dismissal at her school thereby making these processes safer for the students. The newly revised process establishes a more orderly process for teachers, thereby giving them more professional time for their instructional work.
---
School News
Notre Dame of Maryland University's "Academy of Catholic Educators" (ACES) was awarded the Dr. Karen M. Ristau Innovations Award at the Convention of the National Catholic Educational Association in Cincinnati. The award was presented to Gail Donohue, Program Director, on April 2, 2018 at the President's Dinner. Sisters Sharon Slear, Provost, and Sister Mary Fitzgerald were in attendance.
2017-2018 Professional Development School (PDS) Accomplishments
NDMU formally partners with 19 public PDS schools across 4 different school systems to develop teacher interns, provide professional development to school-based faculty, and support school improvement goals. Below are just a few of the many accomplishments these partnerships have accomplished this year.
Johnnycake Elementary School, Baltimore County Public Schools Liaison – Dr. Dawn Jacobs, Assistant Professor, SoE
Site Coordinator – Jolene Anticoli, Teacher at Johnnycake
The collaboration between NDMU and Johnnycake Elementary School resulted in several notable accomplishments that contributed to the development of teacher candidates. Four interns successfully completed collaborative lesson plans, engaged in school-wide professional development, conducted post- lesson reflections individually and with mentors, and planned activities aligned to home-school connections (e.g. Family Night and STEM Night). Mentor teachers reported enjoying the mentorship experience and look forward to supporting intern development during the 18-19SY.
Western High School, Baltimore City Public Schools Liaison – Dr. Stephanie Savick, Associate Professor, SoE Site Coordinator – Casey McConnell, Teacher at Western
Three interns successfully completed their internships at Western this year. Their content areas included English, Art/Technology, and World Languages. NDMU and Western also partnered to offer a professional book study to teachers focused on nurturing student innovators in our classrooms, usingTony Wagner's national bestseller, Creating Innovators: The Making of Young People Who Will Change the World. Seven Western teachers participated in the book study and gained valuable information about how they can create the next generation of innovators for an innovation-driven economy.
Woodlawn High School, Baltimore County Public Schools Liaison – Dr. Stephanie Savick, Associate Professor, SoE Site Coordinator – Amy Schnirel, Teacher at Woodlawn
Six interns successfully completed their internships at Woodlawn High this year. The coordinating council continued their tradition of offering semester-long 'chew and chat' professional developmentsessions for the interns this year. These sessions allowed interns to participate in professional development topics based on their specific needs, and provided them with an additional team of practicing teachers to tap into for support and advice. Some of the topics included 'chats' on classroommanagement, special education, setting up your classroom, and first-year reflections.
Lothian Elementary School, Anne Arundel County Public Schools Liaison – Patty Silver, Assistant Professor, SoE
Site Coordinator – Jennifer Simmons, Teacher at Lothian
Notre Dame interns at Lothian Elementary School taught first and third grade classes this year. They fully participated in daily activities, and grew in knowledge with collaboration sessions and professional development on topics such as Mathematics; Learning Strategies; Literacy, Shared Reading and Interactive Read Aloud with ALPS; Kid Talk; and Strategies for Working with English Language Learners. The strength and bond between the interns, mentors, supervisors, site coordinator and new liaison has grown considerably this past year, demonstrating an effective and productive partnership.
Arnold Elementary School, Anne Arundel County Public Schools Liaison – Sr. Janet Mary Shields, SSND, University Liaison/Supervisor, SoE Site Coordinator – Cindy Sowells, Teacher at Arnold
The PDS Partnership between NDMU and Arnold hosted 2 CAUS interns, 1 ACT intern and 1 MAT intern for the fall semester. In the spring semester, they hosted 1 ACT intern and 1 MAT intern. The Coordinating Council continued their practice of recommending that interns collaborate with their mentors to align action research projects with the school improvement plan, with an emphasis on student learning outcomes (SLOs). The interns were involved in professional development opportunities on equity and mindset in addition to participating in weekly collaborative planning with grade level teachers. Funds from NDMU were used as stipends for teachers to remain after school hours to plan with their interns using the Common Core Standards and the AACPS curriculum. All interns experienced success in learning from their mentors' expertise.
Belvedere Elementary School, Anne Arundel County Public Schools Liaison – Sr. Janet Mary Shields, SSND, University Liaison/Supervisor, SoE Site Coordinator – Kelly Henderson, Teacher at Belvedere
Intern placements were high at Belvedere this year. In the fall semester, Belvedere hosted 6 CAUS interns, 3 GEI interns and 2 MAT interns. During the spring semester, they hosted 1 CAUS intern, 4 ACT interns, 3 GEI interns and 2 MAT interns. The Coordinating Council decided to continue using the mentor teachers' student learning outcomes (SLO) for all action /intervention research projects. During professional development afternoons, the interns were involved in learning about equity, followed by developing ways to implement their new learning. Weekly collaborative planning periods continued with the intern participating at a grade level meeting. The NDMU funds were used to obtain substitutes for releasing the teachers and interns in order to do in-depth planning on how to use the Maryland Common Core Standards and the AACPS curriculum. The interns experienced success as they completed the year.
Aberdeen Middle School, Harford County Public Schools Liaison – Rosemary Poling, Assistant Professor, SoE Site Coordinator – Claudine Norton, Teacher at Aberdeen Middle
AMS hosted four student interns during the 2017-18 school year. Along with the site coordinator, AMS mentors and new PDS Liaison from NDMU, the team worked on welcoming and acclimating each intern into the AMS family. Activities included being introduced at their Welcome Breakfast, creating AMS school survival goodie bags, and PDS information meetings complete with PDS folders for each intern and mentor. In addition, the Coordinating Council sought ways to improve our PDS partnership through communication on NDMU programs and the requirements for each. AMS mentors were eager to support the internship experience of their interns. AMS hosted many school based and county wide professional development opportunities which interns attended. Workshops included topics on diversity and student achievement. At the end of each placement, each intern was celebrated for their success in completing their journey to being an educator. Mentor teachers were also recognized with a small token of appreciation for their support of the PDS Partnership. Aberdeen Middle School has a strong interest in supporting our PDS partnership and interns in the coming years with additional educators seeking to be mentor teachers.
Lansdowne Elementary School, Baltimore County Public Schools Liaison – Terry McVey, University Liaison/Supervisor, SoE
Site Coordinator – Amy Cirjak, STAT Teacher at Lansdowne
Lansdowne Elementary hosted 7 GEI interns and 1 undergraduate intern during its second year as a PDS and Learning Center. The school warmly welcomed the interns. The interns were celebrated on a welcoming bulletin board. Interns participated in Chat and Chew sessions that targeted topics including behavior management strategies and interpretation of school data to support research projects. Ongoing celebrations took place during the year to mark the accomplishments of the interns and their progression through their internship placements. Discussion during steering meetings to support the Learning Center at LES led to the planned visit for all GEI Interns to Norwood Elementary to observe restorative strategies in place at the school. GEI interns commented that this was a very rewarding and beneficial experience. Student interns were invited to participate in a book study at Lansdowne that addressed issues related to equity. The school, in preparation for the 2018-2019 school year, hired two GEI interns.
Forest Hill Elementary, Harford County Public Schools Liaison – Terry McVey, University Liaison/Supervisor, SoE Site Coordinator – Robin Peterson, Teacher at Forest Hill
Forest Hill Elementary hosted five student interns this school year. The interns quickly became part of this highly organized and dynamic school. Interns were fully engaged with school-wide PD and participated in supportive Chat and Chew sessions and coordinating council meetings. The administration had the opportunity to observe and interview interns this school year. The mentor teachers and interns participated in a book study that explored reading materials for use at the school. Student interns and mentor teachers worked to become familiar with the requirements of EdTPA, Notre Dame's assessmentsystem. Forest Hill was sad to see the retirement this year of Robin Peterson, Reading Specialist and PDS Site Coordinator.
Stemmers Run Middle School, Baltimore County Public Schools Liaisons – Kelly Bull, Associate Professor, SoE (Fall Semester) and Patty Silver, Assistant Professor, SoE (Spring Semester) Site Coordinator – Jennifer Miller, Teacher at Stemmers Run
Notre Dame interns at Stemmers Run Middle School taught social studies, math, special education, and English in grades seven and eight this year. Interns participated in professional development sessions on topics such as classroom organization and behavior management, and interviewing skills. The new site coordinator and spring liaison received strong support from the administration at Stemmers Run and Notre Dame of Maryland University, which led to a continuation of the strong PDS partnership.
Kenwood High School, Baltimore County Public Schools Liaisons – Kelly Bull, Associate Professor, SoE (Fall Semester) and Patty Silver, Assistant Professor, SoE (Spring Semester) Site Coordinator – Samantha Andrucyk, Teacher at Kenwood
Kenwood interns taught English, mathematics, Spanish, art, biology and supported special education students in co-taught classrooms this year. Interns participated in professional development sessions with the following titles: Building Relationships, Equity, Classroom Management, Questioning Techniques, and Co-Teaching. Kenwood faculty members participated in a professional development book study onTeaching with Poverty in Mind: What Being Poor Does to Kids' Brains and What Schools Can Do About It. The new site coordinator and spring liaison received strong support from the administration of Kenwood High and Notre Dame of Maryland University, which led to a continuation of the strong PDS partnership.

Church Creek Elementary School, Harford County Public Schools Liaison – Rosemary Poling, Assistant Professor, SoE Site Coordinator- Josie Curry, Teacher at Church Creek
Church Creek Elementary welcomed five interns from NDMU this year. The interns representedNDMU's GEI, ACT, MAT and Undergraduate programs. The interns were introduced into the Church Creek family during the Welcome Back Breakfast. Each received a CCES lunch box from the PTA filled with teacher survival items including supplies, lesson plan books, and information about their placement school. "All About Me" posters were created by each intern and displayed near the front entrance. At the beginning of each placement, the liaison and site coordinator gave a "411" folder to each intern and mentor. In addition, interns received training on saving PDS documents to their CCES flash drives as part of moving toward an electronic PDS artifact collection system. Throughout their internship at CCES, interns were invited to weekly school-based professional development opportunities and participated in county-wide days of workshops. Several interns had the unique opportunity to also sit on the School Improvement Team with their mentors. At the end of the fall and spring placements, both interns and mentor teachers were celebrated with recognition and small tokens of appreciation. The CCES community and mentors are continually impressed with NDMU interns.
Oakleigh Elementary School, Baltimore County Public Schools Liaison – Lisa Pallett, Assistant Professor, SOE Site Coordinator – Jaclyn Tamburo, Teacher at Oakleigh Elementary School
Several successful teacher candidates completed their internships at Oakleigh this year. In addition to interning, many of these interns volunteered for a before-school tutoring program to help increase student achievement in reading and mathematics. Two NDMU faculty members from the School of Education, Ryan Schaaf and Dr. Dawn Jacobs presented professional development sessions to the Oakleigh faculty. Both of their presentations were highly praised by the administrators and faculty.
Medfield Heights Elementary School, Baltimore City Public Schools Liaison – Joyce Cummings, University Liaison/Supervisor, SoE Site Coordinator – Shawniqua Ames, Teacher at Medfield
Seven interns were mentored in the Medfield PDS this year. The interns were enrolled in the following programs: 1 CAUS, 2 ACT, 1 WC, and 2 GEI interns. All interns successfully completed their requirements and graduated or received their certifications this spring. In December, the school leadership team, the PDS, and NDMU partnered to sponsor a professional development session conducted by Professor Christa DeKleine. The topic focused on helping ELL students to acquire academic language. The topic was an identified need from the school improvement plan because approximately 11% of the student population consists of English Language Learners.
John Ruhrah Elementary/Middle School, Baltimore City Public Schools Liaison – Joyce Cummings, University Liaison/Supervisor, SoE Site Coordinator – Lauren Watson, Assistant Principal at John Ruhrah
While there were only four interns assigned to John Ruhrah Elementary Middle School during the 2017- 18 school year, they were an integral part of the PDS. Three interns participated in EdTPA and one intern taught EFL (English as a Foreign Language) in Argentina. Two interns were interviewed for an ESOL teaching position at the school next year. One intern plans to teach out of state, and the other teacher intern has been hired for the position.
Hillcrest Elementary School - Baltimore County Public Schools Liaison – Terry McVey, University Liaison/Supervisor, SoE Site Coordinator – Amanda Winpigler, Teacher at Hillcrest
Hillcrest Elementary hosted ten student interns this year. All of the interns participated in EdTPA. Interns and mentor teachers worked together to develop an understanding of EdTPA university requirements. The Coordinating Council at the school highlighted efforts to welcome and support student interns as a goal. The Coordinating Council worked with NDMU to explore the possibility of a class taught on campus that would target content for addressing the needs of ELL students. Because minimum enrollment was not obtained this year, the staff is hopeful that the course might be offered again next school year. Interns were invited to an initial meeting with the site coordinator and provided with an orientation to the building and PDS expectations. The student interns completed exit interviews that indicated their overall positive experiences at the school. The administration at the school is very supportive of the PDS relationship. One intern was hired mid-year to fill a teaching vacancy. The ongoing support at HES contributes to continued growth for PDS activities.
---
School of Nursing
Student Accomplishments
Here is proof that Notre Dame prepares our students for the working world. Congratulations to the following students for receiving and accepting placement in area hospitals:
Elizabeth Brooks - OR, Franklin Square Hospital
Valentina Canchanya – Labor & Delivery, Johns Hopkins Hospital
Kirsten Chrest - Labor & Delivery, Mercy Hospital
Madalyn Dewling - ED, Children's Healthcare of Atlanta, GA
Karla Medrano - Labor & Delivery, MedStar Harbor Hospital
Ellysia Mohammed - PACU, MedStar Union Hospital
Keisha Moss - MICU Stepdown, Franklin Square Hospital
Alondra Paz - Labor & Delivery, Holy Cross Hospital
Alexis Thompson – PICU, Johns Hopkins Children's Center
School of Pharmacy
Student Accomplishments
Congratulations to Dr. Lindsey Crist for being awarded Teacher of the Year honors at the School of Pharmacy's Annual Scholarship and Teacher of the Year Awards Ceremony. In addition to Dr. Crist, these pharmacy students were awarded scholarships.
CVS Health Foundation - Tiffany Crawford '20, Darshita Amin '20

CVS Health Foundation- Bilingual Award - Zeinab Koosej '20

CVS Health Foundation- Spanish Proficiency Awards - Arlene Velez Bartolomei '19, Lisamarie Tubens Diaz '21

Foundation Scholarship - My Nguyen '19

Alumni Chapter Scholarship - Robert Gootz '19

NACDS Scholarship - Rachana Mehta '20, Aiman Shaikh '21

Rosskopf Family Scholarship - Tyffani Howard '19

Super VALU Scholarship - Umar Qazi '19, Rachana Mehta '20

Walgreens Diversity & Inclusion Excellence Award - Umar Qazi '19
10. Walgreens Multilingual Scholarship - Jenny Yom '21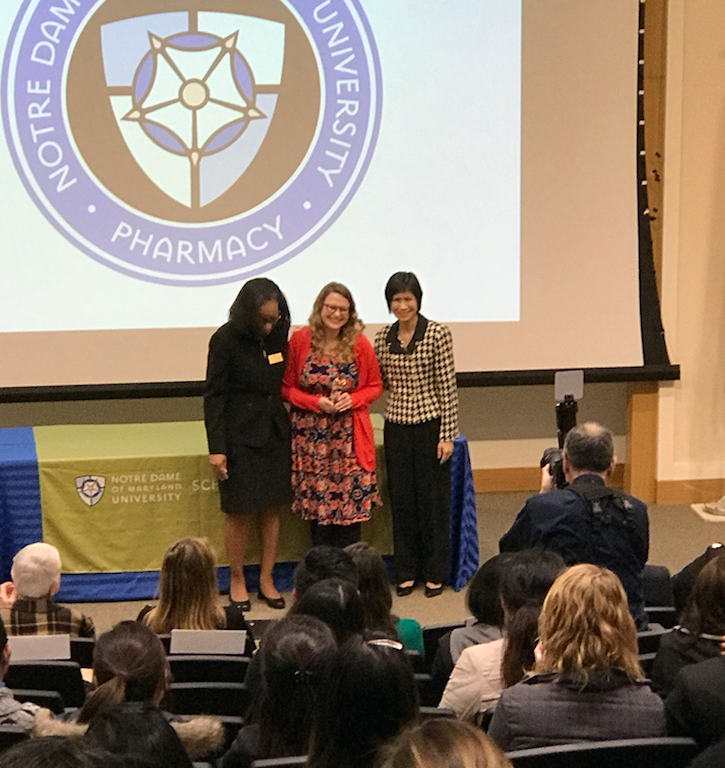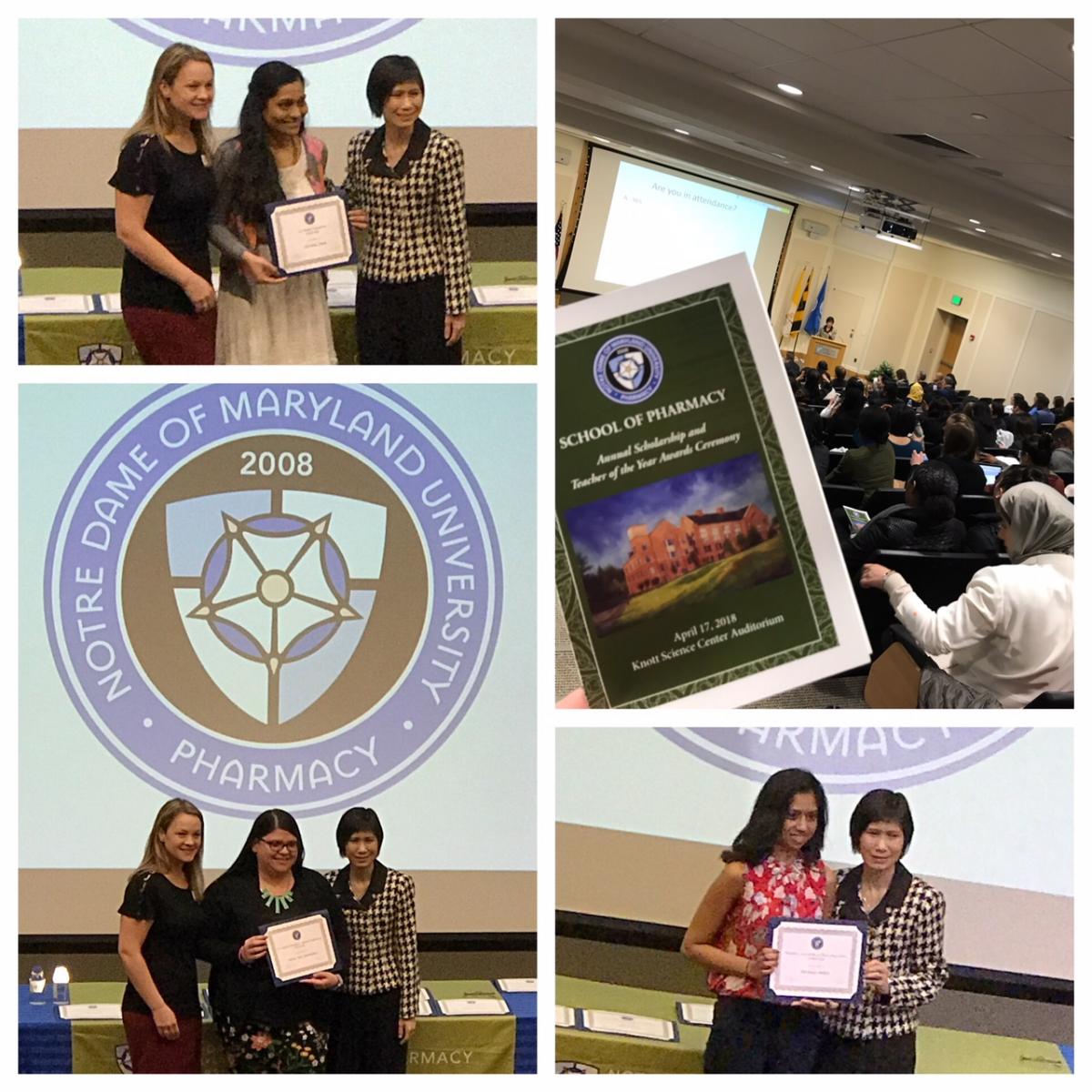 ---
Alum Accomplishments​
The following Class 2017 alums matched to the following PGY-2 residencies after completing a PGY-1 residency:​
Vala Behbahani '17 – Mount Sinai Hospital - New York, NY (Solid Organ Transplant)
Rachel Dewberry '17 – MedStar Health – Columbia, MD (Health System Pharmacy Administration)
Shayne Wharton '17 - Pittsburgh Veterans Administration Medical Center – Pittsburgh, PA (psychiatry)
Upcoming Events
Camps, Conferences & Events
Now – August 10
Mast Tennis Camp
---
Now – August 17
A Child's Place Children's Camp
---
June 18 – August 10
Camp Notre Dame
---
June 18 – August 17
KidsRock Camp
---
June 18 – June 22
Adelante Latina*
---
June 24 – July 13
Johns Hopkins: Center for Talented Youth Camp (CTY)*
---
June 24 – June 29
Sports Broadcasting Camp*
---
June 25 – June 29
School of Pharmacy Day Camp
---
July 6 – August 3
Baltimore Collegiate School for Boy Day Camp
---
July 8 – July 28
Operation Teach*
---
July 9 – July 12
All Pro Boys Lacrosse Camp*
---
Welcome 2018-2019 Academic Year
August 23-24
New Student Orientation
---
August 25 – September 1
Welcome Week
---
Commencement 2019
May 19, 2019 Royal Farms Arena
---