We make a place for children ages 5-11 to create and discover during the summer.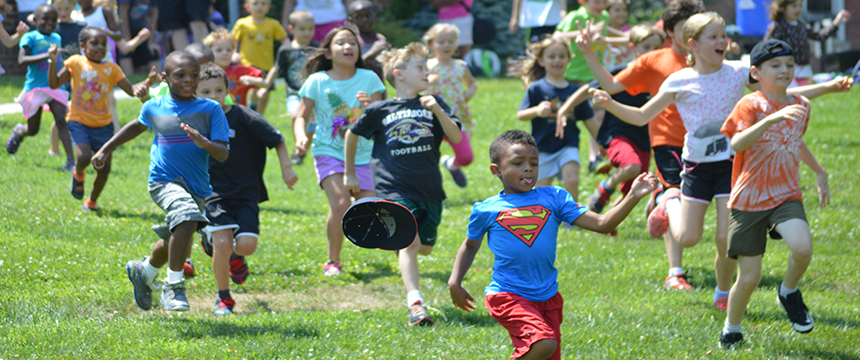 We hope your camper is ready for a summer full of adventures! With six rotating sessions throughout the day, campers will have the opportunity to participate in music & theater, explorations, arts & crafts, sports & games and swimming – twice a day (instructional swim in the morning; recreational swim in the afternoon)!
The University's beautiful, 58-acre wooded campus offers children many opportunities to experience their camp activities--both indoors and outdoors.
After a summer at Camp Notre Dame, children enter the following school year with new friends, new information and a feeling of security about themselves and their world.
Hours
Camp Notre Dame is open Monday through Friday with planned activities taking place from 9:00 a.m. to 4:00 p.m.
This Summer's Themes
Session 1: Adventureland
Session 2: Ocean Commotion
Session 3: Jungle Jamboree
Session 4: To Infinity & Beyond
Our Staff
Camp Notre Dame is staffed by experienced leaders who are committed to providing your child with a meaningful and rewarding summer experience. Each group is supervised by a Senior Leader, Junior Leader, and, for the younger and/or larger groups, a Leader-in-Training. Children are placed into groups of 15 to 25 campers of the same general age and grade in school.
Online Registration for CND Summer 2020 Available February 1st, 2020!
​2020 Session Dates and Fees
$125 non-refundable deposit required with online registration per each session (applied to session balance). This cost includes a $25 registration fee per camper.
A required registration fee of $25 per session will be applicable to all campers.
| Summer 2020 Sessions | Fee | Full Payment for Session Due Date |
| --- | --- | --- |
| Session 1: June 15–26 | $625/Session/Camper | June 14, 2020 |
| Session 2: June 29– July 10 | $625/Session/Camper | June 28, 2020 |
| Session 3: July 13–24 | $625/Session/Camper | July 12, 2020 |
| Session 4: July 27– August 7 | $625/Session/Camper | July 26, 2020 |
Early Drop-Offs & Late Pick-Ups
At no additional charge, campers may be dropped off as early as 8:00 a.m. and picked up as late as 5:00 p.m. A nominal fee of $5 per child is charged for an earlier drop-off beginning at 7:30 a.m. – 8am and a later pick-up beginning at 5pm to 5:30 p.m.
Camp Families will have the opportunity to purchase an Early Drop-Off OR Late Pick-up package at the following rate:
$120 for whole summer, paid by first Tuesday of camp
$30 per camp session, paid by first Tuesday of session
Camp Families can also purchase BOTH Early Drop-Off and Late Pick-Up for full summer at $220.
New! Join the Lunch Bunch!
Camp Notre Dame is excited to offer a new bagged lunch option for your camper! SAGE Dining will prepare bagged lunches that will be dropped off directly to your camper at lunchtime.
Each bagged lunch will include:

A sandwich or wrap
Small bottle of water
One side (examples: pretzels with hummus, chips & dip, carrots or cucumbers with ranch, celery with Sunbutter or pasta salad!)
A piece of hand fruit
A dessert (examples: cookie, brownie, apple sauce, fruit roll-up)

After you sign up for registration, you will be notified via email when the menu is live! At that time you can sign your camper up to receive a bagged lunch during one or multiple sessions
Additional Information:

Cost: Bagged lunches will be $5.00/day
You have to opt in for a full session at the time of purchase, missed camper days will NOT be refunded
Food allergies & dietary restrictions will be collected at the time of purchase.
Camp Program Information and Handbook
A Day at Camp
CND campers are placed in groups based upon their age and move throughout the day in a rotating schedule. While each day will be the same schedule, different activities based around the week's theme will be different.
CND families and friends will be emailed a session calendar listing activities that will be provided throughout that session and important dates to note, such as our end-of-session closing celebration and performance on the last Friday of each session.
Camp Notre Dame Handbook (PDF)
Daily Items to Bring to Camp
Comfortable clothing (t-shirt, shorts)
Socks and sneakers (no flip-flop, sandals, or Crocs--can bring these for pool use only)
Goggles
Water bottle labeled with first and last name (will be refilled throughout the day)
Bathing suit(s) (plastic grocery bag to keep wet suit in)
Towel
Tote/Book Bag to carry all items
Packed lunch (Please note we are not nut-free camp; however, we do have campers with peanut, nut and other food allergies)
Sunscreen (to be applied prior to start of camp day)
Camp Attire & Equipment
No uniform is required. Campers should wear comfortable clothing suitable for play (t-shirt and shorts) as well as socks and sneakers. Sandals and Crocs are acceptable for pool time, but campers will be playing outdoors and will need to wear appropriate shoes for safety and comfort throughout the day.
Campers will need to bring goggles, a bathing suit and towel daily for swimming. It is a good idea to provide your child with either a tote bag or book bag to carry all of these items during camp as there is not a storage location for each individual camper.
Sports equipment will be provided. Each camper receives a CND t-shirt and a drawstring tote bag on their first day of camp.
Meals and Snacks
Please send lunch daily with your camper(s) with the camper's first and last name written clearly on the outside of the bag. CND will provide a daily snack, so please note any allergies during the online registration form.
Technology Policy
Camp Notre Dame strongly encourages campers to leave all electronics and technology devices, including, but not limited to, cell phones, tablets, and gaming devices, at home. Camp provides an opportunity for a "different kind of engagement" where campers learn to interact with other campers and develop other skills and experiences beyond technology.
Campers move throughout the day in their groups to different activities around the University campus, including the pool and outdoor activities with water components (i.e., water balloon toss) where electronics might be damaged or lost. We appreciate all CND families, friends, and campers adhering to this policy!
Forms
Contact Us
Office: 410-532-5732
campnotredame@ndm.edu
The CND cell phone number will be distributed to all registrants prior to the start of the registered camp session.
Information for Tax Purposes: Camp Notre Dame Federal Tax ID #: 52-059-1641
Enjoying Camp Notre Dame