One of the hallmarks of our rich educational environment is the opportunity to participate in research in your field of interest. Research Day participants perform, exhibit original art, create poster presentations to describe research, and give traditional presentations on a broad variety of topics.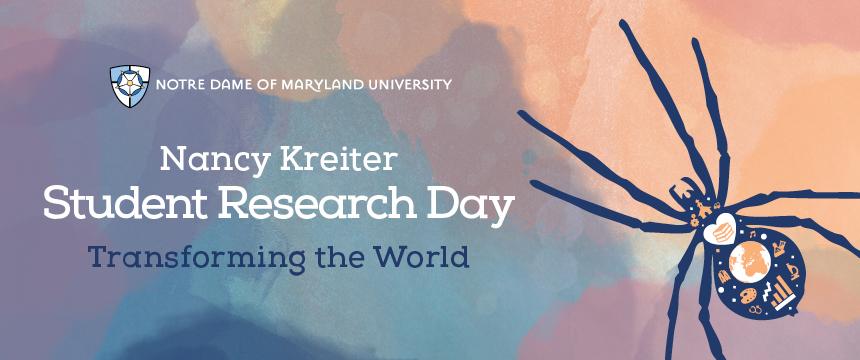 2020 Student Research Day
On April 24, 2020, NDMU students and faculty participated in our first ever virtual Research Day event! Students in any of the University's divisions were eligible to submit a proposal online. Faculty members mentored and at times collaborated in the development of these projects. Students rallied to transform what is normally a live event rich with personal interactions and in-person Q&A into a celebration of not only stellar academic work but flexibility and adaptation as presentations and posters were instead shared through a variety of recorded methods. Victoria Meadows '15, who currently works as a laboratory animal research assistant for the Center for Epigenetic Research in Child Health and Brain Development at the University of Maryland, Baltimore School of Medicine and a volunteer dolphin trainer and behind the scenes tour guide at the National Aquarium, gave the Opening Speech by video and participated as a guest judge.
Award Recipients
Panel Presentation:
Ancients to Infinity - Bintou Timbine
Traditional Presentations:
Historical Influencers - Jamesha Caldwell
Education Research - Sue Sergeant
Healthcare Highlights - Isabella Carunungan
Poster Presentations:
Pharmacy - Crei Therese Tabligan
Business - April Bell
Education - Alexandra Mumma
Bench Research - Keira Mull
Non-Bench Research - Zohra Ahmed
Grand Prizes
Undergraduate Level - Grace Cross, Casey Nutter & Hermione Riggs
Graduate Level - Adam Diallo
Research Day