One of the hallmarks of our rich educational environment is the opportunity to participate in research in your field of interest. Research Day participants perform, exhibit original art, create poster presentations to describe research, and give traditional presentations on a broad variety of topics.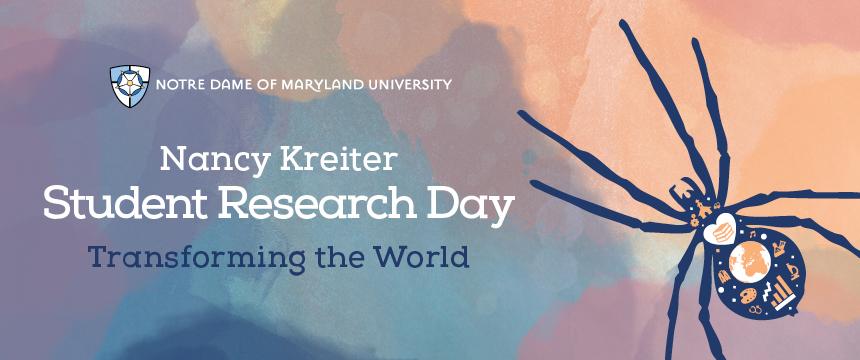 2019 Student Research Day
On April 26, 2019, Fourier became a space for papers to be presented and posters to be explained. Students in any of the University's divisions were eligible to submit a proposal online. Faculty members mentored and at times collaborated in the development of these projects. Dr. Amy Rosenkrans, a graduate of both CND and NDMU who currently works with Baltimore city middle school students, gave the Opening Speech and participated as a guest judge.
The Nancy Kreiter Student Research Day concluded with a celebration, complete with awards for the best presentations in each of the divisions and a dessert reception.
Award Recipients
Poster Presentations:
Undergraduate Historical Research - Kristina Pickering
Graduate School of Education - Hannah Martin
Undergraduate Social Science - Jamesh Caldwell
Graduate Social Science - Catherine Bruzdzinski
School of Nursing - Lyndsay Rehak
School of Pharmacy - Patricia Dieso
Bench Science Research - Mai Eltabak
Traditional Presentations:
Broken U.S. - David Quinton-Schein
Arts - Caroline O'Donnell
Hispanic Society, History and Culture (in Spanish) - Christine Roa
Democracy's Future - Emily Przyborowski
International Affairs - Briana Palma
Research Day