Legal and Ethical Issues Related to Telepsychology Services
Friday, February 12, 2021
Zoom Seminar
89
Notre Dame of Maryland University Psychology Department, as an APA approved sponsor, is pleased to offer a series of continuing education seminars for psychologists and other mental health professionals.
This workshop will discuss the various aspects of electronic communications and telehealth sessions with clients, the use of social media, and the impact of modern technology on clinical practice. There will be analyses of the legal and ethical issues impacting the use of email, Skype, Facetime, Facebook, blogs, telephone, and communicating with clients out of state. We will look at how the role of the therapist changes, boundary issues, informed consent, and the potential legal risks associated with electronic/telehealth therapeutic communication with clients other than face-to-face in the office, and the use and maintenance of information in a digital world.
Learning Objectives
At the conclusion of this workshop, participants will be able to:
Know how to comply with the requirements for telehealth in Maryland
Recognize and avoid practicing in a jurisdiction without a license
Understand the boundaries of the use of social media
Speaker Biography
Richard Bloch is President and Senior Attorney at Shiling, Bloch & Hirsch, P.A. Mr. Bloch has been in the private practice of law in Baltimore, Maryland since 1972. He received his B.A. from The George Washington University in 1968, and his J.D. from The University of Maryland, School of Law in 1972. He is admitted to practice in Maryland, the United States District Court for the District of Maryland, the United States Court of Appeals, Fourth Circuit, and the Supreme Court of the United States. His practice focuses on health law, general business matters, trade association law, estate planning and administration and civil litigation. He also represents health practitioners before the Maryland Health Occupation Boards of Examiners, including Psychologists, Social Workers, Professional Counselors and Physicians. Mr. Bloch has been General Counsel to the Maryland Psychological Association since 1979, He writes and lectures regularly on the legal and ethical issues relating to the practice of psychology and the mental health professions. He is a member of the Maryland State Bar Association and the Baltimore County Bar Association.
Contact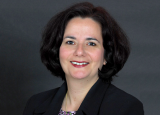 Maria Mouratidis
Professor/Chair