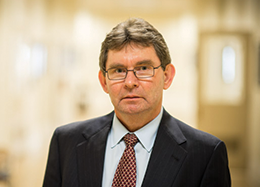 Ademar Bechtold
Professor
Business and Economics Department
Fourier Hall (FOU) 307
ABechtold@ndm.edu
410-532-5102
Programs I teach...
School of Arts, Sciences & Business
Education
Ph.D., Economics, State University of New York at Buffalo. Dissertation: International Trade Policy in the Presence of Foreign Direct Investment.
M.A., Economics, State University of New York at Buffalo
B.S., Economics, Universidade do Vale do Itajai with one-year specialization at the Universidade Federal de Santa Catarina, Brazil.
Bio
I joined Notre Dame in 1993. Since then, I have taught economics for both the undergraduate and the graduate programs. Economics is a social science that studies how individuals, governments, firms, and nations make choices on allocating scarce resources to satisfy their unlimited wants. Students take economics to understand the world better; to affect social change by learning how to devise effective solutions to social problems; and of course, to prepare for a career. In my classes, I strive to use technology and a variety of teaching methodologies to provide better ways for students to learn how to think (create knowledge), to practice how to do (develop skills) and to apply their education to create a better world (solve problems).
I have represented Notre Dame at various international seminars, including the Annual Meetings of the World Bank and International Monetary Fund, the Freeman Foundation Institute on Japan, the Pearl River Delta Field Seminar in China, and the Brazil: The Emerging Giant seminar, in Brazil. I have also taken students to regional competitions, conferences, and visiting companies and institutions.
During my tenure at Notre Dame, I provided leadership in Grants with significant impact to the institutional mission, including a Maryland Higher Education Commission Grant to create the Faculty Resource Center, and an AT&T Grant to develop partnerships with professors at Budapest University of Technology and Economics, in Hungary, Universidade Federal de Espirito Santo, in Brazil, and South Bank University, in the United Kingdom. The grant resulted in 15 faculty and 131 students from the four countries working together in various academic projects, using online technology.
I also served on major institutional committees including the Faculty Senate, Promotion Committee, Finance Committee and Institutional Advancement Committee of the Board of Trustees, Middle States Self-Study Steering Committee, Datatel Steering Committee, Capital Campaign Steering Committee, Committee on Technology and Learning, Presidential Search Committee, and others.
Recent Publications and Presentations
"Taxes, Labor Supply and Entrepreneurship" co-authored with Sanjay Paul. Published in Advances in Social Science Research Journal, Vol. 2, Issue 1, 2015. DOI:10.14738/assrj.21.826
"U.S. Trade with BRIC Countries: Future Challenges and Opportunities", Presented at the Center for Economics Studies
"The State of the U.S. Economic Recovery", presented at Osher at Johns Hopkins University Guest Lecture Series
"Poverty and Prosperity", presented at Notre Dame of Maryland University Community Day
Awards
The Thomas P. and Clementine L. Mullan Distinguished Teacher Award, Notre Dame of Maryland University
Richard Manning Award for Excellence in Teaching, State University of New York at Buffalo
Rotary International Ambassadorial Scholarship
Explore all faculty & staff