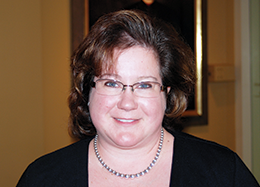 Angela Snyder
Associate Professor
Programs I teach...
Courses I teach...
Educational Research
EDU 703 Methods of Qualitative Research
Action Research
SPE 321 Methods of Teaching Students with Special Needs
SPE 576 Communication Skills for the School-Based Professional
School of Education
Education
Ph.D. in Educational Research and Evaluation, Virginia Commonwealth University, 2004. Dissertation: The Impact of High Stakes Tests on High School Students' Decision to Drop Out of School
M.S. in Rehabilitation Counseling, Southern Illinois University, 1997
B.S. in Psychology, Virginia Polytechnic Institute and State University, 1994
Bio
I joined the Notre Dame faculty in August 2009. Since that time, I have taught classes to all levels of learners, from undergraduate students through doctoral candidates. I primarily teach educational research methods, with courses in Action Research, Qualitative Methods, and general Research Methods. In addition, I teach two courses in special education, instructional methods and communication skills. I serve as a Dissertation chair for several doctoral students, as well as a Reader on various doctoral committees.
In addition to teaching and guiding doctoral students, I am the edTPA Coordinator for the School of Education. edTPA is a performance assessment designed to assess teacher candidates' readiness to teach upon graduation. This portfolio assessment is a semester long capstone project completed during the internship semester (student teaching). I oversee all candidates involved in this process, including facilitating an online course, monthly seminars, and individual and small group work with teacher candidates. In addition, I am the President Elect for the MD edTPA Collaborative, (will assume a 2-year President role in July 2019) a statewide resource and advocacy collaborative of 16 universities involved in edTPA.
I am the Chair of the SOE edTPA Committee, and serve on two other SOE committees – the Assessment committee and Chalk and Wire Technology committee. I also serve on two university committees – the Faculty Salary and Benefits committee and CFR&D.
Recent Publications
Snyder, A.L., Pallett, L., Pennerman, A., Meyer, A., & Spicer, M. (accepted and to be published in February 2019). Sharing our stories: Different paths to edTPA implementation within the MD edTPA collaborative. In L. Barron (ed.) A Practical Guide for edTPA Implementation and Success.
Bull, K., Dupuis, J., & Snyder, K. (2017). More than a metaphor: Human impact, drowned cities, and social justice. SIGNAL Journal: The journal of the National Literacy Association's Special Interest Group Network on Adolescent Literature, 41(2), 8 – 17.
Snyder, A. & Pallett, L. (2017). Teacher educators and elementary math instruction: Two technology "novices" use free technology in a teacher education program. International Journal of Education and Human Developments, 3(2). 25 – 30.
Professional Presentations
Snyder, A. & Pallett, L. (2018). Down the rabbit hole: The journey to successful edTPA completion at a small university. Presented at the annual national edTPA Conference, October 2018, San Jose, CA.
Snyder, A. & Pallett, L. (2018). Down the rabbit hole: The journey to successful edTPA completion at a small university. Presented at the annual Mid-Atlantic edTPA Conference, June 2018, Salisbury University, Salisbury, MD.
Snyder, A., Pallett, L. & Corley, K. (2017). edTPA Retreat. Invited presentation, 4-hour faculty workshop, August 2017: Notre Dame of Maryland University.
Explore all faculty & staff