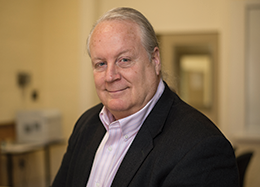 Charles Yoe
Professor
Business and Economics Department
Fourier Hall (FOU) 310
cyoe@ndm.edu
410-532-5557
Programs I teach...
School of Arts, Sciences & Business
Education
Ph.D. in Agricultural and Resource Economics, University of Maryland
MS in Water Resources Policy, Colorado State University
MS in Policy Science, University of Maryland Baltimore County
BS in Economics, University of Maryland
Bio
My passion is learning, yours and mine. When your questions teach me that's a good day.
A lifelong Baltimorean, I have been blessed with the opportunity to have traveled to every continent but Antarctica (bucket list) and have worked with people from almost one hundred nations.
My primary interests are in all things risk but mostly food safety, natural disasters, trade and environment as well as natural resources planning. I teach economics courses specializing in microeconomics but I have also taught a number of business courses when needed.
Recently I have been working on keeping Asian carp out of the Great Lakes, assisting State agencies and NGO's working on Maryland's fracking decision, identifying dietary supplement combinations risky to our national defense, and helping the U.S. Army Corps of Engineers transform water resources planning in the US through SMART Planning.
I am especially interested in working with students to develop their scholarly and personal interests most particularly when our interests overlap.
Publications & Presentations
Risk Manual for the U.S. Army Corps of Engineers," Institute for Water Resources, 2015.
Transforming Water Resources Planning Through SMART Planning," Journal of Water Resources Planning and Management Volume 40 Issue 9, September 2014.
Risk Assessment: Principles, Methods, and Applications" invited chapter with L. Gorris In: Motarjemi Y. (ed.) Encyclopedia of Food Safety, Volume [1], pp. 65-72. Waltham, MA: Academic Press, 2014.
"Risk Analysis" invited chapter in Achieving Sustainability: Visions, Principles, and Practices. Ed. Debra Rowe. Detroit: Macmillan, 2014. Natural Resources Planning, 2013.Boca Raton: Taylor and Francis, ISBN 9781439892619.
Primer on Risk Analysis: Decision Making Under Uncertainty, 2012. Boca Raton: Taylor and Francis, ISBN 9781439857632.
Principles of Risk Analysis: Decision Making Under Uncertainty, 2012.Boca Raton: Taylor and Francis, ISBN 9781439857496.
Considering Climate Change in Corps Planning Guidance For Field Planning, 2011, Institute for Water Resources, with David Moser, Brian Harper, Erin Rooks, and Maria Placht
"Incorporating Defense into HACCP," August/September 2010 Food Safety Magazine.
"Addressing Risk and Uncertainty in Planning Ecological Restoration Projects," ERDC TN-EMRRP-ER-13 April 2010, Ecosystem Management and Restoration Research Program, with Kelly Burks-Copes, Martin T. Schultz and Burton C. Suedel.
"Food Defence and Risk Analysis for the Victorian Dairy Industry," Geoffrey Gardiner Dairy Foundation, December 2008.
"Industry Speaks on Food Defense," Food Safety Magazine, April/May 2008.
Professional Activities
Risk adviser to Maryland Department of Natural Resources and Chesapeake Climate Action Network on qualitative assessment of risks of unconventional gas well development (2013-present)
Risk consultant to U.S. Army Corps of Engineers Great Lakes and Mississippi River Interbasin Study Risk Assessment (2012-present)
Expert panel member for U.S. Pharmecopeia study of the risks of multi-ingredient dietary supplements (2013-4)
Content expert for development of food defense training materials for all Veterans' Administration healthcare facilities in the U.S. (2013)
Food safety risk analysis trainer for international experts, Joint Institute for Food Safety and Applied Nutrition (1996-present)
Explore all faculty & staff