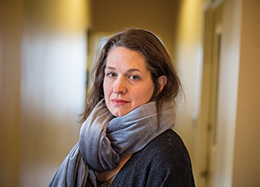 Rachel Burk
Assistant Professor/Chair
Modern Foreign Languages Department
Feeley International Center (FIC) 11
rburk@ndm.edu
410-532-3187
Programs I teach...
Dr. Rachel Burk is an Assistant Professor of Spanish at Notre Dame of Maryland University and Chair of the Department of Classical and Modern Foreign Languages. At NDMU, she teaches Spanish language and linguistics in addition to Hispanic literature, culture, and film.
A specialist in early modern Spain and Portugal, as well as their transatlantic empires, Dr. Burk explores literary and visual representations of blood in relation to early race laws based on blood purity in her book manuscript, Con sangre entra: Blood and Purity in Early Modern Iberia. Her new research on the publication and reception of early colonial texts, New World in the Old: Afterlives of Colonial Texts in Europe, forms the basis of a digital humanities resource. Dr. Burk's scholarly work has appeared in the Journal of Spanish Cultural Studies and edited collections from Routledge and Palgrave.
Previous to her current position, Dr. Burk served as a Fulbright Visiting Scholar in the Humanities at the Universide de Lisboa and taught at Tulane and the University of Pennsylvania. She holds a Ph.D. in Hispanic Studies from Penn, as well as an M.A. in Spanish and an A.B. in English from Columbia.
Explore all faculty