Teaching (MAT in 10 Months)
MA
The Master of Arts in Teaching/Graduate Education (GEI) Internship program is a full-time initial certification program that allows you to earn your master's degree and teaching certification in 10 months.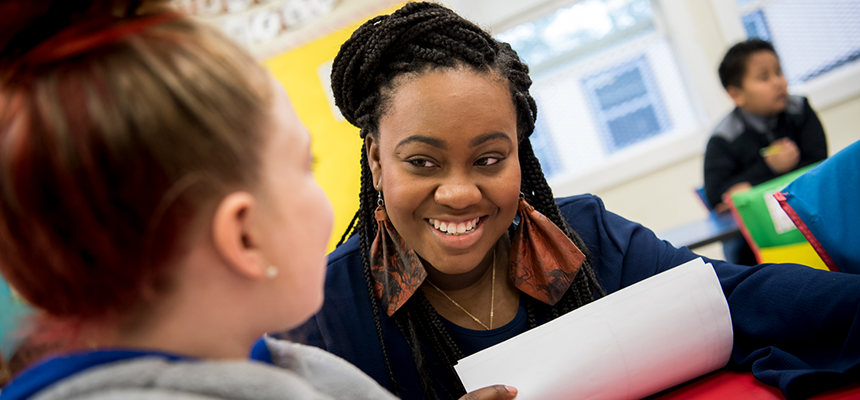 Program Locations
Maryland Educator Certification Areas
Art (PreK-12)
Music (PreK-12)
World Languages (PreK-12)
Early Childhood Education (PreK-3)
Elementary Education (1-6)
Special Education (1-8 or 6-Adult)
Secondary Education (7-12) in the following content areas:

Business Education
Computer Science
English
History
Mathematics
Science
Social Studies
Theater
State Certification Requirements
In order to meet state certification requirements, you must successfully complete the coursework, internship, ePortfolio and Praxis II exams in the area of certification. During the internship semester, you will also complete an edTPA portfolio to be submitted for national scoring.
Some certification areas also have specific prerequisite course requirements. If you are interested in a particular certification area, but are not sure if your educational background meets the prerequisite requirements, contact gradedu@ndm.edu for a transcript review before applying.
Dual Certifications
Unlike many other teacher preparation programs, most of our program completers are certified in two areas.
Dual or multiple certifications also increase the marketability of our graduates, furthering opportunities for meaningful employment.
Types of Dual Certifications Available
Art/Music/World Languages and Special Education
Early Childhood Education and Elementary Education
Early Childhood Education and Special Education
Elementary Education and Special Education
Elementary Education and ESOL (English to Speakers of Other Languages)
Secondary Education and Special Education
Secondary Education and ESOL (English to Speakers of Other Languages)
Faculty
Outcomes
Student Outcomes
As a student in this program, you will be able to:
Use the knowledge of students to inform their teaching practice.
Plan assessments to monitor and support student learning.
Demonstrate skill in checking for student understanding and using feedback to assess.
Utilize formative and summative assessments to inform their instructional practice.
Deepen student learning by providing scaffolded opportunities for higher level, deeper learning.
Program Outcomes
At the completion of the program, you will be able to:
Pass all national testing requirements, as applicable, achieving a 100% pass rate for NDMU.
Enhance career and professional development opportunities for employment pathways in the profession, e.g., elementary or secondary education teacher, highly qualified with a dual or triple certification, professional developer, preparation for teaching in higher education, etc.
Document an ability to design a thorough lesson plan that addresses the needs of all students and which provides for both formative and summative measurable student outcomes.
Utilize classroom management skills to effectively engage students and maximize learning opportunities for all students.
What to Expect Studying at Notre Dame of Maryland University
With award-winning teacher certification programs nationally recognized by the National Council for Accreditation of Teacher Education, you can expect to benefit from small class sizes, expert faculty, and practical field experiences.
Cohort Model
Attend classes and learn with the same group of students throughout the duration of the program (July through May).
Most general education requirements are taken in the afternoons, and courses specific to students' certification area(s) are taken in the evenings and/or on Saturdays.
Toggle between the photo and the story
Putting Ideas & Theories into Action
Alum, NDMU Class of 2018
Teaching (MAT in 10 Months)
Read story
Internship Opportunities
20 hours/week in the fall semester, full-time in the spring semester
Conducted under the supervision of a mentor teacher
Placements in public schools in Baltimore City, Baltimore County, Harford County and Anne Arundel County
Education Careers
Graduates of NDMU are highly recruited for employment; we partner with local school systems to help our students navigate the hiring process. 100% of graduates from the past three GEI cohorts received job offers in the field of teaching.