December 15, 2020
NDMU Students and Alums Make the Difference During COVID-19
Since COVID-19 arrived in the U.S. in early 2020, first-responders, health care providers, teachers, pharmacists and educational administrators have been thrust into the spotlight along with systemic social issues such as health care access, housing, employment, and the digital divide.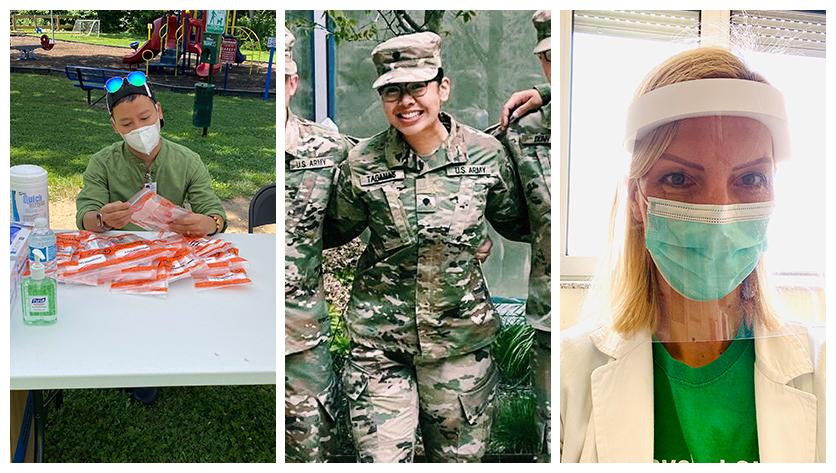 For Sam Aung, a Ph.D. student at Notre Dame of Maryland University (NDMU), who immigrated from Myanmar and became a U.S. citizen in 2015, responding to the COVID-19 pandemic meant finding opportunities to volunteer.
Aung volunteered with Maryland Responds Medical Corps and the American Red Cross when the pandemic first hit. "I was able to help lower-income family members, who don't have health insurance or proper documents, and older people within Montgomery County," he shared. "I believe that we have to be kind and help each other. I believe that everyone can help each other from everywhere and anytime."
Service is engrained in the NDMU culture, and many Notre Dame students, faculty, staff, alumnae and alumni have heeded the call to respond to the pandemic in some way.
"Notre Dame attracts the kind of person who has something in their DNA it seems, that makes them want to make a positive difference in the world," says President Marylou Yam. "Our alumnae, alumni and our students can recognize a need and know they can move forward in that area with confidence because the University prepared them well to make things better for people."
Ricelle Taganas, School of Nursing Class of 2020, is a medic in the Army Reserves and was called to New York City early on in the pandemic to care for patients at the Javits Center in Manhattan.
According to Taganas, her care philosophy is directly tied to the nursing program's emphasis in teaching "caring science" when interacting with patients. Beyond understanding the science behind the different illnesses that patients present with, "I also learned how to care for and understand the patient as a human being," says Taganas. When she arrived at the Javits Center in NYC, she didn't view her patients as just COVID-19 patients, "they were someone's husband/wife, son/daughter, friend and were at the mercy of this disease." Keeping care science in mind and focusing on the individual patients helped her find success during her deployment.
For students, the sudden disruption of their education, and for low-income students, much-needed resources such as meals, caused a tremendous impact. For students of immigrant families who are part of an ESOL program, the language barrier made it more difficult to understand the pandemic and how to respond.
Fabian Painemilla just recently completed his Accelerated Certification in Teaching and was interning at a middle school in Silver Spring when the pandemic hit. Today, he teaches 8th grade as English to Speakers of Other Languages (ESOL) teacher at the school.
"Like most of the population, this has been traumatic, but for immigrant families, it's even harder. Most are living in small apartments. They have lost jobs," said Painemilla.
Since March, Painemilla has been calling or texting students and their families. In some cases, he has delivered food when a family is sick, which also allows him to see his students from afar and ensure they are okay.
The call to respond didn't end at the U.S. borders. Masa Malenica, class of 1996, is the head of the child neurology department in Zagreb, Croatia. Croatia was the first neighboring country to Italy that was badly hit with COVID-19, following a strong earthquake that hit the capital of Croatia on March 22, destroying most of the city.
Malencia shares, "Being evacuated from our homes in the midst of the corona pandemic was very frightening both for adults and for kids. Gathering clothes and basic food supplies, and finding a safe place to stay, yet continue to work in a big university hospital as a pediatrician was quite a challenge. Now a few months later, we are all used to basic epidemiological measures and we are adapting to providing our services to our patients any way possible - through video conferencing, telemedicine and, if necessary, home visits."
As a liberal arts institution rooted in service, Notre Dame attracts students and faculty who are interested in more than a career to make money. They want to make a difference.
"In our nursing program, caring science is woven into our students' education. They are learning how to be present for someone – transformative leadership. Our students learn that as a nurse they become the voice for patients and families who may not have a voice, which is the case for most marginalized patients and their families," states Dr. Kathy Wisser, dean of the School of Nursing.
Throughout the COVID-19 pandemic, Notre Dame has been represented well locally, nationally and around the world as students and alumnae heed the call, working every day in a wide range of fields demonstrating compassion, concern and leadership.
A version of this article was first published in Universitas on pages 30-31.