Partners in Mission is an event that celebrates service anniversaries and connects us with the vision of our founders, the School Sisters of Notre Dame, the University's mission, and the women and men who make our mission a reality – our faculty and staff. This year's event will be held on TBD.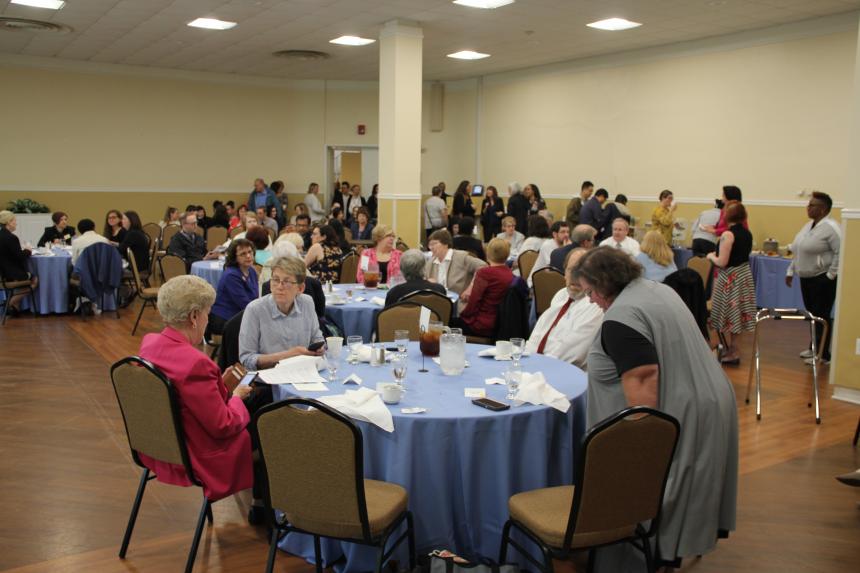 This event is titled Partners in Mission for a reason – for a mission is merely a collection of words if it lacks believers and partners to carry it forward. We are fortunate to have believers and partners on this campus, and at this event, we honor them for their work on behalf of our mission.
Honoring Blessed Theresa Gerhardinger
Along with recognizing service anniversaries, Partners in Mission day integrates the feast day honoring the foundress of the School Sisters of Notre Dame, Blessed Theresa Gerhardinger. The spirit of Blessed Theresa and the educational vision of the School Sisters of Notre Dame permeate the history and tradition of the University. Our campus community is inspired by the conviction that the world can be changed through the transformation of persons. So as we gather together for this event, we honor Blessed Theresa and celebrate the gifts and accomplishments of our Partners in Mission – women and men, lay and religious, who live out the SSND values and the NDMU mission, who are observing significant service anniversaries.
Inspired by the School Sisters, we "trust and dare," pursue unity, seek truth and educate to transform the world.
We ask our campus community to look inward and consider these questions:
What does it mean to be a partner in mission?
What does it mean to live our mission each day, every day on this campus?
And now we ask you, dear reader, what are your answers to those questions?
2021 Celebrants
25 Years
Angela Sherman, chemistry department
20 Years
Jeana DelRosso, English department
Theresa Shrader, office of human resources
15 Years
Mary O'Connor, school of nursing
Jeanette Quinn, school of education
Kyongil Yoon, math/physics/computer science department
10 Years
Leon Carter, office of public safety
Erin DaSilva, donor relations
Andrea Gauld, school of pharmacy
Jennifer Pohler, admissions processing center
Stephanie Savick, school of education
Elizabeth Scott, counseling center
5 Years
Diane Aschenbrenner, school of nursing
Madelyn Ball, school of education
Charles Buehrle, math/physics/computer science department
Heather Carpenter, business & economics department
Mallory Cerda, marketing department
Heather Folz, school of pharmacy
Carroll Galvin, donor relations and grants
Fran Mindel, communication arts department
Pamela O'Brien, school of arts, sciences and business
Donna Schissler, school of education
Nancy Tarr Hart, philosophy department
Natalie Van Horn, enrollment management for CAUS/GRAD
Victoria Washington, business office
Jennifer Wester, art department
Jaclyn Whitley, school of pharmacy
Jessica Wood, auxiliary & conference services
2019 Partners in Mission Celebration